David Foster on his return to producing and a recent invitation from Drake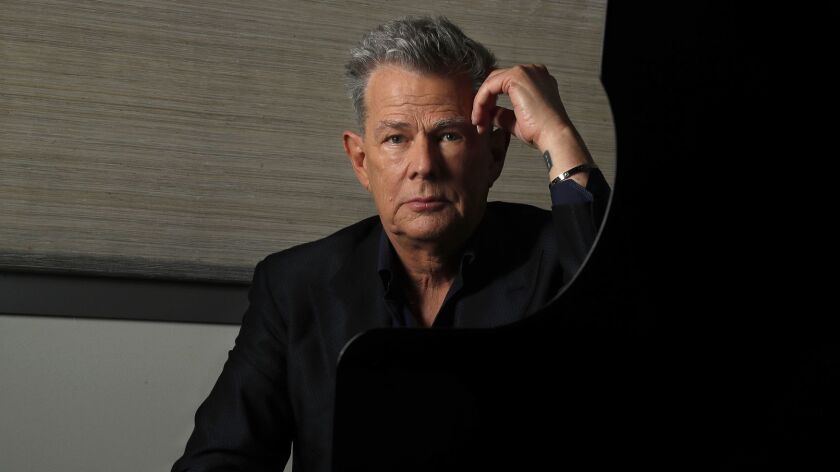 Pop Music Critic
"You're gonna have to use your imagination," warned veteran songwriter and producer David Foster, although he didn't leave much room for it.
Sitting at a bank of keyboards in his sleek Westwood condo on a recent afternoon, the 45-time Grammy nominee was working on a tune for a new musical he's writing with the singer Jewel.
Foster is known for his lush, sentimental sound — the ornately rendered bombast of pop hits like Chicago's "Hard to Say I'm Sorry" and Whitney Houston's "I Have Nothing." And here he was putting his instinct to use as he quickly built a synthesized arrangement around a sweeping piano part: first strings and then bass, followed by harp and finally French horn.
When he'd gotten the music to his liking, he had his assistant fire up Skype and connect with Jewel, who was at home in Nashville.
"It's just a demo of a demo," he told her before playing back what he'd created. As she listened, Jewel seemed to register each layer of sound one by one; her face beamed respect from the screen of Foster's laptop.
"That's beautiful," she said after the song was over — no imagination required.
For Foster, the ultra-polished ditty was in a sense business as usual. With its romantic melody and opulent tones, the song was in keeping with stuff he's been making since the late 1970s for acts including Earth Wind & Fire, Barbra Streisand, Natalie Cole, Celine Dion, Josh Groban and Michael Bublé.
The fact that he was drawing on those skills in the first place, though — that came as a small surprise.
A couple of years ago Foster declared that he was done making records; he said he was bored with his signature style and that he'd run out of tricks to make his music feel fresh.
He kept busy as a judge on "Asia's Got Talent," not to mention as a husbandly presence on "The Real Housewives of Beverly Hills," which starred his fourth wife, Yolanda Hadid. (The two divorced last year.)
But for the first time in decades Foster stayed out of the recording studio even as he became recognizable to a younger generation thanks to his connection to Hadid and her daughters, the models Bella and Gigi Hadid.
Now the producer, 68, is rededicating himself to music. In addition to the show with Jewel, an adaptation of Amy Bloom's novel "Lucky Us," he's aiming for Broadway with a separate musical about Betty Boop. He's working with Bublé on a new album, their first collaboration since 2011.
And Tuesday night he's set to kick off a U.S. tour with a sold-out show at the McCallum Theatre in Palm Desert: an intimate presentation in which he'll play and talk about some of his biggest hits.
"Music is in David's blood," said Diane Warren, the songwriter with whom he created a string of smash power ballads in the '90s, including Dion's "Because You Loved Me" and "Un-Break My Heart" by Toni Braxton.
"I think you can maybe walk away for a minute, but then what do you do?" Warren asked. "How many yachts and private planes can you go on?"
Bublé, who himself is returning after a year of private time (during which he dealt with his young son's cancer diagnosis), described the burst of activity as a "renaissance" and said he hopes it continues.
"The world needs more David Foster," he said.
But what kind of Foster will the world get?
Prior to his break, the producer wasn't exactly working at the level he'd established in his heyday.
He made a dull Diana Krall covers album and oversaw the schmaltzy debut by Jordan Smith, a winner on "The Voice." A collection of Disney interpretations by the likes of Kacey Musgraves and Fall Out Boy had more life but suggested he'd reached the prestige-project phase of his career: respected as opposed to relevant.
In a chat after the Skype session with Jewel, Foster was straightforward. "I don't make Top 40 music anymore," he said, curled on a white sofa in his living room. He was wearing carefully ripped jeans and a pair of Ugg boots the color of café au lait; 16 Grammy trophies crowded the top of a grand piano.
"I love it, but I don't know how to do it," he went on. "Songs are just different now."
One reason he's excited about Broadway is because "I just have to write a good song," he said. "I don't have to write a hit song."
And yet Foster's influence is clearly detectable in modern pop — in Ariana Grande's lung-busting love songs and in the glossy '80s-R&B textures employed by Bruno Mars and Drake.
And especially in a tune like "Earned It," the Weeknd's plush orchestral-soul ballad from the "Fifty Shades of Grey" movies.
Asked whether he could hear echoes of his old work, Foster acknowledged that "people like Usher and Drake and Abel" — he used the Weeknd's given name, perhaps because the singer used to date Bella Hadid — "they all still have a feeling for me.
"Somewhere in their training they got a little dose of DF."
In fact, he said, Drake hit him up at a party just the other night. "He was, like, 'Dude, come over and lay your hands on the piano,'" Foster recalled, obviously relishing the memory.
He's wary of being seen as desperate, though — the same feeling he had in the late '90s, when the happily over-the-top style he developed with Houston and Dion gave way to the punchier Swedish sound that producers like Max Martin devised for the Backstreet Boys and Britney Spears.
Back then, his strategy was to switch gears; he started making pop-classical records with Groban and Andrea Bocelli and shaped Bublé into the cuddliest crooner since Harry Connick Jr. The change in approach paid off to the tune of millions of albums sold.
Today Foster's relationship with Bublé feels more comfortable than any he might cultivate with a newer, edgier act.
That warmth runs both ways: Bublé said the only way he could envision singing again after the agonizing experience with his son was to "do something with love and joy." And for him that meant working with Foster, who "always makes me feel like I'm in safe hands."
Still, you get the sense that security might not top Foster's list of the qualities he longs to be known for.
His condo has a distinct sexy-bachelor vibe, with arty photographs of naked women and an enormous portrait of himself made from hundreds of Nespresso pods. (Foster is said to be dating Katharine McPhee, the singer and actor who finished in second place on "American Idol" in 2006.)
He's sensitive about his reputation as a schlockmeister too; he can still quote Rolling Stone's decades-old criticism of his work on a record by Boz Scaggs.
Then again, Foster doesn't dispute that his music is pretty and sparkly and filled with outsize emotion. He just resents the idea that some snob might think he plays like that purely because it sells — that it couldn't be what he actually likes.
"You can call my music tacky if you want," he said. "But I'll tell you this: When I sit at the piano" — here he did just that — "what naturally happens is …"
Foster played a florid melodic line that seemed to call out for the kind of lavish accompaniment he'd pulled together earlier for the Jewel song. Or maybe the line was from the Jewel song — Foster's themes can kind of blend together in all their gauzy melodrama.
"The demo of the demo I was making earlier? I didn't have to put those strings on or the French horns or the low bass thing," he said. "I didn't have to make it bigger.
"Some people would rather hear it in its purest form — just piano." He shook his head.
"Not me."
Twitter: @mikaelwood
---
Inside the business of entertainment
The Wide Shot brings you news, analysis and insights on everything from streaming wars to production — and what it all means for the future.
You may occasionally receive promotional content from the Los Angeles Times.