At Day N Night's close, Kendrick Lamar and YG take back the party from politics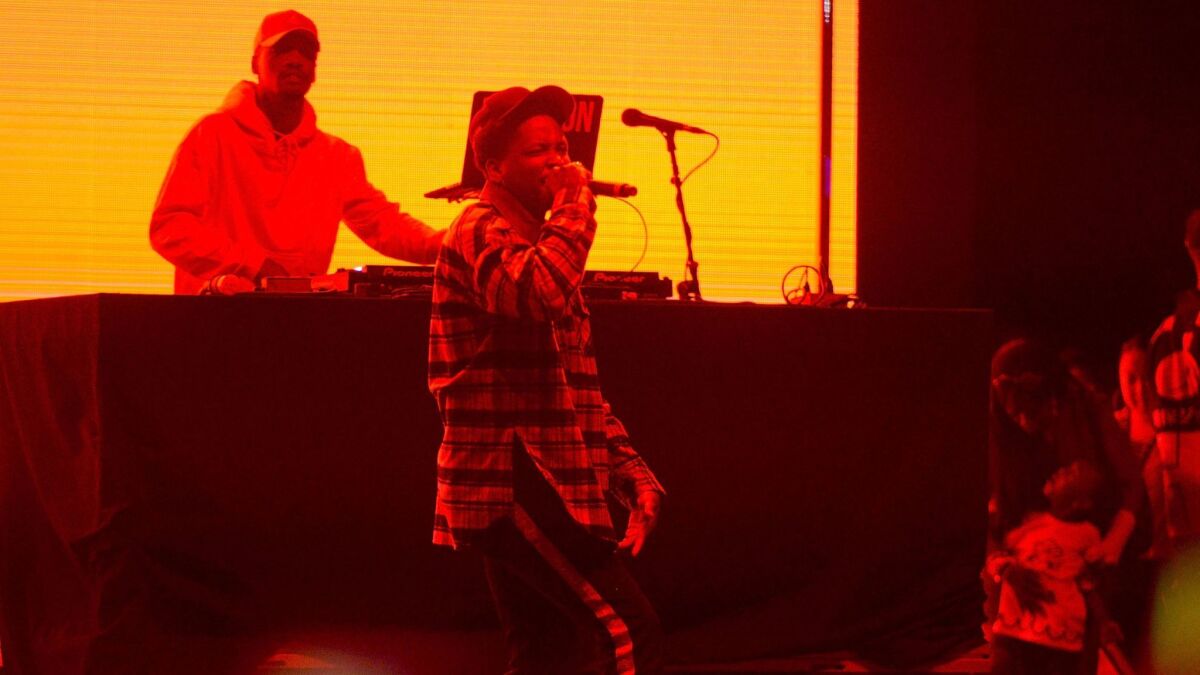 One of the first things YG said when he walked onto the main stage at the Day N Night Festival on Sunday was a barb at President Trump. (Hint: It's the profane hook of the song that defined the election-night protests in L.A.)
People thought they knew what was coming next. But then the Compton rapper shifted gears. "We're about to have a party before we get into that political [stuff]," he said.
And party he did.
He toted out stripper poles for a pair of very gifted dancers; he shouted out anyone in the crowd on a litany of drugs; he giddily applauded some women lifting their tops in the crowd, and roasted a dude up front for not dancing hard enough.
Most of the very young, diverse crowd at Day N Night would probably agree that, from the repeal of the Deferred Action for Childhood Arrivals (or DACA) to ceaseless natural disasters, America is, in many ways, a storm of confusion and unrest. If a saucy set from YG could double as a little reprieve, well, great.
Day N Night was a sprawling, almost totally comprehensive hip-hop festival that took over Angel Stadium's exterior for the weekend. Friday saw the hard-edged experimentalist Travis Scott; Saturday was the old-soul youth ambassador Chance the Rapper. Sunday was undisputed L.A. king Kendrick Lamar, YG, 21 Savage and a litany of younger acts (like the SoundCloud sensation Russ), who all seemed to acknowledge the fractures in our American lives, music and everything else — but tried to salvage the party nonetheless.
For those looking for out-and-out hope, the young singer-songwriter Daniel Caesar was probably the best place to turn. The singer's profile has shot up in recent weeks (an "Insecure" soundtrack slot was a big boost), and along with peers like his collaborators H.E.R. and THEY., Caesar is part of a small movement returning live guitars to the center of R&B.
He's an extremely gifted writer and player, and on songs like "Best Part" and "We Find Love," the jazz-infused chord progressions added depth to tales of young love lost and found. Caesar did roll his eyes a bit as 21 Savage took the stage and thumped across the venue parking lot (the sound bleed between stages was pretty rough all day, let alone for a jazz piano up against Metro Boomin's productions).
But Savage was the perfect foil of sinister and laconic. Tracks like "No Heart" and "Savage Mode" blended the murky, ethereal tones of contemporary Atlanta hip-hop with boasts of cartoonish violence, all twisted up with his pithy, self-aware sense of humor. The guy named his LP "Issa Album" off a meme spun off of a journalist's dumb question about his face tattoo. He's prepared for whatever stardom brings next.
When YG first released "FDT," it looked as if he was going to finally pair West Coast gangsta traditions with the activism amid our current political divisions. But as 2017 slogged on, he realized that music also has to be a way out of it all. Live keyboards, strippers, ultra-hard-partying — you can't think about our 45th president forever, and having already written the defining song against the guy, YG is ready to give himself (and us) a break.
Lamar confronted similar questions: What's the job of a rapper in 2017? To help fans escape or confront what's happening? And can you do so while staying true to your artistry, which has its own needs?
Lamar's surprise 2017 LP "Damn." was a quick, hard splash of water to the face, reminding fans of their own worth and obligations in a time of crisis. But it's worth noting that Lamar has never lost his sense of humor in all of this.
His loopy sci-fi and martial arts video pieces connected him to older visions of hip-hop as world-building, one where he gladly plays along as a character. And as a performer, he only gets better every time he takes a stage — he's the rare MC today whose technical gifts on a mic match his expansive, incisive vision.
Day N Night seemed a strange choice for a return SoCal set so soon after his Coachella headline gig and three-night Staples Center run that were true coronations. But maybe it did him good to back away a little from all the conversations about the radical, historical importance about his work and get back in the throngs of young kids who just wanted to go nuts to "Humble."
After all, the 45th president will still be in office tomorrow. Why should his presence dominate our evenings as well?
For breaking music news, follow @augustbrown on Twitter.
ALSO:
---
Get our L.A. Goes Out newsletter, with the week's best events, to help you explore and experience our city.
You may occasionally receive promotional content from the Los Angeles Times.