Delicious Pizza carries on the Delicious Vinyl music tradition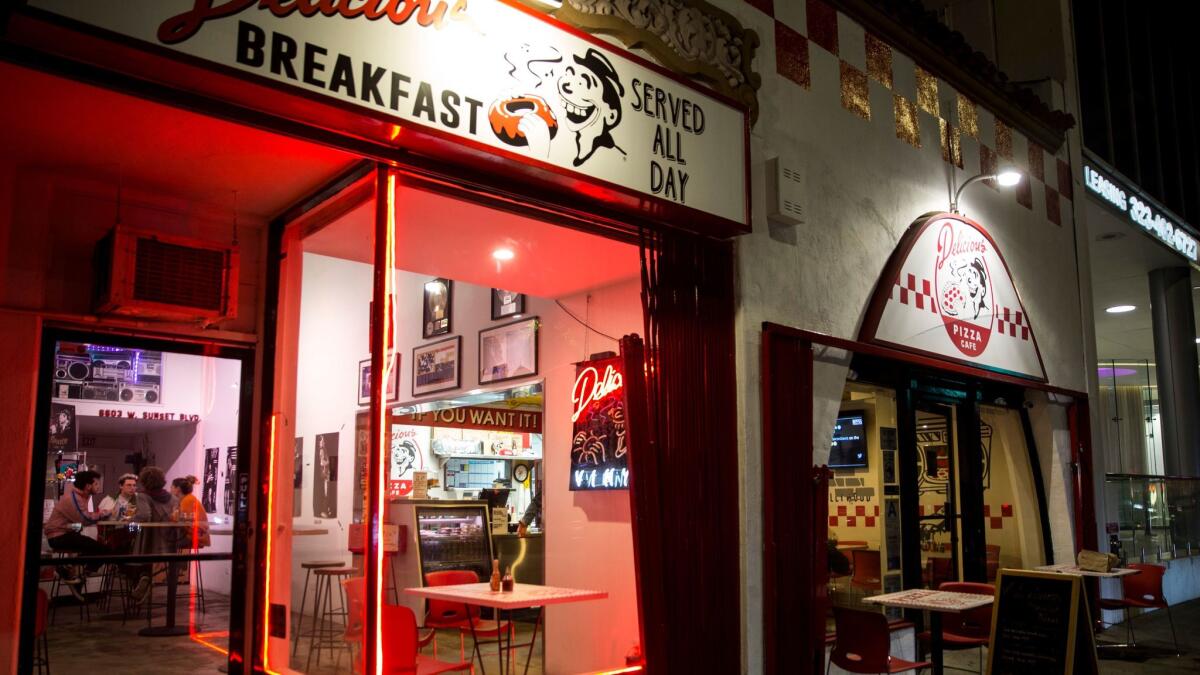 Dough. Cheese. Sauce. All three words can double as slang for money and influence in the pop and hip-hop universe. But brothers Mike and Rick Ross have since 2015 taken a more literal approach with their music-inspired restaurant Delicious Pizza.
With roots in Los Angeles hip-hop label Delicious Vinyl, their two pizzerias have gradually become communal hubs where pepperoni matters as much as beats.
The brothers, who hail from Long Beach, opened the first Delicious Pizza at 5419 W. West Adams Blvd. in 2015. In the fall of 2016, the siblings, both in the early-to-mid-50s, opened a second outpost in Hollywood on Sunset Boulevard just a short stroll from another pop nerve center in Amoeba Music.
"We wanted to be a sort of French salon for hip-hop," Rick said of the endeavor while lounging at a high-top table at the Sunset location.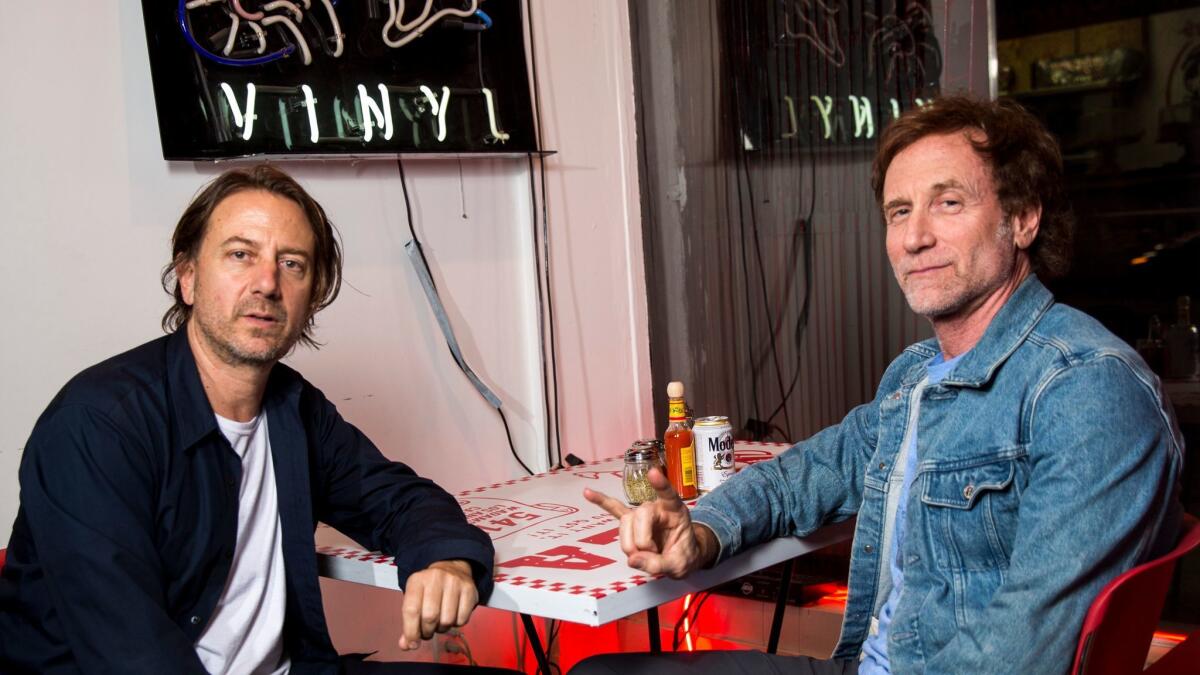 He was huddled under a bright yellow ceiling painted to look like a dripping veggie pizza, and surrounded by hip-hop posters, T-shirts and an art collection featuring geometric prints of Talib Kweli, KRS-One, Kendrick Lamar and Vince Staples. Music from 2Pac, Pharrell and OutKast played in the background.
While Delicious Pizza may look the part of a pizza shop, the goal is to be more of a community center that can appeal to multiple generations. Last year the outfit staged its first block party, which featured local artists, including Tiffany Gouche, and a headlining set by Talib Kweli. Going forward, Delicious Pizza looks to continue ramping up events and is aiming to launch a new record label focused on reggae.
Last summer, the spot's West Adams location hosted a high-profile concert by fellow Long Beach native Staples, and the Hollywood locale turned into a Lil Yachty pop-up shop where the Atlanta star shared his love for his favorite food by helping sell pizzas.
Delicious has become known for events that reflect and expand hip-hop culture. There's a Music Video Night, which showcases the work of prominent video directors, and even a weekly yoga class that boasts a hip-hop soundtrack.
"They do have big events and are able to survive and make money, but the fact that they use both locations as creative spaces is what's really been awesome," said Jessica Rew, co-founder of Music Video Night.
The pizzerias double as art galleries that display work from local photographers, graphic designers and painters. A newer series, titled Live on Sunset, is an all ages event that features deejay sets, live performances and outside vendors, transforming Delicious Pizza into the rare music space that caters to a crowd that doesn't need to be of drinking age.
"The Delicious community is full of people who love the good things in life — good music, good food and good people," said Jacqulyn Whang, who teaches the yoga classes under the name 5thMind. "I'm thankful that they have embraced yoga as a part of their vision and allow me to use the space to provide the practice of mindfulness to the people."
Mike in 1987 started Delicious Vinyl Records with Matt Dike, a fellow deejay who ran in the same circle. After humble beginnings that included a $5,000 loan from the Ross brothers' patriarch and required operations to be based out of an apartment-turned-recording studio, the label made a splash in 1989 with Tone Loc's "Wild Thing," which reached the top 5 on Billboard's Hot 100.
Mike and Dike continued their success with Young MC, whose "Bust a Move" reached No. 7 on the Hot 100 the same year. In the early '90s, Mike and Dike parted ways, but the label lived on.
Delicious helped launch the career of late producer J Dilla and today maintains close ties with the artist's family. Delicious hosted Dilla's Donuts pop-up shop last year and partnered with the family to release the posthumous "The Lost Scrolls" EP in 2013.
More recently, the shops have had success exploring reggae. Leslie Cooney, a veteran A&R executive with Delicious Vinyl, launched the Boomyard event series, which highlights the latest sounds from the Caribbean. Shaggy, Mr. Vegas, Shinehead and members of Bob Marley's family have been in attendance at the lively festivities, which feature DJ sets, a dance floor, vendors and of course, food.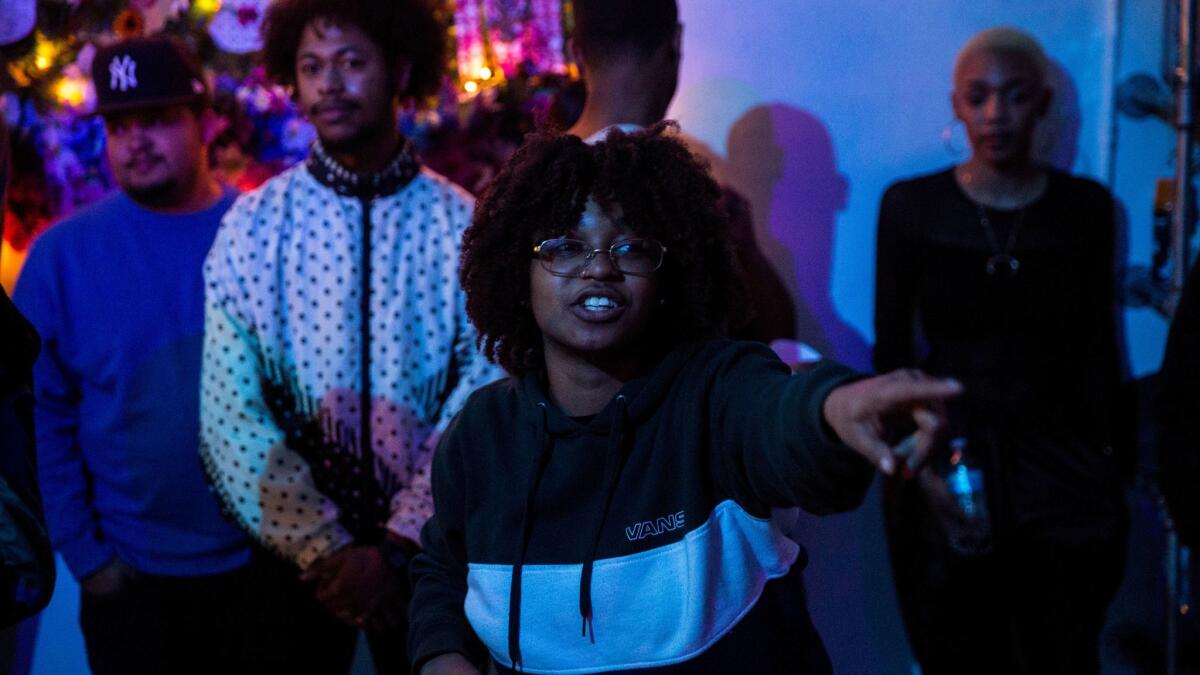 Boomyard has even led to a new label venture.
"There's too much energy that won't stop," Rick said of funneling the momentum from Boomyard into an imprint, Delicious Island. The label has a distribution deal through Empire and is preparing its first release with Natural High Music from Jamaica.
Delicious can also be a vital outfit to young or aspiring artists still navigating the local scene. Los Angeles-via-Chicago rapper Hannah Ayers stumbled upon the West Adams location in 2015 and inquired about hosting her first record release party at the spot.
Mike was a fan, and Ayers, who performs simply as Hannah, has continued incubating her career under the guidance of him and Rick. She ultimately had a record release party for her album "Blossom" last summer and this month hosted her first curated show, the Selection Concert Series, which showcased three soulful singers.
"They've always provided me with a free, creative space where I can progress and reach my goals, whether it's transforming their dining room into a flower garden, shooting a video or practicing with my band," she said.
Mike acts more as the manager of Delicious Pizza while Rick serves as the host. Their business partners are Fred Sutherland (who is co-owner of Fred 62 in Los Feliz), and Sutherland's chef of a son Travis, who has become what Mike calls their "dough master." The company does not use commercial yeast in their sourdough recipe, but instead follows a traditional process that has to be fed by flour and filtered water.
"I love the pizza!" Hannah said and beamed.
There's also a charitable element. The block party was co-sponsored by the nonprofit organizations Embrace LA, a company that works on diversity awareness, and Dreamhaus, a group that seeks to revive the arts for low-income youth.
"Community activity and community activism is really what we're all about," Rick stressed.
Well, not entirely.
Mike added an important detail: "As long as we don't go broke."
Get our L.A. Goes Out newsletter, with the week's best events, to help you explore and experience our city.
You may occasionally receive promotional content from the Los Angeles Times.