'Loads and loads of dust': The Who delivers a dry retread at Desert Trip
It was bound to happen eventually.
After two nights of strong performances by the likes of Paul McCartney and the Rolling Stones, time finally caught up with one of the classic-rock acts at Desert Trip when the Who opened the festival's final evening with an uninspiring set that felt like little more than a dry retread of long-gone glories.
"It's not a desert so much as just dust," guitarist Pete Townshend said at one point as he looked out on the drought-parched festival grounds. "Loads and loads of dust."
You can see where I'm going with this.
OK, so the Who — which is to say: Townshend and singer Roger Daltrey, along with a handful of other musicians who aren't the late Keith Moon or John Entwistle — sounded fine on Sunday.
Townshend's guitar roared and snarled in "My Generation," while Daltrey exercised his impressive mountain-man bellow in "Love, Reign O'er Me." And those hired hands, including bassist Pino Palladino and drummer Zak Starkey, provided the needed muscle to support the two frontmen's showboating.
But here's the thing: Where Townshend's signature windmill move and Daltrey's famous mike swing once embodied the nervy grandeur of the Who's music, at Desert Trip they just resembled shtick — familiar gestures that only assured concertgoers they were watching the Who.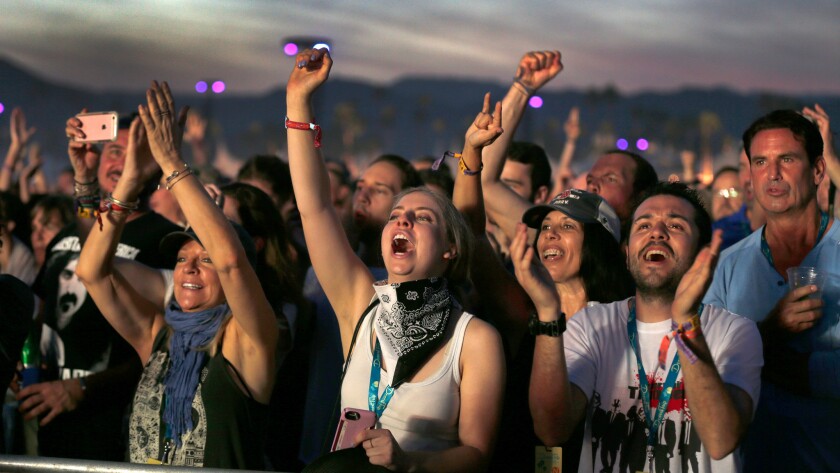 As other acts on the festival bill demonstrated, there's plenty of room in old songs for fresh meaning. Indeed, the Who's have more room than most, given Townshend's deep interest in the corrupting influence of power.
Yet this performance seemed happily walled-off from current events, which felt all the more strange when you considered how forward-looking songs like "Who Are You" and "Eminence Front," with their blend of played and programmed elements, still feel. (Following the latter, the guitarist chuckled and offered one timely aside: "Good luck in the election, folks.")
What made the Who's set especially disappointing was knowing that Townshend hasn't lost his sharp wit.
Following the inevitable one-two punch of "Baba O'Riley" and "Won't Get Fooled Again," he closed by introducing the members of the band — a rock-show obligation that turned surprisingly lively when Townshend took off on a tangent about how Entwistle, who died in a Las Vegas hotel room in 2002, "went out in a blaze of something or other."
With a laugh, he added, "Have a line for me, John."
Twitter: @mikaelwood
ALSO
At Desert Trip, the Rolling Stones gather no moss
Desert Trip brought out the boomers, but its appeal was ageless
Classic rock veterans — and a clearly defined concept — help distinguish inaugural Desert Trip festival
---
Inside the business of entertainment
The Wide Shot brings you news, analysis and insights on everything from streaming wars to production — and what it all means for the future.
You may occasionally receive promotional content from the Los Angeles Times.