Composer Disasterpeace has gone from 'Fez' to film. Next up? 'Under the Silver Lake'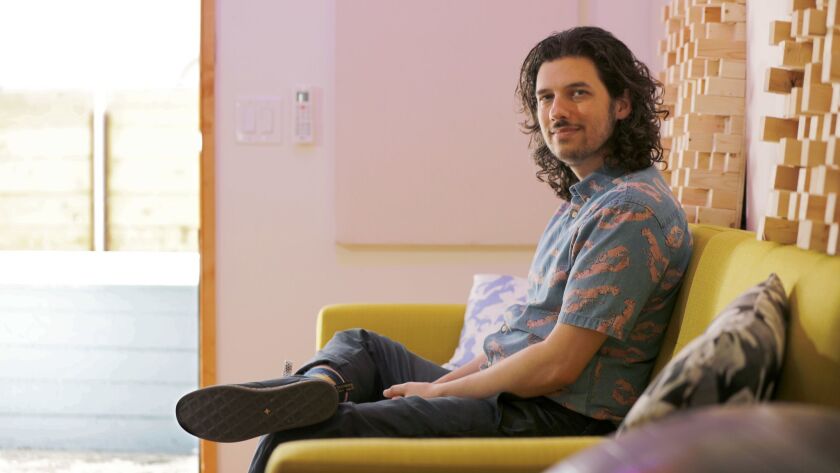 Can a musical cue frighten you?
In the 2015 horror film "It Follows," the villain is a malevolent, shape-shifting entity that punishes teen sex and seems to be everywhere at once. It's more of a concept than a monster, and it can look like anyone you know.
The way you know it's coming is when composer Rich Vreeland's creepy synth figure lurks back into his film score. The riff evokes '70s slasher horror with modern, eerie ambience, and it was a huge part of why "It Follows" — an esoteric small-budget film with no big stars — became a breakout horror hit.
It also changed Vreeland's life.
Vreeland, who records as Disasterpeace, has two major concurrent film projects in wide release — the all-star Netflix action thriller "Triple Frontier," out now, and the unclassifiable noir "Under the Silver Lake," out next week. Together, they herald a new a force in film composing.
With "It Follows," Vreeland said, "I was stepping into something that I didn't have a lot of familiarity with, and that turned out to be a strength for me. I sort of bring a little bit of unintentional ignorance to the project, which helps me to work through the spirit of it for the first time while I'm actually doing it."
Vreeland works out of a Glassell Park studio, in a converted, brightly colored Craftsman that houses his instrument rig, some giant monitors and a neon-modded piano (he's been taking lessons again recently). Vreeland, like acclaimed composer Michael Giacchino, got his musical start in video game scores. The lessons he learned there — using overlapping figures to create unusual musical counterpoints throughout a game's action — informed how he saw music as a process as much as a complete body of work.
"I'm always keeping the door open to doing things in a technical or nontraditional way, like using my own software that I developed to help me come up with compositional ideas," Vreeland said. "The way in which you can approach games with music, it can be as technical or as simple as you want it to be. I think film tends to have more of a narrow sort of pathway."
But when director David Robert Mitchell heard Disasterpeace's score for the deceptively mind-bending indie game "Fez," it opened up a whole different pathway for Vreeland's career. Mitchell used "Fez's" music as a temporary score for early drafts of the film, then brought him on to do the actual composing.
The music — which predated "Stranger Things' " revival of vintage horror-synth sounds — was a core part of the unexpected success of "It Follows," and it put Vreeland in the running for much bigger mainstream projects.
Netflix's "Triple Frontier" came out first. Its formidable cast, including Ben Affleck, Oscar Isaac, Charlie Hunnam and Garrett Hedlund, was far and away the most star-packed project Vreeland had worked on. The story, about a band of former Special Forces soldiers staging a heist on a drug gang, called for more straightforward, pulse-quickening music than Vreeland was used to. But he came at it with a noisenik's ear for dismantling rock and orchestral sounds.
"I didn't really have a lot of prior context for action films. It was never something that I really thought about ever doing," Vreeland said. "That's fun because you get to come on board and just try stuff, and naturally what comes out tends to be sort of different."
The budget even allowed him to bring Metallica drummer Lars Ulrich in to help with the fiery percussion sequences.
"He was super open to it. Lars is a really nice guy and down for whatever," Vreeland said. "Bringing in Lars to record a lot of pulsing kicks and toms really helped to glue the score together."
But next week also sees his return to working with Mitchell, on the Cannes-favorite "Under the Silver Lake." The film, starring Andrew Garfield, Riley Keough and Topher Grace, is a bit of a mirror image of "It Follows." In it, a romantic young Angeleno gets roped into an esoteric, ominous mystery that consumes his whole life. But instead of a vengeful, shapeless force, here the villain is L.A. noir's classic mix of corruption and fantasy — and perhaps his own mind.
"I wanted to have a lot of different aesthetic elements," he said, to represent "this rabbit hole that Sam [Garfield] is going down."
Although the color palette is brighter and the mystery more human than in his last collaboration with Mitchell, Vreeland again looked to film history for the moods of "Silver Lake." He had to challenge himself, working in a more traditional orchestral format (as well as conceptualizing the film's fictional band Jesus and the Brides of Dracula, played by local heroes Silversun Pickups).
"It Follows" was certainly dark, but film noir is its own aesthetic. Mitchell gave him some unimpeachable starting points.
"David recommended some movies for me — 'Citizen Kane' and 'Vertigo,' 'Taxi Driver,' 'Blue Velvet' — just to get into the head space," Vreeland said. "It helped me to have more of a reference point for how to inhabit some of this stuff.
"Discovering the music of someone like Bernard Herrmann," Vreeland said, referring to the composer who worked with Alfred Hitchcock and Orson Welles, "that was one of the nicest things about that project."
These latest films are a peak in Disasterpeace's profile, but Vreeland is already looking to something much more intimate for his next deep dive. Games remain a primary passion, but after finishing these two films, Vreeland wants to get into scoring immersive theater. There's a visceral immediacy to the format that seems especially interesting to him as a composer, how music can chill your blood while following you from room to room.
"You're dealing with sound in different spaces, physical spaces," he said. "Having done movies and having done games, that's unfamiliar enough that it would be a challenge. "
For breaking music news, follow @augustbrown on Twitter.
---
Your essential guide to the arts in L.A.
Get Carolina A. Miranda's weekly newsletter for what's happening, plus openings, critics' picks and more.
You may occasionally receive promotional content from the Los Angeles Times.