Dr. John and Louis Armstrong: Charismatic ambassadors from New Orleans to the world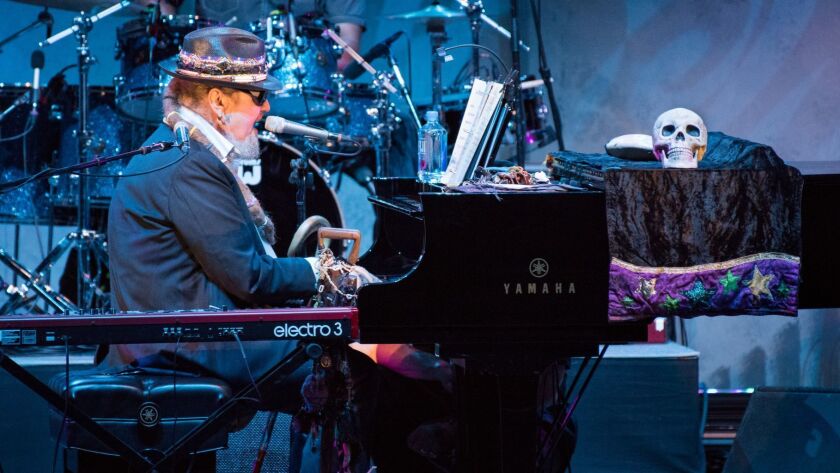 Five years ago I found a good excuse — not that one was ever really necessary — to check in with New Orleans favorite son Mac Rebennack, a.k.a. Dr. John: Delving into the album he released at that time, "Ske-Dat-De-Dat: The Spirit of Satch," his tribute to the jazz titan of New Orleans music, Louis Armstrong. It turned out to be the final studio album released during the lifetime of the musician who died June 6 of a heart attack at 77.
I'd spoken a few times previously to and attended many transcendent concerts by the celebrated Night Tripper — the psychedelicized, voodoo-preaching alter ego he came up with in the late 1960s. But getting his take on Armstrong felt like an extraordinary opportunity.
Both are pivotal figures in the music and culture of the city that's arguably the most richly diverse polyglot in the country, with its amalgam of elements of Native American, French, Spanish, African, English, Cuban, South American and other influences all vibrantly at play.
Armstrong almost single-handedly took jazz out of the bars, brothels and street corners of the Crescent City and introduced it to enraptured listeners in Chicago, New York and then the rest of the world. A half-century later, Mac materialized on the national stage as a full-blown lysergic hallucination called Dr. John, the Night Tripper, who injected the New Orleans musical joie de vivre into the pop music conversation by way of his 1968 debut album "Gris-Gris" and then, on a broader scale, with his 1973 top-10 hit "Right Place, Wrong Time."
In that respect, he extended Armstrong's ambassadorship, showing the world the potential richness of cultures blending harmoniously rather than clashing in cacophony.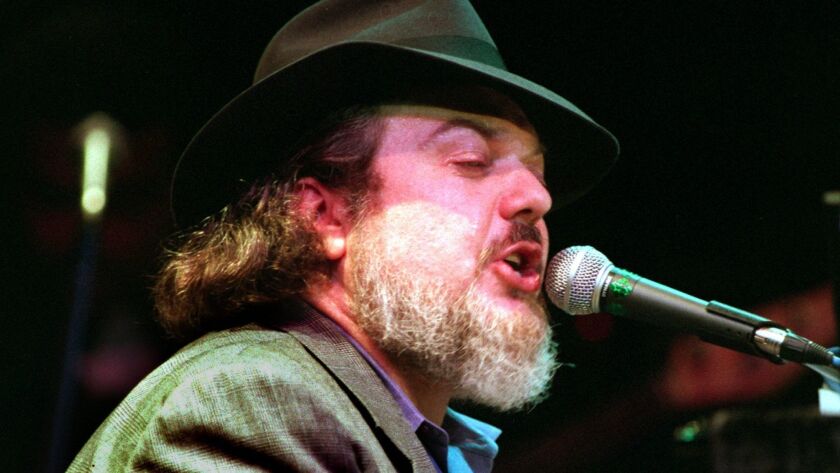 When I asked about his decision to salute the influential jazz pioneer, Mac told me out of the gate: "It was about four years ago. He came to me in this dream and said, 'Do my stuff — your way.' "
We spoke about the shifting place Armstrong held — in New Orleans, in the United States and around the world over the decades as he moved from groundbreaking vocalist and trumpeter in the 1920s to avuncular presence in the movies in the '40s and '50s, to sometimes-derided proponent of antiquated music as well as global cultural ambassador.
"A lot of the guys into the bebop were tired of the old stuff," he said. "They sought new fresh turf out there." Consequently, many post-WWII jazz players dismissed Armstrong and his contributions.
"I felt like Louis as an ambassador to the world, and being from New Orleans, was a good thing for the city," he said. Besides, "Like Miles Davis said, if Louis hadn't played some stuff and opened up the door for a lot of cats, who would have did it?" Mac asked. "Louis was blessed in his way. And a lot of the cats who followed in his footsteps was blessed along the way. When they shifted some gears, that was a good thing, too. If music don't move, it's caught up in a trap and that's never good. Music should never be in a trap."
Neither should musicians. Armstrong fought institutional racism with two main weapons available to him nearly a century ago: music so inherently inspiring it couldn't be denied, and personal charm and charisma that proved equally irresistible. Occasionally he addressed the hurdles for African Americans in song, notably his 1929 recording of Fats Waller's "Black and Blue."
Rebennack learned early on about Armstrong, and racism, first-hand growing up in New Orleans in the 1940s and '50s.
"I remember a lot of his records, stuff I heard him doing way back when I was a little kid," he said. A big part of that came through his father's record shop. "I was very into music by a lot of people, whether it was Big Joe Turner or whoever. He turned me onto a lot of stuff about music."
As did others. "I remember a black disc jockey, Vernon Winslow — Poppa Stoppa on the radio. He bought records at my pa's shop, and I liked the guy because he was open to a lot of different stuff. He would buy some hillbilly records. That was off the hook, at that time. I kinda realized later, a lot of people [in New Orleans] liked hillbilly music."
For a guy who dressed year-round like he was headed to or from a Mardi Gras parade, and who twisted and morphed the English language the way great jazz musicians treat a song's melody, Mac was exceptionally articulate when he wanted to be.
"The specter of color is apparent even when it goes unmentioned," he once said, "and it is all too often the unseen force that influences public policy as well as private relationships. There is nothing more remarkable than the ingenuity that the various demarcations of the color line reflect. If only the same creative energy could be used to eradicate the color line; then its days would indeed be numbered."
Among the slew of guest artists Dr. John collaborated with on "Ske-Dat-De-Dat" was Bonnie Raitt, a longtime admirer who teamed with him for a duet on Harold Arlen's "I've Got the World on a String."
"That was the last time I saw him," Raitt said when I spoke to her Friday. "He'd had a lot of health problems in the last couple of years. His body of work spanned such great material. I'm so grateful we have this legacy.
"I have not seen anyone come up and be able to capture the same things he did," said Raitt, "that kind of musical genius and cultural inventiveness. It was the whole package of Mac: the way he presented himself, the inventiveness of it, the funkiness, the way he dressed and put himself together, the walking stick, the different headgear over the years, creating his own language....
"I remember when that first album came out, I'd never heard anything like it," she continued. "After all that stuff from Lee Dorsey, Ernie K-Doe, Irma Thomas and the early New Orleans, Mac came along with a psychedelic version, and then his voice and his voodoo introduced me to this whole other world of New Orleans I knew nothing about."
Briefly in the late '60s, just as his solo career was getting off the ground after paying considerable dues as a studio musician, Rebennack was managed by Joe Glaser, whose roster also included Armstrong and B.B. King.
"Louis was still doing all these gigs all over the world," Mac said. "It was like, wow, this guy's actually doing it. That was a blessing for me to get to understand, because we were both from the same Third Ward from New Orleans."
For the Armstrong tribute album, he chose to work with a female co-producer — trombonist/horn player Sarah Morrow — a rarity in music, and another example of the principles of human interaction he adhered to. In Mac's world, it was all about content of character — and the quality of your chops.
"I loved her charts on that as well as a lot of the other charts we done on this record," he said. "When I wasn't producing something up to par, she took over. Where I was doin' something cool, she backed off a little bit because she saw where I was going with it. That's a good working combination."
"One of the reasons he said he chose me to be his musical director and to be so involved in this project," Morrow told me at the time, "is because [pianist Alvin] Red Tyler, as well as Cousin Joe [pianist Pleasant 'Cousin Joe' Joseph] came to him in dreams telling him to work with me. It's all very spiritually connected for him."
Two of his albums I've gone back to the most over the years, among more than two dozen studio albums he made, were volumes 1 and 2 of "Dr. John Plays Mac Rebennack," released nearly a quarter-century apart in 1981 and 2005. Both featured just him at the piano, mostly solo instrumentals with just a couple of vocals — unadulterated despite how inventively he always used horns, guitars, bass, drums and other instruments elsewhere.
Revisiting our 2014 conversation in the wake of his death, I realized that something he said about his tribute to Louis Armstrong was every bit as descriptive of his entire life.
"I tried to make the songs fit me the best I could," he said. "I hope I was always true to the music. I have no idea what the world's gonna ever say about what that is. But you know what? I felt like I gave it my best."
Follow @RandyLewis2 on Twitter.com
For Classic Rock coverage, join us on Facebook
---
From the Emmys to the Oscars.
Get our revamped Envelope newsletter, sent twice a week, for exclusive awards season coverage, behind-the-scenes insights and columnist Glenn Whipp's commentary.
You may occasionally receive promotional content from the Los Angeles Times.