Review: A year after the Eagles played without the late Glenn Frey, they've come home to the Forum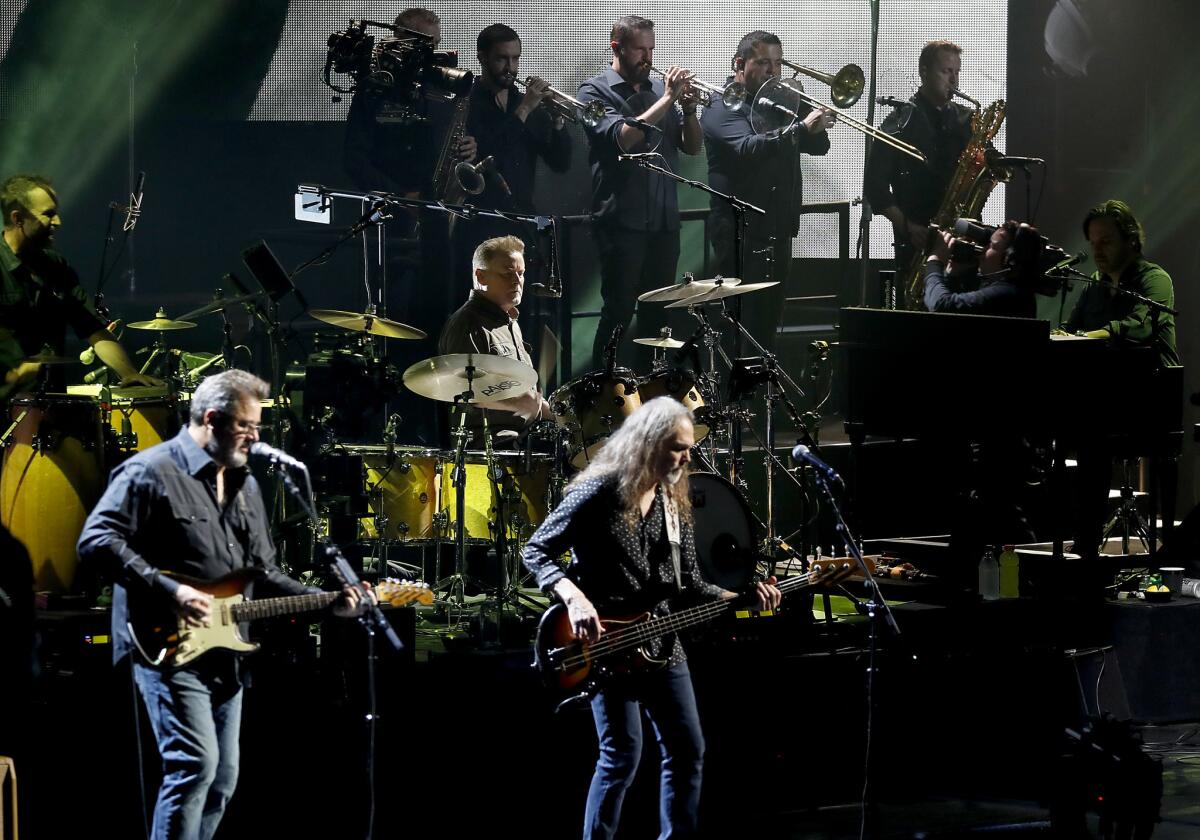 Pop Music Critic
As he stood onstage Wednesday night at the Forum, Don Henley had history on his mind.
Well, more history than usual.
The Eagles frontman has been in something of a retrospective mode since 2013, when his veteran Los Angeles band launched its "History of the Eagles" tour in conjunction with an exhaustive three-hour documentary of the same name.
On Wednesday, though, he noted with pride, he was thinking specifically about the Eagles' lengthy experience in the Inglewood arena they first played 43 years ago — and have revisited more than a dozen times since, including a six-night stand to reopen the Forum in 2014 after a costly renovation.
To read between the lines of Henley's account was, of course, to recognize a characteristic boast about how long the Eagles have stuck around. (You might also have concluded that Henley was kissing the ring of the building's powerful operator, Irving Azoff, whose other job is managing the Eagles.)
But the band's endurance — last month its greatest-hits collection was named the best-selling album of all time by the Recording Industry Assn. of America — hasn't come without change.
After the 2016 death of singer and guitarist Glenn Frey, with whom Henley founded the Eagles in the early 1970s, the band's surviving members drafted Frey's son Deacon and the country star Vince Gill to replace him.
"This young man has had some big shoes to fill," Henley said Wednesday as he gestured toward Deacon Frey, who's in his mid-20s. With a laugh, he added that Deacon's first gig as a member of the Eagles went down at no less a venue than Dodger Stadium, during last year's Classic West festival.
Then he used an anatomical term to point out that the kid has, um, chutzpah.
That excellent 2017 performance demonstrated that this version of the Eagles — with Henley, Deacon Frey, Gill, Joe Walsh and Timothy B. Schmit — could sound sufficiently Eagles-ish minus the guy viewed by many as the band's mastermind.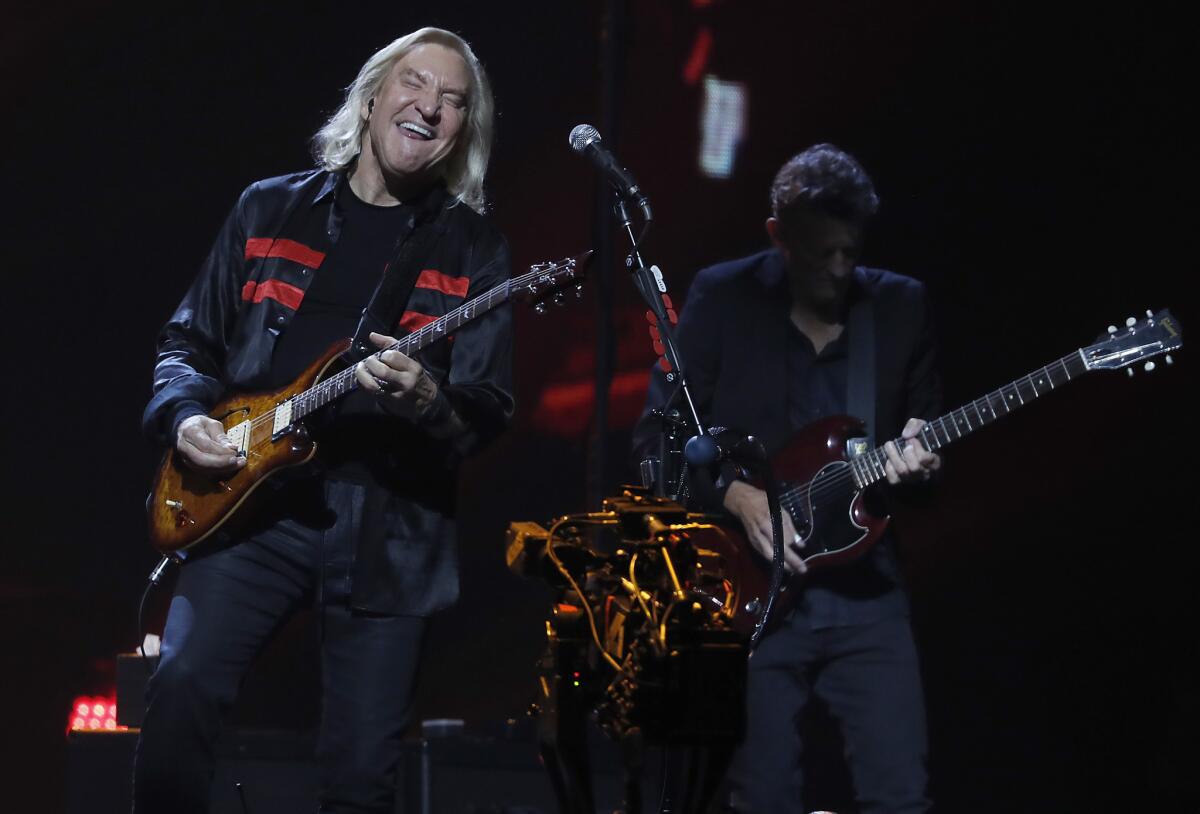 Indeed, the group's success at Classic West may have helped inspire two of the festival's other acts, Fleetwood Mac and Steely Dan, to continue on this year without key members of their own: Lindsey Buckingham, who quit (or was fired from) Fleetwood Mac ahead of its upcoming tour, and Steely Dan's Walter Becker, who died last September.
But that was before the Eagles had been tested on the road.
Although Henley was right that a giant baseball park is a nerve-racking spot to make one's public debut, the audience at Dodger Stadium seemed very much on the Eagles' side; these folks were rooting for Deacon Frey, which only boosted the electricity of the rock-historic event. (Surely, some old-school fans objected to the band's decision to carry on without Glenn Frey — but few were likely among those who'd shelled out hundreds to attend Classic West.)
Wednesday's concert, on the other hand — the first of three at the Forum through Saturday — took place after a year of pretty steady live work.
So what was different?
It's not as though the Eagles — with four backing musicians as well as horn and string sections — were any more polished, given that they started out as slick as humanly possible.
"Seven Bridges Road" and "Take It Easy" still had pitch-perfect vocal harmonies; "One of These Nights" and "I Can't Tell You Why" still found the precise midpoint between disco and rock.
But there was an air of relaxation here that you didn't detect last time: Because they couldn't get any tighter, the Eagles had gotten looser instead — playing with dynamics, toying ever so slightly with tempo, allowing instrumental solos that felt credibly instinctive (even if they were composed down to the note).
The set list, though it was close to the one from Classic West, had sprouted some new features too, including the band's cover of Tom Waits' "Ol' '55" and Gill's rendition of his early-'90s country hit "Don't Let Our Love Start Slippin' Away."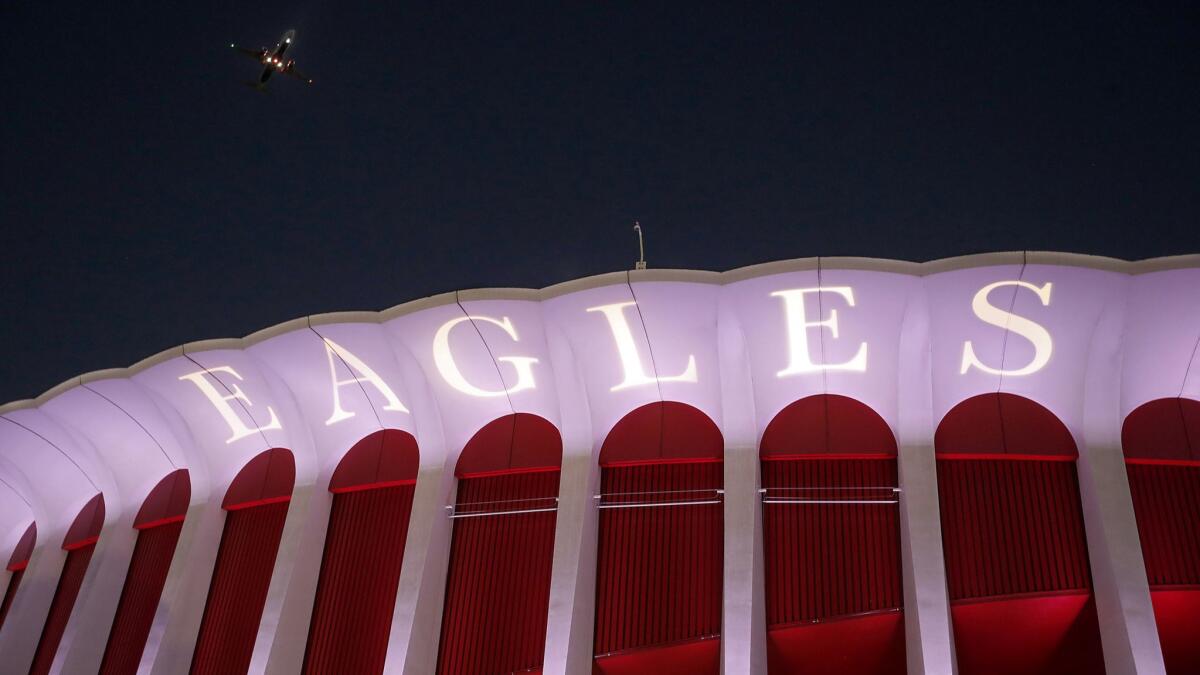 Henley even sang "The Boys of Summer," which as far as I know was the Eagles' first performance of his solo tune in years.
Toward the end of the night the mellow vibe started to turn a little sleepy — just the right moment, as the group clearly understood, to let Joe Walsh do his appealing caveman-genius act for a while.
But then it was time, inevitably, for "Hotel California" and "Desperado," the two songs on which the band's myth as decadent outlaws was constructed.
Truth be told, both were a bore — the first time Wednesday the Eagles seemed to be flying on autopilot.
For an act with as many decades behind it as this one, sometimes the trouble isn't turbulence — it's the dulling effect of a clear sky.
The Eagles
When: 8 p.m. Friday and Saturday
Where: The Forum, 3900 W. Manchester Blvd., Inglewood
Tickets: $59.50-$399.50
Info: fabulousforum.com
Twitter: @mikaelwood
Get our L.A. Goes Out newsletter, with the week's best events, to help you explore and experience our city.
You may occasionally receive promotional content from the Los Angeles Times.