Review: Feist brings 'Pleasure' to the Palace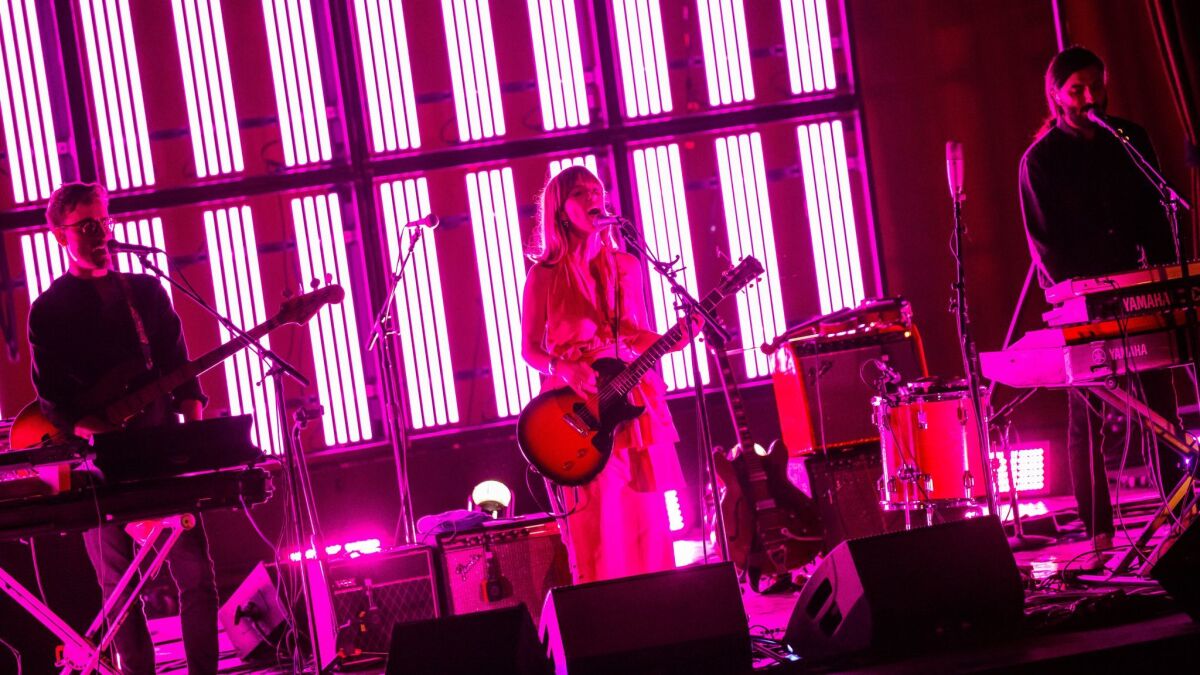 Pop Music Critic
Leslie Feist had made a serious mistake.
That's the realization this Canadian singer and songwriter seemed to reach, anyway, just a few minutes after she came onstage Friday night at downtown's Palace Theatre, where she was playing the first of three concerts behind her gripping new album, "Pleasure."
Released late last month, "Pleasure" is a raw, boldly minimalist effort — smaller in scale than Feist's previous record, 2011's "Metals," and less colorful than "The Reminder," her 2007 breakthrough that spawned the peppy hit single "1234" and led to a left-field Grammy nomination for best new artist.
So you could see how she figured a seated show in a semi-rehabbed movie house would be the ideal setting to present her latest work.
But after opening with the album's stark title track, which the hushed audience absorbed with perhaps a little too much respect, Feist evidently changed her mind, telling the crowd that no one should feel obliged to remain in his or her comfortable seat.
At that, several dozen fans leaped up and rushed to the front of the room.
"Oh!" said Feist, who performs under her last name and lives part-time in Los Angeles. "It's a gig all of a sudden."
As stripped-down as they are, the folky arrangements on "Pleasure" — built mostly from just voice and acoustic guitar — deliver complicated thoughts on what the 41-year-old has described as a rough stretch in her personal life.
"I felt some certainty that you must have died / Because how could I live if you're still alive?" she wonders in "I Wish I Didn't Miss You," a vivid break-up song filled with equal parts longing and shame. In "A Man Is Not His Song" she ponders a lover's unreliability while acknowledging her own willingness to indulge it.
Even "Baby Be Simple," in which she asks to be treated gently, sets aside self-pity for a kind of Zen philosophy: "To become that rooftop," she sings in a metaphor apparently inspired by her reported new interest in carpentry, "had to fall all the way down."
At the Palace, where she was backed by a nimble three-piece band on keyboards, percussion, violin and other instruments, Feist performed the album from beginning to end.
And as though to keep those fans on their feet, she emphasized the music's unfinished edges — elongating certain vocal phrases and using fuzzy guitar chords to slice the air — rather than painting a pretty (but simple) picture that might merely be gazed at.
She also appeared to ad lib lyrics on several occasions, as in "Any Party," which turned into a tune about the likelihood of people in the crowd finding other people to go home with.
Yet Feist's control over the sound was remarkable, especially in how she and her musicians precisely layered their voices in "Lost Dreams" and "The Wind," the latter of which describes the flattening effect of the powerful gusts that she said blow across northern Ontario.
"The trees for their hundred years lean north like calligraphy," she sang, offering another strong image from the physical world, "and I'm shaped by my storming like they're shaped by the storming."
In "I'm Not Running Away" — about how "I wouldn't be telling the truth if I don't admit that I depend on you" — the singer pulled live-wire electric-blues notes from her guitar but stayed in touch with her drummer's steady groove.
After she played through "Pleasure," Feist did some of her earlier material, including her stomping adaptation of Nina Simone's take on the traditional folk song "Sea Lion Woman" and "I Feel It All," which she introduced by observing that "The Reminder" came out 10 years ago this week.
She drew again from that album for her inevitable closer, the tune that introduced her to a wide audience thanks to its use in an iPod commercial.
"This is a golden, at this point, oldie," she said with a touch of embarrassed pride.
But instead of reproducing the cheerful bounce that propelled "1234" all the way to a cameo on "Sesame Street," Feist dismantled her signature hit, slowing the rhythm and turning over the polished words — "One, two, three, four / Tell me that you love me more" — in a manner that suggested she was looking for cracks in its yearning optimism.
"Two-thousand-seven, oh my God / Was a while ago," she improvised as the tune ended — one more discovery she seemed to be making in real time.
Twitter: @mikaelwood
ALSO
Michael McDonald has outlived all your jokes about yacht rock
The xx on the Chainsmokers' 'Closer': 'Doesn't this sound a bit like us?'
On the road with Billy Joel: The Piano Man talks Trump, L.A. — and new music?
---
Get our L.A. Goes Out newsletter, with the week's best events, to help you explore and experience our city.
You may occasionally receive promotional content from the Los Angeles Times.