David Lynch talks about shaking up perceptions as his Festival of Disruption returns to Los Angeles
David Lynch's instantly recognizable, pinched-nose Midwestern drawl crackles through my phone's speakers on an October afternoon: "You're walking down a path after the sun is set," he begins matter-of-factly, with the wholesome, folksy affect that also has him dropping phrases like "fantaaastic" and "I gotcha" during our interview.
"It's dim light, and you see a coiled rope in the path," he continues. "You run away and start screaming. It's always been a coiled rope, but you see a snake." He pauses for a beat, then remarks: "That's kind of the thing to think about."
Lynch is trying to explain how one's perception of the world hinges on state of mind — a key tenet of Transcendental Meditation, a technique he has been practicing and proselytizing for more than four decades. Transcendental Meditation is at the heart of Lynch's Festival of Disruption, a two-day event occurring this weekend at the Ace Hotel in downtown Los Angeles that he hopes will help raise awareness of the practice's power and benefits.
"The more you transcend, you start to see life more as a game, rather than a torment. This heavy weight of negativity lifts away, gold comes in, and garbage goes out. It's the most beautiful thing."
The festival is part of his lifelong mission to spread this practice to the world; all proceeds will help the David Lynch Foundation teach the practice to at-risk youth.
As Lynch puts it: "Imagine you came to a festival where you can enjoy photography, cinema, music and talks, and at the same time, hear about a technique that would allow you to walk away from suffering and towards absolute, total enjoyment."
RELATED — In Conversation: David Lynch, the director as painter, festival impresario and ant collaborator
Festival of Disruption launched in 2016 and has unfolded in both New York and Los Angeles; this will be its fourth edition. The Lynch-curated lineup is an eclectic, multidisciplinary stew. Performers include Grace Jones and underground DJ Tokimonsta. RZA will live-score the classic kung-fu movie "The 36th Chamber of Shaolin" with Wu-Tang Clan's discography. Francis Ford Coppola will present his movie "Jack," and Lynch will participate in a Q&A — with free coffee and donuts for everyone. Festival-goers can also browse the U.S. premiere of a Christian Louboutin sculpture exhibition or take part in a "Twin Peaks" VR experience.
"To curate something and create a lineup that's interesting and meaningful, it has to be an art form," Lynch says. Many artists playing the festival volunteered their time to help the charitable cause, he explains, while others were found on the internet or through word-of-mouth. One of the performers, Nashville musician Justin Johnson, landed on the bill after a friend sent Lynch a link to a video of Johnson playing a shovel fashioned into a three-string guitar. "Really, really great guy," Lynch remarks.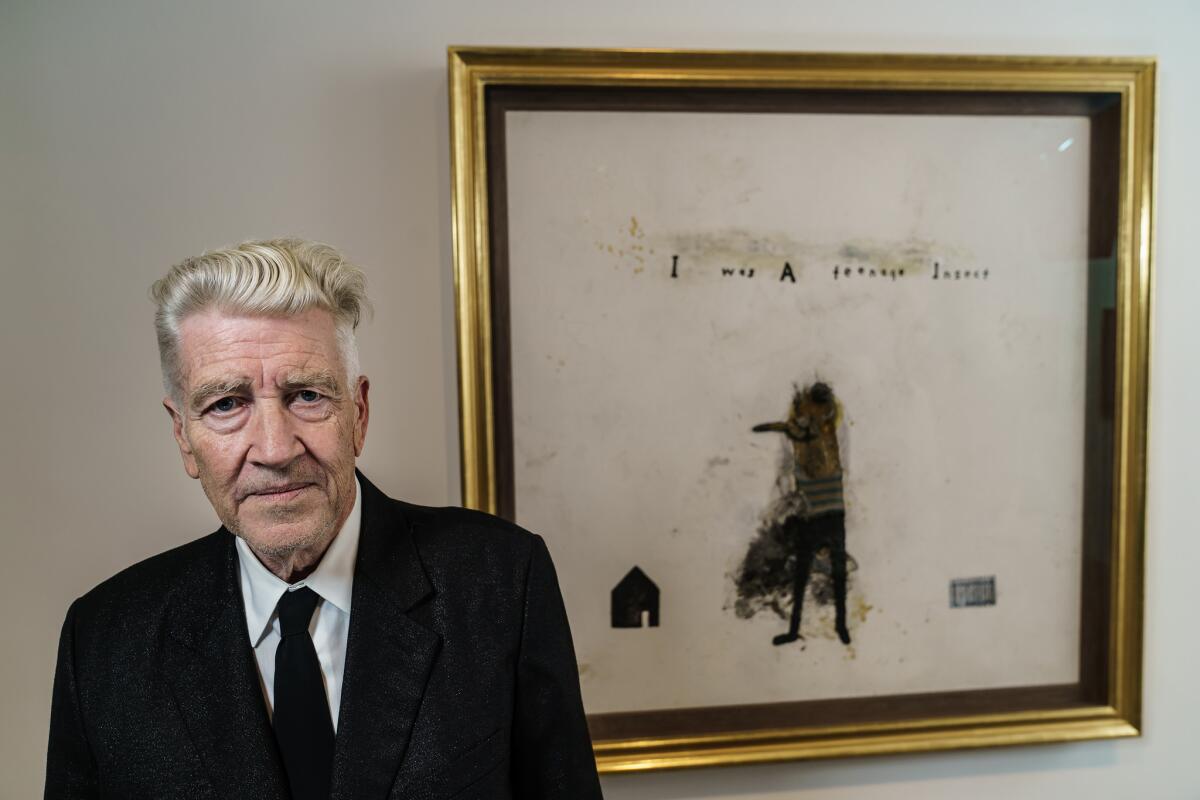 The term "disruption" has, in recent years, been over-used to the point of non-meaning, hijacked by television creators trying to find a foothold in a cluttered landscape and faux-utopianist Silicon Valley types promising to upend the world with their latest products. Lynch himself got into a bit of trouble recently when he said, in an interview with the Guardian, that "Trump could go down as one of the greatest presidents in history because he has disrupted the thing so much."
Festival of Disruption, Lynch explains, derives its name from a quote by Transcendental Meditation guru Maharishi Mahesh Yogi, but its connection goes further. "A lot of artists like being rebels. They want to break away and get to something that's new — that they love," he says. "Having a Festival of Disruption is, in a way, for the rebels. If you really want to be a rebel, you take this technique [of Transcendental Meditation] and bring out the inner power that's within everyone." He lets out a low chuckle. "Then you're set … forever."
So what exactly is being disrupted by this festival?
"I say: disrupting the bad old and bringing in the good new," Lynch says, adding after a beat: "Good to talk to ya! Bye-bye!"
♦ ♦ ♦ ♦ ♦ ♦ ♦ ♦ ♦ ♦
David Lynch's Festival of Disruption
Where: The Theatre at Ace Hotel, 929 S. Broadway, downtown Los Angeles
When: Oct. 13-14; day sessions begin at 10:30 a.m., night programs at 8 p.m.
Tickets: $55 (for single day-session pass), $999 (for donor-level two-day pass)
Info: festivalofdisruption.com or acehotel.com
David Lynch: "I Was a Teenage Insect"
Where: Kayne Griffin Corcoran, 1201 S. La Brea Ave., Los Angeles
When: 10 a.m.-6 p.m. Tuesdays-Saturdays, through Nov. 3
Info: (310) 586-6886, www.kaynegriffincorcoran.com
Get our L.A. Goes Out newsletter, with the week's best events, to help you explore and experience our city.
You may occasionally receive promotional content from the Los Angeles Times.