Inglewood's Fever 333 channels the activist, rap-rock spirit of a Rage Against the Machine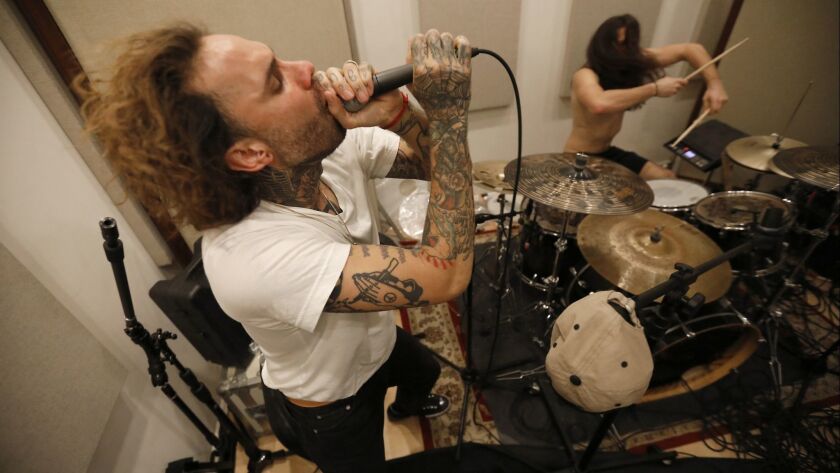 In a small rehearsal space in Van Nuys, the air is thick with lingering electricity and sweat as the band Fever 333 takes a moment of rest. Minutes earlier, the rock trio was at full boil — leaping, ranting, thrashing, lunging, pounding and testifying through songs of societal outrage and rebellion.
Singer Jason Aalon Butler slouches against the wall with a smile. "The energy, man, I'm telling you," he says, his skin intricately tattooed from his fingers up to his throat, where a horse is depicted being strangled by a snake. Butler nods toward his band mates, guitarist Stephen "Stevis" Harrison and drummer Aric Improta. "Especially with these two."
This is the last day of rehearsals for a month-long tour supporting the English rock band Bring Me the Horizon in arenas across the U.S., and their set list is tightly wound with songs that collide hardcore and hip-hop, defiance and barely controlled fury, like a next-generation Rage Against the Machine. The tour lands at the Forum on Feb. 13.
The songs include tracks from a just-released debut album, "Strength in Numb333rs," and last year's anthem "Made An America," currently up for a Grammy in the rock performance category. On that song, Butler rages of "melanin felons" and neighborhoods abandoned or exploited: "Living in terror of what they terrorize / Cover your eyes 'cause people terrified!"
For Butler, who grew up in Inglewood and until 2017 sang for the post-hardcore band Letlive, his message of militancy amid the thrashing guitar, melodic choruses and circle pits is part of the point. The Fever 333's name is in reference to a mission to spread support for "community, charity and change" like a virus.
"We are trying to talk about things as factually and as objectively as possible, while speaking our own truth," says Butler, 33. "We are still emotional beings. Backed into a corner long enough, we will lash out and we will get what we need in order to survive. We still possess that fire and we will use it. That's what this music is really — we're trying to fan those flames."
The day before, the trio celebrated the new album by joining a rally of thousands of striking school teachers in front of Los Angeles City Hall. They were three young men in matching jackets of anarchist black with the band's symbol of a snarling panther's head, not there to perform but just to stand with the crowd in support of the labor action.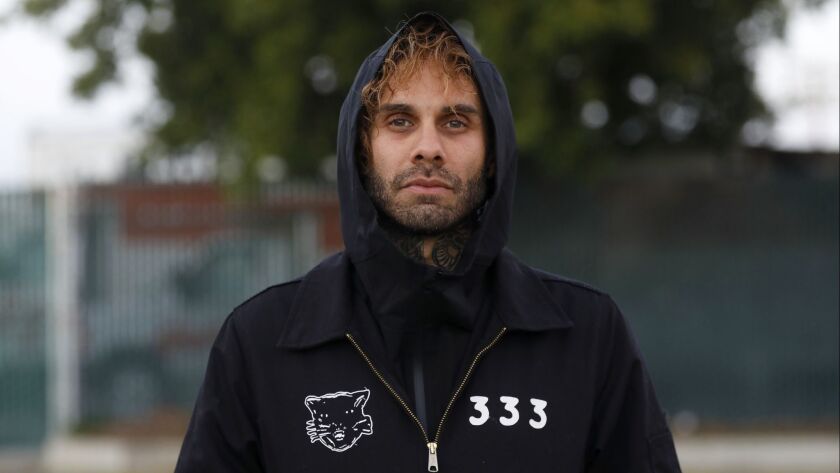 RELATED: Greta Van Fleet just performed on 'SNL' and are up for three Grammys. But are they pushing rock backwards or forwards?
"For a lot of people, especially when you're younger," says Harrison, "politics can seem intimidating and you don't know how simple it is to just show up and show that you care about something."
The new album's first single is "Burn It," which erupts with the sound of panicked guitar and industrial effects as Butler rails of urban riot and rebirth, rhyming through a litany of cultural giants and antiheroes to signify his own personal identity: "I got a mouth like Malcolm and hands just like Ali/Black panther, white mother, you better not try me/I got a mind like Martin, visions of Rodney King/My city's on fire."
Butler was only 7 when the L.A. riots exploded in 1992 following the acquittal of LAPD officers caught on videotape beating motorist Rodney King, but his memories of those days remain vivid: his father spraying water on the roof of their house to protect it from fire, his older brother coming home bloodied after attempting to break up a fight, the neighborhood Burger King set aflame.
Several references to those images are on the Fever 333 album.
"I was in a black community, black culture in my household. Understanding it on that side of the story was really painful and really hard to understand as a child," Butler says. "Everything I was hearing about the story was because he was black, so as a kid it was hard for me to understand. I was also pretty emotional as a kid. That verdict quite literally was the spark that set my city on fire."
The son of soul musician Aalon Butler, whose band Aalon released one album on Arista Records in 1977, the Fever 333 singer's tastes leaned heavily toward the aggressive sounds of punk rock and hip-hop, from Black Flag to N.W.A. When rapper Ice Cube declared in 2016 that the gangsta group was rock 'n' roll, Butler identified.
"Hell yeah, they were the most punk rock group of all time," Butler shouts excitedly. "I felt that shock wave very heavily where I was in Inglewood for sure. It was representation for all this ... we saw every day. I remember being a child and my father teaching me when we get pulled over to keep my hands on my lap: Don't even look at the police and he'll deal with it."
The Fever 333 was born from a momentary period of quiet for Butler in 2017. His band Letlive was on hiatus and Butler's wife, New Zealand singer Gin Wigmore, was pregnant with their first child. To save money and keep the health insurance paid, Butler took a job marketing vegan cookies. He was at a market in Calabasas when he was unexpectedly approached by Travis Barker, drummer for Blink-182.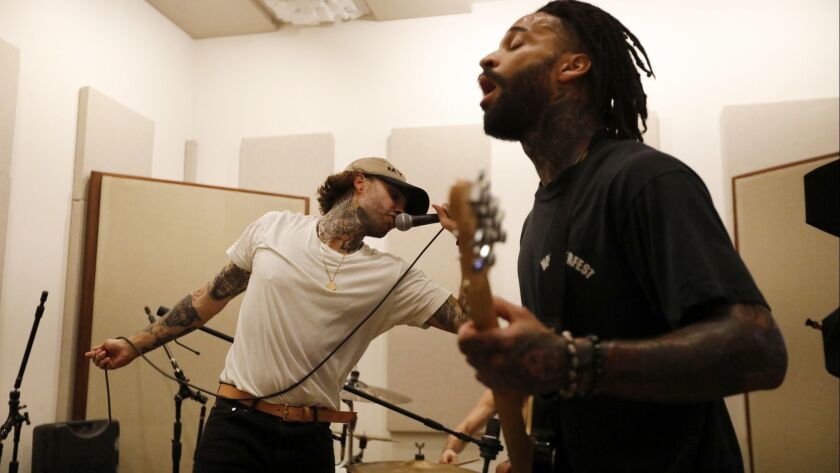 They had never met before but were soon talking of their shared tastes in music, and Barker suggested they collaborate on something with their mutual friend, producer-songwriter John Feldmann, leader of the veteran punk act Goldfinger. Butler got a call a week later and the three met up that Super Bowl Sunday, and began acting on a mutual desire for music of intensity and activism.
Once the trio started writing songs, Butler reached out to Atlanta-based Harrison (from metalcore act the Chariot) and Improta (of Fullerton post-rockers Night Verses) to form a band.
"I called Aric and then Steve and explained what this whole thing was," Butler says, noting that the same material wouldn't have been an easy fit for Letlive. "For something like this, especially with an activist element, you need people who really want to invest in that. You have to have the same set of ideals and have a common goal to succeed."
With producer-writers Barker and Feldmann as part of the Fever 333 "collective," songs are created by the band starting with the message, says Improta, 29. "Before anyone is hitting a single note, we discuss what the song is about and Jason will walk everybody through what he's trying to write about," the drummer explains. "So you go into it knowing what you're trying to portray, what position you're trying to support, and that makes it easier for us to feel authentic in our performance."
The trio's first gig was in Inglewood on July 4 that same year, unfolding without warning in the parking lot of Randy's Donuts. They rolled up in a rental truck without permits or permission for an audience of locals, tourists and a handful of hardcore fans who had been tipped off online. Beneath the shop's famous 32-foot-wide concrete doughnut, Butler and Harrison bounced high on the asphalt while Improta slammed a beat from the back of the truck for a short set.
They were gone before police arrived.
"Luckily for this project, there has been no better time in my artistic existence for something like this, for me to be a part of," says Butler. "There's been no better time because I was never equipped enough, I was never knowledgeable enough, I wasn't brave enough. And now we're here. "Ideas are infectious, and they go from one person to two, to 10, to 100 — and they spread like a fever. We just want the idea to spread as far as it can."
♦ ♦ ♦ ♦ ♦ ♦ ♦ ♦ ♦ ♦
Bring Me the Horizon with Fever 333 and Thrice
When: 7 p.m. Feb. 13
Where: The Forum, 3900 W. Manchester Blvd., Inglewood
Tickets: $49.50-$55
Info: msg.com/the-forum
---
From the Emmys to the Oscars.
Get our revamped Envelope newsletter, sent twice a week, for exclusive awards season coverage, behind-the-scenes insights and columnist Glenn Whipp's commentary.
You may occasionally receive promotional content from the Los Angeles Times.