Review: Why I felt betrayed by Fleetwood Mac at Classic West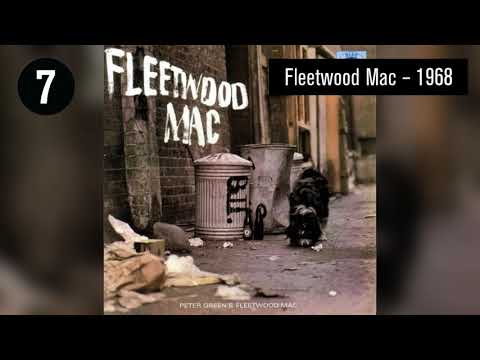 Here's a look at Fleetwood Mac's top 10 most searched for albums, according to Google's popular search function. (July 18, 2017)
Pop Music Critic
I can't say I wasn't warned.
In a recent interview with Lindsey Buckingham, I asked the Fleetwood Mac frontman about turning his attention from his and Christine McVie's new duets album to Fleetwood Mac's participation in Classic West.
First he cringed, as though the mere mention of the two-day festival — which brought Fleetwood Mac and the Eagles, among other veteran rock acts, to Dodger Stadium over the weekend — had embarrassed him. Then he explained that the explicitly nostalgic event wasn't exactly his dream gig, but that he'd agreed to do it in deference to his manager, Irving Azoff, who put the Classic West together.
Buckingham's mantra for the show? "Just close your eyes and take the money."
Having seen Sunday's miserable excuse for a concert, I wish I'd been closing my eyes.
It's not that I object to (or was scandalized by) Buckingham's avowed desire to be paid. Pop music is fundamentally a commercial enterprise; money plays no less a role than a strong beat in making the whole thing go.
So of course Classic West was a paycheck, one almost certainly inspired by the enormous success of last year's Desert Trip festival in Indio, which made an estimated $160 million with a boomer-attuned bill that included the Rolling Stones and Paul McCartney. (On Sunday, Fleetwood Mac was preceded by Journey and Earth Wind & Fire, both as competent as they were unremarkable.)
But great pop makes you forget about the profit motive; it finds ways to put across real emotion or drama or excitement — something, anyway, that feels like those things — while doing its dirty work behind your back.
And that's a trick Fleetwood Mac knows better than just about any other band in rock history.
Fleetwood Mac on stage with lead singer Stevie Nicks' image projected on the screens during the Classic West festival at Dodger Stadium in Los Angeles.
(Francine Orr / Los Angeles Times)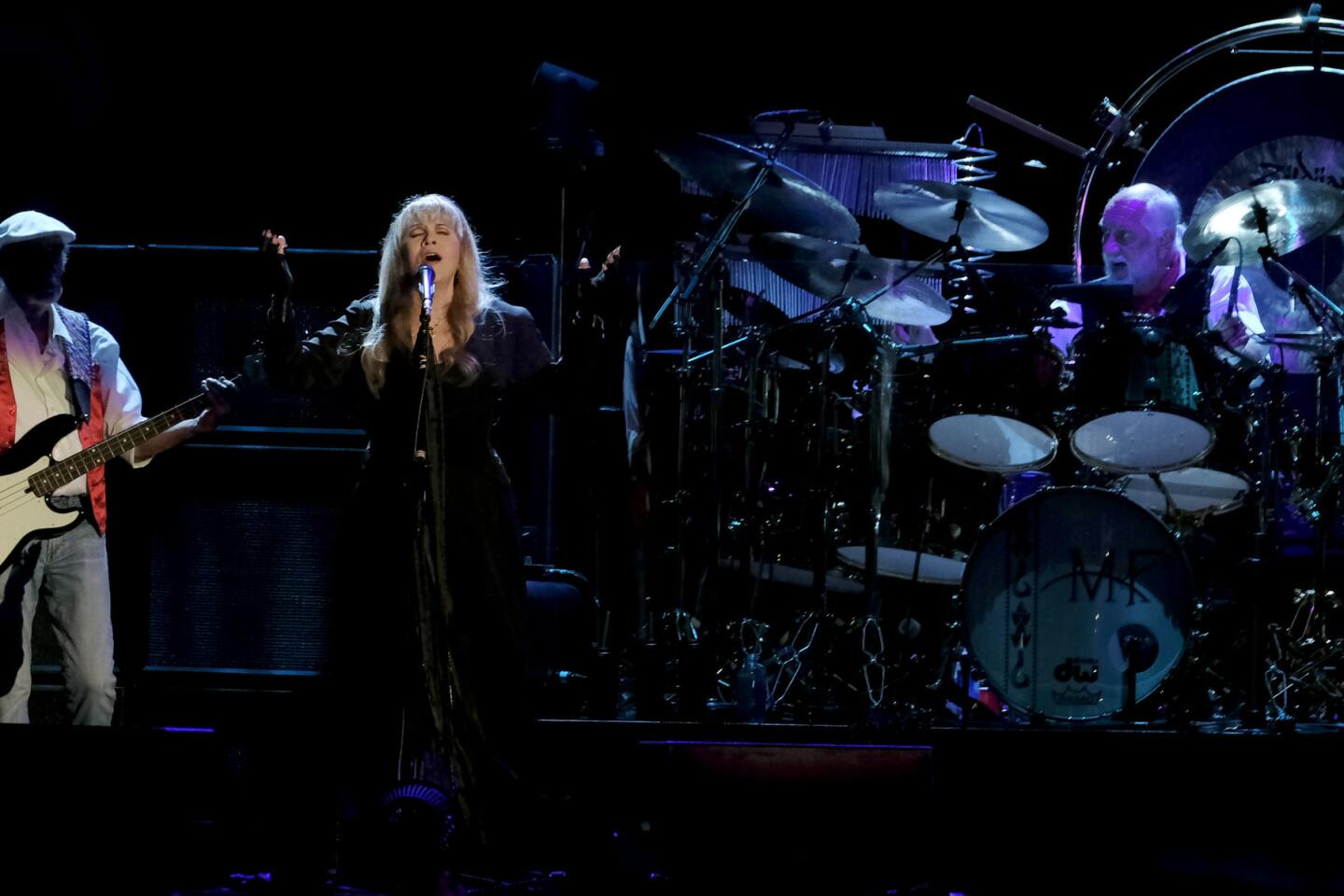 Fleetwood Mac bassist John McVie, left, lead singer Stevie Nicks and drummer Mick Fleetwood during the Classic West festival at Dodger Stadium. Earth, Wind & Fire, and Journey also performed earlier.
(Francine Orr / Los Angeles Times)
Fleetwood drummer Mick Fleetwood and guitarist Lindsey Buckingham at Classic West festival.
(Francine Orr / Los Angeles Times)
Fleetwood Mac drummer Mick Fleetwood.
(Francine Orr / Los Angeles Times)
A couple embraces during Classic West at Dodger Stadium.
(Francine Orr / Los Angeles Times)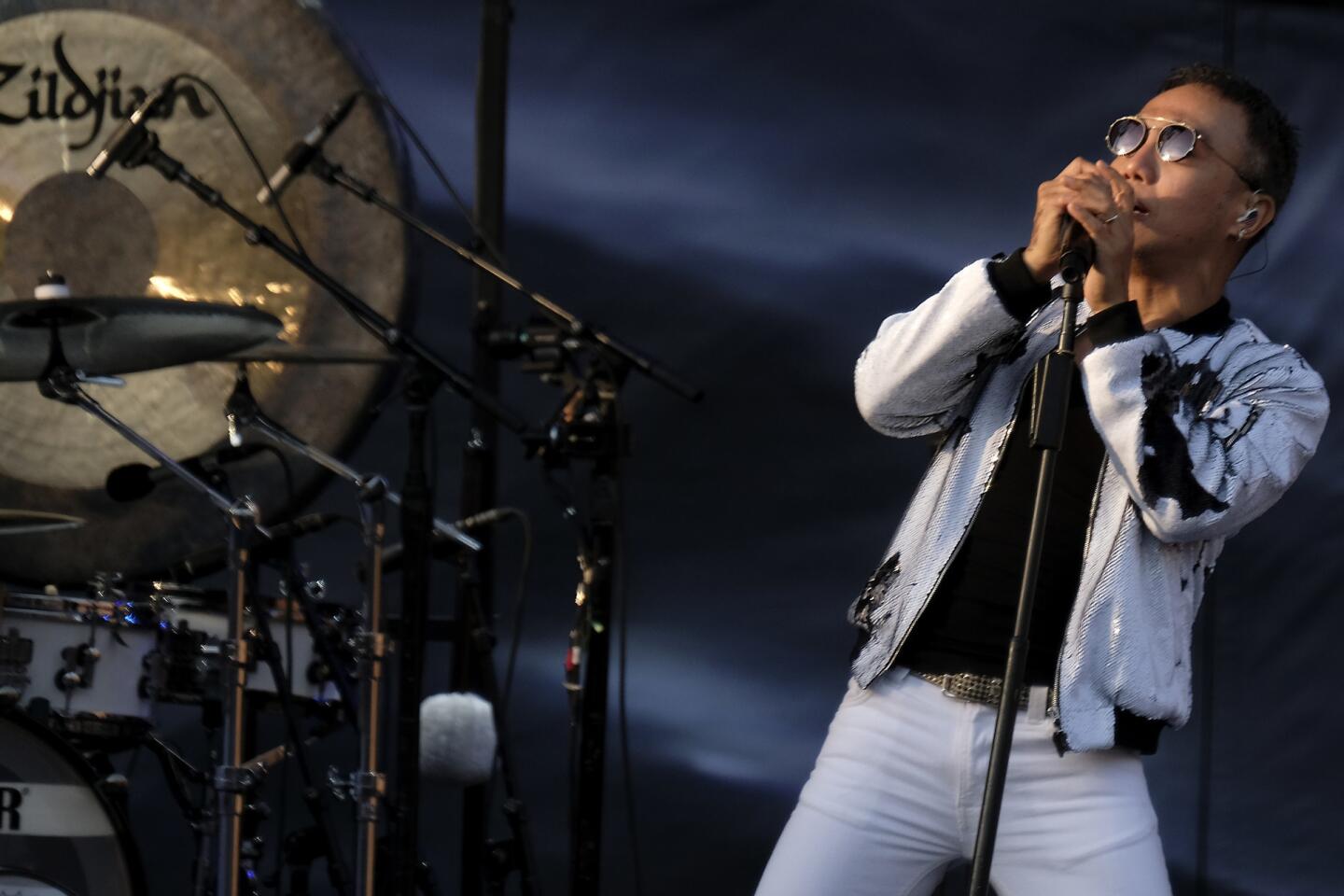 Journey lead singer Arnel Pineda performs at Classic West festival.
(Francine Orr / Los Angeles Times)
Journey lead singer Arnel Pineda.
(Francine Orr / Los Angeles Times)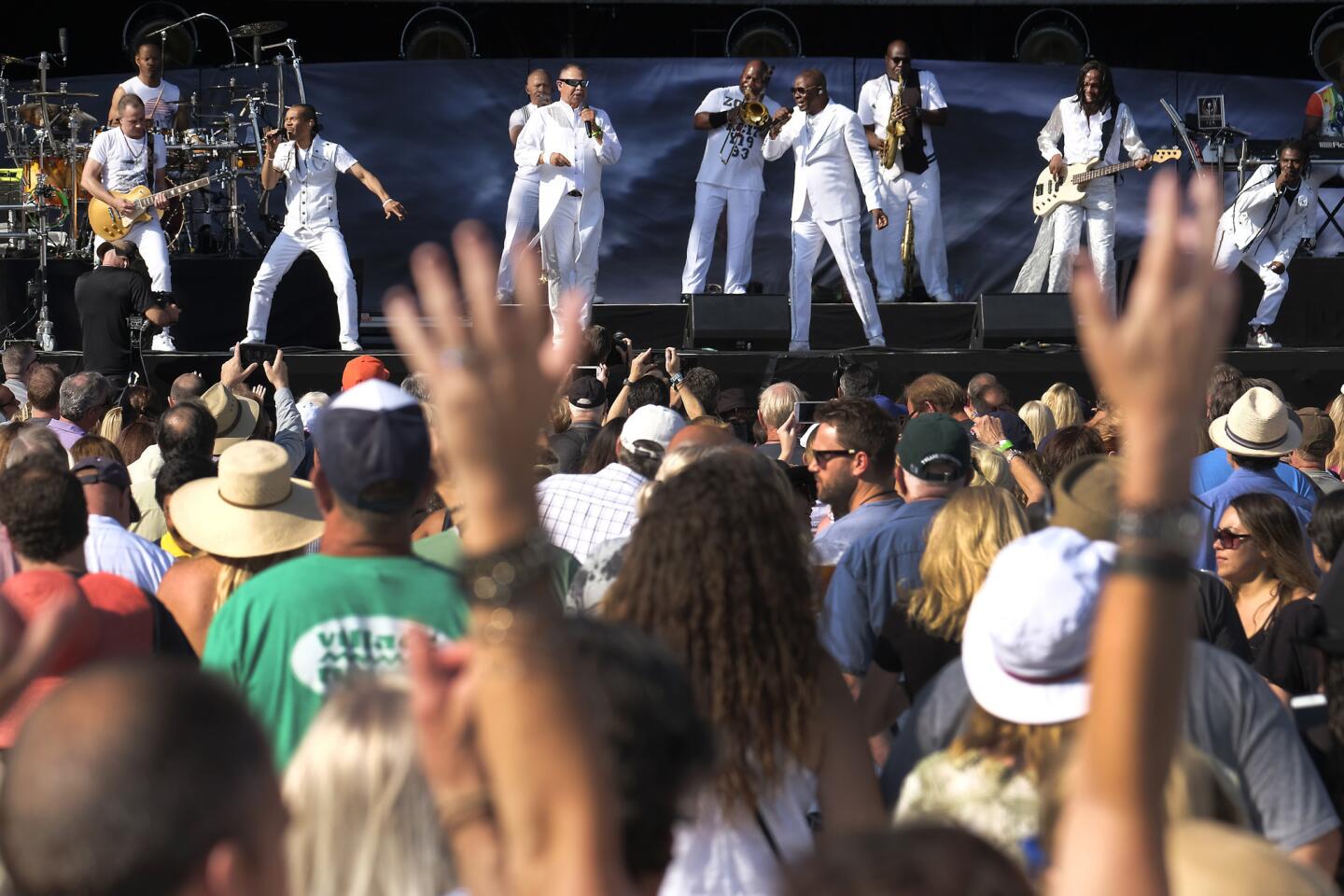 Earth, Wind & Fire performs at Classic West.
(Francine Orr / Los Angeles Times)
Take the group's celebrated "Rumours" album, which we're constantly reminded has sold approximately 1 zillion copies since it came out in 1977. At another point in our conversation, Buckingham said the album's vaunted sales numbers have been so widely discussed that they've actually overwhelmed the music itself.
But it's not true.
Put on "Dreams" now, 40 years later, and your mind isn't filled with thoughts of Mick Fleetwood's ample retirement fund. You think about thunder and players and the sound of your loneliness like a heartbeat.
It's not just these musicians' old stuff, either. Buckingham and McVie's record is a low-key delight, with loads of crafty melodies and inventive production touches that demonstrate how clearly they've influenced hip young bands such as Haim and Phoenix.
Stevie Nicks put out two solid solo albums in the last few years. And before Saturday I'd have said Fleetwood Mac was sounding as vital on the road — especially since McVie rejoined in 2014 — as the group ever had.
At Dodger Stadium, though, I thought a lot about that ample retirement fund.
For the record, the band did not play well. "Little Lies," one of Fleetwood Mac's most luscious hits, was comically ragged, while "Gypsy" moved so sluggishly that you felt like you were hearing the band's batteries die in real time.
But the true bummer was how unengaged the members were in the music — how little pleasure (or pain) they seemed to be taking in the job at hand. There was no humor or charm, nor any evidence of the group's mythically complicated chemistry; song after song in the two-hour set simply rolled by as though they were marking items off a grocery list.
"What album is it from?" McVie asked, a cartoon of rock-star distraction, before "Think About Me." Elsewhere, Nicks, looking like she regretted skipping her disco nap, dedicated "Landslide" to Glenn Frey's son, Deacon, who'd filled in for his late father the night before with the Eagles.
At least Nicks' tribute took the show off the script it otherwise clung to tightly.
Look, I get it, bands use set lists; they're practically required by big productions with lights and video. But Sunday's show was a step-by-step replica (minus the energy and charisma) of other gigs I've seen Fleetwood Mac play in recent years — a real disappointment given the potential for something special here.
For instance? "Tusk."
In the late '70s Buckingham famously recorded that song at Dodger Stadium with help from the USC marching band.
How hard would it have been to arrange for some drummers and horn players to bring that moment back to life in the very same place? Imagine the smiles and goose bumps the band would've given to the tens of thousands of fans who've kept Fleetwood Mac afloat for decades.
Maybe those folks were the problem though.
As Buckingham's queasy feelings about Classic West suggested, the singer and guitarist appears more interested these days in cultivating a new audience than with servicing the lifers.
Which is a valuable impulse. But that meant that this concert, with its graying demographic, resembled an obligation on the band's part — a chore not worth putting too much effort into.
And that's not only a cynical position, it's a poorly informed one. In their excellent performance on Saturday, the Eagles showed that it's possible to refresh a vintage sound while maintaining a cherished legacy.
Twenty-four hours later, the members of Fleetwood Mac made me feel like a sucker for caring about theirs.
Twitter: @mikaelwood
ALSO
The Eagles fly again at the Classic West
Michael McDonald has outlived all your jokes about yacht rock
Lindsey Buckingham and Christine McVie on their duets album: 'We kind of blew our own minds'
Get our L.A. Goes Out newsletter, with the week's best events, to help you explore and experience our city.
You may occasionally receive promotional content from the Los Angeles Times.