Goldenvoice's Paul Tollett on why the promoter opted to continue FYF Fest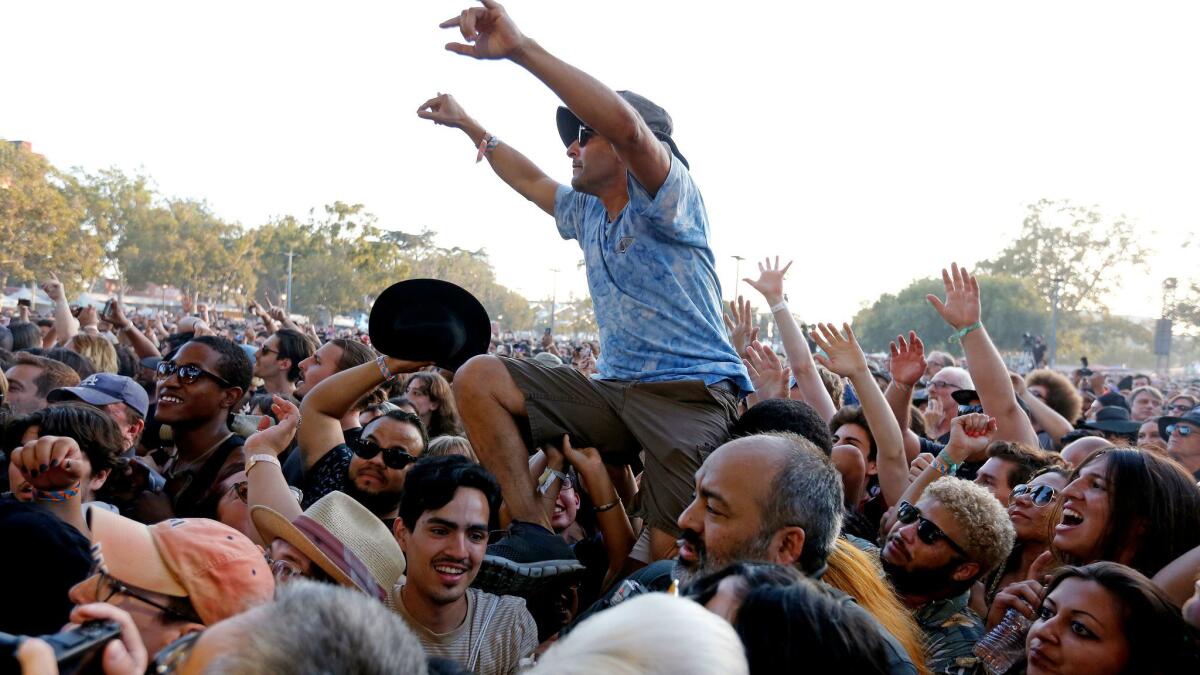 Paul Tollett, the president of Los Angeles-based concert promoter Goldenvoice, has outlined the future of the company's tastemaking FYF Festival, which occurs annually in the area surrounding the Los Angeles Memorial Coliseum and last year featured headliners Missy Elliott, Frank Ocean, Bjork and Nine Inch Nails.
The event was in doubt after allegations of sexual misconduct surfaced in the media against its founder, Sean Carlson, late last year. And for a time, there almost wasn't a future for the festival.
Tollett, after being asked about FYF's absence in a recent company email identifying Goldenvoice's many festivals, which include Coachella, Stagecoach and the Camp Flog Gnaw Carnival, said on Wednesday that it was no accident FYF had gone MIA.
"It wasn't really missing. It was deleted. We decided to walk away," Tollett said on Wednesday.
That changed last month when Goldenvoice and its parent company, AEG Live, assumed full ownership of the brand, purchasing Carlson's stake for an undisclosed price. The company also said that, going forward, in-house talent buyer Jennifer Yacoubian would book FYF's three-day set of concerts.
Yacoubian, with Goldenvoice since 2009, has booked the Shrine Auditorium, the El Rey Theatre and the Splash House event in Palm Springs, among other venues and happenings.
Goldenvoice, which had entered into a long-term partnership with FYF Fest (and its concert promotion business FYF Presents) in 2011, abruptly ended its relationship with Carlson in November, just days before multiple outlets, including The Times, published stories that included accounts from several women who had accused Carlson of sexual misconduct.
In 2013, Carlson was investigated by Los Angeles police for sexual assault after a woman alleged he attacked her. Several music industry figures alleged to The Times in corroborated accounts that they were victims of or witnesses to Carlson's sexual assault and harassment of women between 2004 and 2016.
Days after Goldenvoice severed ties with Carlson, he posted a statement on Facebook apologizing for "behaving inappropriately" toward women.
"This is a personal letter about sexual harassment and other forms of inappropriate behavior," Carlson wrote in the post. "Several years ago I was part of the problem. I behaved inappropriately towards women and these actions were unacceptable."
Tollett said that many factors played into Goldenvoice's decision to buy out Carlson's stake in FYF rather than stop working the festival. Yet one key component was not presenting a summer opening in Los Angeles to Goldenvoice's competition in the increasingly crowded festival space. "We knew that meant our competitors would probably get it," he said.
Instead, Goldenvoice bought out Carlson and defined his role — or complete lack thereof— going forward.
"That means no communication," Tollett said of Calson's connection to the event the latter founded in 2004 at the age of 18. "You can't give your two cents on how you think the direction is going. We're going to make decisions that you might not like — just the reality of when someone takes over — and he understood."
A representative for Carlson declined to comment.
In a brief conversation largely dedicated to the return this summer of Pasadena's Arroyo Seco Weekend, specific allegations against Carlson were not discussed. Yet Tollett did acknowledge that Goldenvoice and Carlson had put significant energy into building up the festival's brand, one that fashion magazine Cosmopolitan declared the "best music festival" on the West Coast.
Since moving to Exposition Park in 2014, the festival has routinely attracted A-list talent such as Björk, Kanye West, Ocean and Morrissey."It was sad, because we had worked on it for so long," Tollett said.
The 2018 roster for the FYF Fest isn't expected to be announced for a few weeks. Dates for the 2018 edition have not yet been revealed.
For tips, records, snapshots and stories on Los Angeles music culture, follow Randall Roberts on Twitter and Instagram: @liledit. Email: randall.roberts@latimes.com.
Get our L.A. Goes Out newsletter, with the week's best events, to help you explore and experience our city.
You may occasionally receive promotional content from the Los Angeles Times.