Women allege sexual misconduct by FYF founder recently axed by Goldenvoice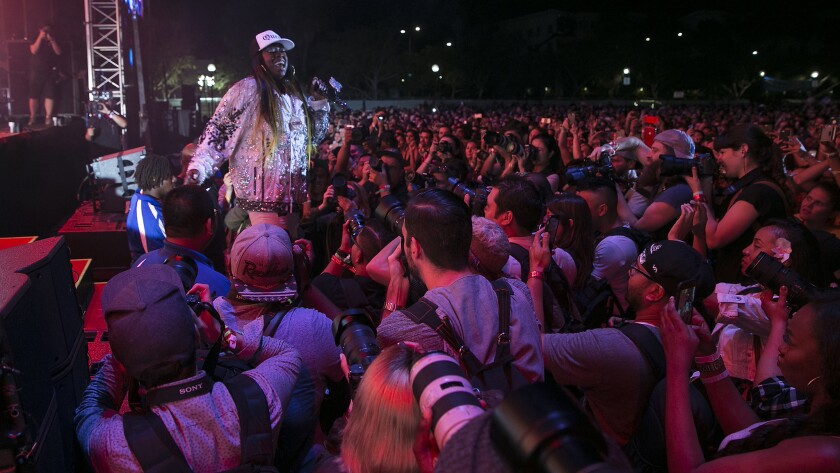 On Monday, prominent concert promoter Goldenvoice abruptly announced it was ending its partnership with FYF Festival founder Sean Carlson; it offered no explanation.
On Wednesday, Carlson released a statement on Facebook, apologizing for "behaving inappropriately" toward women.
"This is a personal letter about sexual harassment and other forms of inappropriate behavior," read the Facebook post by Carlson. "Several years ago I was part of the problem. I behaved inappropriately towards women and these actions were unacceptable."
In fact, in 2013, Carlson was investigated by Los Angeles police for sexual assault after a woman alleged he attacked her.
She is one of several women who have come forward to accuse the well-known festival promoter of sexual misconduct, according to LAPD records and interviews with the Los Angeles Times and Spin.
Goldenvoice did not respond to multiple requests by The Times for comment.
The most serious allegation was made in 2013, when a woman reported to the Los Angeles Police Department that Carlson had committed "assault with intent to commit a felony and forcible oral copulation," according to an L.A. district attorney's spokeswoman. After LAPD detectives interviewed those involved, prosecutors determined there was insufficient evidence to charge Carlson, according to LAPD Capt. Patricia Sandoval.
In response to questions from The Times on Tuesday about other sexual misconduct claims, he said via publicist Ronn Torossian that "my behavior clearly crossed a line and was inexcusable. I am genuinely, unequivocally sorry."
At least four more women have come forward to The Times and Spin, which published a story Wednesday morning with allegations of Carlson's sexual misconduct. Several music industry figures alleged to The Times in corroborated accounts that they were victims or witnesses to Carlson's sexual assault and harassment against women between 2004 and 2016.
Natasha Ryan, 32, told The Times she was working as a music photographer in 2010 when she alleges Carlson came up behind her at a party in Las Vegas, grabbed her hair, tried to undo her bra and later pinned her to a wall, forcibly kissing her while attempting to pull her into a bathroom by her wrists.
"I was yelling 'stop, stop,' but the music was loud, no one heard me," said Ryan.
The event at the Palms hotel was an after-party for the Matador at 21 festival, a three-day event celebrating an influential indie rock label. Carlson was a promoter for the event.
Ryan, who also spoke to Spin, said she broke free and immediately told her friends. She also emailed her mother about the incident a few days after the event. She said she didn't report Carlson to the authorities for fear that it would affect her career in the music industry. Ryan said she did not know who Carlson was when he first approached her, but learned of his identity later that evening.
Carlson, 32, responded to her allegations through his publicist Wednesday: "I was with Ms. Ryan and others, all in our underwear, in a jacuzzi. I tried to kiss her, and when we got out of the jacuzzi I nudged her arm and asked her to go into the bathroom with me. She said no, and nothing further happened. Several others were present. I neither pinned her against a wall nor tried to drag her into a bathroom."
Carlson founded FYF in 2004 at the age of 18 as a punk-focused festival at the Echo, a small rock club in Echo Park. With former partner Phil Hoelting, FYF quickly grew to be a taste-making event in the L.A. music scene, eventually moving to the Los Angeles State Historic Park in Chinatown in 2009.
Since moving to Exposition Park in 2014, the festival has routinely attracted A-list talent such as Björk, Kanye West, Frank Ocean and Morrissey, and was said to draw more than 40,000 people.
The festival (and its concert promotion business FYF Presents) entered into a long-term partnership with Goldenvoice in 2011. In addition to curating FYF's lineup, Carlson is said by many in the industry to have become influential in contributing to the lineup of the Coachella festival, alongside Goldenvoice co-founder Paul Tollett.
"Paul never let anyone else have input on booking Coachella like Sean did," said one music industry executive who worked extensively with FYF. "Sean was pretty much the only other person."
It's yet to be seen if the recent split will affect Coachella, the crown jewel of Goldenvoice's roster. The desert event grossed $114.6 million in 2017 for the AEG Presents-owned firm. In an email to booking agents announcing the split with Carlson, Tollett asked agents to direct all inquires regarding Coachella booking to him.
Carlson's influence in the music community is one reason many of the women said they were afraid to come forward with allegations of sexual misconduct: "I was worried I'd never be able to work again in the music industry if I outed him," said one of the women who spoke with The Times on condition of anonymity. "It's also the music world, where predatory men are everywhere. Why was anyone going to listen to me?"
One former music industry figure said that in November 2010, Carlson came on to her "pretty aggressively" at the Red 7 Club in Austin, Texas, during the weekend of another event he was promoting, the Fun Fun Fun festival.
She said she was able to talk her way around his advances. Then when she and a friend were posing for snapshots in a coin-operated photo booth in the club, she alleged, "Sean came over and ripped the curtain open, then dragged me out, yelling at me the whole time. It was inappropriate, bizarre, and super-confusing. I [barely] knew this guy and he was treating me like I was some piece of property."
She also claimed that Carlson pulled her by the hair. A friend intervened and told him "he had to go."
Her friend told The Times "[Sean] was being super-aggressive, he grabbed [her] and was groping her and kissing her, basically shoving his tongue down her throat."
The woman who said she was attacked added, "I've avoided him at other festivals I've seen him at. I think he's a creep and makes my stomach drop. I know it could've been worse for me."
Carlson responded to the claim through a representative: "I made an unwanted and inappropriate advance towards this woman and tried to kiss her. I did not, however, pull on her hair or push her against a wall."
Carlson grew up in Torrance, where as a teen he immersed himself in the area's underground punk rock scene, starting a small-run music 'zine at 14. A year later, he interned at Epitaph Records, the independent L.A. record label behind Bad Religion, Rancid and other popular punk acts. After graduating high school in 2003, he skipped college to begin booking shows around L.A., including the first show "F- Yeah Fest" that would evolve into FYF.
Peers in the industry say a culture of sexual inappropriateness has long surrounded Carlson and the FYF brand. "It was an open secret," said one record label head about Carlson's aggressive behavior with women.
The implications for FYF remain unclear. Carlson said in 2013 that FYF remained an independent company after linking with Goldenvoice in 2011. When asked about his relationship with Goldenvoice in a 2013 Billboard interview, Carlson said: "They're our partners… I have a very close relationship with Paul (Tollett)."
The allegations and split could have broad implication for the Southern California festival market, especially since FYF grew to be a late-festival-season complement to its larger (but increasingly comparable) cousin in the desert city of Indio.
"FYF transcended its DIY roots to become one of the biggest fests on the West Coast. There are lots of links [to Coachella], and they were both operating almost as equals." said Dave Brooks, executive editor of the concert-industry trade magazine Amplify. "It was symbiotic."
The question across the music industry now is, what, or who, is next?
August Brown contributed to this report.
---
The complete guide to home viewing
Get Screen Gab for weekly recommendations, analysis, interviews and irreverent discussion of the TV and streaming movies everyone's talking about.
You may occasionally receive promotional content from the Los Angeles Times.