Review: Gorillaz's Demon Dayz was the rare festival with a clear sense of time and place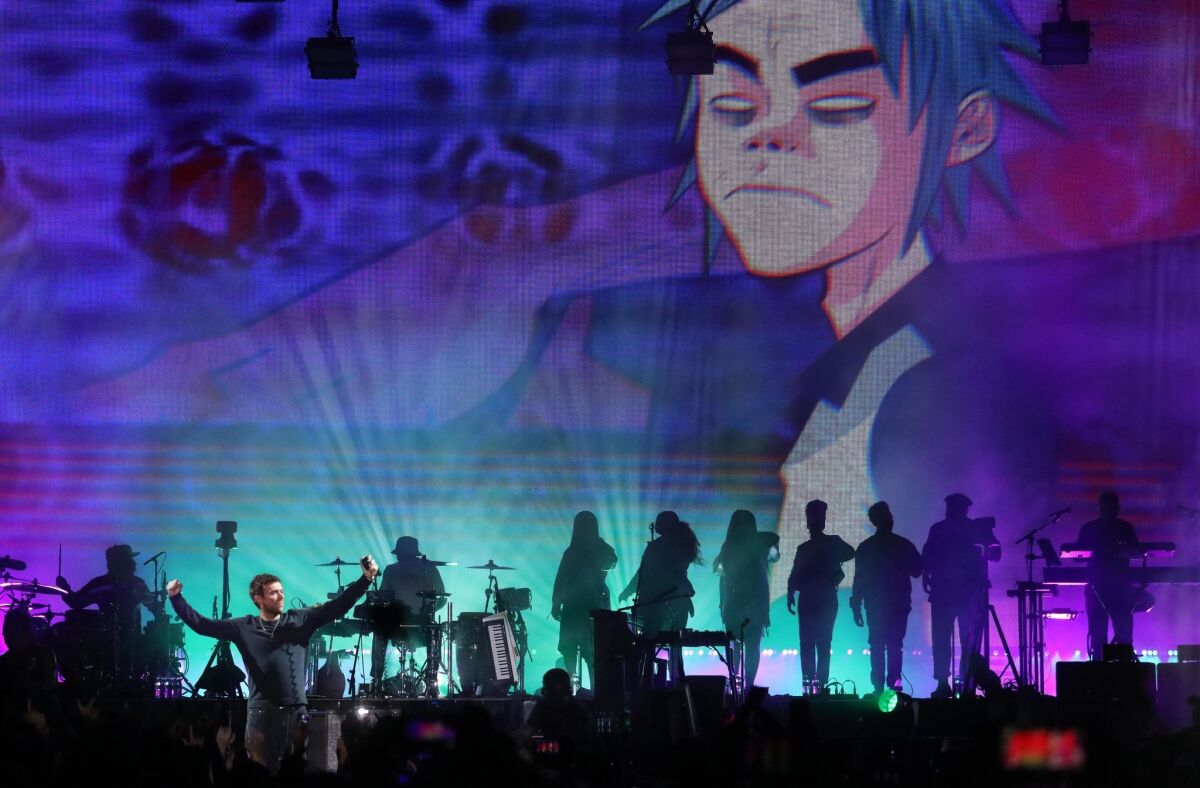 Pop Music Critic
In an era of music-festival overload, when too many events are indistinguishable from too many others, Damon Albarn of Gorillaz deserves credit for working to make Saturday's Demon Dayz festival reflect its Los Angeles setting.
Held in and around the Pico Rivera Sports Arena — not exactly a go-to spot for out-of-town pop stars parachuting in for a weekend — the daylong concert featured local food, a roving mariachi band and lucha libre wrestling between acts including Gorillaz, Erykah Badu, D.R.A.M. and the Internet.
But if Albarn spent months planning Demon Dayz, as the English singer claimed during Gorillaz's headlining set, he still couldn't have arranged for Saturday's most indelible moment, which happened when word of the Dodgers' pennant-clinching win began spreading excitedly from fan to fan just as the giant puppets of a Día de los Muertos parade snaked through the crowd.
Talk about a clear sense of time and place.
As unpredictable as it was, this juxtaposition of the jubilant and the macabre was perfectly suited to Gorillaz; since being formed by Albarn in 1998 (as a diversion from his day job fronting the Britpop band Blur), the group has become a reliable source of party songs about the apocalypse.
On Saturday, Albarn sang about political malfeasance and environmental destruction and Hollywood's illusory promises; songs from the band's two latest albums — 2017's "Humanz" and this year's "The Now Now" — combined those worries in lyrics Albarn has said he wrote specifically in response to the election of Donald Trump.
Yet the grim tidings came with cheerful melodies and propulsive beats pumped out by his large live band, which included half a dozen backing vocalists. Rowdy guest appearances by De La Soul, D.R.A.M. and Chicago house-music veteran Jamie Principle only bolstered the show's ultimately positive vibe.
"Are we the last living souls?" Albarn asked bleakly at one point as some presumably baseball-inspired fireworks could be seen exploding in the distance behind him.
Later, during "Feel Good Inc." — with a line about windmills that Albarn told me he'd written years ago after glimpsing a desert wind farm en route to Coachella — De La Soul's Maseo let loose a long and villainous laugh: yet another manifestation of the essential duality that made Gorillaz seem so at home here.
Other acts at Demon Dayz, which followed the festival's inaugural edition last year in England, caught some of that happily contradictory spirit as well.
Badu mixed squishy cosmic musings with blunt takedowns of shady men in songs that layered dreamy psychedelic textures and creeping funk grooves. The Internet, an adventurous young R&B crew with ties to L.A.'s Odd Future collective, did a sort of millennial version of the same.
"This is about my ex," Syd, the group's frontwoman, explained to introduce "Just Sayin," before going on to lead the crowd in a catchy but unprintable singalong directed toward that former lover. (The gist? He or she messed up.)
Then there was D.R.A.M., who rapped and sang with so much goofy charisma that you could've missed the fact that many of his songs are built around his coming to terms with his various vulnerabilities.
Still, for all the this-but-also-that-ness that Saturday's acts shared with Gorillaz, nobody else brought out a living-legend type like the evening's headliner did.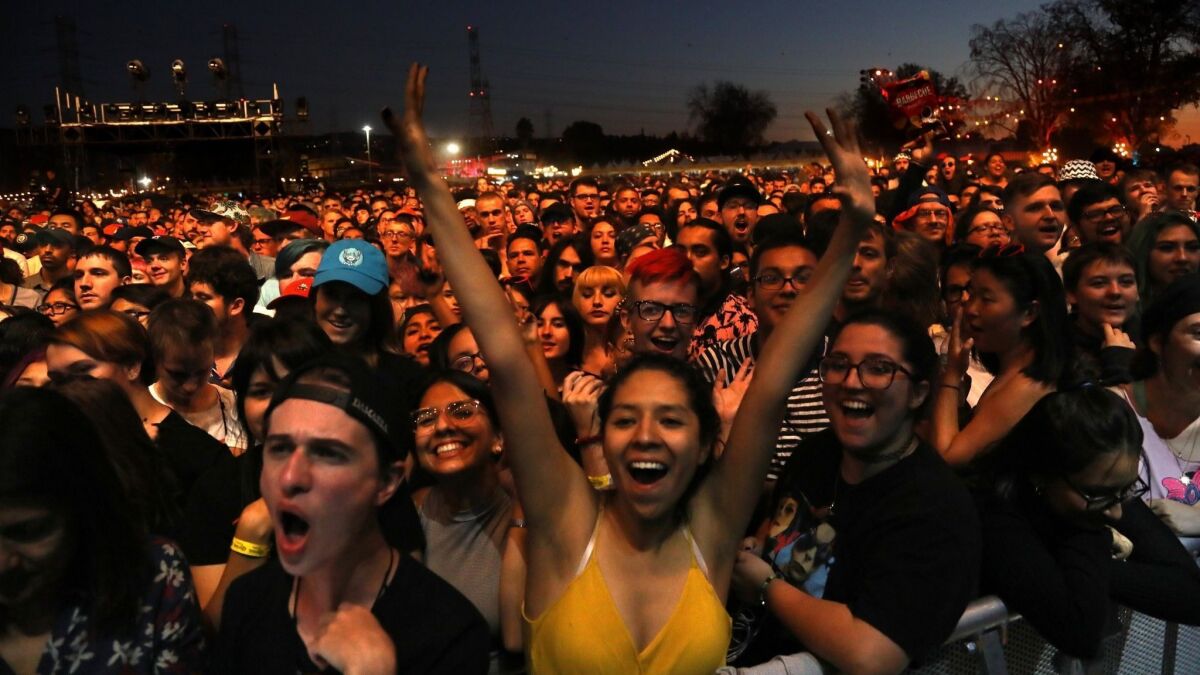 Saying that one of his privileges in the group is getting "to invite someone really magical" onstage every once in a while — Gorillaz albums have included cameos from Mavis Staples, Bobby Womack, Lou Reed and other celebrated old-timers — Albarn introduced 75-year-old George Benson, the great pop-jazz guitarist, to play his characteristically breezy licks in "Humility," from "The Now Now." (The frontman also brought out his old bandmate Graham Coxon for a surprise rendition of Blur's "Song 2.")
Asked backstage before the show how familiar he thought the Demon Dayz audience was with Benson, Albarn said he wasn't sure.
"I don't want them to know him too well," he added with a laugh. "Otherwise, the demand for him to do 'Give Me the Night'" — Benson's classic early-'80s soul tune — "will be overwhelming. And then we'll have to turn into a wedding band for six minutes, which I really don't want to do, even though I would love to play that song."
It's an enticing prospect, I told Albarn, given how completely he tends to dedicate himself to whatever task is at hand.
"That's awfully Vegas, isn't it?" Albarn replied. Then he thought for a second, perhaps as he pondered the next Demon Dayz.
"It's only down the road..."
Twitter: @mikaelwood
---
UPDATES:
4:04 p.m.: This article was updated with additional details.
This article was originally published at 3:25 p.m.
---
Get our L.A. Goes Out newsletter, with the week's best events, to help you explore and experience our city.
You may occasionally receive promotional content from the Los Angeles Times.