Maren Morris, James Corden and dozens more test their voices at rehearsals for the 2017 Grammy Awards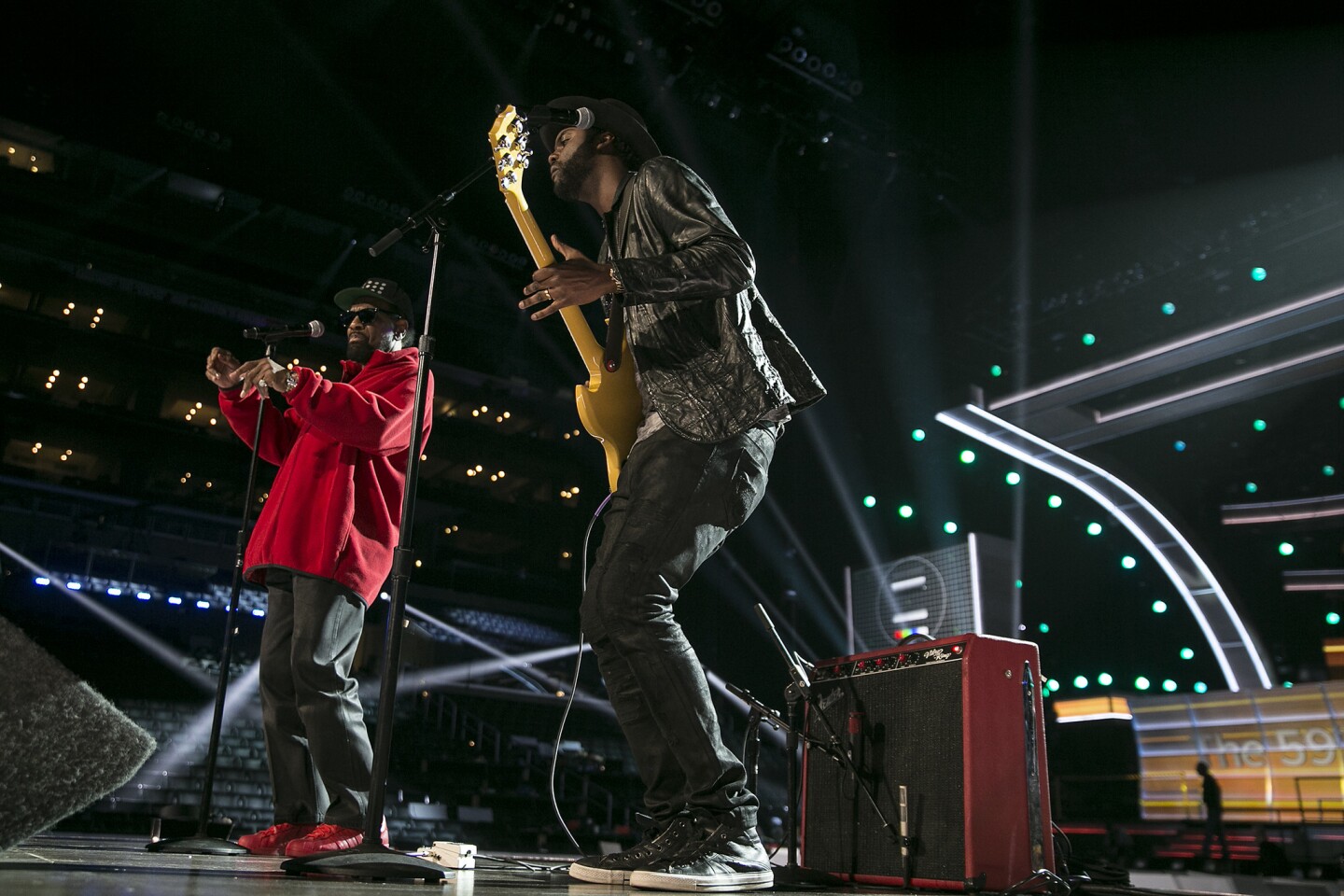 William Bell, left, and Gary Clarke Jr. perform "Born Under a Bad Sign," during rehearsal for the 59th Grammy Awards at Staples Center.
(Robert Gauthier / Los Angeles Times)
Brian Beacock and Anne Winkowski, who are standing in for Keith Urban and Adele, look over notes while seated in the front row during Grammy rehearsals at Staples Center.
(Robert Gauthier / Los Angeles Times)
Maren Morris, who sings a duet with Alicia Keys, talks with reporters after performing the song "Once" during rehearsals at Staples Center.
(Robert Gauthier / Los Angeles Times)
Stage manager Garry Hood watches from the stage.
(Robert Gauthier / Los Angeles Times)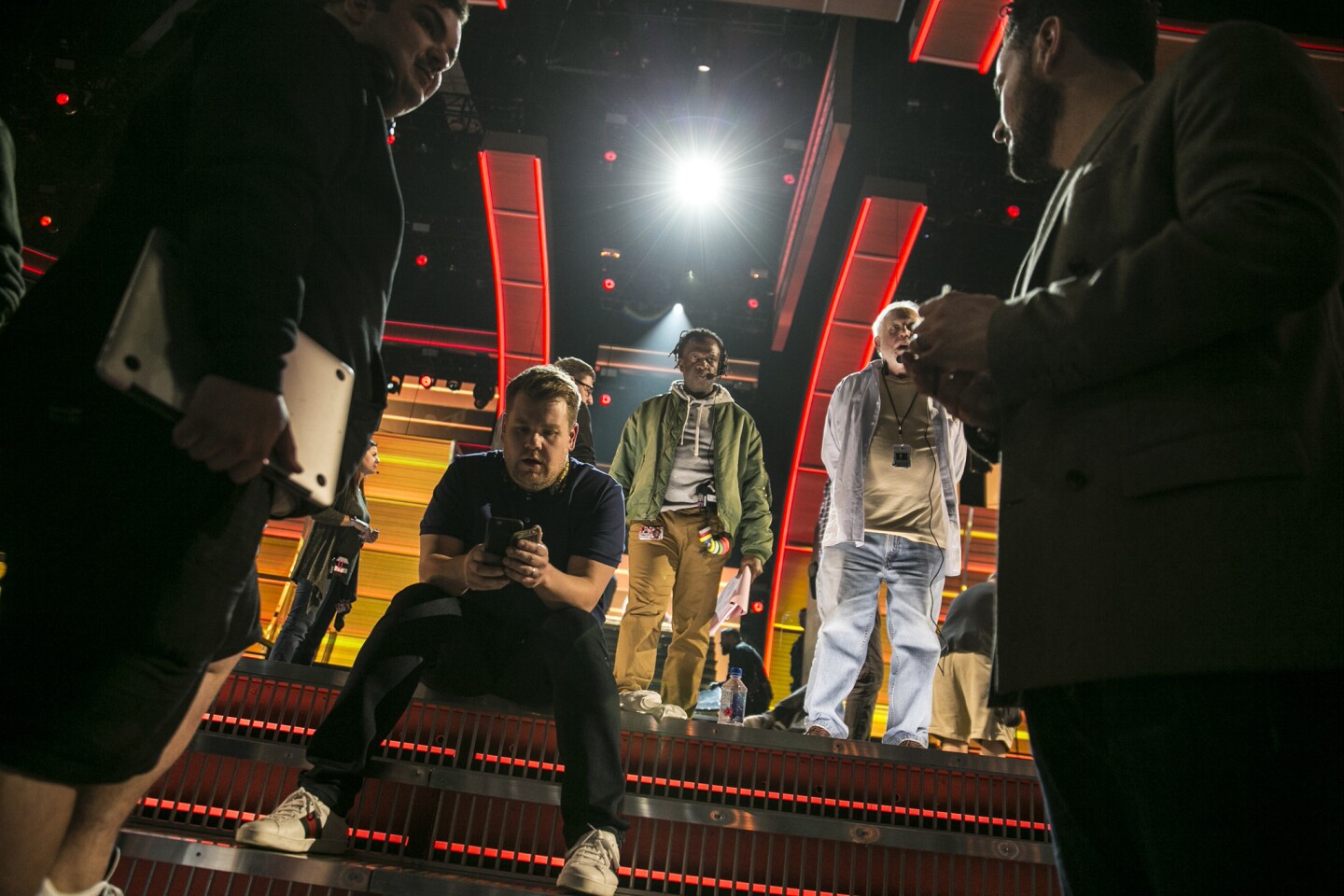 Host James Corden checks his phone during a break in rehearsal for the 59th Grammy Awards at Staples Center.
(Robert Gauthier / Los Angeles Times)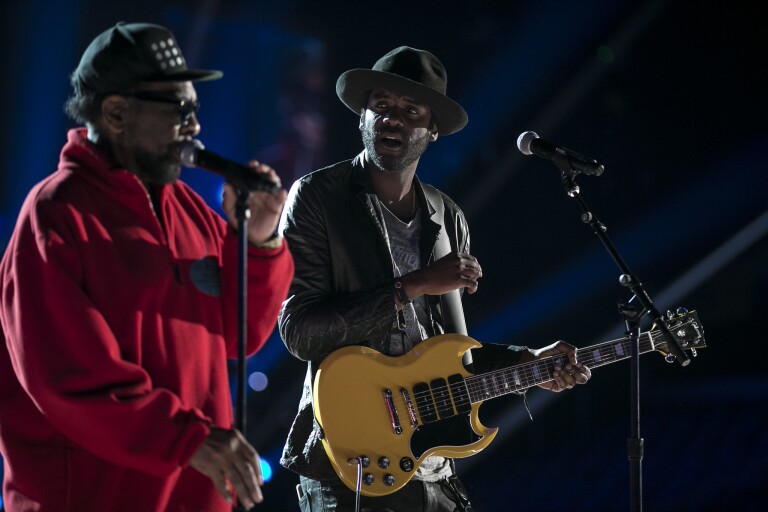 William Bell, left, and Gary Clarke Jr. perform "Born Under a Bad Sign."
(Robert Gauthier / Los Angeles Times)
A dancer waits to take the stage during Grammy rehearsals at Staples Center.
(Robert Gauthier / Los Angeles Times)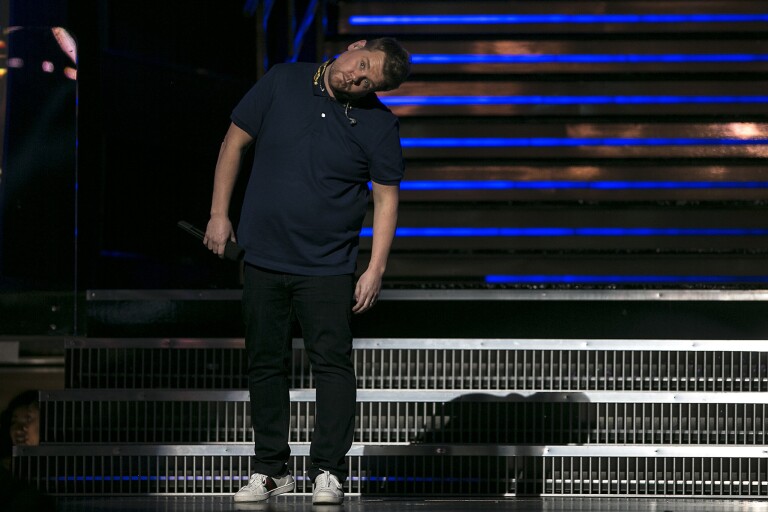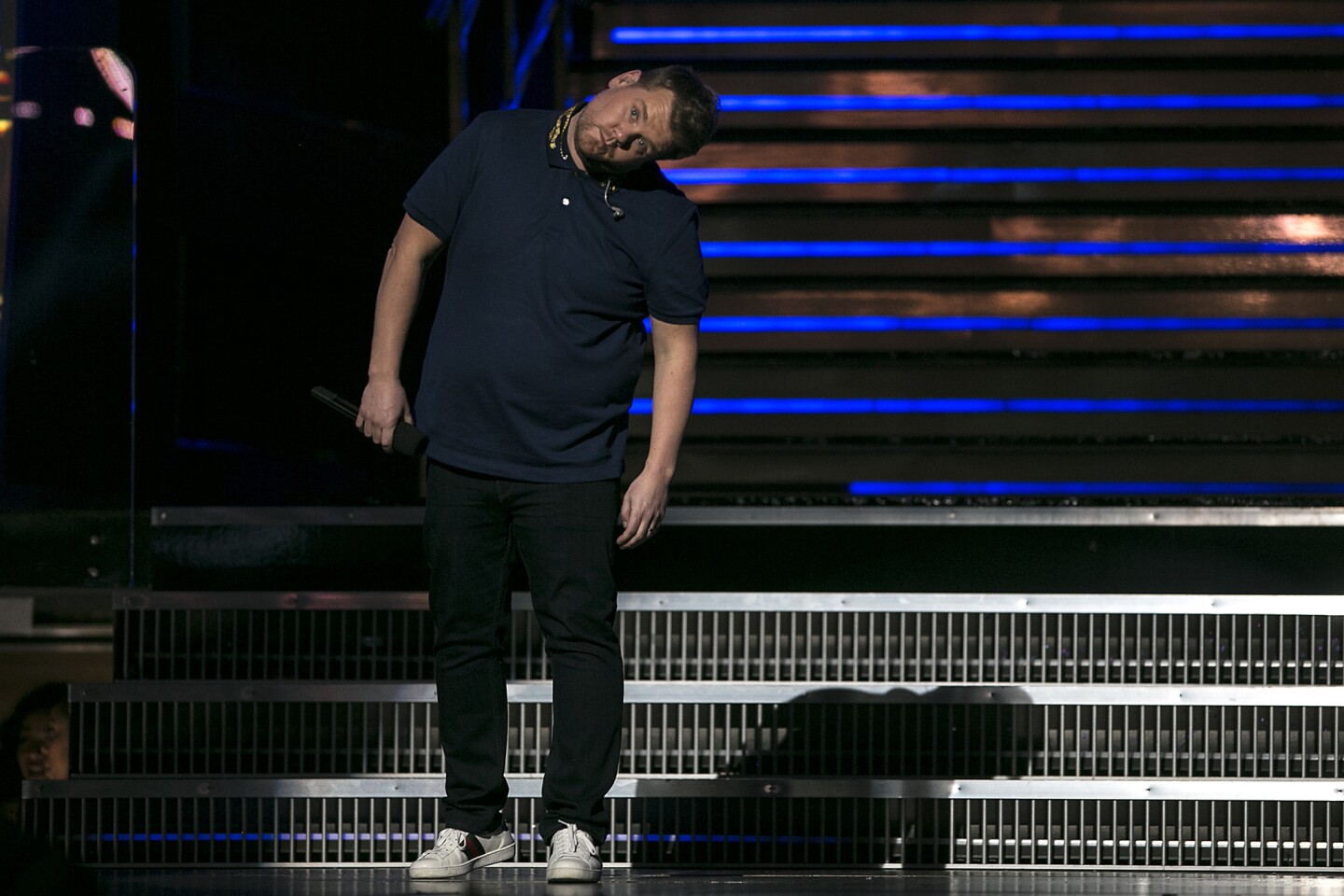 Host James Corden stretches during a break in rehearsal for the 59th Grammy Awards at Staples Center.
(Robert Gauthier / Los Angeles Times)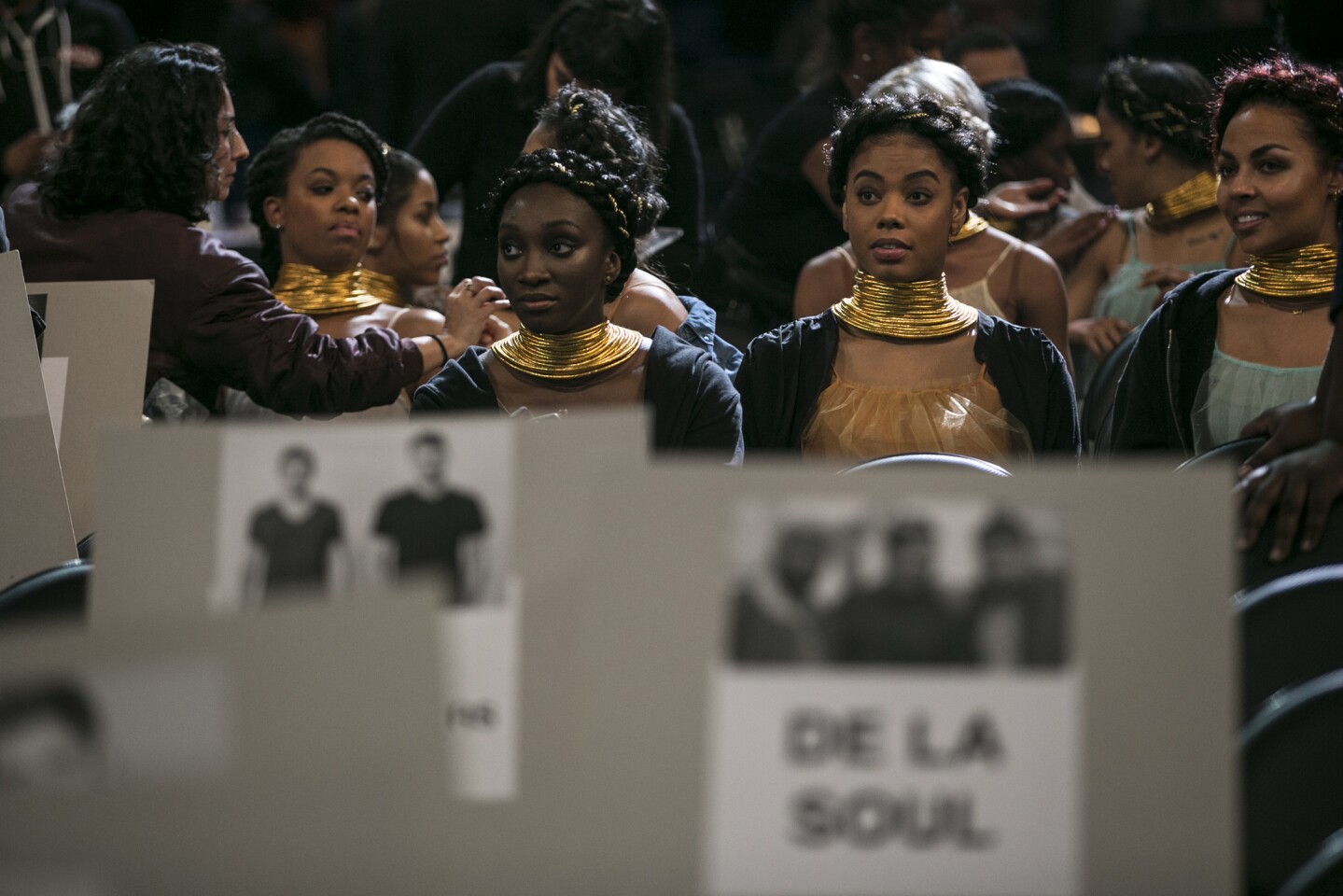 Performers wait to take the stage during Grammy rehearsals at Staples Center.
(Robert Gauthier / Los Angeles Times)
Host James Corden, left, and stage manager Garry Hood.
(Robert Gauthier / Los Angeles Times)
An air of torch-passing suffused the stage Thursday as rehearsals for Sunday's 2017 Grammy Awards ceremony got underway at Staples Center with the teaming of 15-time Grammy winner Alicia Keys and Texas country newcomer Maren Morris.
Such cross-genre, cross-generational pairings are a signature of the Grammy telecast, which consistently features more live performance segments than any other major awards show.

For the record:
8:50 p.m. Aug. 19, 2022An earlier version of this post listed Drake among the musicians slated to perform in Sunday's Grammy Awards ceremony. He is not scheduled to perform.
Performances will run the gamut from pop music's biggest stars of the moment, including Beyoncé, Adele, Katy Perry, Metallica, John Legend, Keith Urban and Daft Punk, to several acts that viewers who tune in Sunday at 5 p.m. Pacific time will likely be seeing and hearing for the first time, among them Morris and this year's surprise album-of-the-year contender, Americana singer, songwriter and producer Sturgill Simpson.
The show will acknowledge an extraordinary string of pop star deaths in the past year with tribute segments saluting Prince, George Michael and briefer nods to R&B singer Sharon Jones, rock poet Leonard Cohen, country great Merle Haggard and rapper Phife Dawg, among others.
Also expect some topicality.
The formal presentation itself will include a few references to President Trump, as well as issues of racial and gender equality. One awards moment will handled by transgender presenters.
"That was my idea — I'll accept credit or responsibility for it," said Recording Academy President Neil Portnow just as the first talent rehearsal was beginning.
"We know through history that music has been associated with all kinds of social movements" he said, "and today is no different."
But with close to two dozen performances, many involving multiple featured artists and hundreds of supporting instrumentalists, singers and dancers, the star will of course be the song.
A coveted performance slot on the annual telecast can boost a musician's career as much or more than actually winning a Grammy.
And Morris' collaboration with Keys essentially turns the table on the veteran R&B star. The two will sing "Once," a song from Morris' debut album, "Hero," which has generated four nominations out of the gate for the singer and songwriter,
Keys was the promising new arrival 16 years ago, making her first Grammy Awards appearance and taking home five gramophone statuettes, including best new artist, in one of the most dramatic debuts in Grammy history.
See the most-read stories in Entertainment this hour »
Now, however, Morris is vying for that new artist title along with Chance the Rapper, Anderson .Paak, the Chainsmokers and another country artist, Kelsea Ballerini.
"This reminds me of seeing Sheryl Crow for the first time 25 years ago, or Miranda Lambert eight years ago," said Jack Sussman, CBS-TV's executive vice president of specials, music and live events. He is one-third of the triumvirate that oversees each year's awards show, along with Portnow and longtime executive producer Ken Ehrlich.
"She writes and she sings — she's going to be huge," Sussman said of Morris, who also is nominated for country solo performance and country song for "My Church" and country album for "Hero."
Immediately after coming off the stage from a couple of run-throughs with Keys, Morris talked about what represents the biggest moment for her still-escalating career.
"It's an honor to be performing as a new artist and to be up for four categories," she said as various screw members shuffled past her, preparing for the next rehearsal segment.
"I've performed with Alicia before and we're friends, so it really feels like an organic experience to be up there with her, passing the baton to me in a way," she said. "Now that we've rehearsed it on the stage, my nerves are calming down a little bit. It's a roller coaster; sometimes I have way too many nerves. But right now I feel, surprisingly, really Zen."
At 26, Morris is 10 years younger than Keys, and the statuesque R&B-pop singer and songwriter towered over Morris' tiny frame as they harmonized side-by-side beneath four elegant chandeliers suspended from the sports arena's rafters.
The program also will make room for veterans. An example of the age-blind aspect of the Grammy show came Thursday when 78-year-old R&B-soul singer-songwriter William Bell teamed with Texas blues-rock singer-guitarist-songwriter Gary Clark Jr.
At 32, Clark is more than half a century younger than the Memphis soul great who is up for two Grammys: traditional R&B performance and Americana album for his first effort in nearly 40 years, "This Is Where I Live."
"I am pleasantly surprise — elated, actually," Bell said upon taking a seat shortly after rehearsing with Clark. Wearing a red fleece pullover, loose black pants, a black baseball cap and sunglasses, he radiated cool. "Having been off the scene and off a major label for, like, 40 years, to come back this strong is unreal. It's very, very rewarding."
"It's such a beautiful performance," said Ehrlich, who cut his teeth in Chicago with a PBS series in the '70s showcasing the blues. He left his seat at a makeshift control board at the center of the arena for a closer look at their duet on Bell's blues classic "Born Under a Bad Sign" on the small circular second stage a few feet to his left.
"This performance is as important as any other on the show this year," Ehrlich said. "It's great that we can honor people like him, because they are responsible for so much of what music is today."
Ehrlich has helmed the show for more than three decades, while opening day of rehearsals saw first-timer James Corden taking over hosting duties that for the last five years were delegated to rapper-actor LL Cool J.
Corden joins a long roster of Grammy hosts, starting with Andy Williams on the first telecast in 1971 and continuing through John Denver, Paul Simon, Jon Stewart, Garry Shandling, Queen Latifah, Paul Reiser, Kelsey Grammer, Whoopi Goldberg and Billy Crystal.
"I'll be doing my best not to [mess] it up," the 38-year-old English host of CBS' "The Late Late Show" said shortly before working on a segment in which he gets to flash a few fancy dance moves.
"Our show has been on the air for 18 months," he said. "If someone had told you a year ago that I would hosting the Grammys a year from now, you'd have said, 'Sorry, I don't know who you're talking about.' If someone had told me, I'd have told them they're an idiot. So it's really not lost on me how lucky I am to be asked to do such a thing."
The big question on many reporters' lips as Corden navigated through a line of interviewers was whether he'd be invoking his signature "Carpool Karaoke" bit on Sunday night.
"Definitely not," Corden said with a laugh. "This is a roomful of the greatest singers in the world. I would be a disgrace to need this."
Corden in one bit was instructed to make eye contact with a referenced celebrity, a suggestion he deflected saying, "I can't think about that until we have the basics worked out."
Members of country quartet Little Big Town ran through an acoustic snippet of Katy Perry's "Teenage Dream" several times to get their positioning worked out for cameras, while the show's co-writer, David Wild, was ribbed about running off to concoct "alternative jokes" for the script he writes with Ehrlich.
Off-script, however, will be the acceptance speeches made by artists. This awards season has been marked by political activism. At the Golden Globes, Meryl Streep lectured Trump on civility, and SAG Award winners denounced Trump's travel ban.
As for the public criticism that often greets musicians — as well as actors or other celebrities — who speak out on political issues, Portnow said he isn't worried about what opinions may be voiced from the stage come Sunday night.
"We're the Recording Academy, and I think we're the staunchest allies of free speech and expression, so we would support that," he said. "As to whose opinion is more valid than anybody else's, musical artists are entitled to an opinion, and to make it, and those who hear it are entitled to agree or disagree.
"Certainly, people who are in the public eye have that platform," he said, "and perhaps there's an interest from some people to hear what they have to say, and perhaps others will say, 'What do they know about this or that?' They know as much as John Q. Public and a free society, you can allow this comment to be made, and as a citizen you can absorb it or dismiss it—it's that simple."
'The 59th Annual Grammy Awards'
Where: CBS
When: 5 and 8:30 p.m. Sunday
Rating: TV-14-DL (may be unsuitable for children under the age of 14 with advisories for suggestive dialogue and coarse language)
Follow @RandyLewis2 on Twitter.com
For Classic Rock coverage, join us on Facebook
---
Your essential guide to the arts in L.A.
Get Carolina A. Miranda's weekly newsletter for what's happening, plus openings, critics' picks and more.
You may occasionally receive promotional content from the Los Angeles Times.