From the Archives: Hall of Fame honors Prince, Jackson Browne and George Harrison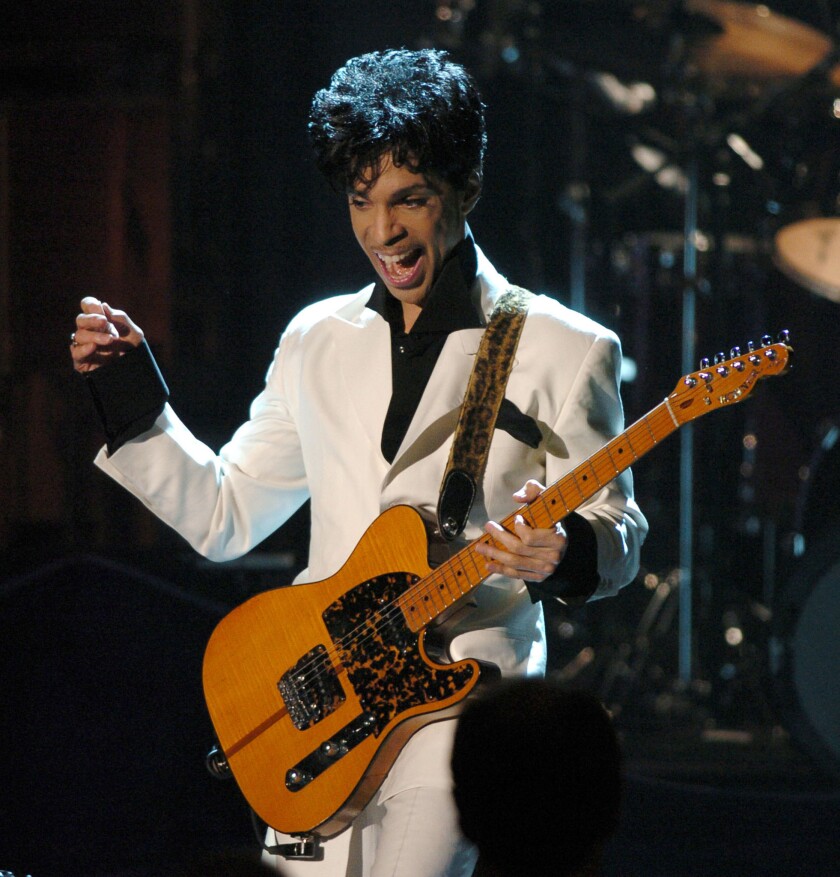 New York —
As mentioned in the closing lines of this piece on the 2004 Rock and Roll Hall of Fame inductee ceremony, Prince delivered one of the most iconic moments in the ceremony's history with a fiery guitar solo during a cover of "While My Guitar Gently Weeps." The song was performed as a tribute to George Harrison, who was being posthumously inducted for his individual body of work. We've included video footage of the performance published by the Hall of Fame in 2012 to better memorialize Prince, who has died at 57, and his talent. This article by Geoff Boucher was originally published in The Times on March 16, 2004:
The 2004 inductees into the Rock and Roll Hall of Fame make for one of the most eclectic class portraits in the shrine's 19-year history, with room for the pop meditations of the late George Harrison, the soulful sound and politics of Jackson Browne and the dynamic funk enigma that is Prince.
Those three were joined in induction Monday night with the 1960s jam band Traffic, Detroit blue-collar rock hero Bob Seger, 1950s Chicago doo-wop group the Dells and ZZ Top, a bearded and unpretentious boogie band from Texas. Jann S. Wenner, founder of Rolling Stone magazine, was inducted into the Hall's nonperformer wing.
The ceremony at the Waldorf-Astoria Hotel in Manhattan began with a rousing performance by Prince that brought the typically chair-bound industry crowd to its feet with the opening line ("Dearly beloved ... ") from "Let's Go Crazy," the manic hit from Prince's landmark "Purple Rain" album.
The mercurial Prince, whose career has included long stretches of fan-frustrating retreats from the music scene, has circled 2004 as a revival of sorts, keyed by a major arena tour that begins officially in Los Angeles on March 29.
He was presented into the Hall by Alicia Keys and the members of OutKast, each winners of best-album honors at recent Grammys and clearly awed by the task of inducting their childhood hero. "There are many kings -- King Henry VII, King Solomon, King Tut, King James, King Kong, the three kings," Keys said, "but there is only one Prince."
Browne, the doe-eyed, earnest singer-songwriter who was a pivotal voice emanating from Southern California, performed "The Pretender" and "Running on Empty" to cheers and thanked the audience "for allowing me to put my personal politics in my songs and for listening to them."
Bruce Springsteen, who as a nascent performer was an opening act for Browne, playfully gibed his old friend about his looks ("He had more women in his audience than an Indigo Girls show") but also called Browne's 1970s songbook "essential for understanding those times.... Brian Wilson and the Beach Boys gave us California as paradise. Jackson Browne gave us paradise lost."
The night included funny moments, among them the wry Mick Jagger explaining that Wenner's great innovation was "creating the very long article" and Dave Matthews, inducting Traffic, explaining in deadpan detail how "Dear Mr. Fantasy" once saved him from a bad LSD episode.
The banquet built to a more reflective and emotional tone as Harrison, who died in 2001, was inducted into the Hall for his solo work. Co-presenters Tom Petty and Jeff Lynne, who with Harrison were part of the all-star collective the Traveling Wilburys, spoke of Harrison in terms that were more spiritual than musical.
"He was a guy who lived every single minute of his life," Petty said. "He really filled the room.... He achieved much more than being a successful artist, he was a truly great man." Harrison's post-Beatles career may have not have matched the commercial heights of Paul McCartney or the cultural potency of John Lennon, but he was the first solo Beatle to have a No. 1 album ("All Things Must Pass" in 1971) and the most recent No. 1 hit ("Got My Mind Set on You" in 1987). Petty also noted that his concerts for famine relief in the 1970s "invented the idea of rock 'n' roll giving back to the people" that became a template for Live Aid and other benefits.
Prince not only opened the show but he memorably helped close it by adding a molten guitar solo to the performance near the end by Petty, Lynne and George's son, Dhani Harrison, on "While My Guitar Gently Weeps."
---
Inside the business of entertainment
The Wide Shot brings you news, analysis and insights on everything from streaming wars to production — and what it all means for the future.
You may occasionally receive promotional content from the Los Angeles Times.