Review: While at a crossroads, Hard Summer's 2017 edition felt vitally of-the-moment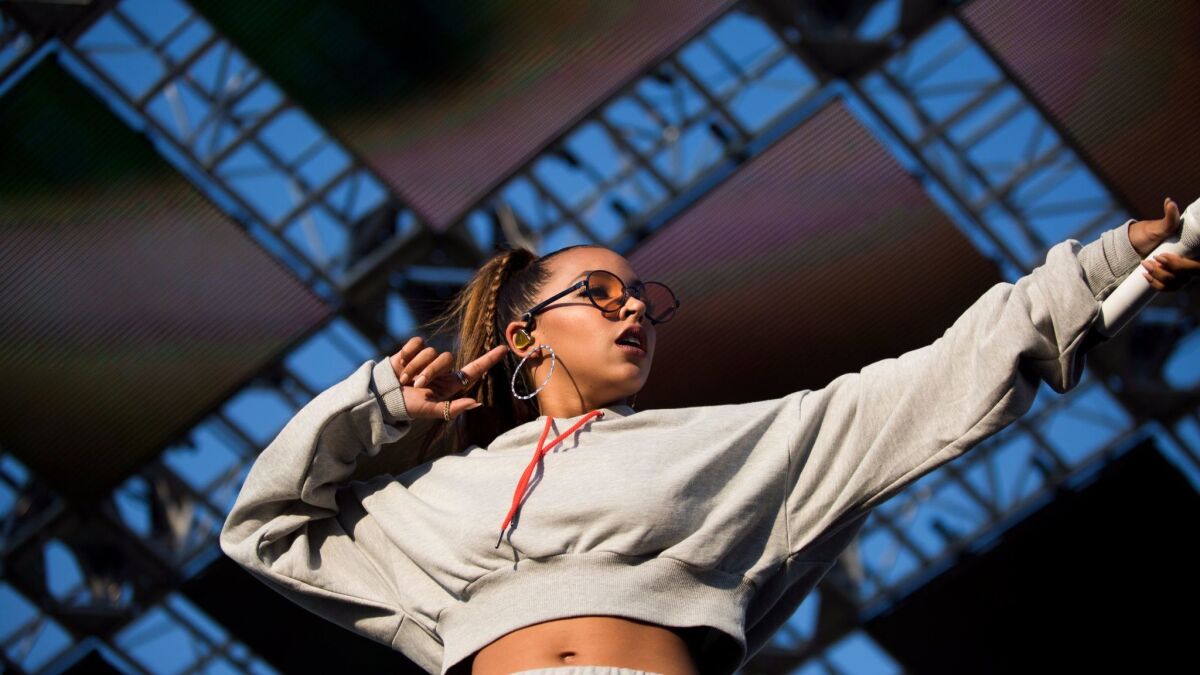 Toward the end of Dog Blood's main-stage set Sunday at Hard Summer, the producer Skrillex — one-half of the dance-music duo — climbed on top of his DJ rig and rattled off the names of his best friends in the "Hard family." His shout-outs to DJ pals earned polite applause, but when he screamed the name "Gary Richards," the crowd howled in approval.
Sunday was Richards' last day on the field of his signature two-day festival as the face of Hard, as the event will remain the full property of powerhouse Los Angeles-based promoter Live Nation when Richards leaves the company he founded. This weekend's show marked the 10th anniversary of Hard Events, which debuted with a New Year's Eve performance in 2007.
Since then, Richards has played an outsized role in the public identity of the festival. While other promoters like Goldenvoice's Paul Tollett and Electric Daisy Carnival's Pasquale Rotella aim to stay more or less behind the scenes, Richards often DJ's as Destructo during the shows, and reigns over the annual Holy Ship cruise festival like a homecoming king.
Fans respect his vision — a pioneering blend of EDM, hip-hop and the many sub-scenes where they intermingle. But they also just like him.
So what's the future of Hard without him?
News of Richards' departure changed the timbre of pretty much everything happening at Hard, from fans' conversations on the Glen Helen Amphitheatre lawn to the nostalgia-tinted headline set from Snoop Dogg performing his landmark 1993 solo debut, "Doggystyle."
Some fans mulled boycotts of future Hard shows — on social media, fans roasted Live Nation with threats of "#NoGaryNoShip" in reference to the 2018 cruise, which is already sold out — while others looked forward to his next project (Hard representatives would not confirm it, but Richards is widely believed to be headed to LiveStyle, a revived firm from the once-bankrupt promoter SFX Entertainment).
During his own midday set, the 46-year-old Richards toted out his young kids onstage, and as corporate-owned-festival-behemoth moments go, it was sweet and unguarded.
Hard has earned — and deserved — public scrutiny. Last year, three young fans died after attending the fest, then held at Auto Club Speedway near Fontana. All three attendees died of Ecstasy overdoses, the San Bernardino County coroner ruled late last year.
What's more, Hard has changed location five times in as many years, a result of rapid growth and skepticism from L.A. County supervisors that the events are worth the risks. While fans have shown a willingness to schlep ever-farther east, their patience won't be infinite (and the traffic snarls coming out of Glen Helen were indeed frustrating this year).
But watching Richards' onstage family scene, it was clear why his fans keep coming out to Hard Summer.
In contrast to Hard's more punishing past locations, the green lawns and shade (and second-stage swimming pool) at Glen Helen were relatively bucolic. Not quite on the level of the Goldenvoice-promoted Coachella Valley Music and Arts Festival, but closer than Hard has gotten yet. It seemed to pay off.
As of Monday morning, no deaths were reported at the festival, although there were 107 arrests and 19 hospitalizations over the two days, according to statements from the San Bernardino County Sheriff's Department. Also, the weekend's 80,000 two-day attendance estimate was notably down from last year's estimated attendance of 147,000.
Still, the lineup was one of the best Hard has booked, making strides in looking more like its young, diverse audience. On Sunday, the bill sported British grime from JME (Saturday had grime superstar Skepta) and female-driven experimental club music from Madam X, Uniiqu3, J. Phlip and Louisaaah: artists exactly on the pulse of music right now.
Tinashe was a particular powerhouse. At a festival mainly driven by DJs, the R&B singer's strong vocals and stage presence twisted all the musical threads at Hard into something essential. While the rap group Migos felt overexposed after endless cameos at Coachella, Tinashe's show felt ascendant.
But with Richards' departure hanging in the air, it was hard to get a read on what the future may hold. The elegiac mood sneaked into Dog Blood's raucous set, even as the act, featuring dance giants Skrillex and Boys Noize, turned tracks like Kendrick Lamar's "Humble" into apocalyptic bangers. Vibey sets from Floating Points and Claude VonStroke were hip enough to cross over into L.A.'s warehouse-party scene, but in its new era, it may be tougher for Hard to thread the needle of mainstream appeal and underground credibility.
Snoop Dogg's set was always intended to be a look backwards, but as he worked through "Murder Was the Case" and "Ain't No Fun," the Long Beach native's fond revisit of a classic album seemed to match the fans' pining for more innocent times at Hard Summer. Hard has always booked classic rap — its first event sported 2 Live Crew near the top of the bill — but as the fest moves on from Richards' idiosyncrasies, one wonders if that element will remain.
There must be a weird feeling in Richards' house right now, as he watches Live Nation sort out what to do with a scene he almost single-handedly helped build.
Will fans return to Hard out of habit, or are defections afoot? Time will tell if Hard Events' ship is big enough to run without its captain.
For breaking music news, follow @augustbrown on Twitter.
ALSO:
---
Get our L.A. Goes Out newsletter, with the week's best events, to help you explore and experience our city.
You may occasionally receive promotional content from the Los Angeles Times.