Active listening? Hi-fi bars arrive in Los Angeles as In Sheep's Clothing and the Gold Line deliver vinyl-only audiophile sound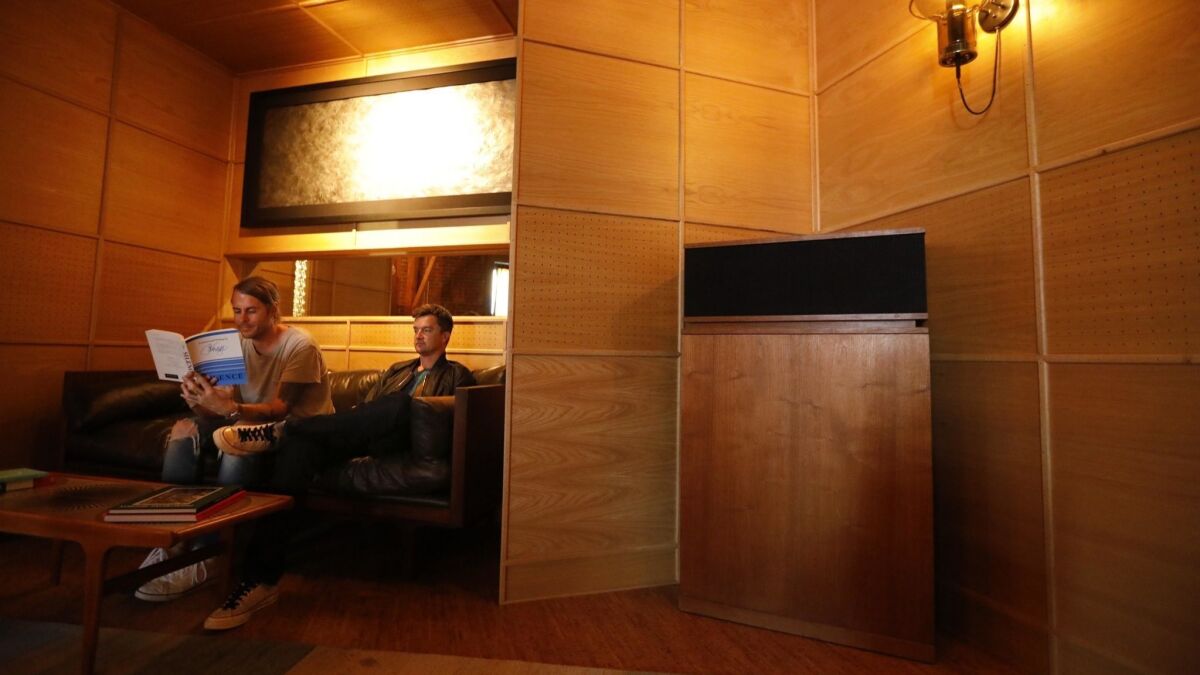 On a recent Sunday afternoon at a little lounge downtown called In Sheep's Clothing, 50 people sat facing two pulpit-sized speakers, curtains drawn, smartphones off, and listened to British art rock band Talk Talk's 1988 masterpiece "Spirit of Eden" from start to finish.
No one took a selfie or live-tweeted the event. Any chitchat was whispered, as if this were a screening room and not a late-night cafe. Heads bobbed, but no one danced.
They'd been primed for the experience when DJ and music supervisor Zach Cowie had presented a casual lecture on the album — its influences, creation and aesthetics — and played music that reclusive Talk Talk founder Mark Hollis has cited as inspiration over the years, including works by Claude DeBussy, Bob Dylan, John Coltrane, English singer Robert Wyatt and German experimental rock band Can.
The underlying mission, according to Cowie: "To teach people how to listen again. We're in a funny time now with music where everything is available, but it's all been pushed into the background of peoples' lives."
Located on the other side of an unassuming door within a larger complex, In Sheep's Clothing — offering tea, coffee, cocktails, craft beer, wine and Japanese whiskey — was inspired by Japanese jazz cafes, known as jazz kissaten, or jazz kissa. Designed to evoke first-glimpse wonder, the minimal room, with blond wood, a half-dozen bar tables and mismatched Mid-century Modern chairs, has a sound system that costs as much as a luxury car. Where a restaurant website might list its farm sources, In Sheep's Clothing lists its audio components.
The philosophy of the place is written on the little tents dotting the eight tables and four-stool bar banning photos or posting to social media: "To hear more, say less."
In Sheep's Clothing opened inside the pizza spot Lupetti in August. Arguably the first of its kind in Los Angeles, the so-called "hi-fi bar" has a vinyl-only policy. A like-minded spot, called the Gold Line, opened in Highland Park at the beginning of October.
The hi-fi bars are tapping into a wider movement that advocates active, intentional listening as a way to combat the information overload that has arrived with the rise of smartphones. Like book clubs for music freaks, such gatherings are increasingly convening to focus on remarkable albums. It's not uncommon to find worldwide listening events on social media networks, where followers discuss a pre-selected work as it plays, and here in the U.S., the global Classic Album Sundays hub sponsors monthly listening events in Chicago, Miami, New York and elsewhere.
By playing Talk Talk's "Spirit of Eden," In Sheep's Clothing staked out an L.A. outpost for Classic Album Sundays. In Cowie's introductory love letter to the album, he noted lead singer Hollis' response to a Melody Maker interviewer who asked how the artist would recommend listening to his masterwork.
"In a very calm mood with no distractions," Hollis replied, adding that "you have to give it all your attention. You should never listen to music as background music. Ever."
With that, the lights dimmed in the room and the pop of a needle locking in to the record's groove signaled the start of the album.
This is such a great time to be a music listener, but no one's listening.
— Zach Cowie of In Sheep's Clothing
To hear co-owner Bryan Ling recall it, In Sheep's Clothing wasn't always part of the plan for his new Arts District venture. He knew he wanted a pizzeria, but then it turned out that the space he coveted was a little bigger than he needed.
As he relays this information, his collaborator Cowie laughs knowingly. He's sitting next to Ling in one of the room's two booths.
Ling, an artist manager and owner of the club No Name in the Fairfax district, casually mentioned the idea of a hi-fi bar at a party a few years ago where Cowie was DJing.
Excitedly, Cowie interrupts to finish the story, his eyes aglow as he recalls his enthusiastic, informed reply to Ling: "'Like the ones in Japan? Really? Really?' And Bryan was like, 'Do you want to build one of those?' I was like, 'Yeah!'"
Weaving through the room as they talk is breathtakingly clear ambient music by the late Japanese composer Susumu Yokota. Soft, bell-like pulses and gymnastic synth melodies permeate the air. At a nearby table, producer Dan "the Automator" Nakamura listens with a friend.
For Cowie, who earned an Emmy nomination for his work on the Netflix comedy "Master of None" and picked songs for Maya Rudolph and Fred Armisen's new Amazon Prime series "Forever," Ling's pitch at the party didn't seem crazy. Still, Cowie's been in L.A. long enough to know the idea-to-execution ratio is pretty high: "People give you grand offers, and I've just come to expect nobody to follow through. So I was like [assumes skeptic's voice], 'Yeah, we'll do that. Great.'"
Ling texted Cowie the next day to schedule a meeting. Cowie: "It wasn't too long after that that we were both in Japan studying some places together."
What they found was inspiring. Music-focused kissa were born in postwar Japan and designed to take advantage of the increasingly sophisticated sound systems entering the market. When Tokyo music fans developed a love of American jazz, they compensated for the lack of live acts through "performances" from crystalline vinyl. Some kissa played only Western classical music. Often owned by a single, music-obsessed barman, the meticulously controlled spaces value silent, contemplative listening.
"People go on their work breaks or lunch or whenever they have time," Ling says. "They'll just post up. And they're all just listening." Such attention to sound seems utterly foreign in multi-tasking America.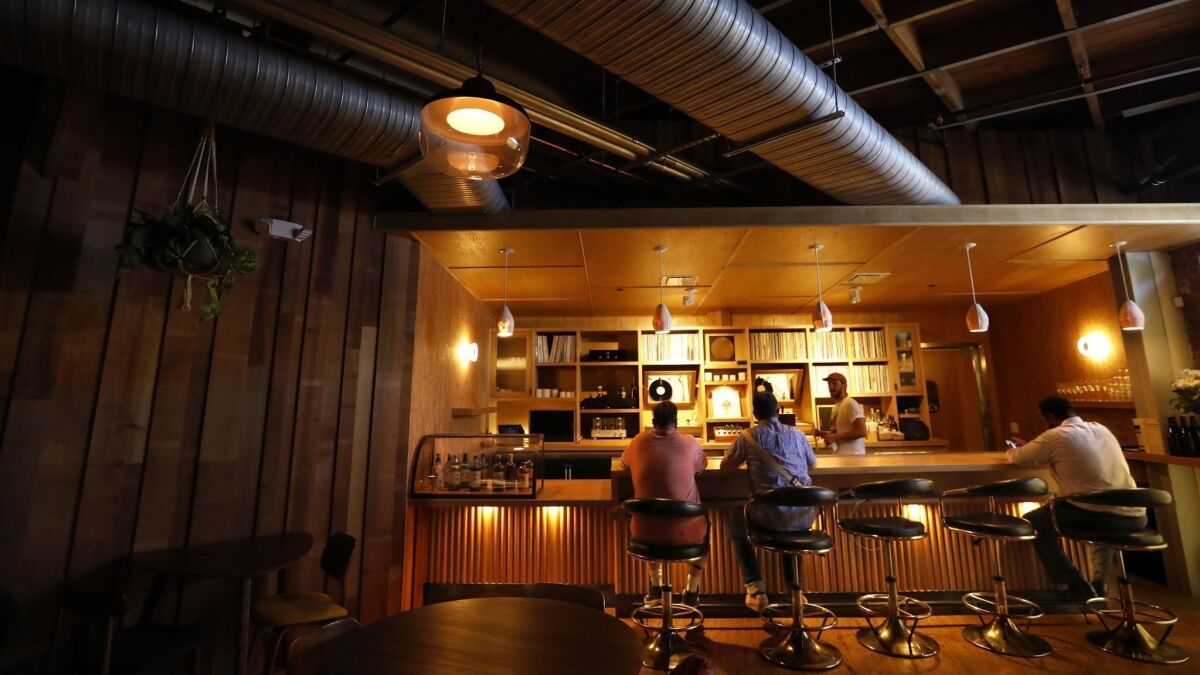 "This is such a great time to be a music listener, but no one's listening," Cowie says.
If the claim seems ridiculous considering the 40 million streaming songs available on your smartphone, a whole belief system is built around so-called "slow listening." The HBO thriller "Sharp Objects" gave a nod to the trend in characterizing one of its lead suspects, a serious audiophile who seems to live inside his stereo system.
There's something to be said for the reflex. I first met Cowie when he showed up in my living room as part of a regular listening session I used to co-host with Eothen "Egon" Alapatt, owner of Now-Again Records and the Rappcats vinyl pop-up space. We'd invite a handful of friends to each come armed with a few amazing records to share with the group, with the goal of blowing the minds of kindred spirits.
That regular session was inspired by a so-called "music dinner" that used to occur in Benedict Canyon at the home of film producer Charlie Evans. Its approach: each invitee presented three pieces of music that scored particularly important life moments. Evans, who is the nephew of film producer Robert Evans, then compiled those songs onto discs for the group. Another session I attend, called Bourbon & Vinyl, occurs monthly at a private home in Altadena with a posse of music supervisors and licensing executives.
Like In Sheep's Clothing, the Gold Line is also inspired by Japanese record bars and has its own notable pedigree. Co-owned by Chris Manak, who founded Stones Throw Records and DJs as Peanut Butter Wolf, the club takes the vinyl-only policy in another direction by housing 7,500 records from Manak's massive collection. Guest DJs will pick and play their faves; if they want to rock an outside record, it must then join the Gold Line collection when they leave.
On a recent weekday, Manak offered a tour of the room, located on Figueroa Street along a hopping stretch in Highland Park. With built-in record shelves above and surrounding the bar, two areas with two different turntable setups and sets of vintage Altec Lansing speakers, the Gold Line seems a little less precious than In Sheep's Clothing. There won't be any tabletop guidelines.
When the sound is good, it is all you need. It can be as captivating as watching a movie.
— Zach Cowie
"I just wanted a place to put my records and have a good time," Manak says. "I just have so many records that I don't DJ out because usually when I DJ out I do it for a bigger audience, and you have limitations. You want to get them jumping around. Something like this, you have a lot of freedom to go in different directions."
Despite their differing approaches, In Sheep's Clothing and the Gold Line share a similar belief, Cowie says. "The act of selecting a record, putting it on, sitting down and paying attention to it" can be an incredibly rewarding experience. "It can be as captivating as watching a movie."
Cowie's definition of "good sound" at In Sheep's Clothing includes a pair of Klipsch Klipschorn floor-standing speakers ($5,999 each); two vintage Gerrard 301 turntables with hand-crafted tone-arms (about $5,000 each) and equally impressive amplifiers, pre-amplifiers and bar-back speakers.
Such captivation rang true on a recent weekday as a dozen people at In Sheep's Clothing occupied tables, bar stools and a couch in the 50-capacity room. An older Asian couple whispered at a four-top between songs, listening intently to the second side of an instrumental collection called "Spiritual Jazz, Vol. 8." At a booth, directors from Doomsday Entertainment, which co-produced Childish Gambino's "This Is America" video, met quietly with company founder Danielle Hinde.
A memorable solo piano album by Ethiopian musician-nun Emahoy Tsegué-Maryam Guèbrou soundtracked the moment. On another afternoon, the bartender dropped a side of the Clash's triple-album "Sandinista!"
"We've had some legitimate magic moments here where there's a person at every seat and it's 11 o'clock and they're locked into a Thelonius Monk record and not talking. It's totally insane," Cowie says. "When the sound is good, it is all you need."
For tips, records, snapshots and stories on Los Angeles music culture, follow Randall Roberts on Twitter and Instagram: @liledit. Email: randall.roberts@latimes.com.
Get our L.A. Goes Out newsletter, with the week's best events, to help you explore and experience our city.
You may occasionally receive promotional content from the Los Angeles Times.