How In the Red Records has survived 25 years on weirdness and punk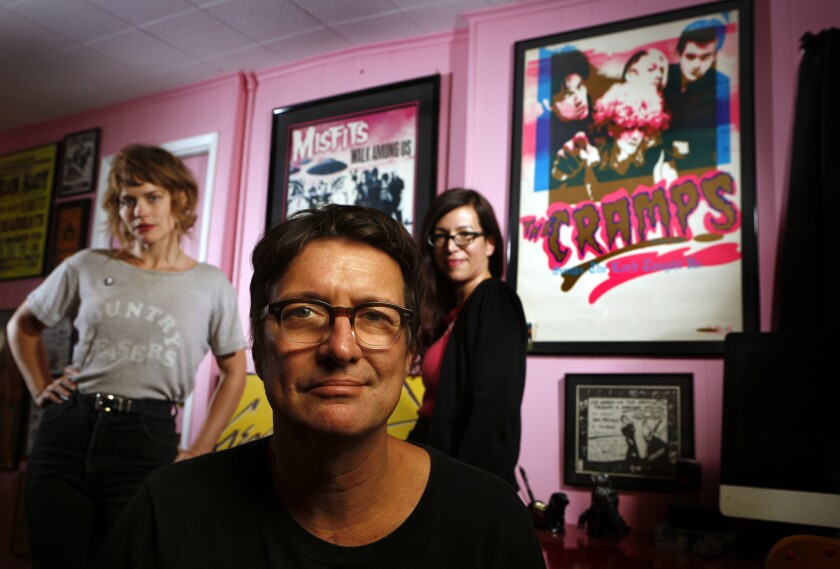 This weekend, the Los Angeles rock 'n' roll label In the Red Records will celebrate 25 years of unsung achievements with three nights of jagged, distorted bands from across its catalog of more than 300 titles.
It's a celebratory occasion for one of Los Angeles' most enduring, and confounding, rock labels, and no small feat considering the turmoil that has rattled the industry since the company's birth in 1991.
In fact, given the profound shifts in music consumption over the past quarter-century, In the Red's biggest achievement just might be surviving at all, especially given the label's handshake-deal philosophy, bare-bones business model and oddball aesthetic.
This is a label, after all, that last month released an album by a duo dubbed the Double that consists of a single 40-minute song. Called "Dawn of the Double," the instrumental work repeats the same one-note guitar mantra and Bo Diddley-inspired drum beat — and nothing else — for the duration.
The label's many musical mantras are more varied, but founder and label head Larry Hardy has earned a reputation as a consistent purveyor of quality plastic during his decades issuing frantic, guitar-based music.
"Even the years where everyone was like, 'Man the industry is about dead,' it's been better for me. Because back when things were great, I was small and still climbing anyway," says Hardy, 52, sitting in the music room of In the Red's headquarters in Eagle Rock.
Beginning Thursday, In the Red will take over the clubs the Echo and Echoplex for a roster of gritty sets by acts including the Gories, Cheater Slicks, Ty Segall and Mikal Cronin, Boss Hog, Meatbodies, Wand, the Double and a dozen others.
The last few years have been some of Hardy's most successful, commercially and artistically, a confirmation of his skills as a taste-maker. Until recently, he was the label's sole employee.
Among the company's notable achievements: introducing the world to the raucously catchy Atlanta garage-rockers the Black Lips, focusing attention on the acclaimed post-punk band Vivian Girls and solidifying the reputation of the late Memphis jack-of-all-trades rocker Jay Reatard.
Perversity is something that runs through the In the Red catalog.
— Jon Spencer of Boss Hog
After In the Red issued its music, the tough Detroit garage-rock band the Dirtbombs landed its song "Trainwreck" in a Wal-Mart commercial, quite the financial coup for working musicians. A trashy track by a band called the Clone Defects earned a big payout from Mitsubishi Motors.
Those commercial placements helped oil In the Red's gears, and allowed its owner to explore the vibrant scene currently thriving in Highland Park and Eagle Rock.
"It's chugged along, and it seems to be growing for me," says Hardy.
Based in his pristine bungalow in northeast Los Angeles, Hardy's got a keen sense of style that, coupled with a preference for B-movies, cheap horror films and quirky space-age-era design, makes his headquarters feel like a rock geek's chocolate factory.
A label that has issued vinyl 45s by bands with names like the Deadly Snakes, the Lord High Fixers, King Khan & the BBQ Show and Knoxville Girls, In the Red has delivered a body of music that Hardy has hand-selected, and the result is a singular, and raucous, achievement. "I only pick bands if I like them, and that's my only criteria," he said.
The label chief's most obvious aesthetic bent is garage rock, the raw sound of basement bands, mostly dudes, banging out three- and four-chord anthems of rebellion and lust. A lot of his signees, though, are too extreme for your average garage-rock fan.
"When I started the label, garage rock was a lot of bands that sounded like authentic replications of a bygone era," says Hardy. "The Cheater Slicks are not that."
He characterizes his oeuvre as "atonal garage music."
"With Larry, it's not so retro," says Jon Spencer, who has issued In the Red releases by three of his bands: Pussy Galore, Jon Spencer Blues Explosion and, most recently a new EP by his long-running project with wife Cristina Martinez, Boss Hog. "A lot of In the Red bands are borrowing from certain genres and older types of American music, but there's always been a lot of play in there." (Boss Hog will perform at the Echo on Friday.)
"There's certainly noise and sonic extremes — or even attitudinal extremes. Perversity is something that runs through the In the Red catalog," Spencer adds. "Perversity, strangeness. There's an alien, or other, element that fits in nicely."
When he finds a band, Hardy's offer is straightforward. "A handshake deal, and we'll split the profits." There's always an escape hatch: "If at any point the band is unhappy, they can go. And if I don't want to deal with you anymore, I'm not stuck with you."
Despite getting burned a few times — Hardy's certainly lost bands to bigger labels — his strategy has worked. In the '00s, when Napster was upending the music industry and compact discs were on their way out, Hardy's vinyl-first philosophy kept him in the black during a tumultuous moment.
"I had these bands that were suddenly selling more than I was used to, even though the industry was in decline."
The Los Angeles trio Fuzz, which features Segall on drums, just surpassed a new In the Red milestone. Its sophomore album for the label, "Fuzz II," says Hardy, is officially the label's top-selling release ever.
Informed of this news in the midst of a phone interview, Segall was silent for a second. "That's so crazy — I don't believe that," he said, cussing with pleasure and then referencing one of Jay Reatard's albums. "How did that sell more than 'Blood Visions?"
Putting out a record on In the Red, said Segall, had been a mission since he was a teenager driving up to the city from Orange County. "They were the label in Southern California for all of my friends and me growing up. All of the harsh, weird rock 'n' roll came from that label."
ALSO:
Bon Iver, Justice headline O.C.'s Beach Goth festival
Television and Primus added to lineup for Desert Daze fest
Bad Boy Records to release anniversary box set featuring Notorious B.I.G., Danity Kane and others
---
The complete guide to home viewing
Get Screen Gab for weekly recommendations, analysis, interviews and irreverent discussion of the TV and streaming movies everyone's talking about.
You may occasionally receive promotional content from the Los Angeles Times.