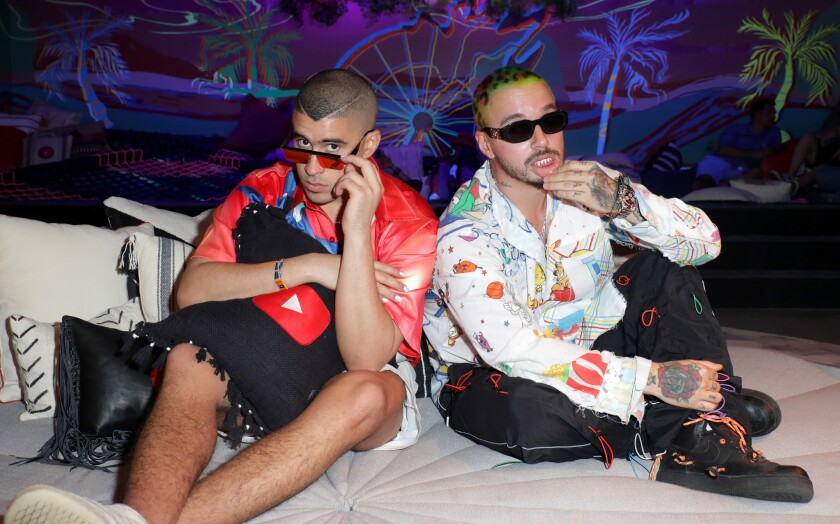 Pop Music Critic
In "La Canción," a shimmering reggaeton ballad from J Balvin and Bad Bunny's excellent new duo album, "Oasis," these two Latin superstars lovingly detail the feeling of nostalgia that an old song can trigger.
Reciting rhymes in Spanish (as he always does), Bad Bunny addresses an ex he thought he'd forgotten — until a favorite tune reminds him of that time they drunkenly danced together. Balvin then joins in, savoring a more shall-we-say-graphic memory as a trumpet player peppers the track with long, wistful notes.
With its pinprick emotion and hazy atmospherics, "La Canción" is likely someday to replicate the very effect it describes when a listener in the future hears it and can't help but recall the current explosion of creativity in Spanish-language pop. Thirty-four-year-old Balvin, who's from Colombia, and 25-year-old Bad Bunny, who's from Puerto Rico, are separately two of the biggest names in a growing international scene that also includes Ozuna, Rosalía and Cardi B (whose bilingual 2018 smash "I Like It" featured guest appearances by both men).
Which means that on one level, "Oasis," released Friday with little advance warning, resembles a Latin version of Jay-Z and Kanye West's collaborative "Watch the Throne" album or Drake and Future's joint mixtape "What a Time to Be Alive."
Yet this eight-track record is more than a victory-lap celebration of its creators' runaway popularity. It also reflects the fertile cross-pollination of styles and genres — from reggaeton to trap to R&B to bachata to flamenco to dembow — driving the rapid spread of what's often called música urbana, or urbano.
English-speaking fans will no doubt remember earlier Latin-pop booms, as when Ricky Martin and Shakira broke out in the United States in the late '90s and early 2000s — and were quickly urged to adapt their sounds to American tastes. In wake of Luis Fonsi and Daddy Yankee's 2017 hit "Despacito," though, the generation led by Balvin and Bad Bunny rarely sing or rap in English (even as they attract English-speaking stars like Beyoncé for remixes).
And instead of streamlining their approach, they exult in using their music to draw geographical and historical connections.
On "Oasis," that happens most explicitly in the breezy "Un Peso," in which Balvin quotes a line about heartbreak from a decades-old tune by Los Enanitos Verdes, the veteran rock band from Argentina, then welcomes that group's frontman, Marciano Cantero, for his own vivid verse expanding on the pain of a failed romance.
The connections pile up too in "Yo le Llego," with a jumping boogaloo beat reminiscent of "I Like It" (which sampled Pete Rodriguez's late-'60s standard of nearly the same name) and affectionate shout-outs to countries including Mexico, Venezuela, Chile and Panama.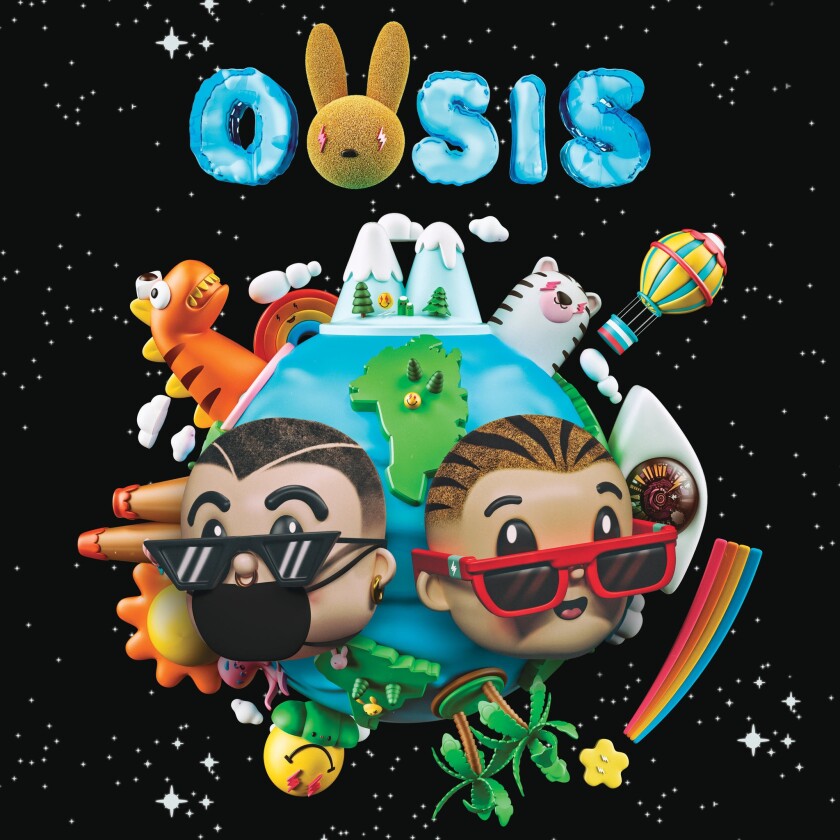 The album closes with "Como un Bebé," in which the headliners are joined by Mr. Eazi, a singer and songwriter from Nigeria's Afrobeats scene who, like Balvin and Bad Bunny, performed at this year's Coachella festival; the pulsating result points back to the place where many of urbano's component parts were born.
If all this cultural anthropology suggests something dry or scholarly, the aptly titled "Oasis" couldn't be further from that. Produced in large part by Tainy and Sky, who also worked on each artist's impressive 2018 solo album, the songs are sleek and propulsive, with glistening melodic hooks that make even macho boasts feel sensual. (No wonder Scooter Braun, who manages Justin Bieber and Ariana Grande, announced last week that he'd signed Balvin as a client.)
As on "Watch the Throne" and "What a Time to Be Alive," the differences between the stars' vocal approaches — Balvin's high, tender croon and Bad Bunny's low, droning flow — give the music a powerful dynamic range; "Odio," about another breakup, captures the longing as well as the resentment of someone thumbing through old texts.
Yet Balvin and Bad Bunny also put across an easy kinship that makes you hope there's lots more where "Oasis" came from.
______________
J Balvin & Bad Bunny
"Oasis"
(Universal Music Latino)
---