Opening a four-night stay at Largo, Jeff Tweedy trades barbs with fans and sings sad but engrossing new songs
Bearing only a mahogany guitar — a Martin & Co. instrument that had survived the Great Depression — and a pocketful of songs, Jeff Tweedy opened a loose, playful first of four nights at Largo in West Hollywood by rolling through much of his intimate new solo album, "Warm," dotting a 17-song set with the most durable works he wrote for his first band, Uncle Tupelo, and sing-along gems from his long-running concern Wilco.
The result was an exercise in contrasts: an entertaining guy seemingly in a good mood standing alone on a stage often occupied by comedians — but playing oft-brutally sad music.
Joking that he hadn't rehearsed much lately, Tweedy nearly bailed after the first song, teasing to the adoring sold-out crowd that this first gig was more of a practice session for the next night's performance anyway. As if he were playing for a bunch of dear friends, he tossed loving barbs, bragged about his haircut, shot down a fan who dared to request a song and begrudgingly told the story of how he gained possession of his guitar.
In between the banter, though, Tweedy delivered devastating lines and songs that pierced the atmosphere. "Some birds just sit useless, like fists," he sang, as if dead-eyed, in the new "Some Birds," noting "countrysides" that "are so full of suicide." On "Don't Forget," he noted "willows bending by the graves."
Last year the Chicago-based Tweedy published a memoir, "Let's Go Back (So We Can Get Back)," and you could feel its retrospective presence in the stuff from "Warm." Eleven folkish works that skitter dangerously close to his Uncle Tupelo roots, the new songs find him in reflection mode and exploring his twang-ish side.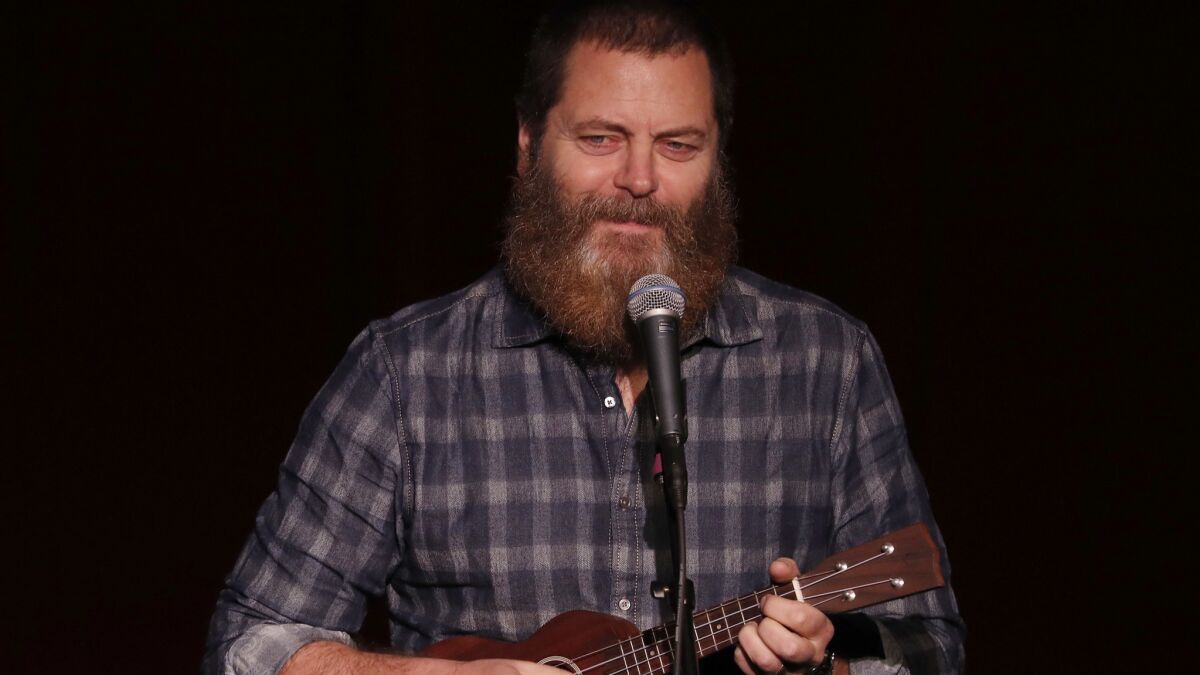 He introduced this idea during "Bombs Above," the opening song on the new record and the first song he played Thursday:
"I leave behind a trail of songs / From the darkest gloom to the brightest sun," he sang. "I've lost my way but it's hard to say / What I've been through should matter to you."
That trail led back to some of Tweedy's first best songs, those he wrote alongside musician Jay Farrar in the Belleville, Ill., country-punk band Uncle Tupelo. "New Madrid," an unshakable song about infatuation, earthquake prognosticators and a particularly deep Southern Missouri fault line, begat a whispered group sing-along.
Closing song "Acuff-Rose" name-checked the famous country music publishing company. "Passenger Side," from Wilco's debut album, is sung from the perspective of a sweet freeloader who lost his driver's license. "I've got a court date coming this June / I'll be driving soon," Tweedy promised.
Earlier in his career, Tweedy told me that one of the hardest things about Uncle Tupelo's success was looking out at the crowd and realizing that a lot of the band's devotees weren't his type of people. He seemed sincerely bummed about it.
With Wilco, he set about fixing the dilemma by chasing his muse at the expense of the Tupelo traditionalists. Songs such as "I'm the Man Who Loves You," "Jesus, Etc." and "I Am Trying to Break Your Heart," all of which he played Thursday," offered Tweedy the opportunity to adapt these more structurally striking songs.
As the decades have passed, Tweedy has seemed to revel in the distance between artist and fan base, joking with his people with warm familiarity. At one point while looking out at the crowd between songs, he confessed that he'd probably want to be real-world friends with only "about four or five of you."
When he shot down that one dude's unprompted song request, Tweedy added that he hoped his encore wouldn't feature any songs that fan wanted to hear. A little harsh? Yes, hilariously so.
The setting made it magical. Largo's strict policy banning electronic devices, coupled with an audience that respected the rule and the artist by shutting up during and between songs, resulted in a typically easy-going, and rapt, environment.
It didn't hurt that Tweedy's surprise opener was the actor Nick Offerman. Wearing a wondrously bushy beard he said he grew for his character in the upcoming FX series "Devs," the former "Parks and Recreation" star stood onstage with a soprano ukulele that he'd crafted himself, told a few stories, and sang a protest song about politics, betrayal — and his ukulele.
As he was departing, he assured the crowd that his friend Tweedy would be performing soon. First, though, Offerman was required to go backstage and give Tweedy a deep tissue massage.
It must have been brief: A few minutes later Tweedy stepped up to the mic, a grin on his face, his Martin in his hand, relaxed as could be.
For tips, records, snapshots and stories on Los Angeles music culture, follow Randall Roberts on Twitter and Instagram: @liledit. Email: randall.roberts@latimes.com.
---
Get our L.A. Goes Out newsletter, with the week's best events, to help you explore and experience our city.
You may occasionally receive promotional content from the Los Angeles Times.