Review: Jerry Lee Lewis remains a musical firebrand at 83 during dynamic performance in Cerritos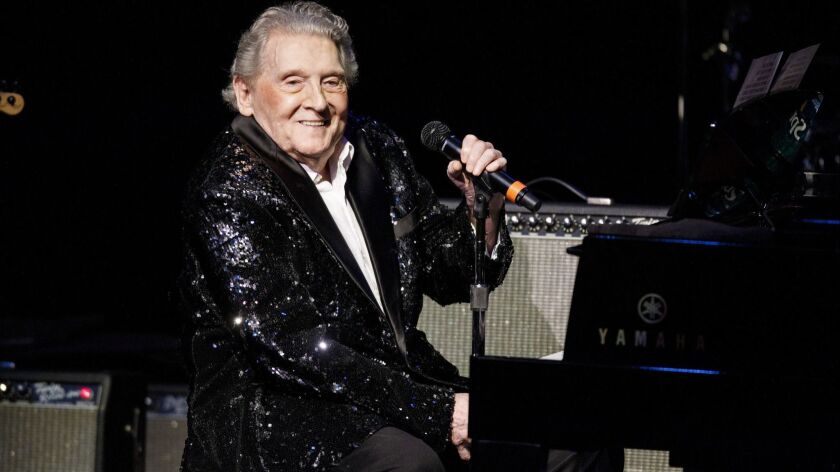 Jerry Lee Lewis is often tagged "The Last Man Standing" these days, a reference to his status among the core group of musicians who helped ignite the big bang of rock 'n' roll of the 1950s.
That's certainly true looking at the class of musicians with whom he emerged from Sam Phillips' Sun Records label in Memphis, Tenn.: Elvis Presley, Johnny Cash, Carl Perkins and Roy Orbison, among other '50s luminaries.
Yes, Little Richard is still with us from the 10 inaugural acts inducted into the Rock and Roll Hall of Fame when it opened three decades ago — alongside Presley, Lewis, Buddy Holly, Fats Domino, James Brown, Chuck Berry, Ray Charles, Sam Cooke and the Everly Brothers.
But Lewis, the incendiary singer and pianist from Ferriday, La., is the only one of that class still performing live on a regular basis.
To be truthful, though still standing, Lewis had a bit of difficulty walking to his piano bench at the start of his show Saturday at the Cerritos Center for the Performing Arts.
But once there, the man also nicknamed "The Ferriday Fireball" and "The Killer" had no shortage of the inner spark that's always made him a force of nature onstage.
Accompanied as he has been in recent years by bassist Ray Gann, studio drummer-to-the-stars Kenny Aronoff and his lead guitarist of 51 years, Kenneth Lovelace, Lewis tore into his keyboard with the musical — if not quite the physical — ferocity he exhibited six decades ago.
His voice also retains the power to thrill and move as he alternated among his signature "pumping piano" rock numbers and the traditional country tunes with which he staged his career comeback of the late '60s after his fall from grace a decade earlier for marrying his 13-year-old third cousin, Myra Gale Brown.
Following a handful of country and rock classics for which Lovelace and Gann traded lead vocals, Lewis emerged from the wings, moving a little stiffly across the stage to a rapturous welcome from the sold-out crowd at the 1,700-seat theater.
Opening with a staple of his sets for decades, "Move on Down the Line," Lewis snapped out the attitude-laden put-down directed at a romantic interest who doesn't quite measure up: "Well, you can't be my lovin' baby/You ain't got the style."
His distinctive phrasing makes each performance feel fresh, even with songs he's sung hundreds of times before, his in-the-moment approach a fundamental facet of what makes him irreplaceable.
From there, he spent nearly an hour commanding the stage, while still allowing Lovelace generous time for his ever crisp and economical Fender Telecaster solos.
If anything, Lewis appeared more energetic than during his too-brief 30-minute set in 2017 at the Stagecoach country music festival in Indio.
He seemed in no hurry Saturday to finish the performance and get offstage, even conjuring memories of his many freewheeling performances in the '70s and '80s at the celebrated Palomino club in North Hollywood, where he regularly held court, frequently bantering both with members of his band and the audience.
At one point, he turned to Aronoff behind him and said, "When I say, 'Pick it up,' pick it up. When I say, 'Throw it down,' throw it down. And when you get it right, I'll let you know."
Like Ray Charles, Lewis has always been an uncompromising bandleader, often admonishing his bandmates onstage for not following his mercurial instincts precisely and immediately. These days, however, it's more even-handed, and he punctuated his remark to Aronoff with a hearty laugh.
Another time, after a fan shouted something unintelligible, he shot back in no uncertain terms, "Do you want the microphone, or do you want to shut up?"
The set encompassed such cornerstones of his live set as "Don't Put No Headstone on My Grave," "Drinkin' Wine Spo-Dee-O-Dee" and "See See Rider" before concluding with de rigueur versions of his two biggest hits, "Great Balls of Fire" and "Whole Lot of Shakin' Goin' On." For the latter, he stood at the song's end and, once again, defiantly kicked over the piano bench before exiting the stage to a standing ovation.
One other highlight of the evening was his unique pumping-piano spin on "Mexicali Rose," originally a hit for one of his own musical heroes, Gene Autry, who sang it as a sentimental Western waltz.
"You couldn't beat Gene Autry," Lewis said backstage shortly after the set ended, sharing the story of being captivated by Autry's rendering of the song for the first time when the 1939 film by that title played at his hometown movie theater years later.
"I heard him singing 'Mexicali Rose,' and I knew you couldn't beat that," he said. "I got up from my seat in that darkened theater in Ferriday, La., got on my bike and rode to the house, sat down at the piano and played it and sang it. I got back on my bike and went back to the theater. My date was still sitting there. She said, 'Where you been?'"
He reflected on other moments from his long history performing in Southern California, including his unlikely role as Iago in "Catch My Soul," a rock 'n' roll setting of Shakespeare's "Othello" staged at the Dorothy Chandler Pavilion in 1968.
"I wish there was a recording of that," he said.
As for his regular stops in the '70s and '80s at the Palomino, he said: "Oh, man, I had a ball playing there. We used to love playing the Palomino — it was a gas. They had that old trailer out in the back," he recalled, laughing again.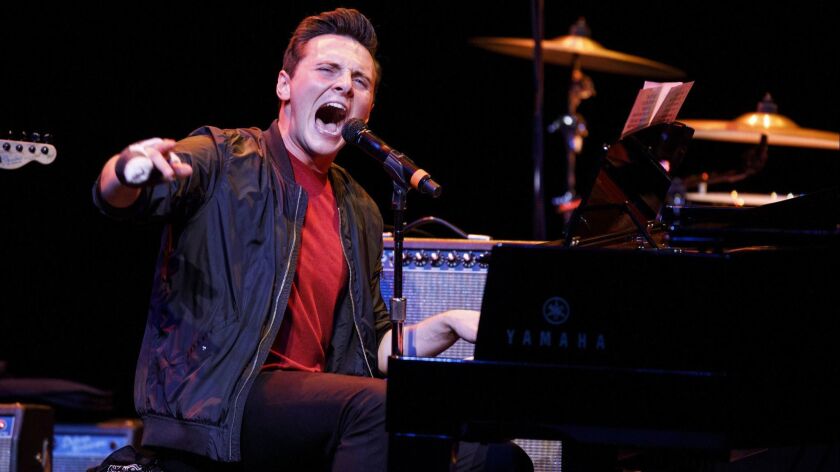 He was accompanied by Judith, his wife of seven years, and his latter-day benefactor, billionaire real estate developer Steve Bing, an ardent fan who financed and helped orchestrate a recent series of potent albums featuring a slew of rock and country superstar collaborators, including Mick Jagger, Merle Haggard, Bruce Springsteen, Jimmy Page, Neil Young, John Fogerty, George Jones, Willie Nelson and Eric Clapton.
Lewis said he is preparing to go back into the studio again; Bing said the new album would focus on gospel music, another of Lewis' longtime musical passions, suggesting that the rock 'n' roll pioneer plans to extend his stand at least into 2019.
The opening act, Ohio-bred pianist-singer-songwriter Jacob Tolliver, channeled Lewis' spirit honorably — no great surprise given his history portraying Lewis in the Las Vegas production of the musical "Million Dollar Quartet." His enthusiastic performance was that much more impressive seeing that he was playing with his right ring and pinkie fingers encased in a cast from a recent accident.
Follow @RandyLewis2 on Twitter.com
For Classic Rock coverage, join us on Facebook
---
Your essential guide to the arts in L.A.
Get Carolina A. Miranda's weekly newsletter for what's happening, plus openings, critics' picks and more.
You may occasionally receive promotional content from the Los Angeles Times.