Jimmy Webb is returning to MacArthur Park on July 9 to sing 'MacArthur Park'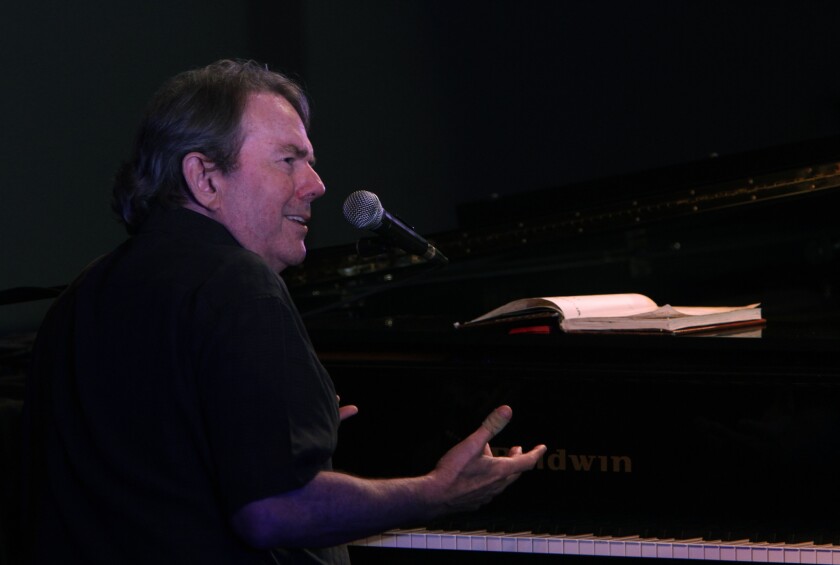 It's time to whip up another batch of sweet green icing: Songwriter Jimmy Webb will return to Los Angeles for a performance July 9 at MacArthur Park, where he will sing his iconic 1968 ballad "MacArthur Park" in the place that inspired him to write it.
It will be just the second time he has sung the song in the mid-city park. It's a locale he spent time in while he was still a struggling songwriter trying to carve out a career in the music business after moving to Southern California from his native Oklahoma.
Whiling away time in MacArthur Park, as a break from what he called the "dreariness of a really bottom-scale apartment" he was renting in Silver Lake, put him front and center to images he immortalized in the song. It became an international hit through actor Richard Harris' sung-spoken recording that ran more than seven minutes.
Webb would often meet his girlfriend after she got off work in a nearby office building, as he noted in the opening verse:
I recall the yellow cotton dress
Foaming like a wave on the ground around your knees
And birds like tender babies in your hands
And the old man playing checkers by the trees
When he sang the song there in 2013, he pointed from the stage to the surrounding trees and told the crowd: "Those trees, over there."
It contains the famously impressionistic, endlessly parodied chorus:
MacArthur Park is melting in the dark
All the sweet green icing flowing down
Someone left the cake out in the rain
I don't think that I can take it, 'cause it took so long to bake it
And I'll never see that recipe again — oh no
"I'd be disingenuous if I said I'm unaware it has detractors," Webb told The Times three years ago. "It was something I had a sense of humor about.
"To me, that's part of it: the grandiosity of it, the absolute presumption of the whole thing is part of it," he said. "It's part of what we associate with the '60s: Let's push it, let's see how far we can inflate this condom before it blows up."
Even Webb doesn't know how many hundreds of times the song has been recorded. There is, of course, the highest profile version by Harris, the 1978 disco remake by Donna Summer and noteworthy interpretations by Frank Sinatra, Glen Campbell, Liberace and, yes, even Weird Al Yankovic.
Webb's career exploded after various acts began recording songs he wrote, including "Up, Up and Away" (The Fifth Dimension"), "The Worst That Could Happen" (The Brooklyn Bridge), and his long, fruitful relationship with singer-guitarist Campbell yielded such hits as "By the Time I Get to Phoenix," "Wichita Lineman" and "Galveston."
Webb's show is part of the summer series of free concerts at the Levitt Pavilion bandshell in MacArthur Park and its sister facility in Pasadena.
Although MacArthur Park has gone through its own major ups and downs in the ensuing decades, becoming a notorious hangout for drug dealers in the 1970s, '80s and '90s, before experiencing a renaissance as a family recreation spot in recent years, Webb still holds it in fond regard from a continent away at his home on Long Island, New York.
"That was my refuge from poverty," he said. "It was a place where I met my girlfriend, where life evened out for a little while. When I was there, it wasn't so difficult to live.
"That may sound strange now, because I was really successful so very young," he said. "But I was also struggling. At 17 years old I was on the street in Los Angeles with nothing to trade for my daily bread. Nothing but songs."
randy.lewis@latimes.com
Follow @RandyLewis2 on Twitter.com
For Classic Rock coverage, join us on Facebook
---
The complete guide to home viewing
Get Screen Gab for weekly recommendations, analysis, interviews and irreverent discussion of the TV and streaming movies everyone's talking about.
You may occasionally receive promotional content from the Los Angeles Times.