Commentary: Jussie Smollett's fans deserve better than an alleged and dispiriting hoax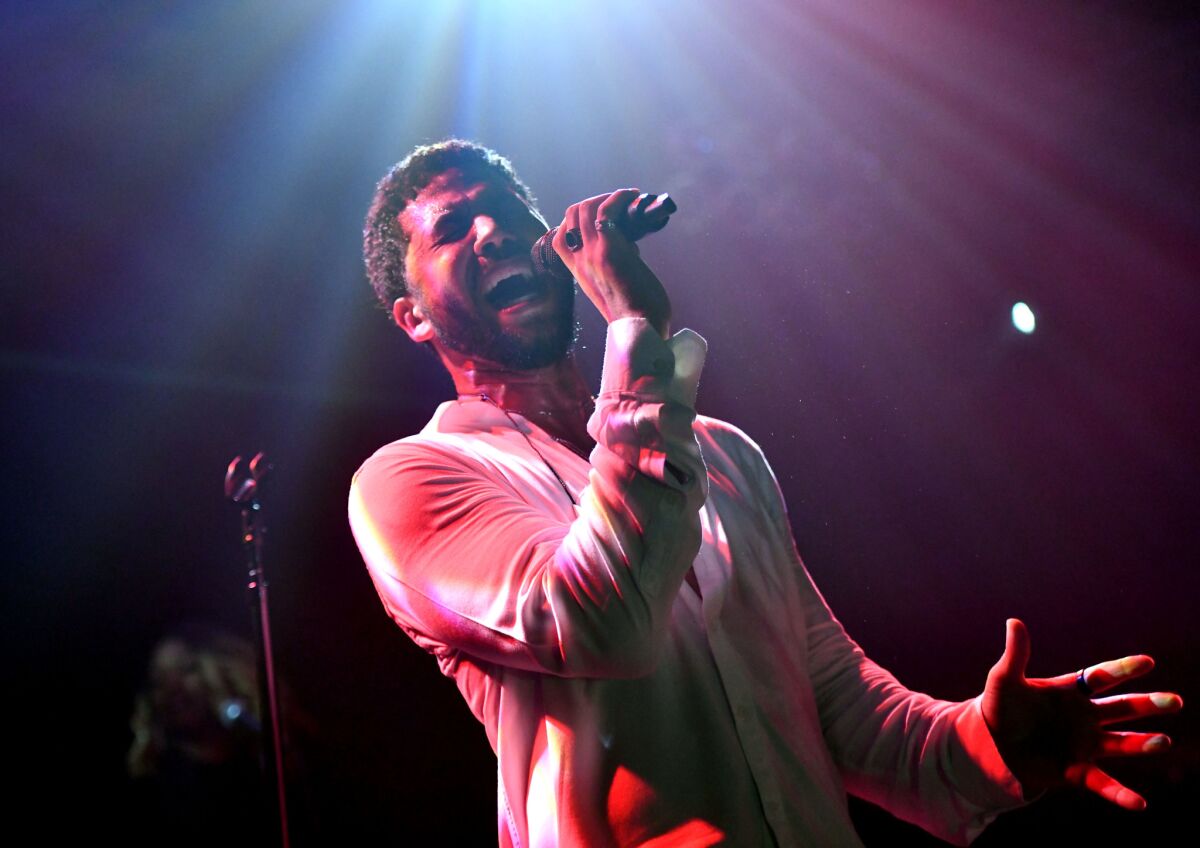 Before Jussie Smollett took the stage at the Troubadour earlier this month, members of his family came out to address rumors about what had happened just four nights before when their brother reported being attacked by two presumed racists, homophobes and Trump supporters.
"He fought his attackers that night and he continues to fight," his brother Joel Smollett Jr. said, after denouncing gossip circulating about what happened in Chicago. He didn't get into it any further, and police at that point were treating the alleged assault as a possible hate crime.
At the Troubadour, Smollett had the room on his side. Many in the audience gave heartfelt testimony about what the star's resilience meant to them, and to the communities that also felt under attack after the incident. Smollett took the stage to deafening cheers and then played an emotional set that, he said, was an early step in his healing.
Now Chicago police say the whole thing may have been a byzantine hoax from the start. On Thursday, Smollett posted bond on a felony disorderly conduct charge for allegedly filing a false police report and could face up to three years in prison.
For all the many reasons to feel dispirited by this whole situation, it's also worth remembering the hundreds of fans who came out to the Troubadour in freezing rain to support Smollett.
A timeline of how the Jussie Smollett case unfolded »
Chicago police allege that Smollett hired two men to stage the attack and spent the following weeks making a sympathetic case in the media. Police also say that he'd allegedly sent an earlier threatening letter addressed to himself at the 20th Century Fox studio.
"This stunt was orchestrated by Smollett because he was dissatisfied with his salary so he concocted a story about being attacked," Police Supt. Eddie T. Johnson said at a news conference after Smollett's arrest. "This announcement today recognizes that 'Empire' actor Jussie Smollett took advantage of the pain and anger of racism to promote his career… Bogus police reports cause real harm. They do harm to every legitimate victim who's in need of support by police and investigators, as well as citizens of this city."
The Times' complete and ongoing coverage surrounding the 'Empire' star. »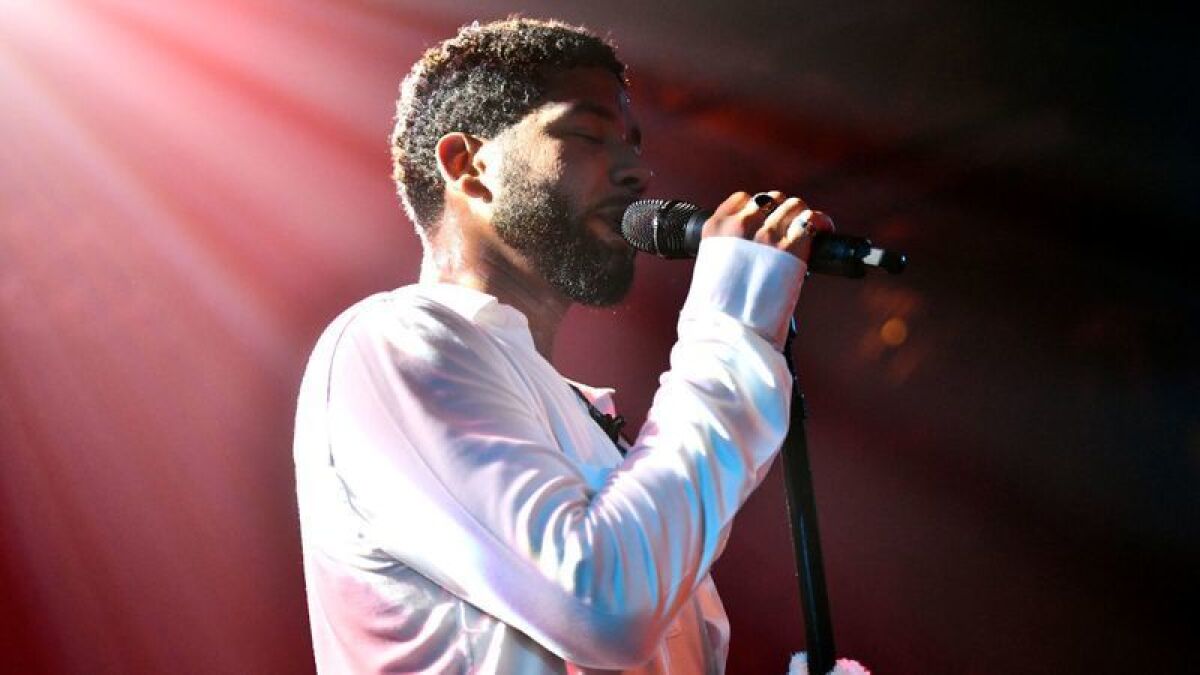 Criminal defense lawyer Mark Geragos said Smollett "fiercely and solemnly maintains his innocence and feels betrayed by a system that apparently wants to skip due process and proceed directly to sentencing." But the charges capped a dispiriting pivot in a story that will leave no one feeling better about the future of the movements to combat racism and homophobia in a polarized America.
If the incident occurred as Chicago police allege, Smollett has burned through the goodwill of every one of his fans — and allied activists — in a bizarre and cynical attempt to win sympathy.
Most will insist that this particular incident not demean or distract from the threats that many marginalized Americans face. That violence is still very real. On Wednesday, news broke that an alleged white nationalist Coast Guardsman had amassed a huge arsenal in a plan to kill Democratic lawmakers and journalists.
If Smollett did, in fact, concoct this whole thing as a hoax, it does absolutely nothing to lessen the need for vigilance and justice in the face of real hate crimes (and hateful policies and rhetoric).
Believing victims, as should be obvious by now, is about righting the scales of a system that's too often failed them — not accepting any story at face value or ignoring evidence as it appears.
This has, of course, already given ammunition to those who claim that many similar incidents are hoaxes as well. The President, as expected, has already weighed in: "[W]hat about MAGA and the tens of millions of people you insulted with your racist and dangerous comments!?" he tweeted. Press secretary Sarah Sanders said that this was "another sad example of people so quick to want to attack and come after this president." We should all probably expect Jussie Smollett to become shorthand for the thinking that assumes marginalized groups tout victimhood for personal gain.
Part of the frustration over this whole situation is that, even in a story with this many twists, the script from here seems so prewritten. That Smollett has already turned into a political cypher speaks to how little anyone can learn from this debacle.
The one group of people who will take something real away from all this, though, are the Smollett fans who stood in lines hundreds deep outside the Troubadour that night.
I talked to a bunch of them who had traveled across the country for that show. Not even out of pure fandom, but out of a need to stand up and defend an artist who, they reasonably thought, had endured something unimaginable. They got on planes, booked hotels and braved terrible weather to show Smollett they cared about what happened to him, a gay black man in country never short of reminders of how little it regards either, even when they are well-paid celebrities.
They were cheering for his strength and his vulnerability alike. They were there to show Smollett and those like him that they still had value. That their lives mattered.
If it happened the way Chicago police allege, Smollett owes a whole lot of apologies for such a baffling and manipulative stunt. It looks as if he'll be written off the next season of "Empire." That's a start. But he probably shouldn't get back onstage or onscreen until he either proves his innocence or makes made some profound amends.
If he wants to atone, he can start with everyone who came out to see his concert that night. What they showed up for was real, even if it's looking as if his account of the incident wasn't.
For breaking music news, follow @augustbrown on Twitter.
---
Get our L.A. Goes Out newsletter, with the week's best events, to help you explore and experience our city.
You may occasionally receive promotional content from the Los Angeles Times.