Since its debut in 2015, the critically acclaimed family music drama "Empire" has been one of Fox's most popular prime-time series.
But the stunning arrest of actor Jussie Smollett has put a cloud over the future of the show, which will likely carry on without him.
Smollett, the black and gay co-star of "Empire," went from hate crime victim to accused felon Thursday as Chicago police charged him with filing a false police report in which he claimed to have been the victim of a racist, homophobic attack. Two brothers told the police they were acquaintances of Smollett through the show and that the actor hired them for $3,500 to stage the attack as an attention-generating stunt.
"This announcement today recognizes that 'Empire' actor Jussie Smollett took advantage of the pain and anger of racism to promote his career," Chicago Police Department Supt. Eddie Johnson said at a press briefing after the actor surrendered. Johnson said Smollett allegedly orchestrated the incident because he was dissatisfied with his salary for his work on "Empire."
The shocking turnabout could be the downfall of a well-liked TV star and risks damaging a valuable asset that Fox expected to have on its prime-time schedule for at least another two years.
Real-life indiscretions by TV stars have interfered with hit series in the past. Charlie Sheen's erratic behavior got him fired from the popular CBS sitcom "Two and a Half Men" as he battled substance abuse problems. Kelsey Grammer did 30 days in jail for violating probation and failing to undergo treatment for alcohol abuse after a DUI conviction while he was on "Cheers."
But Smollett's situation is reverberating through the culture. The initial report of an attack and the subsequent revelation that police believe it's a hoax has generated national outrage from both sides of the political spectrum.
It has also become a public relations fiasco for 20th Century Fox, the studio that produces "Empire." The arrest has prompted Fox to walk back its earlier support of Smollett.
The studio had stood by Smollett when he reported the alleged attack to authorities on Jan. 29 and said last week that there were no plans to write Smollett out of the show. But the company issued a statement after the Thursday arrest that indicates his future is in doubt.
"We understand the seriousness of this matter and we respect the legal process," the company said. "We are evaluating the situation and we are considering our options."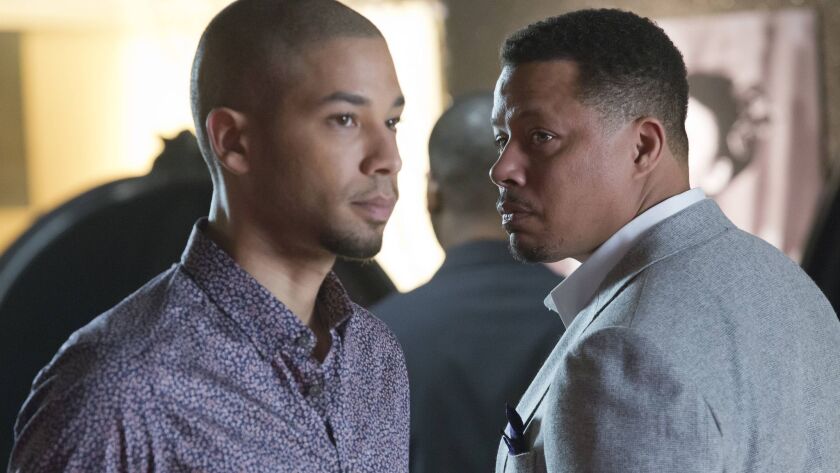 FULL COVERAGE: Jussie Smollett »
If Smollett is convicted or agrees to a plea deal on a felony disorderly conduct charge, he faces up to three years in prison and will possibly be on the hook for restitution to the city of Chicago for the hundreds of hours police devoted to the case.
Smollett's lawyers Todd Pugh and Victor Henderson said in a statement issued Wednesday night that they will mount "an aggressive defense" against the charges facing the actor.
But several Fox executives who spoke to The Times on the condition of anonymity said they expect "Empire," which is filmed in Chicago, will go on without Smollett next season if the series is renewed.
"He will not be back no matter what happens," said one of the executives who was not authorized to comment publicly. "They are going to have to write him off."
Since the circumstances of Smollett's incident changed, "Empire" writers and producers have discussed significantly reducing his presence in the episodes that are in production. The series is scheduled to return to the Fox lineup on March 28.
While "Empire" is no longer the ratings phenomenon it first was when it launched, the show averages more than 5 million viewers an episode and remains the network's most popular scripted show among viewers aged 18 to 49, the most coveted audience for prime-time advertisers.
Trade journal Ad Age has estimated the average price of a 30-second spot on "Empire" for the 2018-19 TV season was $227,494, ranking fifth among all prime-time shows, behind NFL games, NBC's "This Is Us" and CBS' "The Big Bang Theory."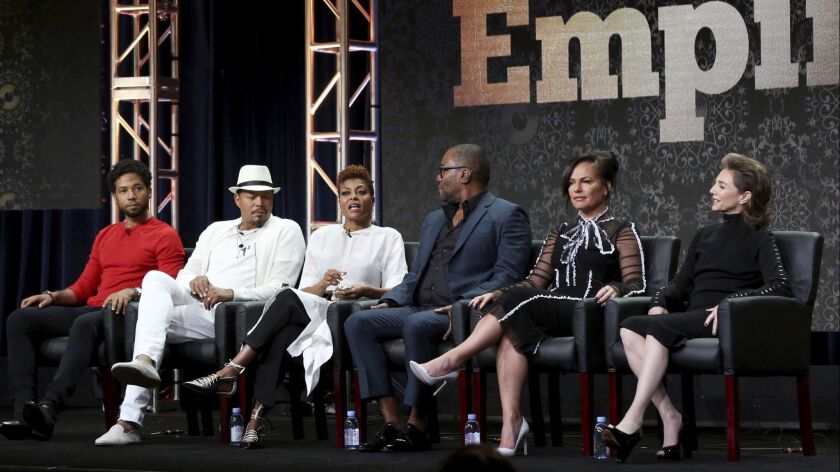 Smollett plays Jamal Lyon, the musically gifted gay middle son in the hip-hop dynasty portrayed in the series. His departure could have a negative effect on the ratings as there are still likely to be fans who believe his account of the attack, or are sympathetic to him.
The scarcity of TV shows that can still attract younger viewers means Fox will stick with "Empire," according to the executives who spoke with The Times.
Smollett's chances to survive the controversy are not helped by the fact that "Empire" will belong to the Walt Disney Co. after it closes its deal to acquire 21st Century Fox's studio assets.
Disney, which declined to comment on Smollett, is known to have a far lower threshold for the kind of controversy that has become a Rorschach test for a politically divided country.
Smollett told authorities on Jan. 29 that two men jumped him near his apartment in the upscale Streeterville neighborhood in Chicago where he lives. He said the men told him he was in "MAGA country," a reference to President Trump supporters, used anti-gay and racial slurs, doused him with bleach and put a rope around his neck.
Smollett received immediate support and sympathy on social media, with many high-profile celebrities and politicians linking the alleged attack to the rise in bias crimes in recent years. Commentators said Smollett's suffering was a byproduct of the racist attitudes of President Trump and his supporters. Smollett himself suggested that he was targeted because he has been an outspoken critic of the president (although when the attack was first reported, Trump called it "horrible").
As local reporting in Chicago revealed that the incident was not what Smollett described to police and in a television interview, conservative pundits seized on the possible hoax as evidence that the media was uncritically accepting of the actor's account because of his liberal views and portrayed the president's base in a negative light.
"They want to believe the worst about Donald Trump and his supporters," Fox News host Sean Hannity said Wednesday.
The recent developments have also stunned and baffled the people who know Smollett, 36, who started acting when he was a child.
"There is a disconnect with those who know him," said Howard Bragman, chief executive of Beverly Hills-based LaBrea Media . "He was always one of the good guys. To say he's doing this because he wanted more money — this guy had a great career. He was on a hot show. Very respected. Very loved."
Bragman said the legal process has to play out before Smollett can think about a path forward.
"If he plays this right, he may have a chance, but it's going to be a difficult road," Bragman said.
Times staff writer Meg James contributed to this report.
Twitter: @SteveBattaglio
---