Justin Bieber's concert at Staples Center had pageantry, sex appeal and a vaguely religious vibe
It began with half-whispered words about strength and vulnerability and ended with what amounted to a baptism. In between were confessions, assurances and serious youth-group guitar strumming.
Yes, Justin Bieber had come to Staples Center for a pop concert, one with all the pageantry and idol worship — and sex appeal — that such an event would entail. But Sunday's sold-out show, the first of three at the downtown arena, also had a vaguely religious vibe that reflected this tabloid target's ongoing effort to prove he's cleansed himself of his recent improprieties.
"I'm not a preacher," he cautioned at one point. Then he went ahead and preached about how he'd been "so broken" before he rediscovered his purpose, which, if I understood him correctly, constituted delivering inspirational platitudes over bruising EDM beats.
This mini-sermon was, of course, Bieber's lead-in to the deeply earnest title track from his 2015 album, "Purpose." A huge commercial success that's spawned three No. 1 singles, it presents the 22-year-old singer as a penitent young man full of apologies for the women he's hurt and the fans he's offended with various stunts, including his infamous egging of a neighbor's home in Calabasas. The album addresses God too, as when Bieber explicitly asks for forgiveness for his sins and pledges, "I put my all into your hands."
That's the message Bieber was emphasizing in November during a fascinating, weirdly intimate album-release event at Staples in which he sat on a stool and chopped it up with a guy described as his pastor.
Justin Bieber performs at Staples Center on Sunday.
(Christina House / For The Times)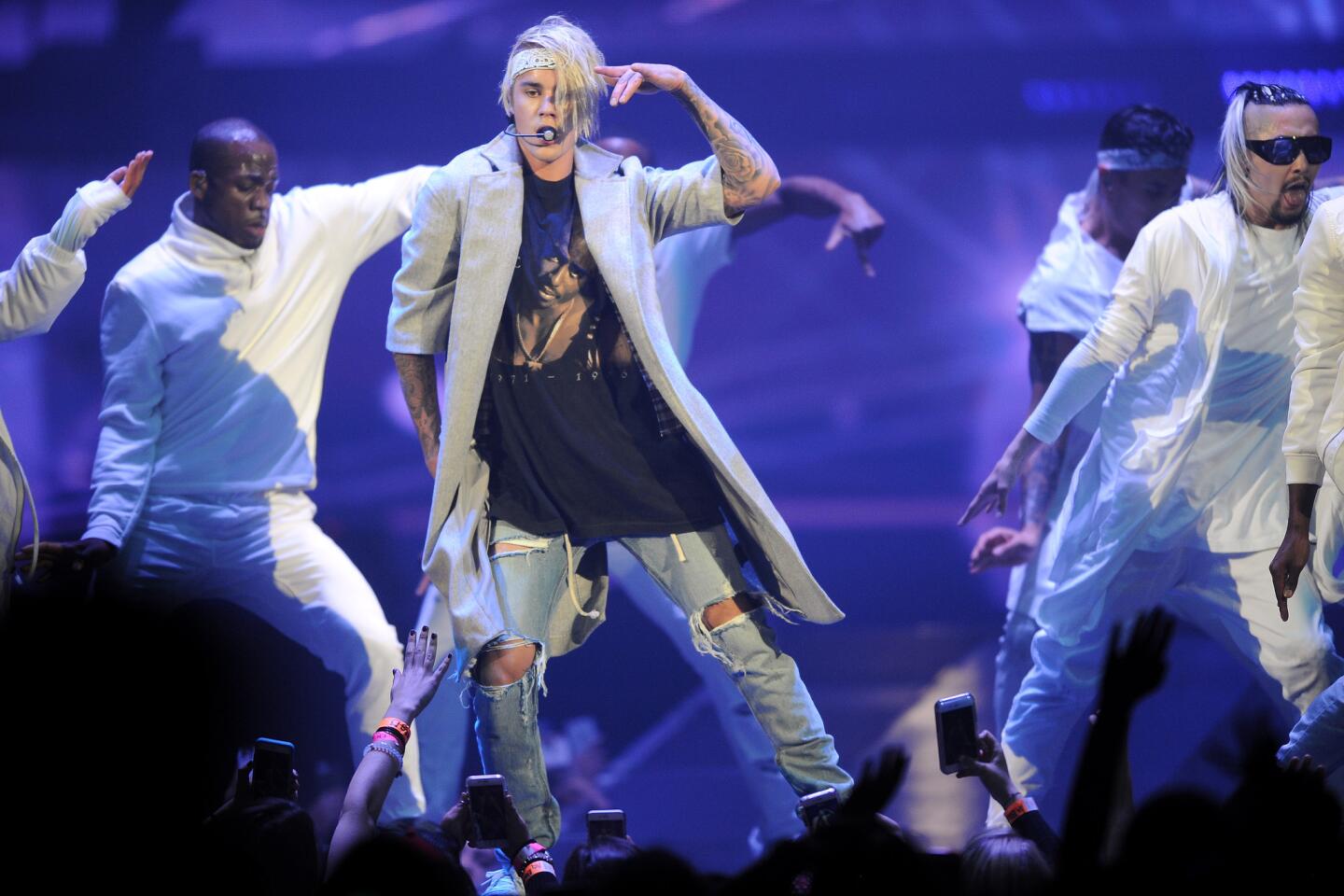 Justin Bieber and his backup dancers.
(Christina House / For The Times)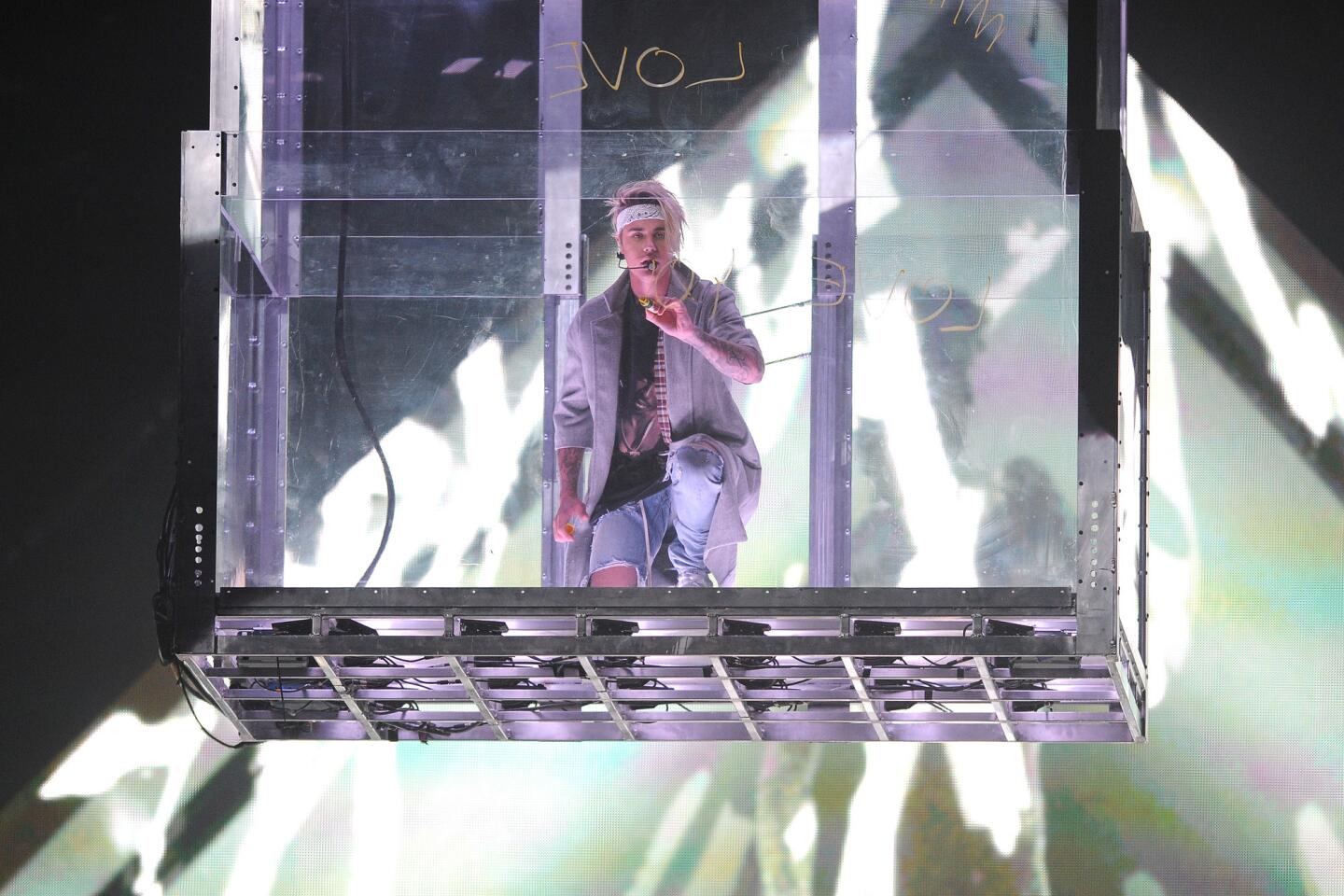 Justin Bieber is suspended above the stage and the crowd.
(Christina House / For The Times)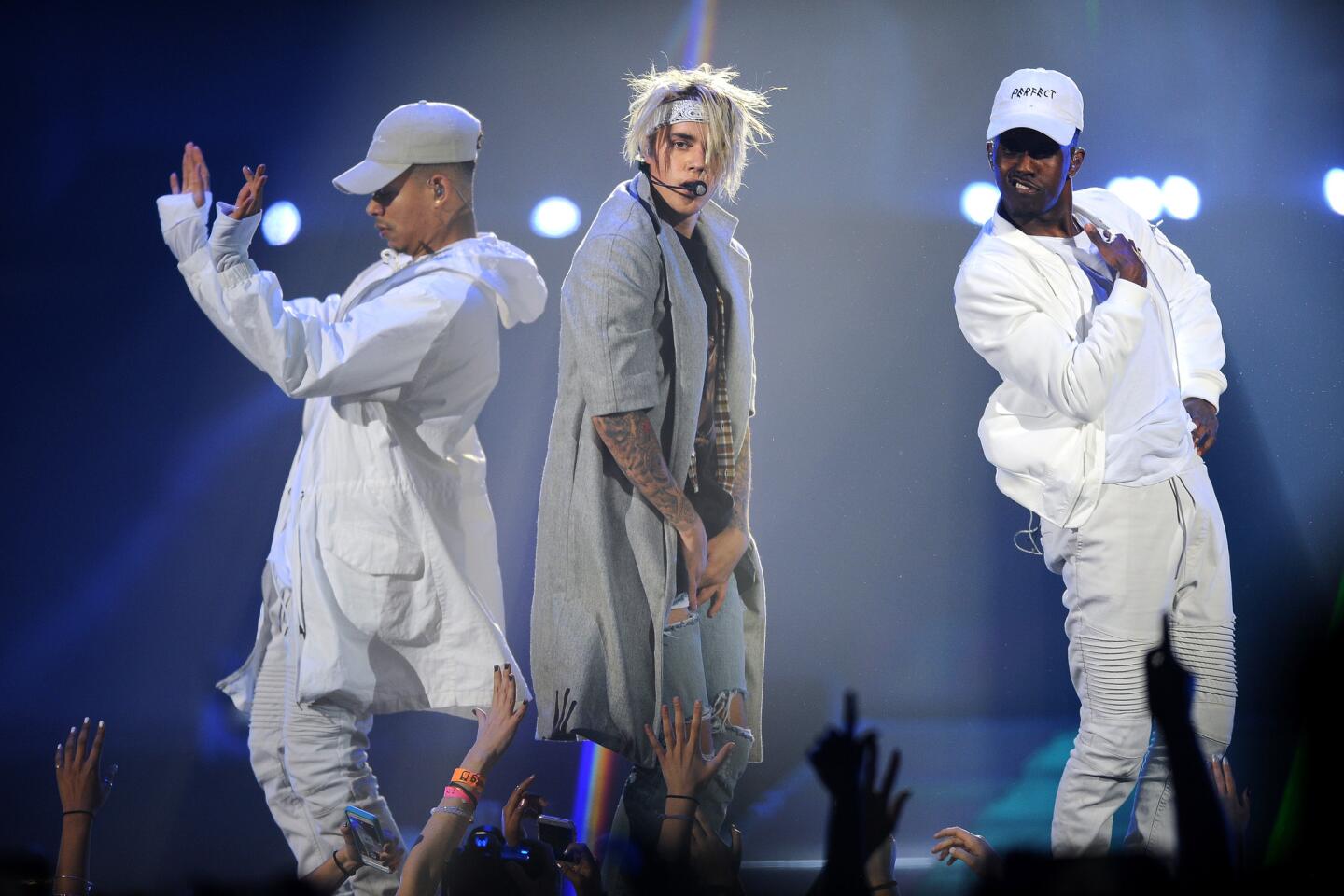 Justin Bieber
(Christina House / For The Times)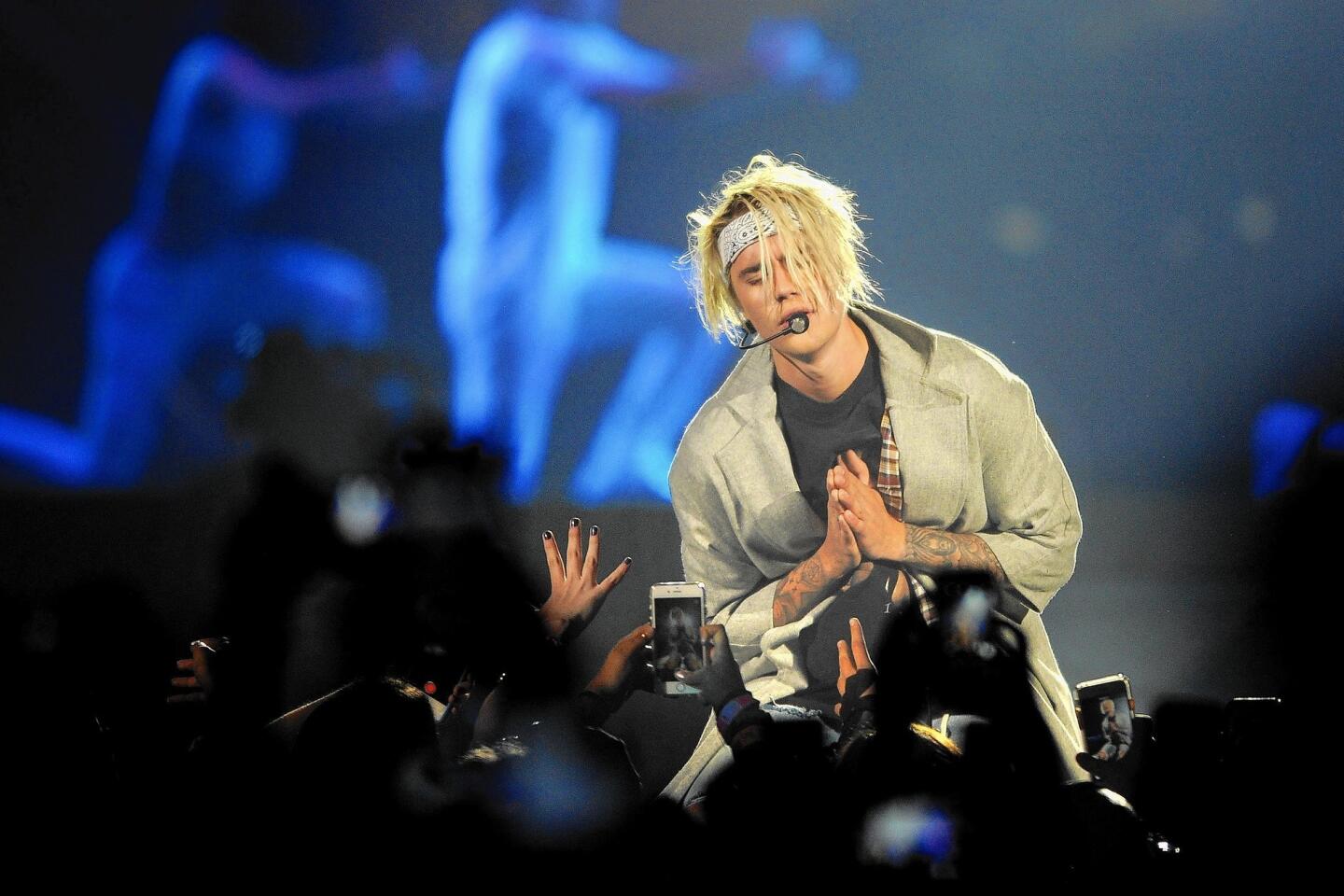 Justin Bieber
(Christina House / For The Times)
But that sort of treatment wouldn't really do for the Purpose world tour, which launched this month and which will run through the end of the year. It's a bigger proposition requiring a bigger show; its ideas about faith have to come tucked inside the kind of spectacle to which pop fans are accustomed.
So here, in a feat of engineering I'd never seen before, was a large trampoline suspended over the heads of people seated on the venue's floor. For his song "Company," Bieber and a crew of dancers jumped around on the thing, doing back flips visible from below.
There were surprise appearances by two high-profile rappers, Big Sean (in "No Pressure") and Chance the Rapper (in "Confident"), whose willingness to turn up for about 90 seconds of stage time each served as confirmation of Bieber's importance.
And there were dramatically reworked versions of familiar songs, including a muscled-up "Boyfriend" and a grungy "As Long as You Love Me," not to mention a series of '90s-inspired costumes with billowing flannels over faded rock T-shirts. For "What Do You Mean?," dancers on skateboards circled the singer, who by then had changed into a pair of joggers emblazoned with the Purpose tour logo.
However elaborate the production became, though, Bieber maintained a cool determination that seemed to bear out his claims about having found the drive to move forward. (You'd call it "purpose" if that didn't make you feel like a member of his marketing team.)
His face expressionless, he sang with focused intensity — especially in "Hold Tight" and "Life Is Worth Living" — and danced in a powerfully unself-conscious way, as though he were simply a guy trying out moves for his own enjoyment. He was similarly casual when he plopped down on a couch and busted out a boldly reharmonized acoustic rendition of "Love Yourself."
Bieber's obvious comfort didn't mean he'd shaken the sense of being trapped. The show opened with a filmed sequence in which he was stuck inside a glass cube; then the real Bieber appeared inside a real cube, scrawling words like "hope" on the walls with a marker.
But all that went away toward the end of the show, when he sat on the stage to sing "Purpose" while grabbing the hands of fans in the front row, tent-revival style. He was soon so at ease that he was practically lying down.
The concert finished with "Sorry," the most literal of his album's many mea culpas but also its most buoyant. Reprising a bit from last year's American Music Awards, Bieber stood with his dancers beneath a shower of artificial rain, the water not just splashing but totally drenching them as he sang about desperately needing one more shot at a second chance.
Whoever it is that gives those out clearly heard his prayer.
Get our L.A. Goes Out newsletter, with the week's best events, to help you explore and experience our city.
You may occasionally receive promotional content from the Los Angeles Times.