Karen O and Danger Mouse want you to listen like they do on 'Lux Prima'
Pop Music Critic
NICASIO, Calif. —
Karen O had to shout to be heard over her own voice.
Seated in a lounge at George Lucas' Skywalker Sound complex, the singer best known for fronting the Yeah Yeah Yeahs was discussing her collaboration with the producer Danger Mouse, which encompasses a surprising new album, "Lux Prima," along with what they describe as a "multisensory art installation" set to take place next month at the Marciano Art Foundation in Los Angeles.
But as she laid out their plans for the experience — whose surround-sound mix they were here finalizing with a technical team led by Ren Klyce of "Star Wars: The Last Jedi" — the unmistakable sound of Karen O's singing atop a bone-shaking drum beat roared up from behind the doors to a cavernous sound stage.
"Those are the subs," she said with a grin, referring to the deep bass frequencies that evoked the stomping dinosaurs from "Jurassic Park."
"We want you to feel your entire body vibrating."
That the singer would schlep from L.A., where she lives these days after many years as a proud New Yorker, to this facility nestled in the rolling hills of Marin County suggests the level of care that she and Danger Mouse have put into "Lux Prima."
Released Friday, the album sets Karen O's expressive vocals amid lush, expansive psych-rock arrangements rich with the type of texture and detail that have made Danger Mouse a valued studio partner for the likes of Beck, Adele and U2; it's music heard ideally through high-end headphones (or through the state-of-the-art speaker rig they've devised for the Marciano, where listeners will be bathed in sound from all sides).
But their lofty surroundings on a recent afternoon were also an indication of how far these two have traveled from their scrappy beginnings: Karen O as the wild-eyed punk famed for drenching herself in beer and Danger Mouse as the bedroom tinkerer who risked legal trouble with "The Grey Album," his unauthorized mash-up of Jay-Z's "Black Album" and the Beatles' self-titled White Album.
Now both in their early 40s, Karen O (whose last name is Orzolek) and Danger Mouse (born Brian Burton) have earned the respect and the interest of the movie business and the art world; she was even nominated for an Oscar a few years ago with "The Moon Song," from Spike Jonze's "Her."
And the "Lux Prima" project, with its stately tempos and its clever echoes of spaghetti western film music, feels newly suited to that rarefied air.
Sitting next to Karen O during a break from mixing, Danger Mouse pushed back gently on the perception that he and his partner have gone Hollywood.
For starters, he pointed out with a laugh, the two were working at Skywalker on a weekend. More important, their approach — creating music to inspire a movie in listeners' minds — is actually the cheap way of doing things.
"Talk about 'Jurassic Park,' " he said. "You just heard something that made you think of a thing that would've cost half a billion dollars to make."
Still, he acknowledged, "Lux Prima" does represent a real achievement: He's finally made the kind of record — a full-body sonic immersion à la Pink Floyd or Isaac Hayes — that the younger version of himself would've sought out to sample.
"That used to seem so far off," he said.
Though they'd talked for years about working together, Karen O and Danger Mouse didn't start on "Lux Prima" until 2016, not long after the singer gave birth to her son, Django. (She's married to Barnaby Clay, a British director who's overseeing the Marciano event.)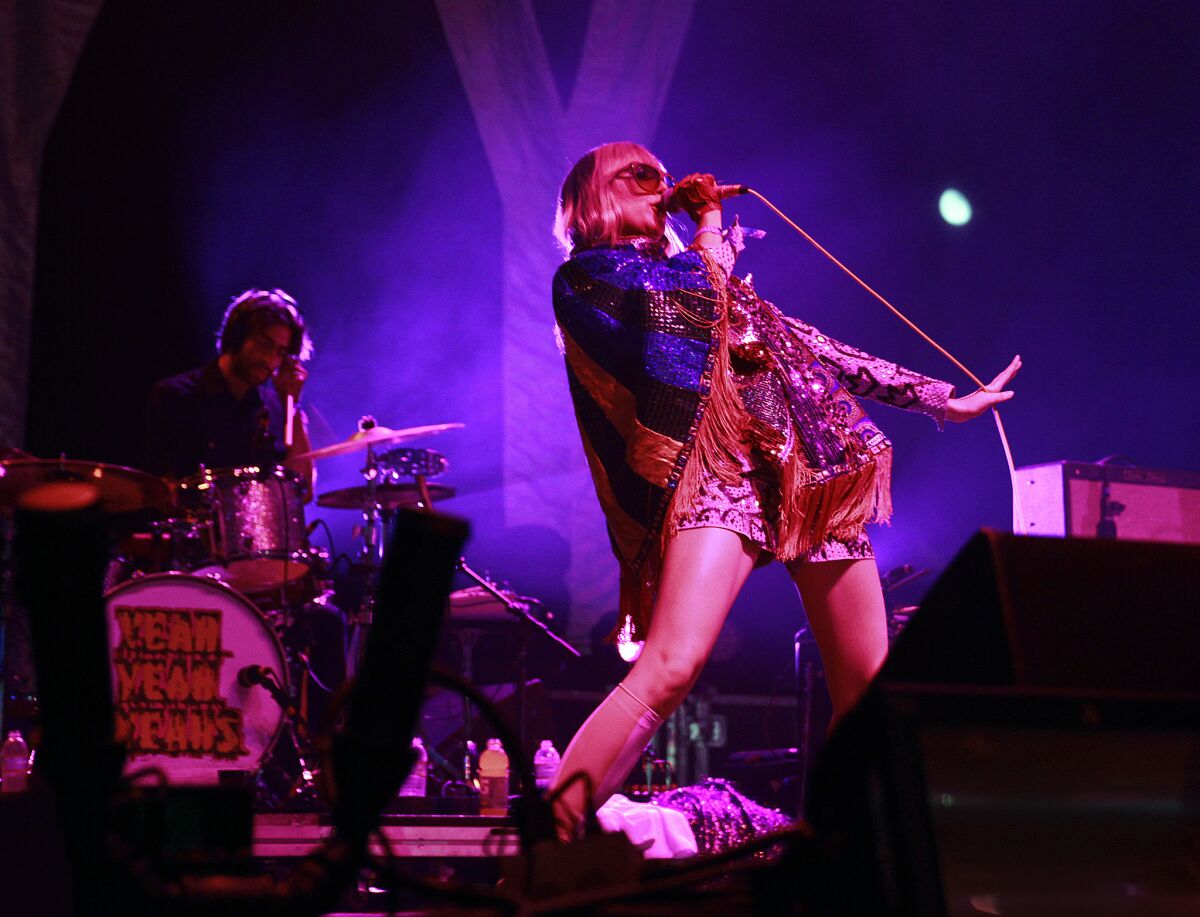 Karen O, who put out her most recent album with the Yeah Yeah Yeahs in 2013, said she was drawn to Danger Mouse's "cinematic" production style, which she thought would pair well with the soul singing she wanted to explore outside the band.
Danger Mouse said the "believability" of Karen O's voice was what intrigued him. "You hear her and something gets unlocked," he said, comparing the experience to the first time he heard CeeLo Green, with whom he went on to form Gnarls Barkley and record the worldwide smash "Crazy."
The two worked mostly at L.A.'s Sound Factory studio, which Danger Mouse occupied for years before moving recently to New York. Much of the time, they holed up by themselves in the studio's small control room, building the music layer by layer; later, they invited in additional musicians including Yeah Yeah Yeahs guitarist Nick Zinner and the producer Inflo, with whom Danger Mouse had previously collaborated on Michael Kiwanuka's song "Cold Little Heart," which became the haunting theme to HBO's "Big Little Lies."
Like any good punk, Karen O grew up unimpressed by the prog and psych sounds she and Danger Mouse explore on "Lux Prima." But lately she's been trying to expand her musical vocabulary, she said, in part through frequent trips to hear the L.A. Phil at Disney Hall.
"People who've worked with me over the years have told me I sound really different on this album," she said, and indeed the songs reveal nuances of a voice we're accustomed to getting at full blast. One touchstone was Colin Blunstone of the Zombies, whose "sleepy, sexy quality" she said she admired; also helpful in a sense was the sore throat she suffered while recording.
"I have a 3-year-old, you know — I get a lot of colds," she said with a laugh.
Danger Mouse said that listening to the songs as closely as they were at Skywalker, where the duo were figuring out how to "stage" the music in a 3D space, was reminding him of intricate details that even he'd forgotten about since they'd finished recording.
Asked if the typical listener was likely to lavish "Lux Prima" with the same attention — the opening title track is nearly 10 minutes long — he and Karen O both shrugged.
"You're competing for people's time now more than ever," Danger Mouse said. And "Lux Prima" requires a good amount of it; it's not a record likely to make much sense to anyone who merely drops in for a few moments.
But rather than cater to the quick-hit "playlist culture," as Karen O put it, they'd elected to lean into the album's slow-music vibe with the Marciano experience, which for four days beginning April 18 will present the songs to audiences of 250 people seated on the gallery's floor around a boulder-like object meant to focus the mind.
More traditional concerts may follow, the two said, if the right opportunities present themselves. (Karen O has a handful of dates scheduled this year with the Yeah Yeah Yeahs, including May's Just Like Heaven festival in Long Beach.)
For now, they're excited by the idea of fans encountering this music in what they consider its optimal setting.
"Nobody's ever gonna know what it's like to be onstage and play with us," Danger Mouse said. "But what if you could listen to something in exactly the way we'd want to hear it?"
Twitter: @mikaelwood
---
Get our L.A. Goes Out newsletter, with the week's best events, to help you explore and experience our city.
You may occasionally receive promotional content from the Los Angeles Times.