Review: Katy Perry is a woman of many minds on 'Witness'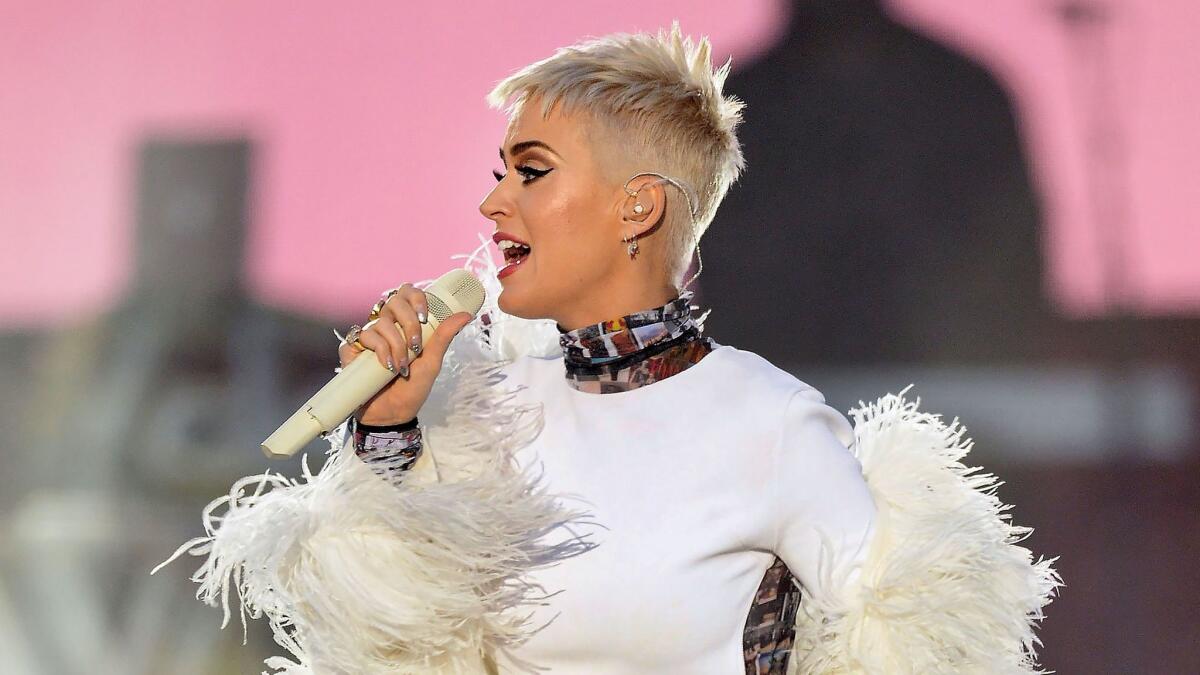 Pop Music Critic
Katy Perry's hair isn't the only thing that's shortened in recent months.
When the singer unveiled in February that she'd completed a new album, her first since 2013's "Prism," she used the phrase "purposeful pop" to describe the music. Such an expression suggested she had taken on a political edge following the election of Donald Trump.
Given Perry's established flair for cheeky party tunes such as "Last Friday Night (T.G.I.F.)" and vivid young-love songs like the immortal "Teenage Dream," this felt like reason to worry.
Yet "Chained to the Rhythm," the album's lead single, turned out to be great: a sly condemnation of fake news that understands its own role in getting people to "dance to the distortion," as she puts it over producer Max Martin's shimmering disco groove.
It was enough to make you want to hear the singer's deepest thoughts on climate change — provided her attention span could sustain them.
By April, though, Perry appeared to have lost interest in purposeful pop. Her next single was the proudly raunchy "Bon Appétit," complete with a regrettable buffet metaphor, followed quickly by "Swish Swish," her supposed takedown of Taylor Swift (who'd dissed Perry with 2014's "Bad Blood"). Both failed to crack the top 40.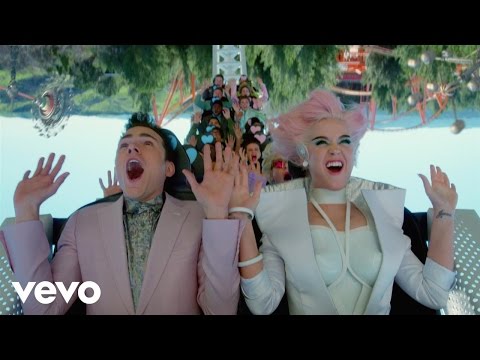 Now comes the full album, titled "Witness," and it's more jumbled still, with would-be self-empowerment anthems next to earnest ballads lamenting the end of a relationship; Perry's many collaborators run the gamut from Martin and his team of songwriters to the veteran bassist Pino Palladino, known to classic-rock fans for his membership in the Who.
One reasonable response here is, So what? Variety is a condition of modern pop, in which big-ticket albums are typically assembled by committee; sometimes the result even captures something of our addled era, as with Beyoncé's dizzying "Lemonade."
But "Witness," whose singles keep stalling out like Trump's travel ban, diagnoses only Perry's desperation for a hit.
"Hey Hey Hey" plays like a weak attempt to duplicate the success of her uplifting 2013 smash "Roar," this time with a paper-thin tune and clunky words about being "Marilyn Monroe in a monster truck."
"Roulette" has a sturdier melody but none of the witty specifics of Perry's earlier exhortations to cut loose; "Bigger Than Me" borrows the sleek sensuality of Selena Gomez's recent records without adding any original flavor.
And then there are forgettable team-ups with hip-hop's Mike Will Made It ("Tsunami") and Corin Roddick of the Canadian indie duo Purity Ring ("Mind Maze"). Each is alert to the idea that pop welcomes unexpected pairings right now — think Calvin Harris and Frank Ocean, or Justin Bieber and Luis Fonsi — yet both stop short of true cooperation.
"Witness" contains strong moments beyond "Chained to the Rhythm," which still feels like the beginning of an intriguing project, one Perry should return to if our politics continues to devolve (and after she inevitably tires of her gig on ABC's needless "American Idol" reboot).
Her singing is as forceful as it's ever been in "Pendulum," a gospel-accented number produced with real swing by Jeff Bhasker, while the slithering "Power" puts her vocals against soulful textures that draw out new grit.
And however petty its inspiration, "Swish Swish" is a delight as Perry rhymes "another one in the basket" with "another one in the casket" over Duke Dumont's thrusting '90s-house beat. But it's hard to infer what each track has to do with the others, a problem this one-woman charisma factory has never experienced before.
After "Swish Swish," Perry moves on to "Déjà Vu," in which she describes being stuck in a toxic relationship that never changes.
"Every day's the same / Definition of insane," she sings, "I think we're running on a loop."
That focus would've been better applied to her work.
Katy Perry
"Witness"
Capitol Records
Release date: June 9
Twitter: @mikaelwood
ALSO
Jade Jackson is taking her small-town country songs to the world
Roger Waters takes on President Trump with 'Is This the Life We Really Want?'
Ariana Grande's all-star Manchester benefit is a moving expression of resilience
Get our L.A. Goes Out newsletter, with the week's best events, to help you explore and experience our city.
You may occasionally receive promotional content from the Los Angeles Times.