Kay Starr, who lit up 1950s pop radio with 'Wheel of Fortune' and 'The Rock and Roll Waltz,' dies at 94
When the jazz and blues legend Billie Holiday offers a compliment about a singer, one tends to take note. For Holiday, the vocalist Kay Starr, who died at her Bel Air home on Thursday at 94, was "the only white woman who could sing the blues."
Starr was responsible for hits including "Wheel of Fortune" and "The Rock and Wall Waltz," both of which landed at No. 1 in the 1950s. By then she'd already been a professional singer for decades — having gotten her start, according to her official website, in Texas performing "to the chickens as they sat in their roosts."
Her death, after complications from Alzheimer's disease, was confirmed by her longtime friend, Bill Lorance.
Katherine LaVerne Starks was born in Dougherty, Okla., on July 21, 1922, the daughter of an Iroquois father and an Irish mother. The family relocated to Dallas during the Depression, where her father got a job installing sprinkler systems. For extra income, her mother raised the chickens that would soon be the young singer's first audience.
She changed her name to Kay Starr after her family relocated to Memphis, which in the 1930s was a cultural hub where race music and country music were intermingling on the way to the birth of rock 'n' roll.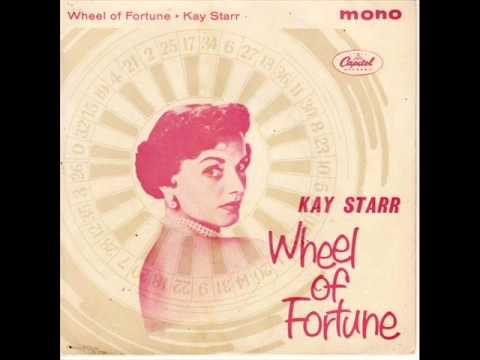 She was a pop singer, though, and first gained professional exposure when the violinist-bandleader Joe Venuti heard her sing on Memphis radio. Still in her teens, the young singer was invited to accompany Venuti's band at the legendary Peabody Hotel, and she continued to do so with them during summer breaks. By the time she'd finished high school, Starr had already traveled to New York to perform an extended run with superstar big-band leader Glenn Miller.
Signing with high-flying bandleader Charlie Barnet and his orchestra in the mid-'40s, Starr drew from her Memphis past to record "Share Croppin' Blues," confirmation that the singer could work outside of her normal range.
Starr was headed for greater fame when she collapsed onstage during a Barnet gig after catching pneumonia. Forced into a six-month recovery in which she refrained from speaking and her voice became huskier, Starr relocated to Los Angeles and eventually signed a solo deal with Capitol Records, where she'd land her first hits amid a roster that also included female hitmakers including Jo Stafford and Peggy Lee.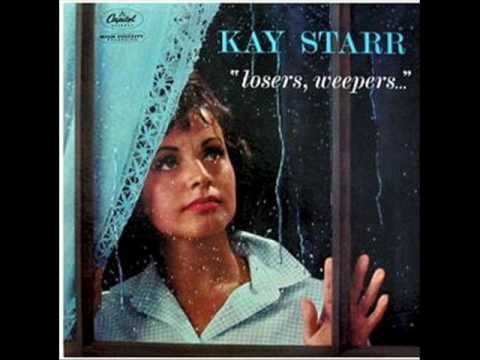 Between 1948 and 1954, Starr issued two dozen songs that cracked the Top 40, the biggest of which, "Wheel of Fortune," was the second best-selling single of 1952.
The song became her signature and for good reason. Throughout "Wheel of Fortune," Starr's voice soars, working each line with dramatic flourish and phrasing each syllable for maximum impact.
Her next big hit harnessed the Memphis sound that she'd grown up on, kind of. It was now called "rock 'n' roll" and a singer named Elvis Presley had upended the charts. Hardly a rebellious entertainer, Starr nonetheless took on the rising genre with another No. 1 hit, "The Rock and Roll Waltz."
A cheeky song that addressed the generation gap among teenage rockers and their square parents, "The Rock and Roll Waltz" is set in a home as a daughter returns from a night out. After slipping off her shoes, Starr hears a noise down the hall. Lo and behold, "There in the night what a wonderful scene/ Mom was dancing with Dad to my record machine/ And while they danced, only one thing was wrong/ They were trying to waltz to a rock and roll song!"
As she sang, an uptempo orchestral arrangement attempted to wrangle a floor-stomping rock 'n' roll beat into the waltz structure, and the tension is palpable.
Rock 'n' roll wasn't Starr's forte, though, and as pop culture shifted away from Tin Pan Alley-inspired popular music and into baby boomer-driven rock, Starr no longer landed hits as she once did.
Like many aging artists of the time, Starr continued to tour and record, and she focused on gigs at Las Vegas casinos. According to the announcement of her death, Starr was the first female vocalist to ink a million-dollar deal in Vegas when she signed a five-year contract with the Sahara.
In the 1970s and '80s, she cut back on performing to raise a family, but occasionally returned to the stage. Her most prominent late-era performances were with the singer Pat Boone, who invited her on a tour of Europe in the early 1990s.
In 2001, Starr earned further attention when Tony Bennett invited her to duet with him on the song "Blue and Sentimental" for his album "Playin' With My Friends: Bennett Sings the Blues."
Starr is survived by a daughter, Katherine Yardley; a grandson, Paul Yardley; and dear friend Annie Boddington. No services are planned.
There's a lot of terrible music out there. For tips on the stuff that's not, follow Randall Roberts on Twitter: @liledit
ALSO
Kanye West takes his fans at the Forum on an experimental trip
Goodbye, meat dress. Hello, blue jeans: Lady Gaga goes classic rock on 'Joanne'
Steroids? Yes. EDM? No: How Lou and Cisco Adler revived the music from 'Rocky Horror'
Get our L.A. Goes Out newsletter, with the week's best events, to help you explore and experience our city.
You may occasionally receive promotional content from the Los Angeles Times.