Review: Kanye West takes his fans at the Forum on an experimental trip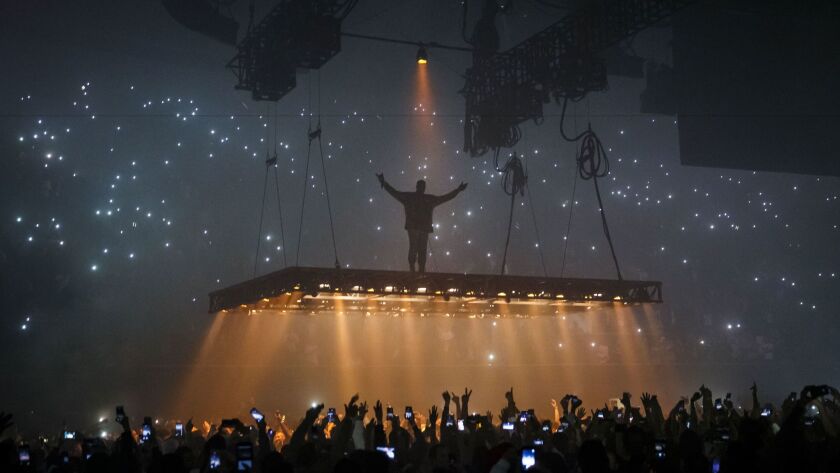 Kanye West was both the center of attention and a hidden, shadowy figure as he hovered above his adoring audience during the first of five sold-out shows at the Forum.
Performing hits like "Famous" and "Jesus Walks" on a much-hyped floating stage (i.e., a moving platform suspended above his audience on the floor by cables), the rapper known as Yeezus was often rendered a silhouette obscured by thick banks of machine-generated fog, hazy lighting and intentionally grainy footage on the screens above.
It was fitting for an artist whose role in pop culture has become less and less defined since he broke through more than 15 years ago as an innovative producer and rapper.
Today West is many things: the celebrity husband to arguably an even bigger celebrity, Kim Kardashian; a respected artist whose experimentation has kept him relevant; and an innovator who has superseded genre classification.
He's a doting father, a bully who can't stop baiting Taylor Swift with misogynist taunts, a defender of transgender rights. He's an unpredictable awards guest who may or may not go off on a political or personal rant, a shrewd fashion designer who persuaded the masses that paying $235 for a cotton T-shirt was a good idea.
West hits so many marks at once, the result is utter fragmentation — a blur. And it's this orchestrated confusion that makes him one of the most admirable postmodern pop artists around, as well as one of the most frustrating.
Tuesday at the Forum, West's Saint Pablo set was propelled by this dynamism — and fraught with these contradictions.
His ambition and ego seemed locked in a battle throughout the two-hour set, in which fans paid anywhere from $29.50 to $205 for tickets. The stage — which was meant to make him the sole focus of the evening, a dream of West's from his early days as an unabashed self-promoter — was a spectacle that sometimes rendered him more invisible than invincible.
West rapped and sang impassioned versions of dozens of new and old songs from his floating pulpit — a setup ironically similar to that of Swift's last tour where she too hovered above idolizing fans — energizing his audience on the floor and the nearby seated areas below every time he simply floated near them.
The platform he stood on shed a golden-orange light on those below, simulating a religious experience, or something in that ballpark. The crowd, which was a mix of classic hip-hop fans, hipsters and tweens with earplug-wearing parents, reached toward him, cellphones in the air, shouting lyrics to hits such as "All of the Lights" and "Stronger" word for word.
West often left it up to the crowd to finish entire verses. Their devotion was unparalleled to that of his peers, which is notable given that his work has consistently gotten artier and artier rather than more predictably commercial.
But when he and his moving stage disappeared into the fog to head for another part of the arena, at least half his fans were left only with the music, and that was a problem.
The mix was so dominated by distorted, crushing bass that West's vocals and his unique song structures often became lost in the din. It was a rare moment when the scene-stealing West was in fact upstaged, and it was by his own production.
It didn't take away from the energy of the set, but it did make it more like an EDM show than a celebration of an artist who makes some of the most structurally complex albums around.
West moved quickly from song to song, opening with "Father Stretch My Hands, Part 1," moving through a Drake cover of "Pop Style," on to "Heartless," "Waves" and "I Love Kanye." He kept his usual chatter to a minimum, which hasn't always been the case on this tour that launched in August.
A few days earlier in Oakland he explained in length to the audience why he's not crazy, an accusation hurled at him perpetually, and usually in response to one of his late-night/early-morning Twitter rants. A vicious cycle.
A few months earlier West debuted his video for "Famous" at the Forum, playing it over and over again for an audience that paid for the privilege of being some of the first to see it.
It was an abstract film featuring a collection of life-like mannequins in the image of celebrities, all naked, all in the same bed. The star-studded event featured Kim and Company in plain view of the entire audience, and West standing next to them pumping his fist.
Tuesday was much less about the celebrity (OK, so maybe Katy Perry was there) than it was about him taking risks as an artist. The show wasn't a disaster, or an astounding success, though his most rabid fans there would definitely beg to differ.
It was West doing what he does — experimenting in public. It seemed like the next step toward something else more realized, or at least that's the expectation we have.
With West, it's all a blur.
ALSO
Jay Z to headline voter mobilization concert in Ohio in support of Hillary Clinton
Goodbye, meat dress. Hello, blue jeans: Lady Gaga goes classic rock on 'Joanne'
Steroids? Yes. EDM? No: How Lou and Cisco Adler revived the music from 'Rocky Horror'
---
Your essential guide to the arts in L.A.
Get Carolina A. Miranda's weekly newsletter for what's happening, plus openings, critics' picks and more.
You may occasionally receive promotional content from the Los Angeles Times.