Adrian Younge and Ali Shaheed Muhammad discuss scoring Marvel's 'Luke Cage' and their work as the Midnight Hour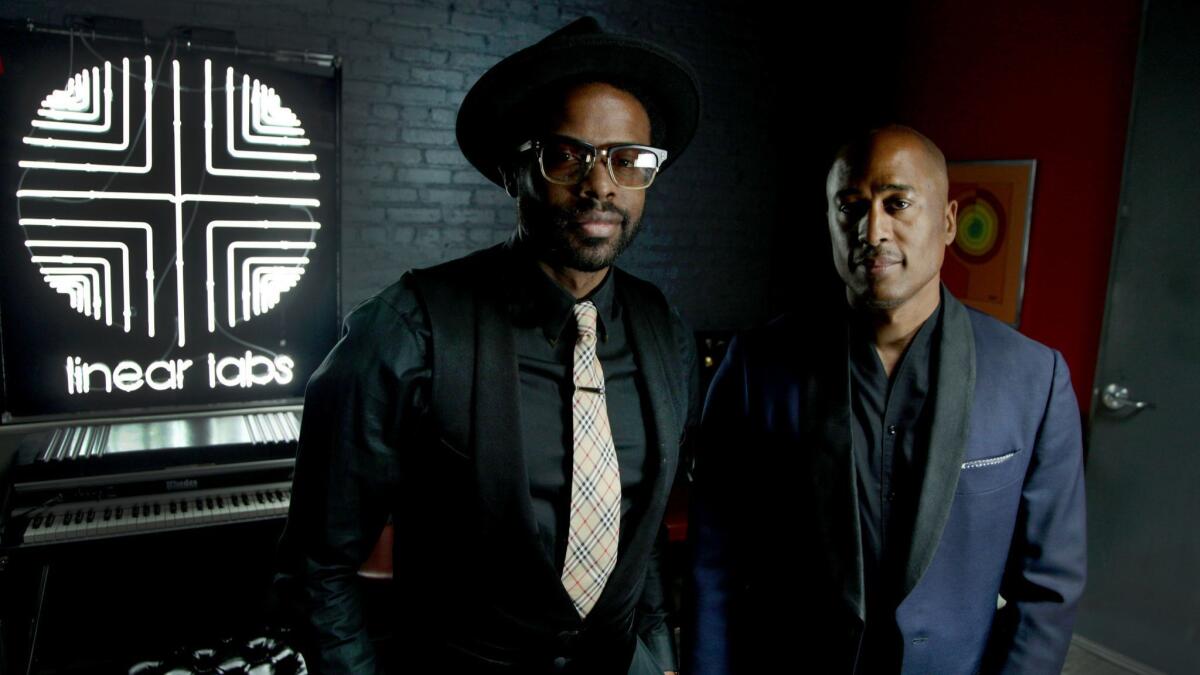 The studio for Linear Labs, the analog recording label owned and operated by "Luke Cage" co-composer and hip-hop producer Adrian Younge, is hidden behind a Highland Park salon and record store on Figueroa Street. To get to the so-called laboratory, you approach a clerk and, speakeasy-like, request Younge's ear.
Chances are Younge will greet you as he did a visitor a few weeks ago: dressed like he's time-traveled from the Harlem Renaissance in wingtips, a well-tailored dark suit, black fedora and designer glasses.
He'll lead you through the shop, past the LP racks filled with vintage soul, funk, disco and afro-beat recordings — including a section devoted to tracks set to tape for Linear Labs — past the busy hair stylists, through an unmarked door and into a newly-built space he calls "my baby, and it houses the music that I believe in."
He clarifies: "Music that is based on vinyl culture — music that was all recorded in analog." His aim, he adds, is "to create and release music that is a new version of that old world."
A few minutes later the masterful and intense hip-hop producer Ali Shaheed Muhammad, best known as a founding member of hip-hop group A Tribe Called Quest, arrives. Responsible for classics of the genre, the L.A. transplant, who has his own studio in North Hollywood, teamed with Younge as co-composer on both seasons of "Luke Cage" and for their new album as the Midnight Hour.
Although the two projects were created for two different media, the work is connected through Muhammad and Younge's aesthetic: dusty soul, disco-funk and groove tunes, mixed with an adoration for the funk-fueled European film scores of the 1970s.
Younge describes the goal as "maintaining the compositional and sonic perspectives of yesterday, but pushing that forward with a new idiom," one filtered through the lens of hip-hop.
"Hip-hop said, 'Hey, this break is the best part of this song,'" Younge explains. "Well, why don't we make full compositions using that break's perspective, but add different breaks and recompose it from those perspectives? This is what's hot to us."
In doing so, they added contemporary flourishes. Says Younge: "Let's make the bass a little fatter. Let's make the drums a little fatter — but still work in the way they recorded from '68-'73." Heavy bass, humming, film-noir-inspired alto saxophone runs, funked-up rhythms propel the narrative, driving plot with dense analog tones.
That approach typifies the score for Season 2 of "Luke Cage." The superhero series stars Mike Colter in the titular role as a protagonist whom Younge has described in interviews as "a different type of black alpha male. He's not bombastic."
Nor is the work on the Midnight Hour, which features guest singers including Bilal, CeeLo Green and Marsha Ambrosius. The 20 songs suggest the vibe of Curtis Mayfield, Marvin Gaye, Barry White's Love Unlimited Orchestra and the roots-reggae sounds of Lee "Scratch" Perry.
The collaboration between Younge and Muhammad is somewhat unlikely. They met each other in New York in the early '10s and immediately connected over music. Younge, however, had long preferred working alone: "I know where I want to go. I know what I want to do. I just don't feel like somebody giving me a suggestion that I'm not feeling. Not an ego thing — I just know where I want to go."
Where Younge speaks in precisely phrased paragraphs and pages, the taciturn Muhammad speaks in carefully considered sentences. Calling it "a great chemistry," the co-producer of such rap standards as "I Left My Wallet in El Segundo" and "Award Tour" characterized himself "a team player and writer."
Contrary to more hands-on producers who rule the studio like taskmasters, Muhammad said he prefers exploring "what's in my heart and in my mind, and what's in the mind and heart of the people that I work with. It's understanding my place, and my ego has no place in the room."
Judging by the finished work, it's the right approach. Like the music for the first season of "Luke Cage," which has earned millions of spins on streaming services, the short instrumental pieces in Season 2 have enough meat to chew on — and hit with heft.
One goal in particular was key, Muhammad said, and it involved the oft-insular world of film and TV scoring, which has tended to avoid hip-hop rhythms: "To broaden the horizon and make people aware that it's more than just sampling, and that there are capable people here doing capable work."
For tips, records, snapshots and stories on Los Angeles music culture, follow Randall Roberts on Twitter and Instagram: @liledit. Email: randall.roberts@latimes.com.
Get our L.A. Goes Out newsletter, with the week's best events, to help you explore and experience our city.
You may occasionally receive promotional content from the Los Angeles Times.