Review: SoCal rockabilly pioneer Larry Collins and friends pay tribute to his late sister, singer Lorrie Collins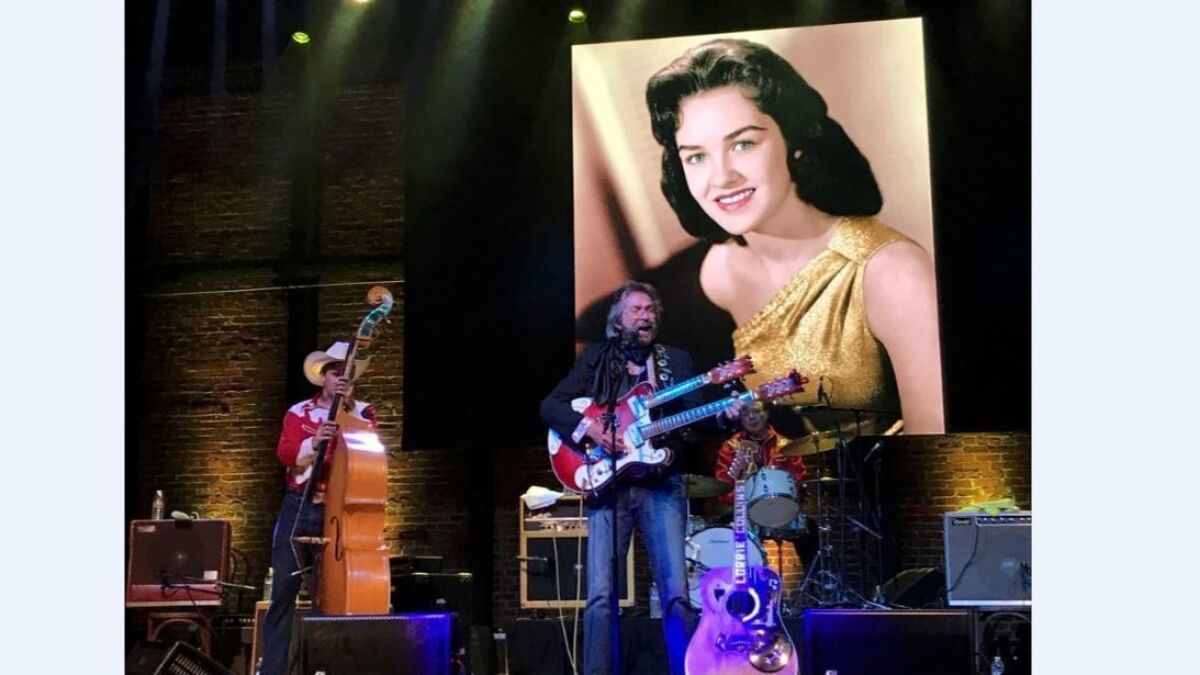 The promoter of Saturday's salute to early rockabilly sibling duo Lorrie and Larry Collins found a canny way to make the case that the reverence the act holds within the roots-rock community isn't due to mere nostalgia or romanticized mythology.
That became clear even before the live music began at the 120-year-old Yost Theatre in Santa Ana thanks largely to some electrifying 60-year-old film clips projected on back of the stage from their roof-raising performances on the "Town Hall Party" weekly TV show that emanated from Compton, for which they received co-billing with western star Tex Ritter.

For the record:
9:35 p.m. Nov. 4, 2018An earlier version of this post misidentified one performer as Amber Rose. She is Amber Foxx. The earlier version also included a misspelling of guitarist-singer Kyle Eldridge's surname as Eldredge.
Saturday's show, emceed by Southland guitarist Deke Dickerson, emulated to an extent the "Town Hall Party" format. A couple of anchor acts — in this case, singer Amber Foxx and her trio plus guitarist Kyle Eldridge & the Rhythm Rounders — were joined by various soloists throughout an evening that ran a bit longer than the TV show's original three-hour weekly format.
Those guests included singer Abby Girl, guitarist-singers Elvis Cantu, Jeffrey Miller and Josh Hi-Fi Sorheim, whose band, the Rhythm Kings, played a pre-show set outside the theater.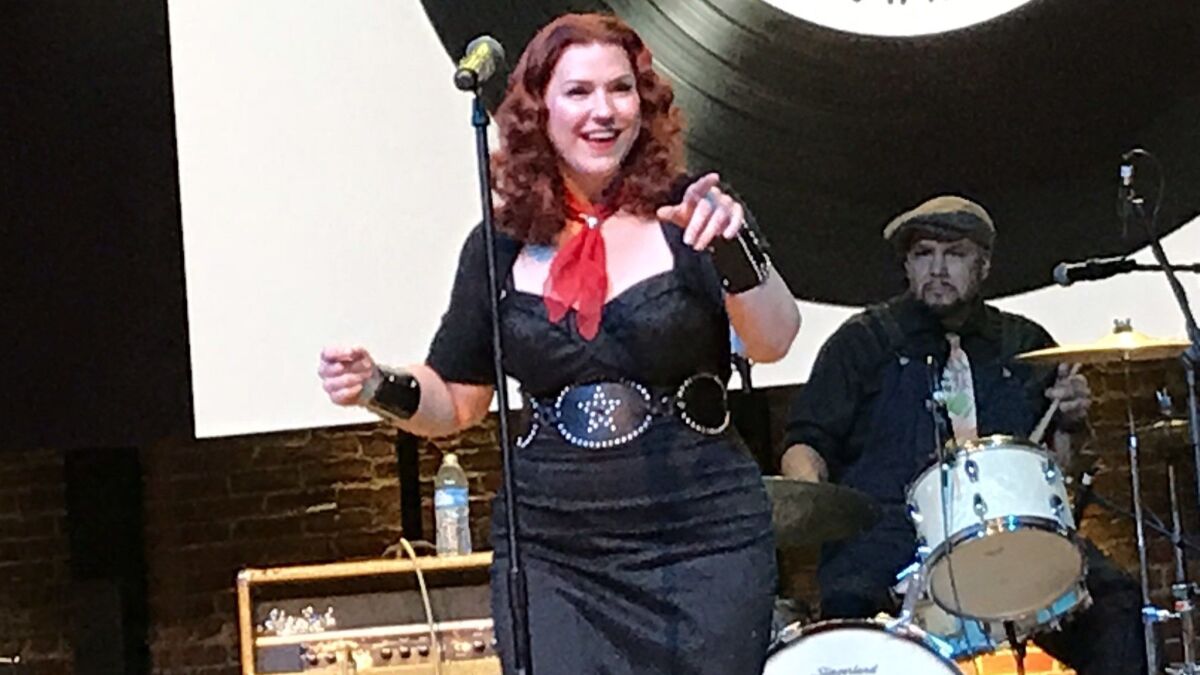 The program was billed as a "Rockin' Town Hall Boogie," rather than specifically a Collins Kids salute. Still, the star of the show was guitarist-singer-songwriter Larry Collins, in what he emotionally described as "the first show I'm attempting to do without her on this planet," referencing her death in August at age 76.
Larry, 74, emerged late in the show with a signature Mosrite double-necked guitar, which he has been wielding masterfully since Dwight D. Eisenhower was president. He opened with a blazing rendition of the guitar instrumental "Ramrod" that was a hit for Duane Eddy in 1958, with accompaniment from Eldredge and his band as well as Dickerson, who brought along his own double-necked instrument for the occasion. Eldridge also wielded a double-neck guitar during Larry's set for an ultra-rare triple double-neck guitar display.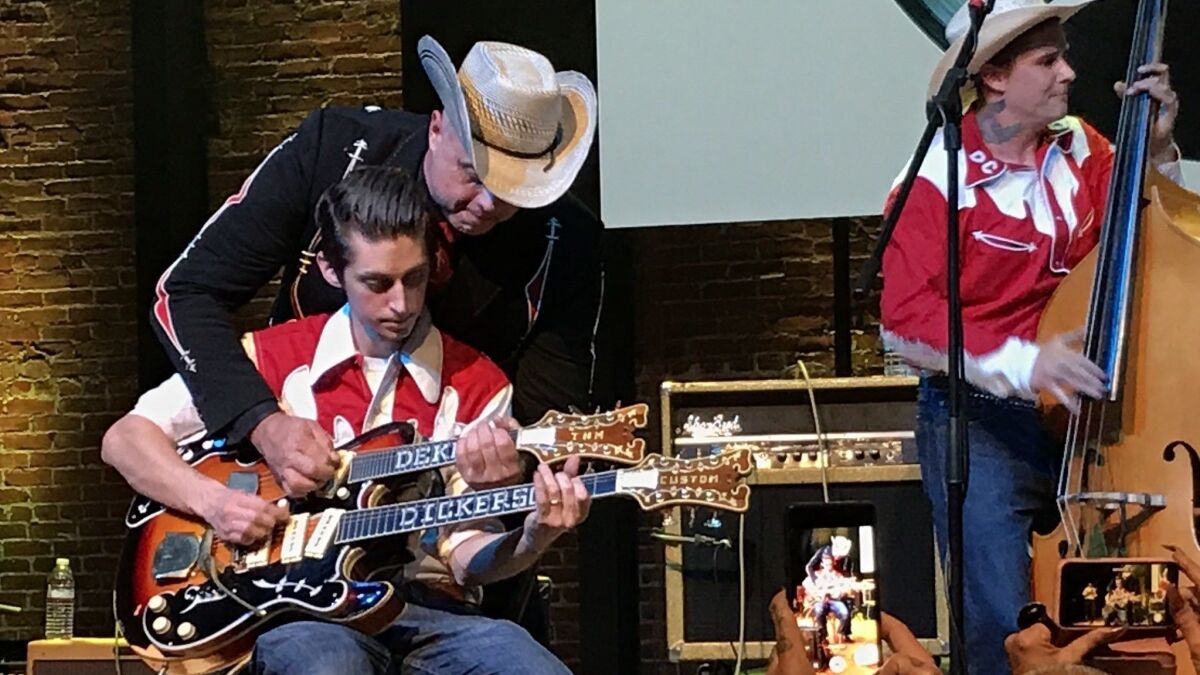 Larry then served up "Hop, Skip & Jump," the bouncy rockabilly number that was the biggest hit he and his sister charted, with singer Amber Rose handling Lorrie's part on the song.
He displayed the dazzling instrumental virtuosity that made him a child star in the early days of TV, and was a big part of the Collins Kids' appeal to audiences of all ages. The other half of the equation, of course, was Lorrie, a singer who was the equal of vocalists who found greater fame, such as Brenda Lee, Wanda Jackson and Janis Martin.
Rather than looking to others to sing the songs associated with her, the choice was made to leave the spotlight on Larry, who served up an extended instrumental that incorporated bits of "Malaguena," Mason Williams' "Classical Gas" and other bits that showcases his commanding talent.
Then he mentioned how Lorrie had encouraged his aspirations to write original songs, and proceeded to play several of his songs he said were her favorites, including his biggest hits "Delta Dawn" (for Tanya Tucker) and "You're the Reason God Made Oklahoma" (David Frizzell & Shelly West).
"She passed," Larry said at one point, his voice trembling a bit, "but she didn't pass. She will never pass."
Lorrie's daughters, Christy Hall and Lynn Mullins, helped that idea along toward the end of the show by bringing her guitar out, which had her name inlaid into the neck, as Larry's is on his instruments. At the end of the evening, Larry picked up her guitar respectfully, held it high as he exited the stage, a perfect gesture to conclude a genuinely sweet tribute.
Follow @RandyLewis2 on Twitter.com
For Classic Rock coverage, join us on Facebook
Get our L.A. Goes Out newsletter, with the week's best events, to help you explore and experience our city.
You may occasionally receive promotional content from the Los Angeles Times.