Review: Lily Allen and Lykke Li, at crucial career points, step up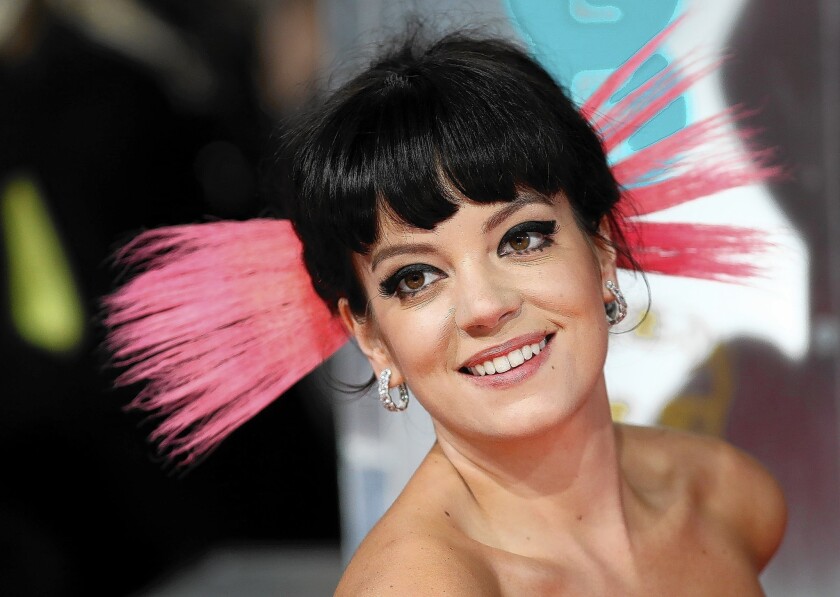 Beware the third album, otherwise known as the Decider. Among would-be career artists, it's the make-or-break release that separates adult from child, evolving creator from one-cycle wonder, the luckily timed from experienced, focused musical connector. Prince's "Dirty Mind," Jay Z's "Vol. 2 … Hard Knock Life," Madonna's "True Blue," Kanye West's "Graduation" — each arrived to a public wondering on an artistic direction after assured introductions.
This week sees the arrival of two notable third albums, both by artists, Lily Allen and Lykke Li, gunning for stateside pop crossover equal to their homeland success but approaching the task from wildly varied perspectives.
Allen, best known for her captivating Internet-spawned 2006 debut, "Alright, Still," delivers brash pop incitement on "Sheezus," a dozen seamlessly constructed sonic selfies that are witty, oft-engaging and surprisingly moody. And on "I Never Learn," Swedish singer and songwriter Li presents a spacious, restrained set of songs in which much focus is on a single love and the fluid ways in which it can evolve.
Both feature production work by Los Angeles hitmaker Greg Kurstin (Kelly Clarkson, Kesha, Ellie Goulding, the Bird and the Bee), but the similarities are few. While Li aims her dynamic, textured voice toward beauty, reflection and stillness with a seeming obsession, Allen works overtime to assure us she's still relevant, hip and insightful — at one point listing highlights of her record collection — even while pretending not to care.
In fact, as if fully aware of the stakes, Allen, 29, introduces "Sheezus" with a telling first line, one seemingly directed toward listeners at large: "Been here before, so I'm prepared," she brags on her first album in five years. She follows the boast with an admirable shot of truth: "Not gonna lie though, I'm kinda scared."
She's right to worry, at least from a commercial perspective. Though a household name in her native England, Allen seems to be fighting relevancy with every beat on "Sheezus," the follow up to "It's Not Me, It's You," her disappointing sophomore album. She eases into assured comfort only when she ditches topic songs such as "Hard Out Here" (about the double standards placed on female musicians) and "Life for Me" (about social media) to examine less lecture-heavy personal truths.
Allen's quirky confidence is evident from the start of "Sheezus," a title that's a play on Kanye West's most recent album "Yeezus." The opening title track namechecks pop music's most notable divas — Rihanna, Beyoncé, Katy Perry and Lorde among them — before Allen butts herself into the frame like a photo-bomber. "There goes the bell, I know that sound — I guess it's time for me to go another round," she sings on the opening title track before asking for luck — "I know I'm gonna need it" — and making a promise: "I'll see you on the other side if I'm still breathing."
Throughout, Allen and producer-collaborator Kurstin deliver a dynamic, if lyrically flatulent, album, one that harnesses the full force of the singer's tell-all verbiage in the service of songs built for popular radio with an almost schizophrenic desire for commercial acceptance. Most infectious — and curious — among them is "As Long As I Got You," a Louisiana zydeco-sampling romp featuring an accordion run, a smooth, chrome-toned steel guitar and a fast-tempo rhythm highlighted by hand claps and bounce.
For her part, pop chanteuse Li, 28, opens her moody, sparse new album with the strum of a 12-string guitar and a moonlit confession directed at a lover and no one else. With a lonely echo and the cavernous feel of a Phil Spector session (if much less bombastically presented), Li and producers Kurstin and Bjorn Yttling seem to have been aiming for maximum warmth on "I Never Learn." A compact, nine-song, 32-minute album that suggests an artist just hitting her stride, Li's new album seems to have pinpointed the locus of power in her voice.
She's at her best on "Love Me Like I'm Not Made of Stone," a forged-from-marble ballad that felt timeless the first time I heard it. Featuring a slight, swirling set of acoustic chords and Li's voice at its most dramatic, the song's a hands-and-knees plea from a soul aching for love in its purest form, one whose desire for honesty is captured in her raw, open emotion. Throughout the track the sibilant hiss of analog tape hints at a piece intended less for consumption than documentation.
"Heart of Steel" sounds recorded in a dungeon, with wood blocks echoing and distant electric guitar lines. Li closes with "Sleeping Alone," a minor-key piano ballad that recalls at Big Star's "Holocaust" but without the bitterness.
If history's any guide, the bitterness may come later, after Allen and Li realize America's snobby sense of exceptionalism when it comes to pop music. Which is to say: It gets even more difficult on album No. 4.
------------------------------
Lily Allen
"Sheezus" (Warner Bros.)
Two and a half stars (out of four)
Lykke Li
"I Never Learn" (LL/Atlantic)
Three and a half stars (out of four)
---
Inside the business of entertainment
The Wide Shot brings you news, analysis and insights on everything from streaming wars to production — and what it all means for the future.
You may occasionally receive promotional content from the Los Angeles Times.