Made in America lineup is a vivid look at rap's competing interests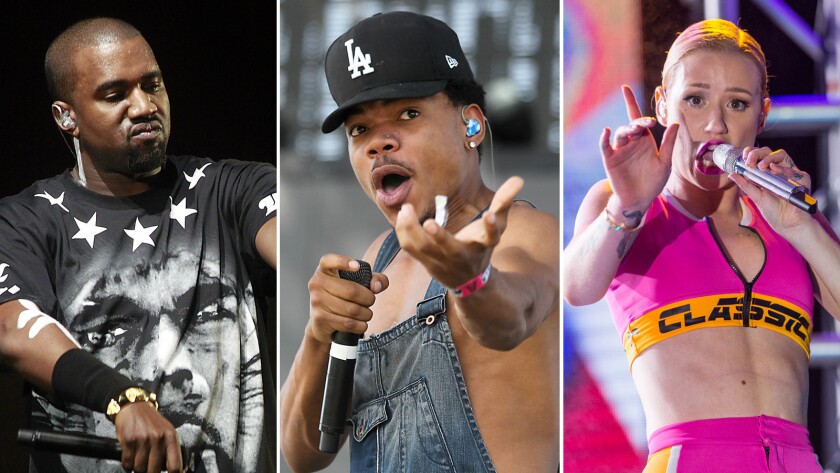 When it was first announced, the lineup for this weekend's Made in America festival in downtown L.A. seemed an unfocused commercial mix-and-match of mass-market rock, electronic dance and hip-hop.
On second and third glances, it mostly is, at least at the top of the bill.
The first West Coast installment of a music gathering born in Philadelphia two years ago, the two-day, multi-stage concert feels like a stab at pleasing all of the people all of the time, filled with acts who are regulars on the festival circuit, many of whom have gigged in L.A. a few times already this year. It is co-presented by two big brands, Budweiser and LiveNation, and as a result feels as much a branding opportunity as a curated look at the best in popular music. As I plot the musical weekend, restock the sunblock and scour Spotify for tips, here's hoping the assumptions are wrong.
Made in America was co-founded by Jay Z and will be the biggest gathering so far at Grand Park, where on Saturday and Sunday the blocks at the foot of the Civic Center will hold three stages and more than 40 acts. The best of them will be rapping, and that's what I'm most anticipating as the newest of Southern California's many music festivals debuts.
When he launched the fest, Jay Z explained that his goal was to build something that encompassed "every genre of music, creating and showcasing the only genre that matters — great music." The problem is, his goal has fallen way short in L.A., and his "every genre of music" boast is, of course, empty; if it were true, where's the jazz, tejano, disco, polka and reggae?
Rather, Made in America's big-umbrella definition of great music this year includes the clumsy rock-EDM hybrid band Imagine Dragons, superstar DJ/producers Afrojack and Steve Aoki, singer-songwriter-guitarist John Mayer, alt-rock band Weezer and three dozen others. Though an undercard features some excellent acts (Juanes, SZA, Classixxx, Nipsey Hussle), I can count on one hand the artists who have achieved a level of greatness with their work.
The exception is rap, even if such a focus is being underplayed. In fact, the lineup highlights a genre in wonderful disarray, one whose competing narratives and quest for fresh rhythmic innovations and sounds reveal a music with a renewed sense of fluidity. A vivid snapshot of the many strains and kaleidoscopic interests of rap in 2014, the lineup confirms that stuff is changing, and boasts an expansive mix of both upstarts and veterans from across the country (and Australia).
Among them are gangstas and stoners, innovators and acid-heads, slow-crawling, pill-dealing chroniclers and hit-makers.
The most high-profile of them will be the brilliant Kanye West, a late addition to the lineup doing his first L.A. concert of the year. West, who has been working on new material, will close the festival on Sunday night, and recent sets suggest he'll focus on material from his recent "Yeezus." The biggest questions are whether he'll tease new music, and what the topic of the evening's requisite spoken rant will be.
Los Angeles is currently teeming with young talent, and a lot of it will be repped over the weekend. Expert Compton chronicler Kendrick Lamar has returned his town to its rightful place near the center of the rap conversation. The creator of the already-classic L.A. album "Good Kid, M.A.A.D. City" is a thoughtful, smart lyricist with a profound love of craft and is currently working on his follow-up; hopefully he'll treat his adoring hometown crowd to a new track or three.
His partners in the Black Hippy collective, Jay Rock, Ab-Soul and Schoolboy Q, will also perform. The last has released one of 2014's best debut albums in "Oxymoron," which he'll showcase on Saturday. All are repped by Top Dawg Entertainment, which also delivers Chattanooga, Tenn., rapper Isaiah Rashad onto a Made in America stage.
Hardened Compton messenger YG is a straight shooter with an imposing physicality making party music. He will team with his producer, the minimalist ratchet purveyor DJ Mustard (hits for Tyga, 2 Chainz, Ty Dolla Sign and Trey Songz), to celebrate YG's raw, often harsh tracks from the bestselling "My Crazy Life" record. Platinum Inland Empire producer Hit-Boy, who DJs early on Saturday, has produced smashes by Beyoncé, Kanye West & Jay-Z and Mary J. Blige.
Iggy Azalea is the outlier: a white female Australian who speaks and raps in a ridiculous ghetto patois and is responsible for the biggest hit of the bunch, her "Fancy." How she'll fare in a town that takes its hip-hop very seriously is to be determined, and will be fascinating to watch. Another outlier is Cypress Hill, who will no doubt offer pot-scented anthems to weed and Southern California.
Those planning to attend are required to see Chance the Rapper, the most promising young artist making hip-hop today. A witty lyricist whose 2013 mixtape "Acid Rap" was one of the year's best releases, Chance made a huge dent when he gigged Coachella in the spring. He's a magnetic performer. Gliding around the stage doing a uniquely Chicagoan brand of dance called juke, the artist born Chancelor Bennett is only 21, and I can't wait to hear what he does next.
Downtown festivals can be tough. Sound bounces off buildings. Stages are situated not for acoustics but to accommodate many mitigating factors. As evidenced by last weekend's FYF Fest in Exposition Park, problems at untested locations can't always be predicted. Whether, musically speaking or otherwise, this is the right concert for the right space, we will find out soon.
Twitter: @LilEdit

---
From the Emmys to the Oscars.
Get our revamped Envelope newsletter, sent twice a week, for exclusive awards season coverage, behind-the-scenes insights and columnist Glenn Whipp's commentary.
You may occasionally receive promotional content from the Los Angeles Times.