Mariah Carey's New Year's redemption was kind of a letdown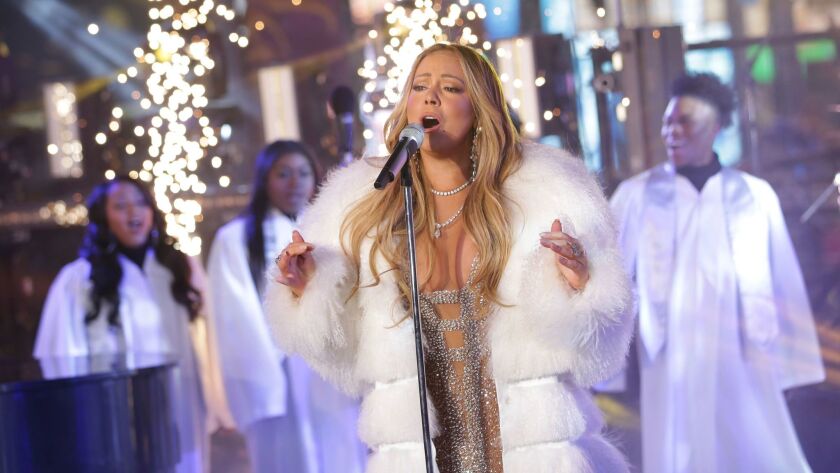 Pop Music Critic
She didn't get her hot tea, but she did get her act together — and what a disappointment that turned out to be.
Returning to ABC's "Dick Clark's New Year's Rockin' Eve" following her lip-sync fiasco last year on the annual television special, Mariah Carey sang perfectly acceptable renditions of two of her best-known power ballads while wearing a sparkly low-cut gown that defied the brutally cold temperatures in New York's Times Square on Sunday night.
Which isn't to say the weather escaped her notice.
"I just want to take a sip of tea if they'll let me," she said after "Vision of Love," turning around onstage in search of a warming beverage that wasn't there. "They told me there would be tea. Oh, it's a disaster!
"OK, well, we'll just have to rough it," she continued. "I'm gonna be just like everybody else with no hot tea."
The demanding-diva routine, which was almost certainly planned, was Carey's winking reference to her 2016 "New Year's Rockin' Eve" performance, when production problems of an indeterminate kind led her to ditch the elaborate pantomime she had in store. Rather than fake her way through a few songs as she'd evidently intended, the singer wandered around the small stage, complaining about her monitors as prerecorded vocals played over the sound system.
The incident ricocheted instantly across the internet, with detractors giddily proclaiming that Carey had lost the singing ability that made her a star in the early 1990s. But the must-see footage also demonstrated the durability of Carey's uncommon charisma; even in a moment of crisis, she was throwing out loopy one-liners with her signature blend of queenliness and grit.
"It just don't get any better," she said to finish the hilarious 2016 gig, and she may have been right.
No such procedural issues affected Sunday's performance. After "Vision of Love" and the bit about the tea, Carey did "Hero," which she dedicated to "everyone that speaks out for justice and tries to make the world … a more united planet."
And she was clearly singing live. Accompanied by musicians whose heavy coats made you think only more about how cold Carey must've been, she played with her phrasing and added little melodic flourishes to show this was no hard drive we were hearing.
In "Vision of Love" she bent notes in unexpected directions, drawing out a bluesy quality she hasn't much bothered with in recent years. For "Hero" she was joined by a small choir dressed in white robes, and the extra singers seemed to inspire her to push harder with her own voice.
As a physical achievement, the result was impressive; it demonstrated that Carey still has an instrument and can still use it when she wants to. Compared to last year, though, it was pretty dull, and it was a lot less singular: Minus the redemption story line, Carey's performance was in line with those by the numerous other acts who appeared on "New Year's Rockin' Eve," none memorable enough to mention here.
Should singers be able to sing? Sure. But in pop the best deliver something beyond technique — some eruption of drama or comedy or outrage like the one Carey provided in 2016 with her lovable star-turn meltdown.
This time, in contrast, she was offering technique alone, which left too little space for the freewheeling attitude that truly distinguishes her.
"And that is why she is Mariah Carey," said the show's host, Ryan Seacrest, after she finished, but surely even Seacrest had to know that wasn't true.
Twitter: @mikaelwood
ALSO
Why didn't Hey Violet happen in 2017?
Mike Love on his new album and that time the Beach Boys played a prison
Here's what happened at Dave Chappelle and John Mayer's secretive no-phones concert
---
The complete guide to home viewing
Get Screen Gab for weekly recommendations, analysis, interviews and irreverent discussion of the TV and streaming movies everyone's talking about.
You may occasionally receive promotional content from the Los Angeles Times.