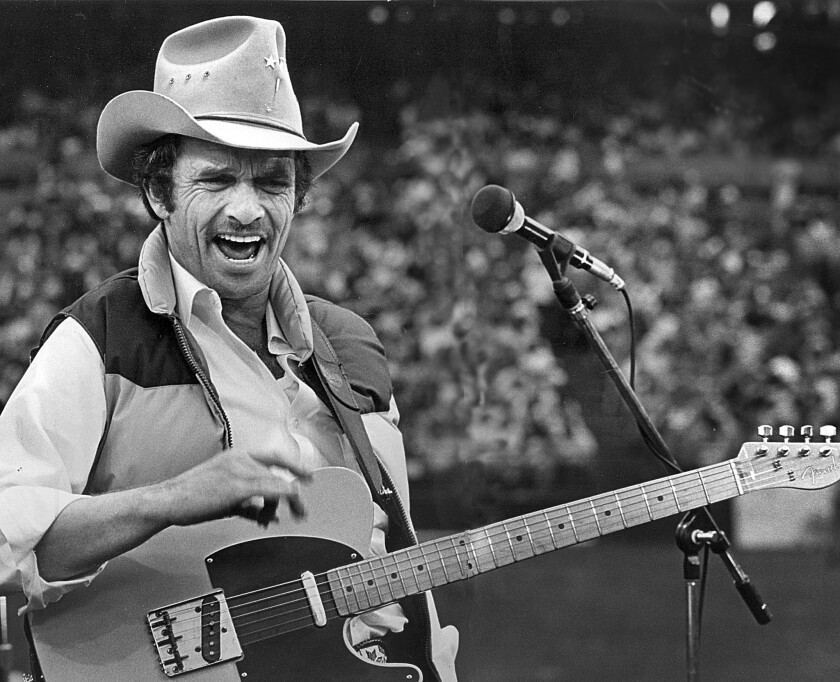 Merle Haggard's songs always seemed to channel the people he sang for through his 79 years: blue-collar workers, prison inmates, forlorn lovers and everyday Americans looking for signs of reassurance or stability as their world changed around them.
He didn't invent the so-called "Bakersfield sound" in country music, a punchier, twangier, edgier counterpoint to what was coming out of Nashville's recording studios in the 1950s and '60s. That credit belongs to some of Haggard's predecessors in the oil- and agricultural-rooted community: Tommy Collins, Bill Woods, Wynn Stewart and, the first bona fide country star out of Bakersfield, Buck Owens.
But Haggard, born in nearby Oildale, quickly became the most erudite and insightful voice of the Bakersfield sound. In song after song, he articulated with utter authenticity the dreams, the fears, the hurts, the hopes of not just his fellow Americans, but his fellow human beings.
In his first Top 5 country hit, "Swinging Doors" from 1966, he freshened up the even-then clichéd subject of the hapless guy booted out of his home, forced to take up residence at the local honky tonk:
I've got everything I need to drive me crazy
I've got everything it takes to lose my mind
And in here the atmosphere's just right for heartaches
And thanks to you I'm always here till closing time
Merle Haggard tips his hat to the crowd as he performs at the Stagecoach Country Music Festival in Indio on April 24, 2015.
(Allen J. Schaben / Los Angeles Times)
Merle Haggard sits on his bus with Fanny Mae before performing at the Stagecoach Music Festival in 2010.
(Gina Ferazzi / Los Angeles Times)
Merle Haggard performs at the Saban Theatre in Beverly Hills on Feb. 11, 2016.
(Robert Gauthier / Los Angeles Times)
Kris Kristofferson encourages the band as he performs with Merle Haggard, left, at the Saban Theatre this year.
(Robert Gauthier / Los Angeles Times)
Merle Haggard accepts the ACM Crystal Milestone Award during the Academy of Country Music Awards at the MGM Grand Garden Arena in Las Vegas on April 6, 2014.
(Ethan Miller / Getty Images)
Merle Haggard poses with wife Theresa and son Ben at the 2014 Grammy Awards at Staples Center on Jan. 26, 2014.
(Wally Skalij / Los Angeles Times)
Merle Haggard performs with Blake Shelton, right, at the 2014 Grammys.
(Robert Gauthier / Los Angeles Times)
Merle Haggard poses at his ranch at Palo Cedro, Calif., on Oct. 2, 2007.
(Rich Pedroncelli / Associated Press)
Merle Haggard smiles during a May 28, 2003, news conference at the National Museum of American History in Washington, where he and his sister Lillian Haggard Hoge donated belongings taken on their family's Dust Bowl-era move from Oklahoma to California.
(Rick Bowmer / Associated Press)
Merle Haggard on his property in Palo Cedro in January 2009.
(Genaro Molina / Los Angeles Times)
The country singer during a photo shoot at the Muddy Moose Bar at the Sportsmen's Lodge Event Center in 2004.
(Genaro Molina / Los Angeles Times)
Merle Haggard with a map at a 1985 news conference for the U.S.A. for America tour.
(Patrick Downs / Los Angeles Times)
Merle Haggard, left, and Willie Nelson attend the BMI awards dinner in Nashville in October 1981.
(Los Angeles Times)
Merle Haggard in concert at Anaheim Stadium in 1980.
(George Rose / Los Angeles Times)
Merle Haggard, right, and then Times writer Robert Hilburn at Anaheim Stadium in October 1980.
(George Rose / Los Angeles Times)
Merle Haggard plays the Anaheim Convention Center on March 20, 1975.
(Los Angeles Times )
Johnny Cash, Merle Haggard, Buck Owens and Glen Campbell perform on a TV show in the mid-1970s.
(Michael Ochs Archives / Getty Images)
Merle Haggard performs with Johnny Cash on "The Johnny Cash Show" on Aug. 2, 1969.
(ABC Photo Archives / Getty Images)
The country singer in an image from 1968.
(Los Angeles Times)
Honky tonk laments were just the tip of the iceberg. If folk-protest hero Woody Guthrie had a lifelong country music ally and disciple in his unflagging empathy for the plight of working people, it was Haggard. Time and again he returned to the subject of those who have to scratch out a living any way they could in the land of plenty.
In "I Take A Lot of Pride in What I Am" from 1969, he sang of one who owned his place on society's fringes, and keeping his head unbowed:
Home is anywhere I'm livin'
If it's sleepin' on some vacant bench in City Square
Or if I'm workin' on some road gang
Or just livin' off the fat of our great land
I never been nobody's idol, but at least I got a title
And I take a lot of pride in what I am
Merle Haggard performances
Merle Haggard performs 'Okie From Muskogee'
Merle Haggard performs 'The Bottle Let Me Down'
Merle Haggard performs 'Mama Tried'
Merle Haggard performing 'That's The Way Life Goes'
Merle Haggard performing 'Today I Started Loving You Again'
Merle Haggard performing 'New San Antionio Rose'
His love songs are among the best ever written, which is why they've been recorded and performed by others extensively over time. "I Started Loving You Again," from 1968, has a lyrical nod to Owens' earlier hit "Crying Time," yet still became a country classic on its own:
What a fool I was to think I could get by
With only these few million tears I've cried
I should have known the worst was yet to come
And that crying time for me had just begun
As a music fan who has loved country music since I can remember — part of my DNA thanks to my mother's roots growing up during the Depression in the coal-mining country of eastern Kentucky — I've taken every opportunity that cropped up to connect with Haggard during my years covering popular music for The Times.
I always came away from conversations with him impressed at the unhurried, absolutely attentive way he formed and expressed thoughts. There was a palpable sense of him weighing perspectives and consequences of any remark he might care to share.
And when you sat with him, you had his full, undivided attention — unlike many of the celebrity interviews conducted assembly-line fashion in hotel suites these days.
Haggard was long a favorite of political conservatives, in no small part because his early anthems seeming to espouse traditional values such as "Okie From Muskogee" and "The Fightin' Side of Me." Yet when Democrat Barack Obama was elected president, Haggard was filled with patriotic pride.
"I think we're probably guilty of living up to the Constitution for the first time in the history of America — which is really something to say," Haggard told me in 2009. "In my lifetime, they were still lynching blacks without a court, without a trial. To see it come all the way to [an African American] being elected president is really something."
Every time I watched him sing "Okie From Muskogee" — outwardly poking fun at the hippie peace-and-love generation that was in full flower when he wrote it in 1969 — I tried to discern whether he was being sincere, or being slyly ironic. I finally concluded it was a little of both, which also was part of his great gift as a writer.
As much as anyone, he recognized that life wasn't etched in black and white but in a full complement of colors. And like Mark Twain, Haggard could convincingly capture the attitude of any number of characters in his songs, without necessarily internalizing the views he helped them express.
For himself, Haggard fully embraced rather than trying to hide or sugarcoat his own past as a petty criminal, a delinquent whose escapades landed him in state prison in San Quentin as a teenager. Even after devoting himself to a life in music rather than crime, he struggled — with divorce, with finances, with the bottle.
Some of his most heartfelt songs came out of his desire to be forthright with his children about his past. In 2000, he recorded "I'm Still Your Daddy," aimed at the young children of his 1993 marriage to Theresa Lane.
It's true I've done some time in prison
Let me be the first to tell you I was wrong
That was back when I was wild
Back when I was just a child
Back before your mama came along…
Don't put me down
Don't push me away
Daddy needs some family love today
He had intense pride in, and love for, his family — no doubt in part because his own father died when Merle was just 9, a fundamental void that more than likely contributed to his youthful rebellion.
He once told me about his then-teenage son, Ben, and how much more accomplished a guitar player he had become than Haggard felt he'd ever been, even though Haggard was widely respected as an instrumentalist almost as much as he was as a singer and a songwriter.
He backed up the assertion by welcoming Ben into his lauded band, the Strangers, always one of the most versatile and accomplished ensembles in country music — a unit that wouldn't tolerate any second-rate players, family or no.
Ultimately, however, it's Haggard's songs — more than his influential vocal style or his skill as a bandleader — that will be his greatest legacy.
"He was probably the best combination of country singer and songwriter of his generation," former Times pop music critic Robert Hilburn said by email Wednesday morning.
"When he started out, he said he wanted to sing as good as Lefty Frizzell and write as good as Hank Williams," recalled Hilburn, who also spent numerous hours interviewing Haggard on many occasions over several decades. "That dream pretty much came true."
Twitter: @RandyLewis2
MORE:
Video playlist: Merle Haggard performances
Merle Haggard by the numbers: his gold and platinum albums
From the archives: Merle Haggard, Kris Kristofferson show songwriting at its best
---