Michael Nesmith joining the Monkees' 50th anniversary stop in L.A.
The Los Angeles homecoming stop next month on the Monkees' 50th anniversary tour will include all three surviving members of the made-for-TV band, guitarist, singer and songwriter Michael Nesmith confirmed Friday.
In a post to his Facebook followers that also strongly suggested it could be his final appearance alongside bandmates Micky Dolenz and Peter Tork, Nesmith wrote, "Been talking to Micky and Peter about the Los Angeles Pantages Monkees concert and have agreed to come down to play that show with them.
"The show is set for September 16th — which I believe is almost a perfect match for the fifty-year anniversary of the TV show," he wrote, alluding to the Sept. 12, 1966, premiere of "The Monkees" on NBC. "I am bringing Gretsch, my beautiful, intelligent blonde [electric guitar] to help me, and it looks like I'll make it once again."
See the most-read stories in Entertainment this hour »
He had joined his bandmates earlier this month at their show in Monterey, but otherwise has begged off this year's anniversary tour, citing his commitment to finishing his book "Infinite Tuesday," which is subtitled "An Autobiographical Riff" and due for publication next spring.
Nesmith said he won't be joining future dates, stating, "They are putting together a world tour after that —off to Australia and New Zealand, and other points global in what sounds like a great time.
"I, on the other hand, will be starting my 'Infinite Tuesday' book tour in the first quarter of 2017," he continued, "as well as some solo concerts, and other projects that will make it not possible to be with them on that tour. So this seemed like the right opportunity for me to get together with them as Monkees."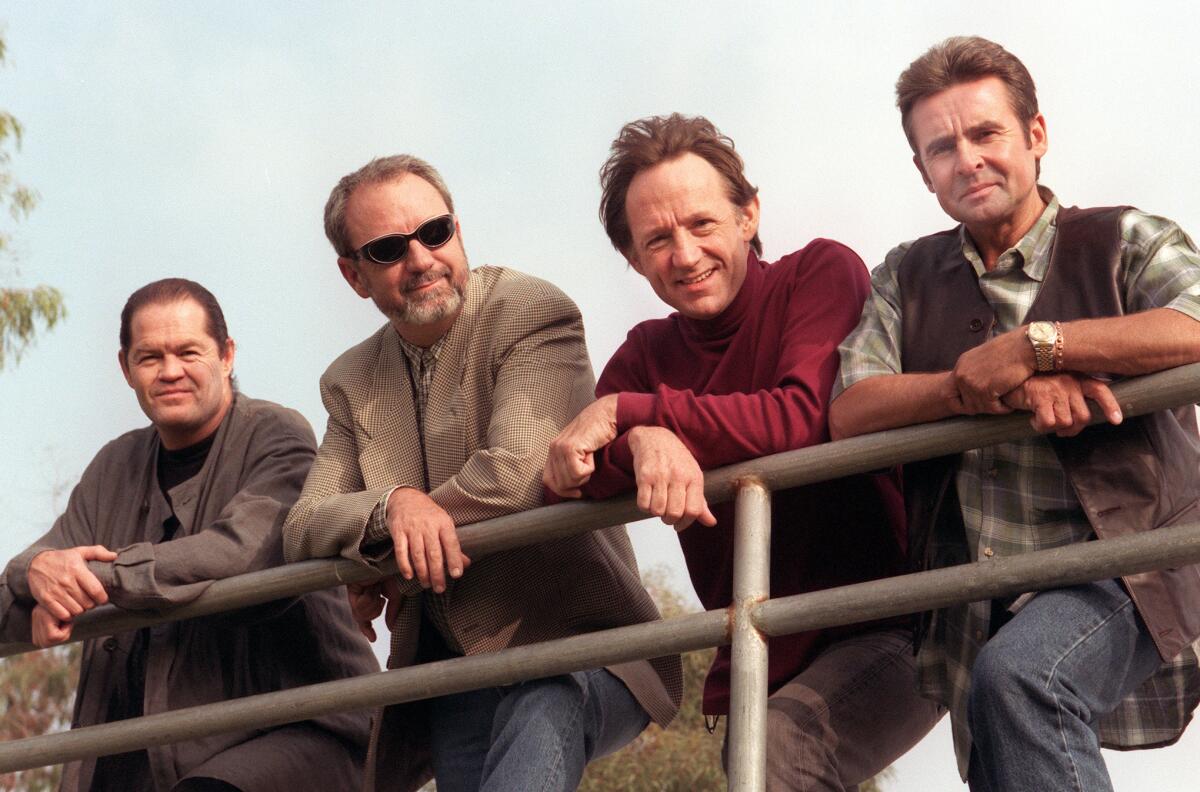 His message concluded with what reads like a farewell to his career as a Monkee.
"I expect it will be fun, and a great way for me to sign out," he said. "I see the specter of the multiple Sinatra retirement/farewells — and this seems like the perfect time for me to step off, sit down and shut up. Hope I see you there. No, I don't have any tickets. What a long strange trip, it's been said … and it looks like I've made it to the end."
Follow @RandyLewis2 on Twitter.com
For Classic Rock coverage, join us on Facebook
ALSO
Mike Nesmith to join the Monkees 50th anniversary tour for just one show — Friday in Monterey
The Monkees celebrate 50th anniversary by teaming with modern pop luminaries for a new album
Get our L.A. Goes Out newsletter, with the week's best events, to help you explore and experience our city.
You may occasionally receive promotional content from the Los Angeles Times.