Review: How Morrissey made the most of Morrissey Day
Pop Music Critic
"Top of the world, Ma!"
That's what Morrissey bellowed, paraphrasing James Cagney in "White Heat," to open his sold-out concert Friday night at the Hollywood Bowl — and it was tempting to believe the famously grumpy British singer actually meant it.
An hour or so before he turned up onstage, Morrissey was the guest of honor at a small backstage ceremony in which Los Angeles City Councilwoman Monica Rodriguez presented him with a framed document designating Nov. 10 as Morrissey Day in L.A.
"I can't really find words — there aren't really any words," said the singer, who's lived here on and off since the 1990s. "I'm just very pleased. I'll take it to bed."
To mark the occasion, the Bowl went strictly vegetarian for the night, a feat this longtime animal-rights activist wasn't able to pull off when he played Staples Center in 2013.
And then there's the new album Morrissey is set to release next week, three years after a dispute with Capitol Records led to the removal of his previous disc, "World Peace Is None of Your Business," from the streaming services that tens of millions of music fans use these days to listen.
But if the setup for Friday's show, the first of two in Hollywood, made you think Morrissey was feeling warmly toward politicians and corporate types — toward anyone likely to be encountered near the top — the gig itself quickly dispelled that notion.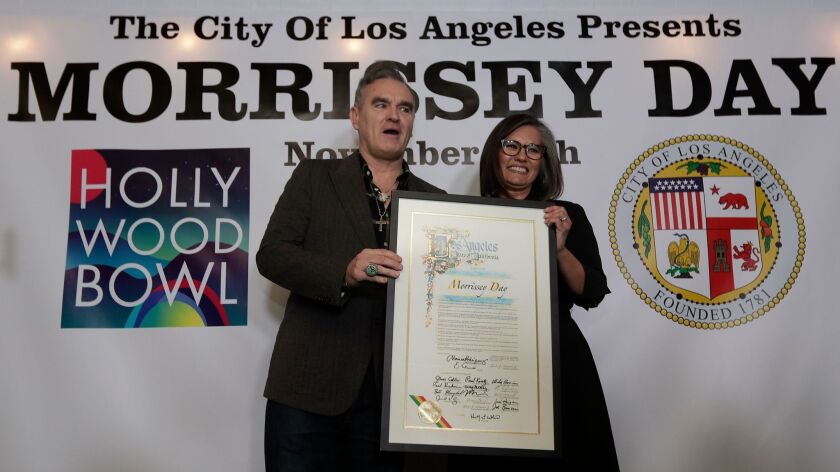 Arrayed behind him like a front row of marchers, the members of his backing band wore black T-shirts that read, "Who will protect us from the police?" In "Glamorous Glue," he tweaked a lyric about Britain's Conservative Party to criticize Republicans; later, "Shoplifters of the World Unite" — one of several tunes he did by his highly influential '80s group, the Smiths — was accompanied by an image of President Trump as a bawling infant.
Nor did puffed-up record executives escape his scorn: In a song from the new album, "Low in High School," he sang with typically theatrical weariness of having "wined and dined with every bogus music mogul."
Morrissey came up as a kind of avatar of progressive populism; his music, both with the Smiths and in his early years on his own, sought to dignify those most vulnerable to oppression.
Yet despite all the anti-establishment rhetoric at the Bowl, it's wrong to say that his stance hasn't grown more complicated.
Last year he was notoriously quoted describing the result of the U.K.'s Brexit vote as "magnificent" — not long after he seemed to question the value of democracy in the title track from "World Peace Is None of Your Business."
And in the new album's lead single, "Spent the Day in Bed," Morrissey lays into the media in a way that feels awfully close to Trump's complaints about fake news. (Morrissey's representatives declined to make "Low in High School" available before Friday's concert, perhaps because it contains songs with such powder-keg titles as "Israel" and "The Girl from Tel Aviv Who Wouldn't Kneel.")
He's also become less delicate with his own fans. Earlier this week he pulled out of a gig in Paso Robles at the last minute due to what the venue referred to as an "inoperable heating system onstage"; the comments on social media from outraged attendees were pretty brutal.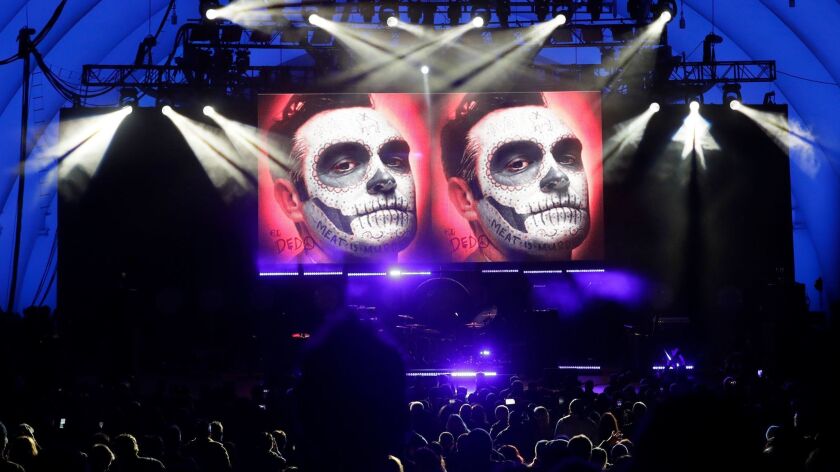 Not that you could detect any lingering resentment at the Bowl, where Morrissey was welcomed as the hero he's been presenting himself as for decades.
In return for their devotion, die-hard fans got a reliably amusing performance that mixed classics like "Suedehead," "How Soon Is Now?" and "Meat Is Murder" with more recent cuts such as "The Bullfighter Dies" — "and nobody cries," the chorus continues — and "World Peace Is None of Your Business."
"Just when you think American politics can't get any better," he said to introduce the latter, "it doesn't!"
Morrissey also sang a few more new tunes, including "When You Open Your Legs" — "which I'm sure you do," he pointed out — and did a surprisingly tender rendition of the Pretenders' "Back on the Chain Gang."
Before that one, he said the song was by his old friend Chrissie Hynde, then added bitterly that she "isn't allowed to leave the house" — a dramatic statement he failed, in characteristic fashion, to explain.
But he may well have been alluding to the uproar Hynde sparked among rape survivors in 2015 when she told an interviewer she held herself responsible for a sexual assault she said she experienced when she was in her 20s.
Blaming victims' advocates for shaming a victim?
It was Morrissey's party, and he'd offend whom he wanted to.
Twitter: @mikaelwood
ALSO
Can the music world learn from Hollywood?
'It's all gone haywire': Mavis Staples on her 'angry' new album
---
Inside the business of entertainment
The Wide Shot brings you news, analysis and insights on everything from streaming wars to production — and what it all means for the future.
You may occasionally receive promotional content from the Los Angeles Times.