Times music writers pick their top albums of 2017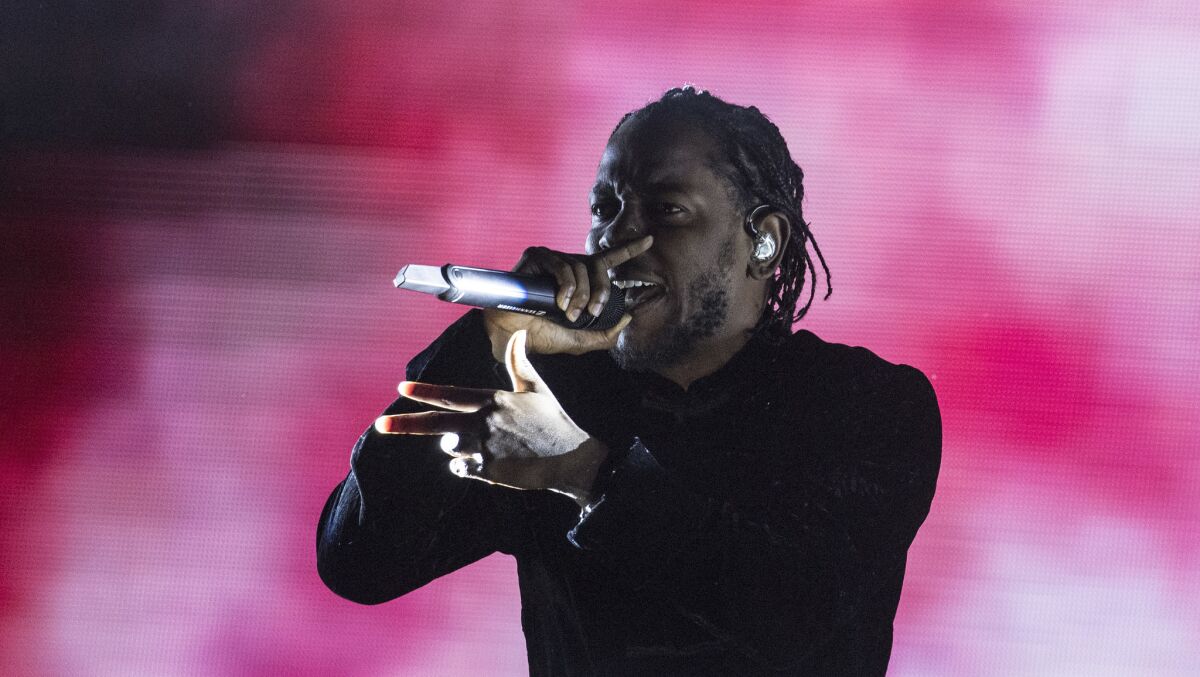 As the year comes to a close, The Times' pop staff reflects by picking its favorite albums of 2017.
Here, writers August Brown, Gerrick D. Kennedy, Randy Lewis and Randall Roberts offer their top picks. Times pop critic Mikael Wood earlier this month reflected on his best of 2017.
August Brown's top 10
1. Kendrick Lamar, "Damn" (Top Dawg / Aftermath / Interscope). In a year when everything often felt like a mess, this record was a shot of cold water to the face and a reminder that we have agency, power and identity.
2. Sza, "Ctrl" (RCA Records) Thank God she didn't follow through on her threat to quit music, because we'd have missed one of the year's perfect records. Welcome back.
3. Julien Baker, "Turn Out the Lights" (Matador). "Visionary" is an easy word to toss around, but on her second LP, the still unbelievably young Baker saw a kinder, more empathetic world grounded in faith and humility and vulnerability. Gorgeously self-produced too.
4. Sampha, "Process" (Young Turks). The playing is virtuosic, the writing impeccable and the vibes up-to-the-minute, and rarely is there a record so inviting and full of candor about love and memory.
5. Vince Staples, "Big Fish Theory" (Def Jam). One of hip-hop's most barbed wits and sharpest social critics makes the after-hours techno album no one knew he had in him.
6. Mount Eerie, "A Crow Looked at Me" (P.W. Elverum & Sun). This is one of those albums that stares so deep into the abyss that it's almost hard to listen to more than once. Phil Elverum wrote it in the wake of his wife's death, and the beautiful fragments of melody charge the smallest lyrical detail with shattering grief. Listening to it is like trying to see a black hole — you only know it through an all-consuming absence.
7. Kehlani, "SweetSexySavage" (TSNMI / Atlantic). Living proof that we can come back from anything and find joy and resilience in music no matter the circumstances. Every song is pure fire too.
8. Drake, "More Life" (Republic). The first and last "playlist" posing as an album that we'll ever need. It'd be corny as heck if it wasn't so moody, heartfelt and modern. But now that we have it, let's still destroy playlist culture while we can.
9. Shannon Lay, "Living Water" (Woodsist). There's almost nothing here but a voice, a guitar and plainspoken lyrics about love, loss and loneliness. She needs absolutely nothing else to put your pulse on edge.
10. Kelly Lee Owens, self-titled (Smalltown Supersound). In today's playlist-driven, content-smothered environment, it's almost an indulgent treat to sit down with a long, well-sequenced and fully imagined LP. Owens has long been well regarded in underground house and techno but released a vast and definitive LP this year. She channeled the ambient yet disco-infatuated ghost of Arthur Russell so well that she named a single after him.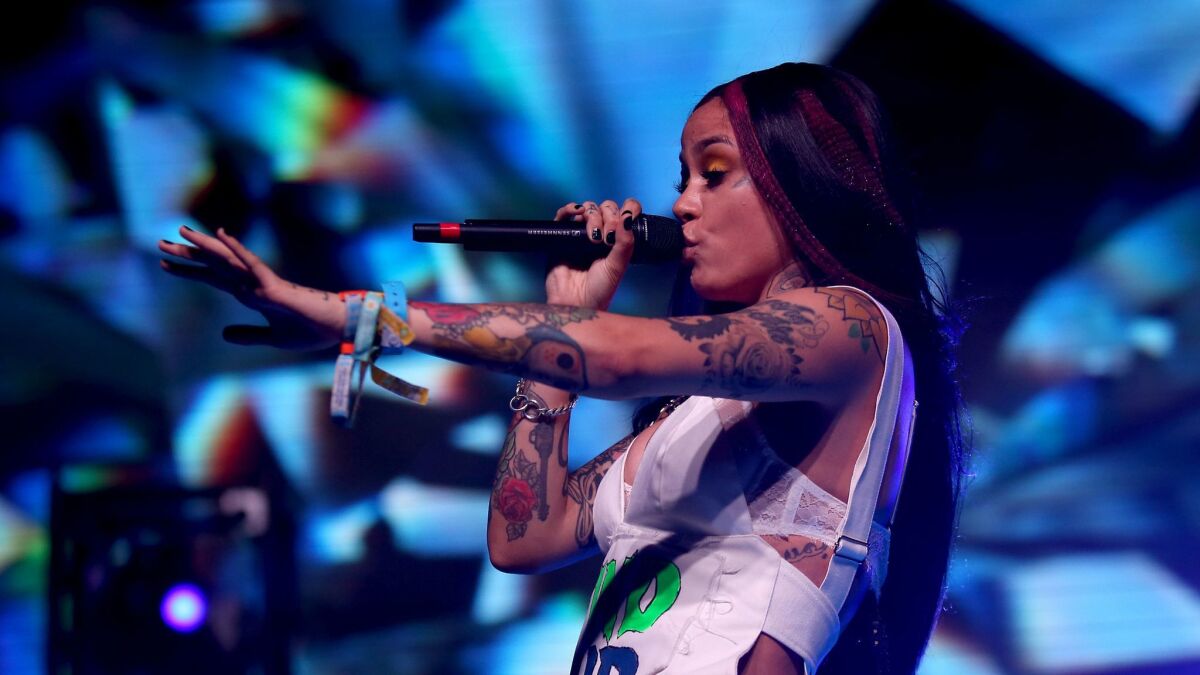 Gerrick D. Kennedy's top 10
1. Kehlani, "SweetSexySavage" (TSNMI / Atlantic). A bright collection of assured pop-R&B born of heartbreak and darkness, Kehlani's anthems of optimism, resilience and self-love provided a potent balm to a year fraught with uncertainty.
2. Sza, "Ctrl" (RCA Records). Ruminating on self-esteem, toxic relationships, twentysomething angst and sexual freedom over dreamy productions that weave R&B, hip-hop, electronic and indie rock textures made "Ctrl" one of the year's most engaging, and relatable, listens.
3. Kendrick Lamar, "Damn" (Top Dawg / Aftermath / Interscope). Faith, family, lust, love, humility, fear and spirituality are all threads of Lamar's latest — a masterwork that's equally ambitious and accessible without sacrificing complexity.
4. Daniel Caesar, "Freudian" (Golden Child Recordings). A tender look into the complexities of love rooted in classic gospel and R&B. Caesar's honeyed voice will make you melt, but his attention to the nuances of coupledom will keep you listening.
5. Jhene Aiko, "Trip" (Def Jam). Aiko's search for inner peace yielded this intensely personal work that plays like a road map toward spiritual enlightenment.
6. Jay-Z, "4:44" (Roc Nation). Jay turned the lens inward for his most revelatory work, tackling race, wealth, oppression and personal failures that showed rap's most famous star can still provoke.
7. TiRon & Ayomari, "WET: The Wonderful Ego Trip" (the Cafeteria Line). A thoughtful examination of the human ego, this collection of unconventional hip-hop puts a mirror up to the shortcomings that make us all tick.
8. Sampha, "Process" (Young Turks). Sweet reflections on love, anxiety, loss and loneliness unpacked over frantic electronic soul grooves and aching balladry made this is searing listen.
9. Khalid, "American Teen" (RCA Records). Driven by the (in)experience of youth, Khalid's smoldering waxings on young love, angst and self-discovery provide a nostalgic trip into one's own soul.
10. Fifth Harmony, "Fifth Harmony" (Syco / Epic). After losing a member to nasty drama, the ladies returned with a set of frothy R&B-pop jams perfect for escaping to the dance floor.
Randy Lewis' top 10
1. Randy Newman, "Dark Matter" (Nonesuch). A master songwriter, singer, arranger, orchestrator and social commentator, Newman shows just how magnificent pop music can be in the right hands.
2. Sparks, "Hippopotamus" (BMG/the End Records). Long-running L.A. art-rock siblings Ron and Russell Mael have crafted another bevy of brilliant observations on the minutiae of human ambition and frailty that say a lot about the big picture of life.
3. Robert Plant, "Carry Fire" (Nonesuch). Continuing his lifelong exploration of music from many lands, Plant revels in the nuance of that pliant voice and its interplay with a coterie of master musicians.
4. Rhiannon Giddens, "Freedom Highway" (Nonesuch). Giddens could wring emotional drama singing the ingredients from a box of Cheerios; fortunately, her ear for great songs matches her seemingly limitless skill as a vocalist, proved again with a powerful collection of songs by turn political, social and deeply personal.
5. Chris Hillman, "Bidin' My Time" (Rounder). Thank goodness this founding member of the Byrds, the Flying Burrito Brothers and Desert Rose Band took Tom Petty up on his offer to co-produce a new album, in which Hillman blends songs new and old in consistently spine-tingling performances.
6. Neil Finn, "Out of Silence" (EMI). The Crowded House singer and songwriter rehearsed and recorded this solo outing during sessions he live-streamed, allowing the most ardent of his fans to witness the album's creation in real time. The result is another infectiously melodic, emotionally vibrant work.
7. Rose Cousins, "Natural Conclusion" (Old Farm Pony). A powerful exploration of what it means to be human: loneliness, freedom, yearning for connection, the expectations we hold for ourselves and hopes we maintain for others. A beautiful collection.
8. Bob Dylan, "Triplicate" (Columbia). Dylan tripled down on his walk through the Great American Songbook with three more albums paying homage to his predecessors who defined American popular music. He and his band dig to the powerful blues core of songs often treated by others as museum pieces.
9. Taylor Swift, "Reputation" (Big Machine). Swift's sixth studio album extends and expands on her artistic ambitions, homing in with her most cohesive set yet, and one that lets us in on not just her very public life, but our own obsession with living our lives out on social media. Smart and assured as ever.
10. Chuck Berry, "Chuck" (Dualtone). The swan song from one of rock 'n' roll's founding fathers was recorded over a period of 40 years and provides him with a worthy victory lap. It's full of great guitar licks, snappy wordplay and more than a little hard-won wisdom picked up through his remarkable 90-year journey.
Randall Roberts' top 10
1. Bedouine, "Bedouine" (Space Bomb). In a year when breaking news alerts cut into otherwise uneventful days with disturbing frequency, comfort often felt in short supply. Within such drama, the Syrian-born, Los Angeles based musician known to her parents as Azniv Korkejian delivered warmth that recalled the pastoral sounds of Joni Mitchell, Vashti Bunyan and Nick Drake.
2. Jamie Branch, "Fly or Die" (International Anthem). Few records this year packed as much rhythmic punch as this Chicago trumpeter's debut album. Featuring propellant percussion from Chad Taylor (Chicago Underground Duo, Fred Anderson Quartet), cello scraping and sawing from Tomeka Reid and others, "Fly or Die" most certainly flies, and ascends higher whenever Branch moves into a frantic solo.
3. Jlin, "Black Origami" (Planet Mu). If the Gary, Ind., artist who records experimental beat music as Jlin were an architect, her chromatic structures would defy gravity and jut out in jagged angles that cut through the skyline. Working in the Chicago post-house music subgenre known as juke music, the artist born Jerrilyn Patton makes wildly progressive sounds and rhythms across the album.
4. Kendrick Lamar, "Damn" (Top Dawg / Aftermath / Interscope). As good as the billion words written about it this year, Lamar's album not only delivered a brutally realistic document on the state of the city and country, but in the process reinforced his claim as one of the most important voices speaking for Los Angeles.
5. Aimee Mann, "Mental Illness" (Super Ego). Unless you're Nick Drake or Nico, general malaise seldom makes for an engaging listen, but Mann, who is one of her generation's finest songwriters, roams within these darkened corridors with expertly crafted, miraculously arranged vignettes on solitude and melancholy.
6. John Maus, "Screen Memories" (Ribbon Music). The opening lyrics of iconoclastic synth-pop explorer Maus' new album invoke some serious doom: "I see a combine coming," he sings. "It's gonna dust us all to nothing." Is the paddling rotor a sign of the apocalypse? Of societal breakdown? Who knows, but across this curiously urgent record, menace seems to lurk. "The people are missing," he sings elsewhere, and where they've gone is as mysterious as it is magnetic.
7. On Fillmore, "Happiness of Living" (Northern Spy). Normally a duo of Glenn Kotche (Wilco) and Darin Gray (Tweedy, Dazzling Killmen), they traveled to Brazil for this record to team with kindred experimenters including Moreno Veloso (son of Caetano Veloso) and a percussion-heavy team called the +2 Collective. This is a strange record — wonderfully so.
8. Open Mike Eagle, "Brick Body Kids Still Daydream" (Mello Music). Replace the deaf, dumb, blind kid of the Who's "Tommy" with a def, smart, black kid growing up in a Chicago housing complex and you'll have a general sense of Open Mike Eagle's scope on his sixth studio effort. A double-album-length concept album, "Brick Body Kids …" is hardly as ridiculous as the Who's rock opera. Rather, it's an epic filled with drama more suggestive of "The Wire."
9. Perfume Genius, "No Shape" (Matador). The artist born Mike Hadreas made a way, way better emo-goth-pop record than Lorde this year, but he's got at least a decade on her, so that makes sense. Across "No Shape," Hadreas bellows and roars as if expelling memories and emotions that burn on their way out. As he does so, acoustic, electric and synthetic tones and rhythms build musical platforms both intricately designed and expertly engineered.
10. Sleaford Mods, "English Tapas" (Rough Trade). Indignation was easy to find but hard to fully express in 2017, but no record save maybe Protomartyr's "Relatives in Descent" said it better than this rant-and-rhythm record from Nottingham, England. Across 12 tracks, lead barker Jason Williamson, who has a murderous stare and onstage presence, poured forth dense rhymes about working-class outrage, societal suffocation and our media-saturated reality.
---
Get our L.A. Goes Out newsletter, with the week's best events, to help you explore and experience our city.
You may occasionally receive promotional content from the Los Angeles Times.