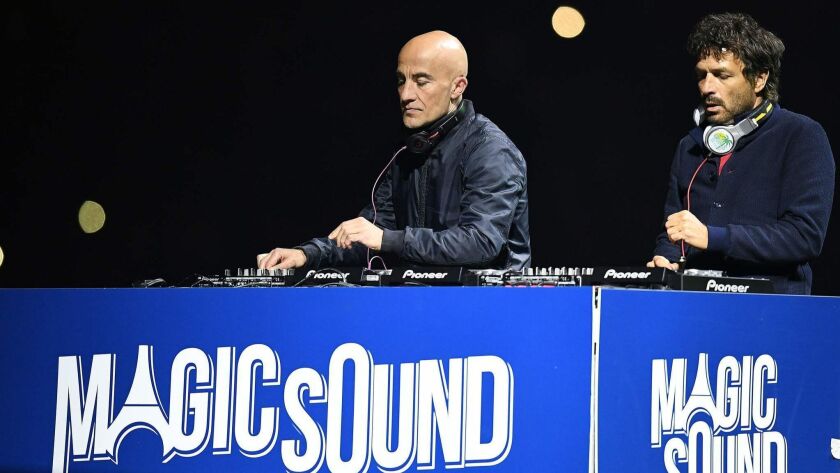 Philippe Zdar, the French music producer and half of house-music duo Cassius, died Wednesday at age 52 after accidentally falling out of a building in Paris.
Zdar's pioneering work with Cassius has been credited with shaping the sound of electronic music in the late 1990s and early aughts. The duo have a new album, "Dreems," scheduled for release Friday.
Zdar produced the French rock band Phoenix's 2009 album, "Wolfgang Amadeus Phoenix," which won the Grammy for alternative music album. His Motorbass studio was used as a recording site for the likes of Kanye West and Pharrell Williams.
As news broke of Zdar's death, artists from across the music world took to social media to pay tribute to the producer's life and work.
Producer Mark Ronson tweeted that Zdar was a "true legend whose influence hangs over not just dance but indie, hip hop, all of it."
Awful news about Phillipe Zdar, what an unbelievably lovely man with an incredible legacy. I was mesmerized by this record as a 15 year old https://t.co/H79OZ19Nxq

— Calvin Harris (@CalvinHarris) June 20, 2019
philippe zdar was such a huge inspiration. i remember spending weeks mastering 'unbelievers' — putting it up against phoenix's '1901' as the benchmark of an incredible mix, —nothing could touch it. we had to mix it over and over again just to get close.

— Rostam (@matsoR) June 20, 2019
Philippe Zdar was a great inspiration, both as a producer, but particularly as a good man and friend.

His taste was impeccable and is heard on everything he worked on.

He had a huge joy for life, generosity and passion.

I will miss him terribly.

— Αλεξ Καπράνος (@alkapranos) June 20, 2019
---