Nile Rodgers' influence stretches all over Coachella, beaming the sound of a better future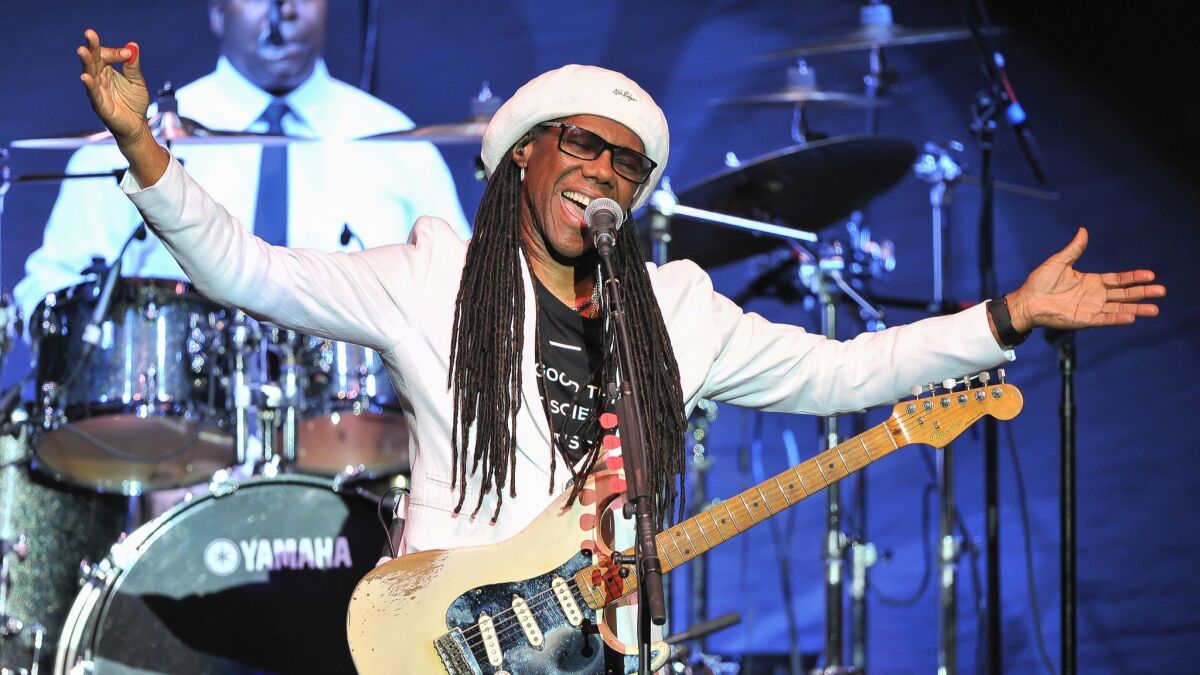 Reporting from Austin, Texas —
In the lobby of the upscale-gunslinger Driskill hotel last month, guitarist and producer Nile Rodgers was recounting everything from his great friendship with David Bowie to lost New York bohemia, suburban racism and dropping acid with Timothy Leary when a middle-aged British woman walked up to his table.
Rodgers is a hard-to-miss guy in a 9 a.m. breakfast crowd at South by Southwest, one of the music industry's largest festivals and conferences. His long braids and black beret cut the same obvious-rockstar look at 65 as they did when he founded his group Chic in the '70s. As the woman approached, she was clearly giddy.
"Oh my God, oh my God," she said, fumbling with her phone. "My husband has something he really wants to say to you, we're such fans." Rodgers smiled patiently as she pulled up a video chat app on her phone. On the other end, her starstruck husband quickly banged out some vintage Rodgers guitar licks on his own rig back home.
It was a goofy superfan moment, but that's part of the job description of being a disco lion in Rodgers' fantastically productive winter.
In the run-up to the 2018 Coachella Valley Music and Arts Festival, which begins April 13, and where the lineup skews decidedly young and hip-hop, Rodgers' reassembled Chic (which has toured European festivals for a few years now) is the closest thing to the classic-rock reunions that defined the fest in the near past — AC/DC, Guns N' Roses, etc.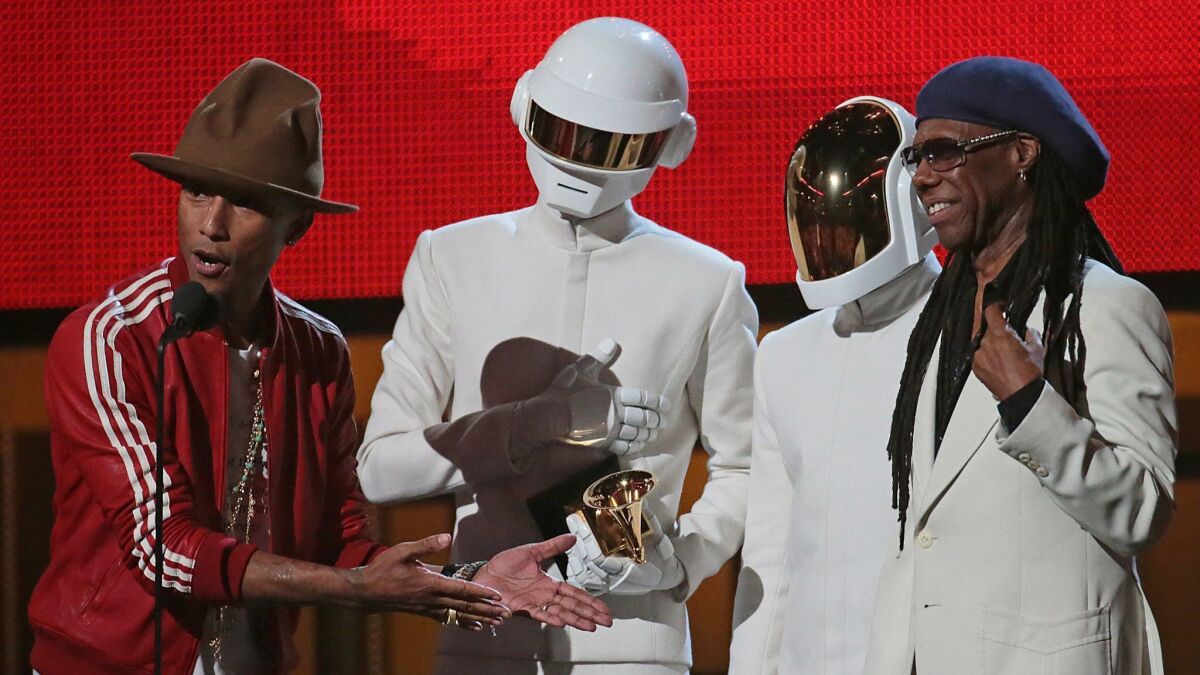 But that would be a pretty meager way to categorize an artist whose playing formed the backbone of Daft Punk's 2013 album, "Random Access Memories," and who performed with the duo as they won multiple Grammys on the 2014 telecast.
Rodgers' influence stretches all over Coachella: Fellow 2018 acts like the Weeknd, Haim, the Black Madonna and Brockhampton have embraced his ideas, from the club sounds and guitar styles he pioneered to the conceptual underpinnings of a prefabricated dance band. A long-awaited new LP from Chic should also be out later this year.
Rodgers' music has always been the sound of a better future — black and white, jazz and techno, music theory and psychedelics, all coming together under a disco ball. But in recent years, the deaths of friends like Bowie, along with his mother's Alzheimer's and his own cancer scares — have cast something of a shadow on what should be (and still is) a joyful time for creativity and perspective.
Perhaps Rodgers' vision is even more necessary now than it has been for a long, long time.
"All artists I've ever encountered, the one through-line is they just want to be heard. We actually like engaging with people because we feel like they have something to teach us," Rodgers said. "Nowadays, people can have a very strong voice and have it be accepted on a pop level. I think that's extremely powerful and positive."
Rodgers has spent his life navigating different cultural spaces — black, Jewish, musical and generational. But his thoughts on America's current fissures proved only more prescient during a South by Southwest Festival rattled by a package bomber targeting prominent local African American families.
Right now, we can really see something that every black person in America knows, every single one. There are really two Americas.
— Nile Rodgers
"Right now, we can really see something that every black person in America knows, every single one. There are really two Americas," Rodgers said. "Now we're openly talking about it, and we can see what's going on with our current president. If black people had talked about it openly before, it'd make people uncomfortable — it probably still does. But how many times do horrible things have to happen to regular people?
"I always thought if I were a documentarian, I would want to do a film on the KKK and see their point of view, why a person could hate me so much when they'd never met me. What could be in a person's DNA or surrounding community? Because I grew up the opposite, I grew up wanting to love people."
That quest for the new is, as much as anything, motivating his latest music. Rodgers' vision — pop played with the rigor and precision of jazz, using commercial appeal as subterfuge for big ideas — has waxed and waned in pop culture over the decades. Even in a post-EDM, rap-driven festival culture, Rodgers is confident the music more than holds up.
"Chic has always been an entity that employed the best people around me," he said. "I say this with humility and respect, but Chic has never been a band that sucks. My first band had Luther Vandross as a backup singer. I've never had a band that's not unbelievable. Who are my best friends in music? John McLaughlin, Herbie Hancock, Wayne Shorter."
Those jazz titans may not mean so much to the SoundCloud rap generation at Coachella. But Daft Punk certainly does. Rodgers has always enjoyed a singular ear for collaborating — Bowie, Madonna, Disclosure and Lady Gaga, among others. As he prepares to release Chic's very aptly titled "It's About Time," which evokes and addresses his long collaborative history, those relationships remain on his mind in 2018.
I say this with humility and respect, but Chic has never been a band that sucks. My first band had Luther Vandross as a backup singer.
— Nile Rodgers
First and foremost, as always, is his partner in Chic, bassist Bernard Edwards, who died in 1996. But it's hard to avoid the fact that, for an artist whose work has always brimmed with life and optimism, the spate of superstar deaths of late has weighed heavily as he readies yet another creative rebirth.
"Ever since Bernard passed, I overly attached myself to people I worked with; they became my superpartners. When people that were life changers in my career passed away, it was so shocking and devastating to me," he said.
It must be strange to think of oneself at the age when your fellow music legends pass away — Bowie died at age 69; Prince at 57. But his dear friend Chris Cornell's death last year at age 52 truly shook him.
"I don't wanna start crying in front of you," Rodgers said, wiping tears with his napkin. "Chris told me as long as he was alive, that he was gonna be alive. I just … didn't understand that."
In some ways, a reformed Chic might be exactly what music needs. With so much pessimism seeping through American life, Chic's music is a small reminder of what America can be at its best — ambitious and diverse, rigorous yet exuberant. Even today, Rodgers thinks back to the recent Obama era and still finds reason for hope.
"I played his last party," Rodgers said of his January 2017 gig in the waning days of President Obama's time in the White House. "I remember there was a DJ performing and I was walking over to Chris Rock and asking him, 'Is that [Dr. Dre's] "The Chronic"? This is insane!' We were crying, like, 'Is this happening?'"
He shares no such affection for the building's current occupant. "I've met him," Rodgers said of Donald Trump, disdainfully shaking his head while wondering how deeply he wanted to wade into this topic. As a fellow rich and famous New Yorker in the '80s and '90s, Trump was unavoidable on the nightlife circuit.
But Rodgers leaves it there, succinctly: "All those Parkland kids are his intellectual superiors."
At Coachella, he'll take the stage as a multiple-cancer survivor with his band that's never sucked, ready to prove yet again that joy is possible and music is the way to find it.
"One of the first lessons I learned when I got into higher-level music was when my teacher sat me down and said, 'The playing and the listening of jazz requires a tremendous amount of effort on both parties,'" he said.
Rodgers' music has taken many differing paths from that of his jazz heroes, but this gleefully salty lesson from that teacher still applies. "You've got to be a bad [dude] to understand Eric Dolphy," he said of the noted improvisational jazz artist, "and you've got to be a bad [dude] to be him."
MORE COACHELLA:
Coachella: Cuco, Chloe x Halle and other potential breakouts
Coachella-bound Black Madonna has emerged as one of electronic music's most potent advocates for change
Portugal. The Man is a rock band with a pop hit at Coachella
Get our L.A. Goes Out newsletter, with the week's best events, to help you explore and experience our city.
You may occasionally receive promotional content from the Los Angeles Times.