Billy Ray Cyrus on Lil Nas X's 'Old Town Road' is the pop opportunist we've always known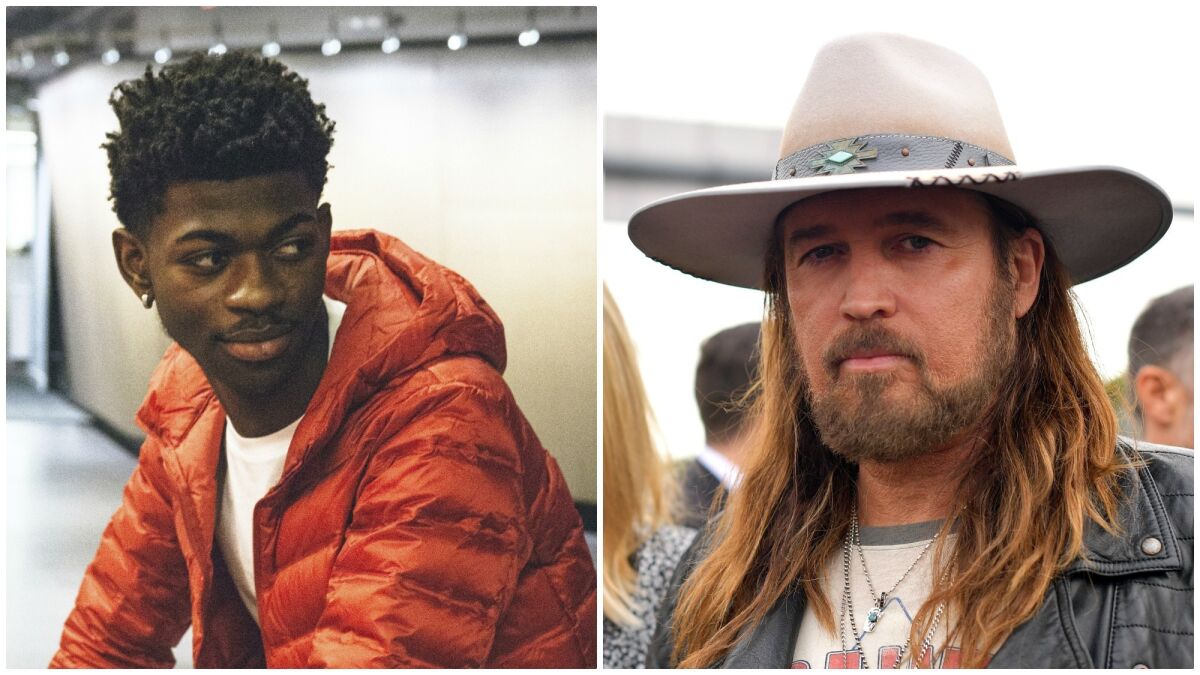 Pop Music Critic
Only a rube would look at this new remix of "Old Town Road" — in which Billy Ray Cyrus jumps on the controversial country-trap hit by Lil Nas X — as an act of pure altruism. But only a cynic could fail to be moved by the song that lit up the internet when it was released Thursday night.
The original "Old Town Road" you know, of course, after Billboard notoriously ruled the track ineligible for its country chart last month on the basis that it "does not embrace enough elements of today's country music," according to a statement the trade magazine gave to Rolling Stone.
This was clearly nonsense.
"Old Town Road," with its sampled banjo lick and Lil Nas X's rhymes about horses and boots, is no less a country song than Billboard-approved hits by Sam Hunt and Florida Georgia Line; indeed, it's far more of a country song than Taylor Swift's mechanized "We Are Never Ever Getting Back Together," which topped the country chart in 2012.
But Lil Nas X, a 19-year-old rapper and singer from Atlanta, is black — and therefore, it appears, not officially country by Billboard's outmoded standards.
The silver lining for Lil Nas X was that the magazine's foolish ruling only boosted interest in his single, so much so that it went to No. 2 on Spotify's all-genre U.S. chart.
Which was where Cyrus, the heat-seeking patriarch of one of pop's most happily opportunistic families, came in.
On Wednesday afternoon, the "Achy Breaky Heart" singer (and father of Miley) wrote to Lil Nas X on Twitter, telling him he'd been watching the hubbub over "Old Town Road."
"When I got thrown off the charts," he said, presumably referring to some age-old shake-up related to his own pop crossover, "Waylon Jennings said to me, 'Take this a compliment.'" Being shunned by the country establishment, Cyrus suggested, "means you're doing something great!"
"Only Outlaws are outlawed," he concluded. "Welcome to the club!"
A day later, he was rhyming with Lil Nas X on the "Old Town Road" remix, which by Friday morning had reached No. 3 on YouTube's Trending tally.
Needless to say, this is as good for Cyrus, who's been hailed as a hero across social media, as it is for Lil Nas X.
But their collaboration also captures a genuine connection between the two artists. And it reminds us how much country and hip-hop share, whether some gatekeepers want to admit it or not, as forms built on persona and storytelling.
"Spent a lot of money on my brand-new guitar," Cyrus sings — or is he rapping? — in his verse, before he offers up an image that perfectly triangulates his identity as a country survivor in hip-hop Hollywood: "Ridin' down Rodeo in my Maserati sports car."
If these guys don't show up together on Sunday night's Academy of Country Music Awards, then Nashville will have learned nothing.
Twitter: @mikaelwood
Get our L.A. Goes Out newsletter, with the week's best events, to help you explore and experience our city.
You may occasionally receive promotional content from the Los Angeles Times.