Even with Katy Perry and Gwen Stefani, One Love Malibu felt cozier than the average benefit concert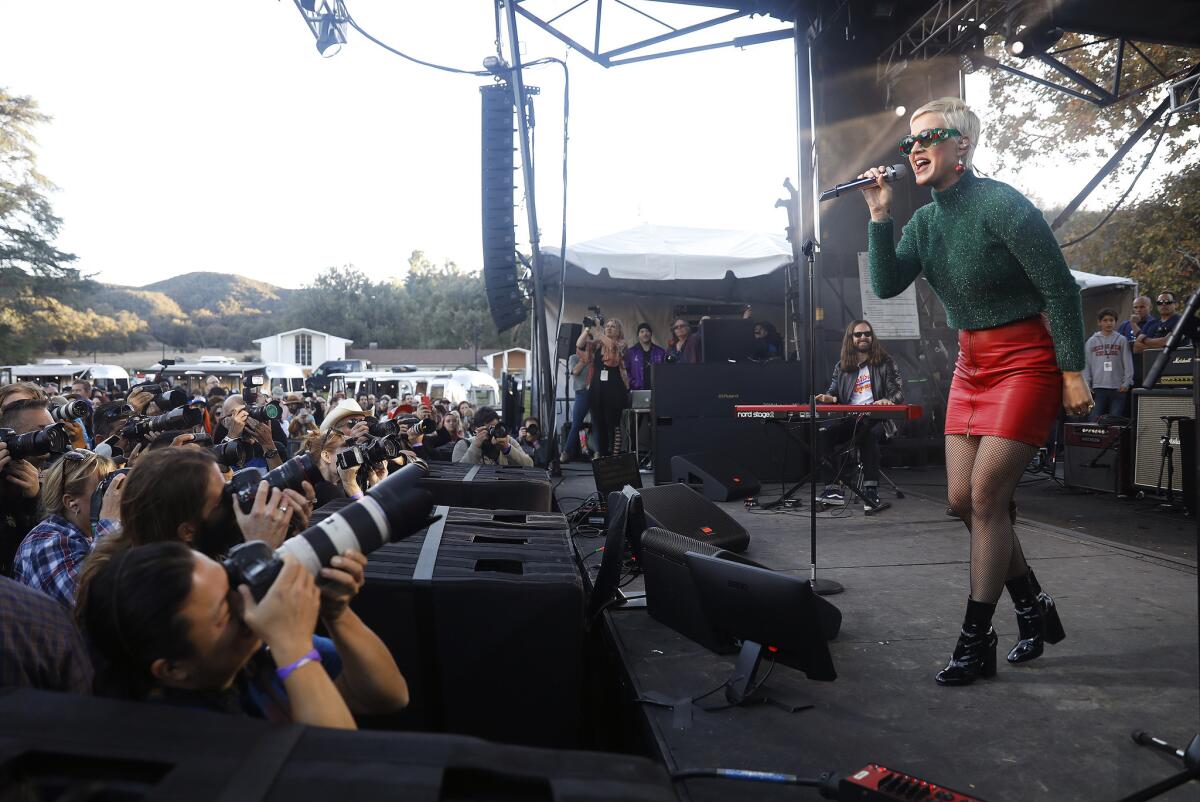 Pop Music Critic
After Hurricane Harvey and Hurricane Irma ravaged cities across the South last year, the major television networks joined forces with social media's most powerful outlets to raise money for survivors with an all-star telethon.
This past weekend, approximately 1,000 folks gathered in a muddy field in Calabasas to do the same for victims of the recent Woolsey fire.
Much has been written already about how the national media appeared to give short shrift to the deadly wildfires that blazed through California last month (at least compared with the wall-to-wall coverage of East Coast hurricanes).
But you couldn't help but think of the disparity again during One Love Malibu, a cozy benefit concert held Sunday at the King Gillette Ranch with performers including Katy Perry and Gwen Stefani.
Unlike that slickly produced hurricane special (not to mention similar ones presented in the wake of Katrina), this show wasn't broadcast live in prime time. Nor did it get a big push from Twitter and Facebook in its effort to provide relief to those impacted by the Woolsey, which did more than $1.6 billion worth of damage in Malibu, according to a Times analysis.
Minus much attention from the agenda-setters in New York, One Love Malibu — with its low-key performances and its rambling speeches — had a decidedly homespun, we'll-do-it-ourselves vibe.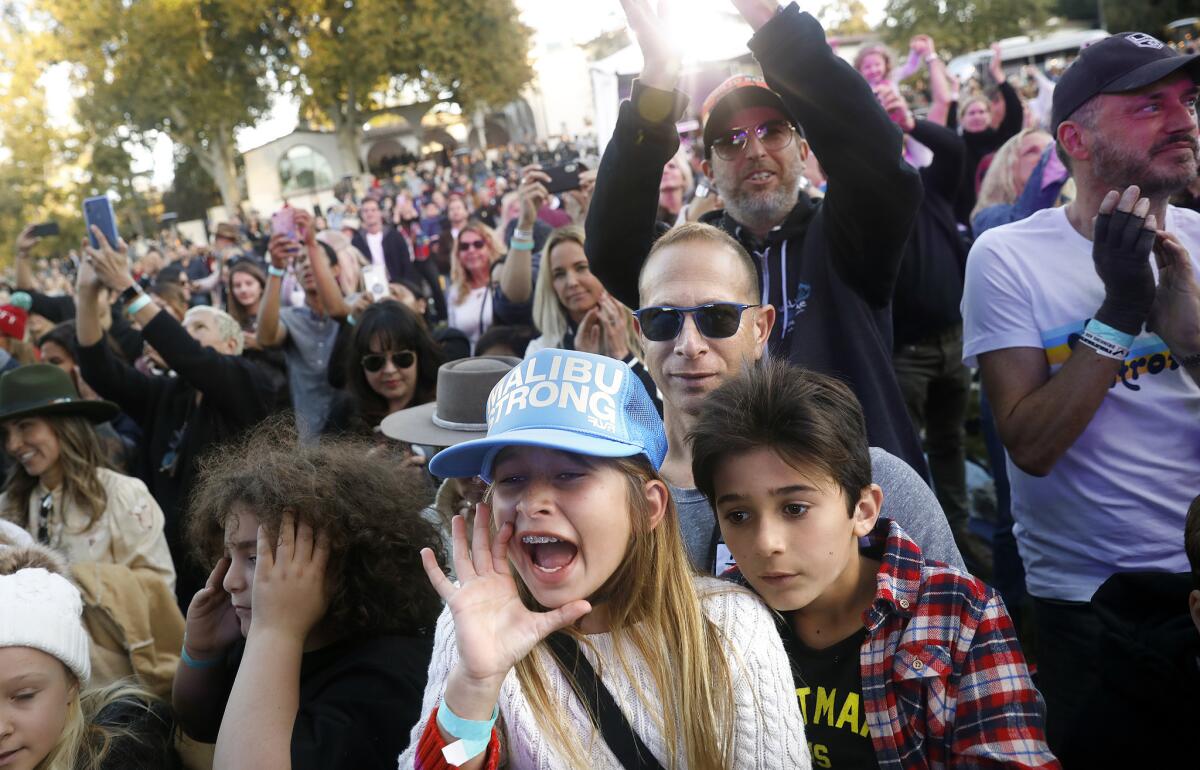 "Hi, neighbors!" Perry said onstage before accurately likening the event to a Sunday-afternoon barbecue. Then the lifelong Californian told the crowd she was there because her keyboardist, Ty Bailie, had lost his house in the fire.
"We're all in this together," she added.
Malibu being Malibu, intimate didn't mean scrappy. Concertgoers ate shrimp rolls and grilled king salmon donated by Nobu; bartenders poured high-end beers and Aperol spritzes.
And though most in the audience stood or sat on the grass in front of the stage — behind which stood a visibly charred hillside — some took in the show from private Airstream trailers that went for $30,000 each. (Organizers said Sunday's event, which also featured an auction, raised nearly $1 million.)
Other performers included Joe Walsh, who rumbled through his old James Gang hits "Walk Away" and "Funk #49"; Robin Thicke, who crooned "Have Yourself a Merry Little Christmas" and covered tunes by Michael Jackson and Al Green; and Seattle-based Brandi Carlile, who called herself a "West Coast girl for life" before singing Joni Mitchell's "River."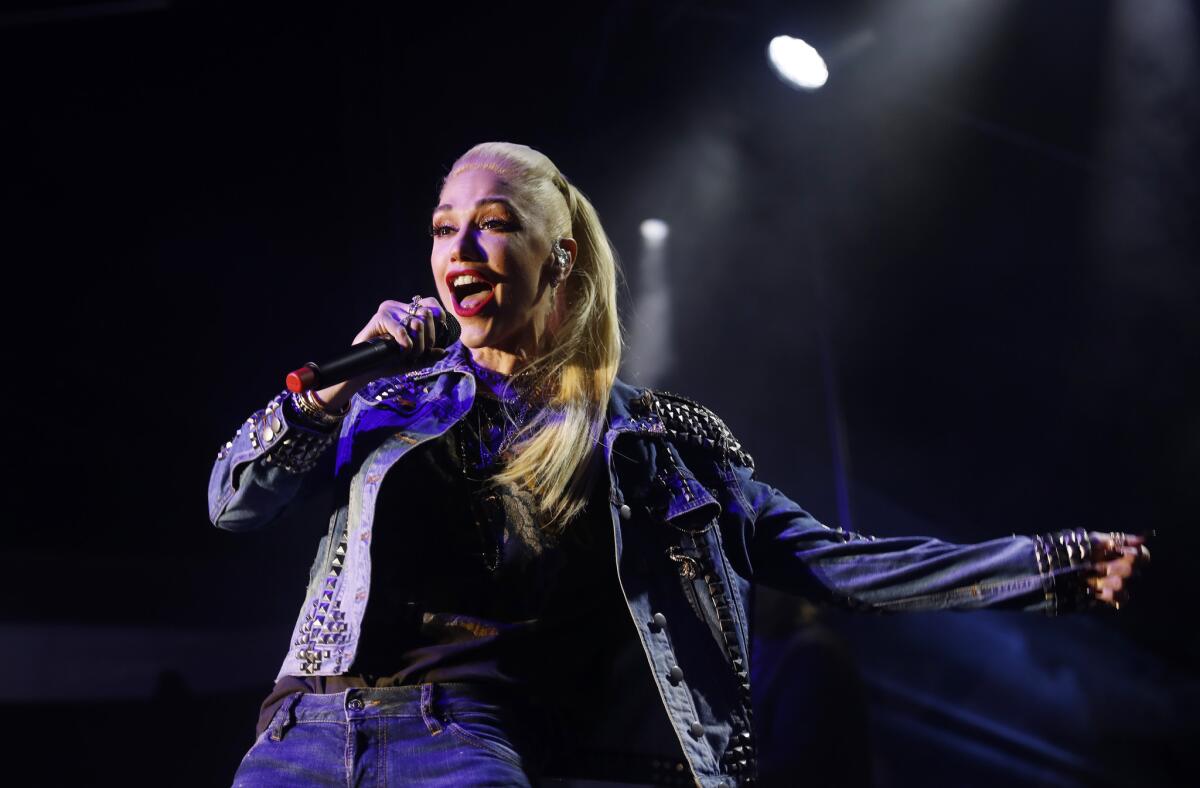 But if the high number of well-tanned ladies and dudes wearing adventurous hats invited jokes about Malibu's rarefied air — jokes that get at why perhaps the Woolsey fire has been downplayed by outsiders — you couldn't miss the show's palpable sense of community, which set One Love Malibu apart from more grandly conceived benefit concerts.
Backstage before her performance, Alanis Morissette recalled visiting Los Angeles from her native Canada for the 1984 Olympics, when she was 10.
"I went to Malibu for the first time and just remember thinking, 'This is the most beautiful place in the whole world,'" she said. Now she's lived in the coastal town for 22 years — her house was damaged in the fire but not destroyed — and thinks of it as "a place to escape, to get some respite and solace from the Hollywood shuffle.
"For that place to be affected this way was heartbreaking," said the singer, who did tender acoustic renditions of "You Learn" and "Ironic."
Cisco Adler — a singer and producer who grew up in Malibu with his well-connected father, Lou Adler — said he'd been through three serious fires in his life but said the Woolsey was "the first time I wondered if Malibu was still going to be around."
Asked about the dismissive attitude some have voiced toward the town, given the ample means many residents have to rebuild, Adler said, "Listen, that's the surface, and people only know what they know.
"But if you spend a little time in Malibu, you know the majority of the town is not" actors and rock stars. "The people that really live there are like cowboys."
The musical acts at One Love Malibu — which also featured Rick Springfield, Macy Gray and members of Incubus — were assembled by Linda Perry, the prolific songwriter and producer known for her work with Stefani and Christina Aguilera.
Standing onstage between acts, Perry said she'd "jumped in" after being asked to by Alice Bamford of Malibu's One Gun Ranch, where Sunday's show was set to take place before being moved after rainstorms last week threatened to trigger mudslides.
"To be of service, that's what we're supposed to do," Perry said. Yet pulling off the event, for which she said no one was paid, was "one fire after another — no pun intended."
Stefani, before singing No Doubt's "Don't Speak," said Perry "saved my life, and now she's saving Malibu."
That was indicative of the feel-good commentary onstage, where most performers avoided talk of the climate change that most scientists agree is contributing to fires like the Woolsey.
Behind the scenes, though, Bethany Cosentino of L.A.'s Best Coast described her frustration with President Trump's advice that Californians should rake leaves to prevent wildfires.
"It's like with shootings," she said. "Where does it end? How many times do we have to have these fundraisers?"
One Love Malibu offered no answers to that question. But leading her band through her song "The Only Place" earlier, Cosentino had asked another that captured the proudly resilient mood here.
"Why would you live anywhere else?"
Twitter: @mikaelwood
Get our L.A. Goes Out newsletter, with the week's best events, to help you explore and experience our city.
You may occasionally receive promotional content from the Los Angeles Times.