The Oscar went to 'Coco,' but Mary J. Blige had the winning performance
Pop Music Critic
Listen closely, future Academy Awards performers: Do. Not. Let. Mary J. Blige. Sing. Before. You.
One of pop music's most deeply committed performers, the veteran R&B artist almost always operates at 110%. And on Sunday's Oscars telecast, where she gave the first of the night's performances of the tunes nominated for original song, Blige made the acts that followed look like outmatched beginners.
Singing "Mighty River" from "Mudbound" — in which her screen performance led to a second Oscar nod, for supporting actress — Blige dug deep into the gospel-fired composition written by her, Raphael Saadiq and Taura Stinson.
She scrunched up her face as though experiencing the pain the song describes in lyrics like "Ego's a killer / Greed is a monster." She pushed her voice to its breaking point in a line about getting "this hurt off me." And she ditched words altogether at one point to embody the type of salvation that can feel like a river's cleansing waters.
The performance was masterful, though "Mighty River" didn't win the Oscar. ("Remember Me," written by Robert Lopez and Kristen Anderson-Lopez for Disney's "Coco," took the original song prize; Alexandre Desplat won original score for his dreamy-spooky music from "The Shape of Water.")
The complete list 2018 Oscar winners and nominees
But Blige's powerful showing also set a high bar that nobody else could quite reach Sunday night — one reason her competitors, whose songwriting reflected the welcome diversity of this year's Oscars field, might've appreciated being allowed to go up before she brought down the house.
Performing "Remember Me," Miguel and Natalia Lafourcade — two skilled singers typically comfortable in a variety of genres — seemed hemmed in by awkward choreography that had them moving — or trying to move — through a troupe of twirling dancers.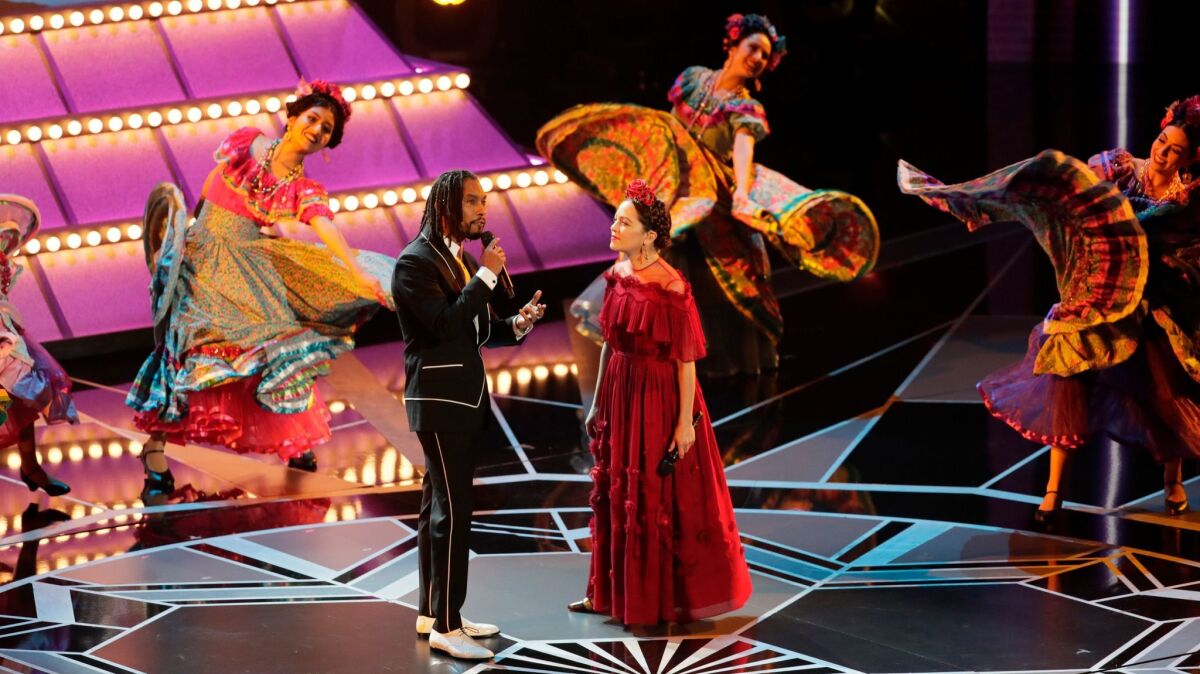 And an introductory bit by Gael Garcia Bernal hardly helped; the actor's off-key warbling was possibly meant to evoke "Coco's" 12-year-old hero — except the kid in the movie is actually a great musician.
A meditation on aging that somehow summons the tenderness of youth, "Remember Me" deserved more.
Sufjan Stevens summoned similar images of boyhood as he sang "Mystery of Love," his gorgeous folk ballad from "Call Me by Your Name," with a vaguely frightened expression that made you think this indie darling was freaked out to be on such a big stage.
For help, Stevens had convened some impressive pals in St. Vincent, Chris Thile and Moses Sumney. Yet the performance was so delicate that it hardly left a trace — an appealingly counterintuitive move at a glitzy awards show, sure, but one that could've done with more … well, just more.
Common and Andra Day weren't in need of that quality in "Stand Up for Something," from the Thurgood Marshall biopic "Marshall."
Performing in front of a group of 10 activists (including union organizer Dolores Huerta and chef José Andrés, who's helped feed hurricane victims in Puerto Rico), the rapper and R&B singer peppered their do-gooder's anthem with references to any number of social causes not explicitly addressed in Reginald Hudlin's period film. And Day certainly sang with real power and muscle.
But the song hit like a blunt instrument; its call to action felt vague, with none of the specificity that Blige gave "Mighty River."
Ditto a busy but shallow performance of "This Is Me" by Keala Settle, the actress who plays the bearded lady in "The Greatest Showman," about P.T. Barnum and his creation of the modern circus.
Was it loud? Oh yes. Impassioned? No doubt.
But compared with Blige's gritty and moving opener, the song played like a cartoon.
Twitter: @mikaelwood
Get our L.A. Goes Out newsletter, with the week's best events, to help you explore and experience our city.
You may occasionally receive promotional content from the Los Angeles Times.