Appreciation: The Monkees' Peter Tork: A real musician who also played one on TV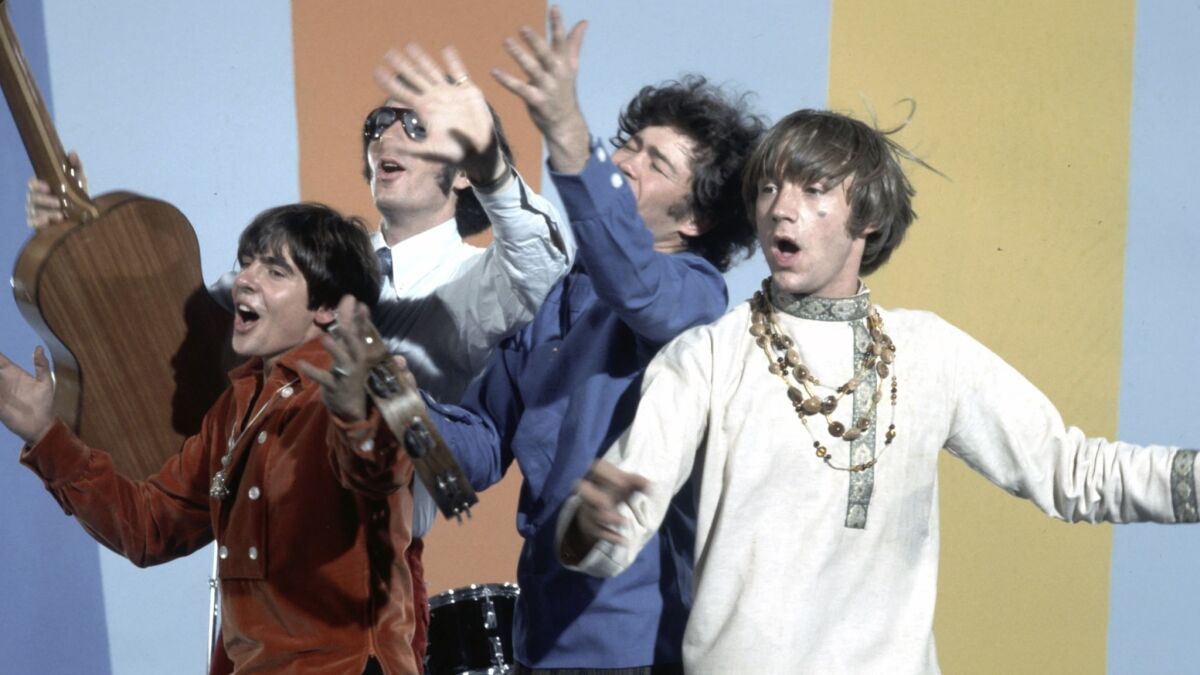 Early on in his life as one-fourth of the Monkees, Peter Tork learned a cruel truth about the gargantuan gulf between image and reality in Hollywood.
He dutifully arrived at a recording studio one day, guitar in hand, after being told some new Monkees songs would be coming together that day.
Upon arrival, he was greeted by the show's songwriters and producers, Tommy Boyce and Bobby Hart, who quickly asked why he was there. Confused, Tork told them what seemed obvious to him: He was there to play his parts, he told me a few years ago, while preparing for a 2012 Monkees reunion tour. "They told me, 'No, Peter, you don't understand. You can put the guitar down.' "
They had already finished the session, without so much as a note played by an actual Monkee.
Anyone who's ever spent hours trying to improve their skills as a musician had to empathize with the seismic shock Tork, who died Thursday at age 77, surely felt.
At that point in the Monkees' embryonic development, the music used each week on the show was being handled by behind-the-scenes professionals — the ace L.A. studio musicians later to be called the Wrecking Crew.
It hadn't fully set in yet that Tork, even though he was a seasoned folk musician when he was cast in 1965 to be part of "The Monkees" television show, hadn't been hired for his musicianship, but simply as an actor who would pretend to be a musician for a national TV audience.
It was the same dilemma that faced lead guitarist and, sometimes, lead singer Michael Nesmith, an accomplished folk-rock musician and songwriter from Texas who also passed the auditions, along with former child actor Micky Dolenz and English musical theater veteran Davy Jones.
Dolenz and Jones took little issue with the show's central deceit because of their histories handling various roles in the theater and for film or television.
But Tork and Nesmith struggled to assert their musical impulses during their tenure as Monkees, at times running headlong into the distinctly different ideas that the show's creators, and especially music supervisor Don Kirshner, had in mind for them.
But the reality outside Hollywood quickly intruded as those songs became bona fide hit records, and, suddenly, real kids in real cities wanted to see and hear the Monkees live. Dolenz took lessons on the drums he sat behind in so many TV episodes, and Jones essentially relegated himself to mastering the art of singing while shaking a tambourine or two or three maracas in each hand.
Soon, they became the kind of aspiring garage band they played on the show — competent enough to headline concerts before thousands of screaming fans who couldn't hear much of what they played, or didn't play, anyway.
By the time it came to record a third album, "Headquarters," the group members demonstrated they could indeed handle their instruments, and it became their first, and only, album to feature only Tork, Nesmith, Dolenz and Jones.
(Confession: The first LP I ever bought with money I had earned was the Monkees' 1968 album, "The Birds, the Bees and the Monkees," on which Tork's only contribution was the piano part on the hit single "Daydream Believer.")
"When we did 'Headquarters,' suddenly, this issue was moot, end of story: We're a band," Tork said in 2012. "Among other things, we actually were a band. We were also an acting troupe and a performing troupe.
"It was like ['Star Trek' costar] Leonard Nimoy becoming a real Vulcan," he said. "But it was more like 'Glee,' where real singers and dancers are playing the part of singers and dancers. It would be like having actors who are also medical students playing the part of doctors and, then, they got to work in hospitals. It's unlikely, but it's real."
Indeed, after quitting the Monkees at the end of 1968, and then trying to separate himself from that role as he pursued a solo career in the 1970s, Tork — like Nesmith — eventually came to an acceptance of and even appreciation for what the Monkees had been.
"I did say it was unfair," Tork said of the way the four men were often pilloried, not only by some of the show's executives, but also by critics (the quartet was quickly dismissed as "the Prefab Four") and even other musicians. "I wasn't at all happy about not being the musicians on our records, and I was absolutely triumphant when we did get to be."
To that end, he expressed sadness that the Monkees have not been inducted into the Rock and Roll Hall of Fame, despite a string of some of the catchiest hit singles heard on AM radio in the second half of the 1960s, and some remarkably experimental tracks that surrounded them. Not least among those was the Nesmith song "Daily Nightly," featuring one of the earliest uses of the Moog synthesizer on a rock music recording.
Tork's contributions to the group's zany zeitgeist include the proto-punk track "Auntie Grizelda," a shared lead vocal with Dolenz on "Words," a co-writing credit for the jazz-influenced "Goin' Down" and another lead vocal on the playful and positively percussive spoken-word track "Peter Percival Patterson's Pet Pig Porky."
MTV brought "The Monkees" back in front of a whole new generation through reruns shown on the then-new music cable channel, leading to a 30th-anniversary reunion album, 1996's "Justus." Tork, Dolenz and Jones periodically toured as a trio, while Nesmith kept himself busy with various music and business ventures.
After Jones' death in 2012, the three surviving Monkees pulled together again for a reunion tour that celebrated their recently departed band mate, and also focused on "Headquarters," the album that allowed each to shine musically. ("Of course we miss Davy," Tork said at the time, "and it's sad to be playing without him. But when Davy, Micky and I were touring, it was sad to play without Mike.")
Then, Tork proudly described his banjo part at the opening of Nesmith's song "You Told Me," the first track on "Headquarters."
"When I play 'Headquarters' for my friends and it starts off with 'You Told Me,' with Mike's guitar and, then, the banjo starts roaring along pretty well, I've always gotten a kick out of hearing that," he said. "That's what pop music is all about: a little of this, a little of that, you drop in, and, suddenly, you're into a train race. We get to do that on this tour."
And you want to talk about the disconnect between TV and reality? After the Monkees, Tork — the show's resident goofball — spent some years teaching mathematics, music, social studies, French, history, and even served as a baseball coach.
Dolenz and Nesmith responded to Tork's death quickly Thursday.
"There are no words right now...heart broken over the loss of my Monkee brother," Dolenz said from England on Facebook.
Nesmith, always the most erudite Monkee, posted his thoughts on his Facebook page too.
"Peter Tork died this AM. I am told he slipped away peacefully," Nesmith wrote. "Yet, as I write this, my tears are awash, and my heart is broken. Even though I am clinging to the idea that we all continue, the pain that attends these passings has no cure. It's going to be a rough day.
"A band no more — and yet the music plays on — an anthem to all who made the Monkees and the TV show our private — dare I say 'secret' — playground," Nesmith added. "As for Pete, I can only pray his songs reach the heights that can lift us and that our childhood lives forever — that special sparkle that was the Monkees. I will miss him — a brother in arms. Take flight my Brother."
Tork had been equally complimentary to the other Monkees when they came together once more, far enough down the road that any qualms he'd had about being known as a Monkee had faded into the past.
"For me, the most important aspect of the rehearsals is listening to these same guys to do these same songs, and astoundingly, neither of them sounds a whit less well than they did back then," Tork told me during a pre-tour rehearsal. "I actually get nostalgic.
"The kind of garage band that we always were when we actually played — it sounds exactly the same now," he continued. "We're going out on the road being the Monkees cover band, to play Monkees music. It's astounding."
Follow @RandyLewis2 on Twitter.com
For Classic Rock coverage, join us on Facebook
Get our L.A. Goes Out newsletter, with the week's best events, to help you explore and experience our city.
You may occasionally receive promotional content from the Los Angeles Times.