Review: Pink was as relatable as she was spectacular at the Honda Center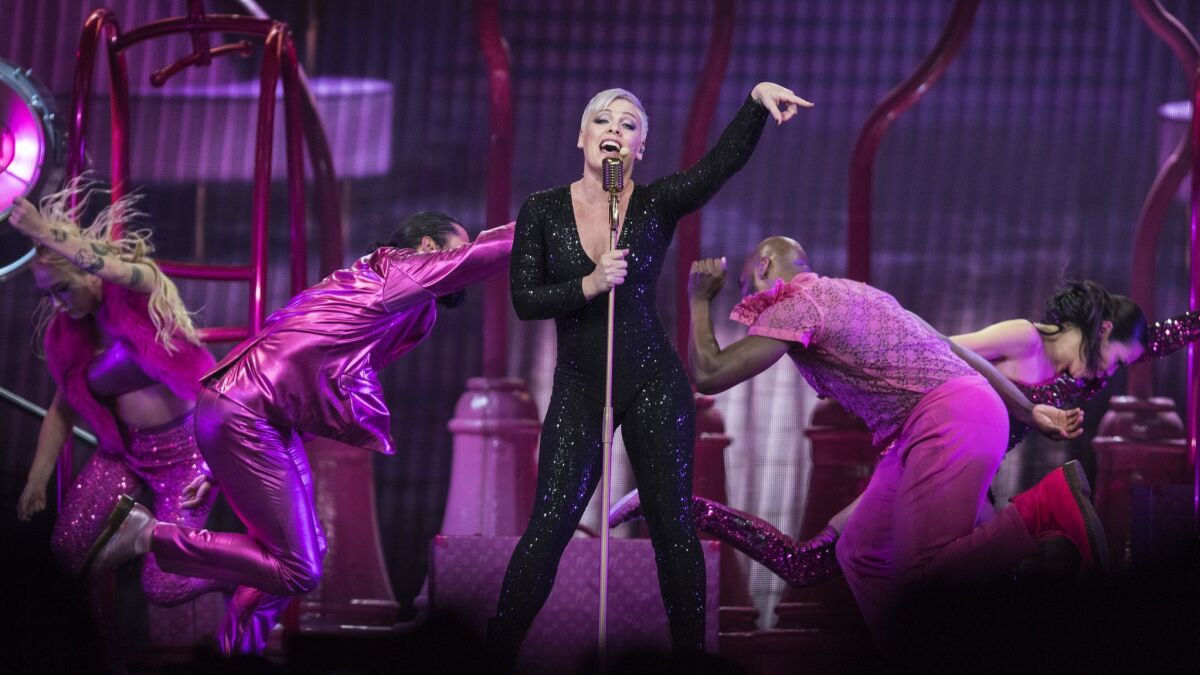 Pop Music Critic
Whenever Pink would arrive at a curse word in one of her songs Friday night, she'd pull her microphone away from her mouth and let the expletive go unheard.
The singer was spotting lots of young children in the crowd, she explained near the end of her show at Anaheim's Honda Center, which had the mother of two feeling "kind of proud-mom-ish," as she put it with characteristic charm.
It was the only way in which she held back all night.
One of pop's most ambitious — and most committed — live performers, Pink has long viewed the concert stage as a space for grand-scale spectacle. And this show, part of a world tour behind last year's "Beautiful Trauma" album, went beyond anything she's done before.
It opened with the singer doing "Get the Party Started" while hanging from a flame-throwing chandelier. It featured a stories-tall blow-up doll of Eminem, which rather convincingly mimed the rapper's verse from their duet "Revenge."
And it climaxed with Pink hooked into a complicated, gyroscope-like rig that allowed her to fly at high speed from one end of the arena to the other as she belted her song "So What," about being a rock star with rock moves.
If this is how rock stars are supposed to move, we need to start demanding a lot more from Dave Grohl and Mick Jagger.
Yet for all Pink's razzle-dazzle — and let me be clear in saying that this new aerial stunt was truly astounding — the primary effect of Friday's production wasn't practical or technological but emotional.
You left the gig feeling as if you had been spoken to from the heart, which in a room as big as this one might be the more impressive feat.
So how does Pink do it? She starts with great songs, of course: sturdy, vivid tunes like "Who Knew" and "Try" and "What About Us" that aim for all the big feelings — romance, resentment, desperation — with a refreshing disregard for appearing insufficiently hip.
On record Pink can seem slightly old-fashioned, even if her music often utilizes the textures of the day, as in "Beautiful Trauma's" Jack Antonoff-produced title track.
Stacked back to back, though, her hit singles from the last two decades put across an idea of timelessness; she's still taking a broadly universal approach (instead of micro-tailoring her music to the latest meme à la Drake or Katy Perry) because people are still craving romance and they're still resenting mistreatment and they're still feeling desperate — and they always will.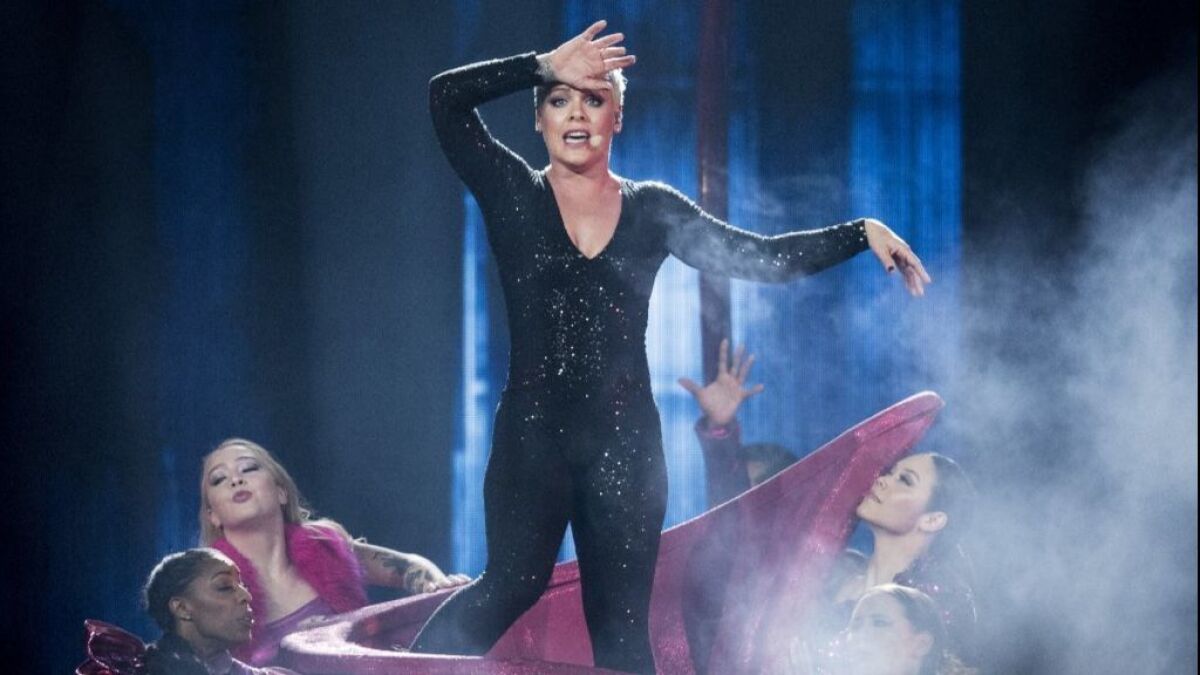 In Anaheim, Pink brought those durable sensations to life with consistently powerful singing, whether she was reaching toward the top of her range in "Just Give Me a Reason," digging deep for a churchy "I Am Here" or happily screaming her guts out in a cover of Nirvana's "Smells Like Teen Spirit."
Her dancing, too, was highly expressive in sophisticated choreography that didn't act out the songs so much as manifest their themes in physical form.
In some instances Pink was connecting with fans one on one. During an acoustic rendition of her song "Barbies," she climbed down to the floor to hug a bald woman in the front row who was holding a sign that said she'd just completed her final day of chemotherapy.
That incident reminded you of the moral weight that Pink is thought by many to carry thanks in part to her outspoken support of marriage equality and the #MeToo movement, among other progressive causes.
Here, she preceded "Raise Your Glass" — her rowdy tribute to "all my underdogs" — with an audio recording of a moving speech she gave at last year's MTV Video Music Awards in which she described the need for people to "see more kinds of beauty."
Yet that sense of social responsibility never burdened this performance in the way that sometimes happens at shows by U2 or Bruce Springsteen; Pink, who's scheduled to play Staples Center on Thursday and the Forum on Friday, maintained an essential buoyancy for the two hours she was onstage.
Or not onstage, as was the case during that flying bit set to "So What."
Even then, though, Pink somehow made you feel as if you were right up there next to her.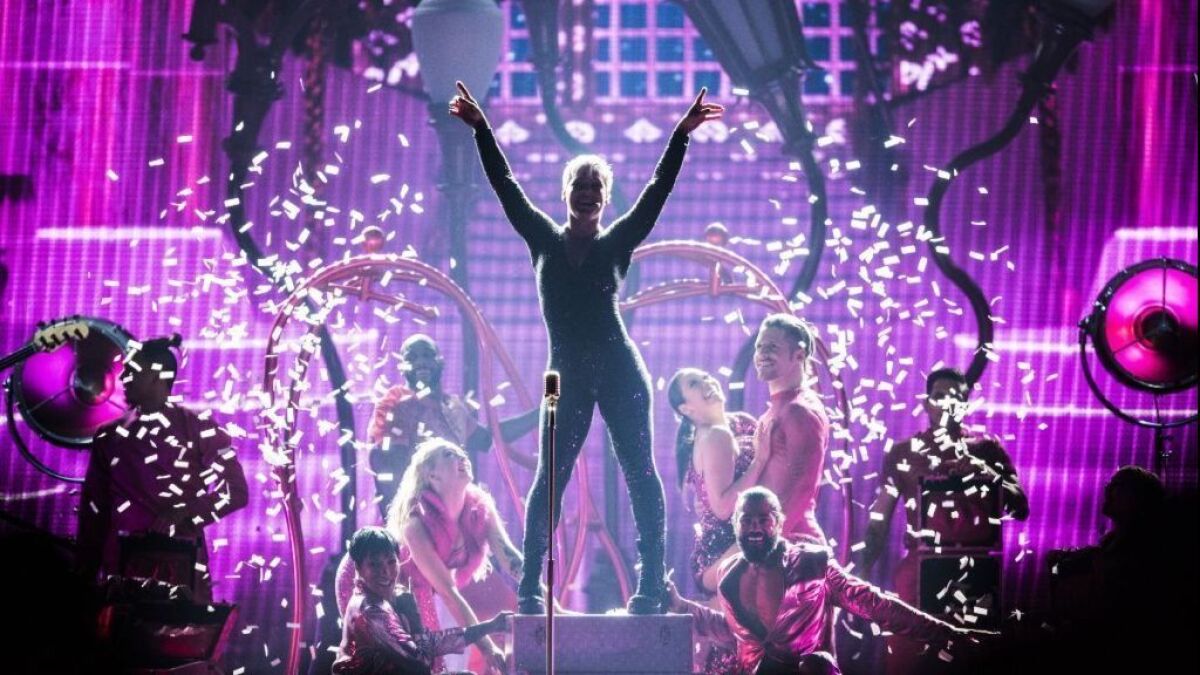 Twitter: @mikaelwood
---
Your essential guide to the arts in L.A.
Get Carolina A. Miranda's weekly newsletter for what's happening, plus openings, critics' picks and more.
You may occasionally receive promotional content from the Los Angeles Times.