R. Kelly surrenders on 10 counts of sexual abuse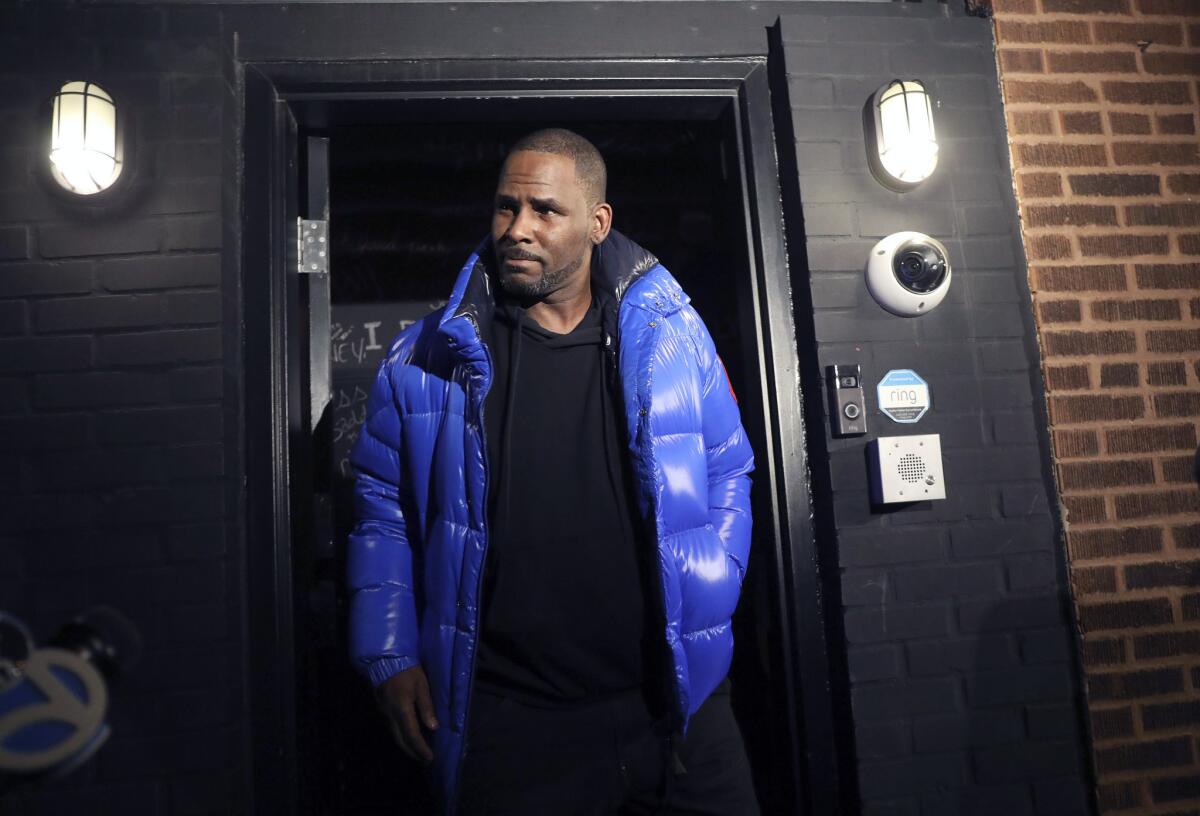 Embattled R&B superstar R. Kelly was charged with 10 counts of aggravated criminal sexual abuse Friday in Cook County, Ill.
The charges come a week after the surfacing of a video that allegedly shows the singer sexually assaulting an underage girl.
The 52-year-old performer is accused of sexually abusing four victims, according to court records.
Nine of the counts specify that the victim was 13 to 16 years old. In another count that did not specify the victim's age, the singer is accused of sexual contact by the use or threat of force.
A no-bail arrest warrant was issued Friday on the charges, which are Class 2 felonies. A bond hearing was set for Saturday.
Police spokesman Anthony Guglielmi said Kelly turned himself in at a Chicago police precinct late Friday, and was to remain in custody until his hearing on Saturday afternoon.
Chicago's top prosecutor, Cook County State's Atty. Kim Foxx, said the sentencing range for aggravated sexual assault is up to seven years in prison. If Kelly is convicted on all 10 counts, he could face up to 70 years in prison. Probation is also an option under statute.
For two decades, the Grammy-winning singer-songwriter has been trailed by lurid allegations of sexual misconduct involving women and underage girls — which he has vehemently denied.
He was acquitted of child pornography charges at a 2008 trial. The dates of the alleged abuse from Friday's charges span from 1998 to 2003. Illinois has no statute of limitations on child sex abuse charges.
Last week, it was reported that prosecutors in Illinois were moving to indict the singer on charges related to a 45-minute video allegedly showing the singer performing multiple sex acts with an underage girl — both the man and the girl in the video referred to her genitalia in graphic terms as being 14 years old. The video was given to the Cook County state's attorney office by celebrity attorney Michael Avenatti.
The singer, born Robert Kelly, is arguably one of the most successful R&B talents of all time.
A force in music for nearly 30 years, he built a career on sexually explicit music, but he's also jumped genres to record retro R&B, pop ballads and inspirational tracks.
Kelly has written hits for stars including Celine Dion ("I'm Your Angel"), Michael Jackson ("You Are Not Alone") and Lady Gaga ("Do What U Want"), and has collaborated with nearly every A-list pop, R&B and hip-hop star of the last 20 years.
However, his continued success was clouded by numerous sexual misconduct allegations, dating as far back as the early 1990s, when he allegedly began a sexual relationship at age 24 with a 15-year-old girl he met while visiting her high school choir class.
He then found himself mired in controversy after he married his protege Aaliyah, the late R&B singer, when she was 15 and he was 27, having falsified her age on the marriage license. (The union was annulled by Aaliyah's parents, and he paid her $100 to "not pursue legal action" for physical abuse, according to recently unsealed records.)
Kelly's acquittal on child pornography charges came after prosecutors alleged that a video showed the singer having sex with a girl as young as 13. Both he and the young woman allegedly depicted denied they were in the 27-minute video, which was bootlegged and sold across the country.
The scrutiny over Kelly's alleged abuse first ramped up in 2017 when Jim DeRogatis, a longtime music critic for the Chicago Sun-Times who broke the story on the sex tape that led to the 2008 trial, wrote a story for BuzzFeed that alleged the singer was holding women against their will at his home in Georgia.
In January, Lifetime aired a powerful six-part documentary series, "Surviving R. Kelly," that detailed the long history of alleged sexual abuse and the supposed sex cult that has kept women trapped in his home.
The blowback from the series was swift, and Kelly was dropped from his longtime label, RCA.
After the airing of the documentary series, Foxx, the Cook County state's attorney, said she was "sickened" by the allegations and asked potential victims to come forward.
Kelly's attorney, Steve Greenberg, did not return a request for comment on Friday.
Get our L.A. Goes Out newsletter, with the week's best events, to help you explore and experience our city.
You may occasionally receive promotional content from the Los Angeles Times.