Celebrity attorney Michael Avenatti said Thursday that his legal team has obtained a VHS tape showing musician R. Kelly sexually assaulting an underage girl.
Hours later, Kelly's attorney said the singer "denies that he has engaged in any illegal conduct, of any kind whatsoever."
The response was prompted after Avenatti took to Twitter on Thursday to say that the discovery of the tape amounts to significant new evidence "conclusively establishing Mr. Kelly's illegal sexual assault of young girls."
Avenatti, who represented the adult film star known as Stormy Daniels in her case against President Donald Trump, noted that his law office has been retained by multiple clients accusing Kelly of sexual assault and has been quietly investigating the allegations since April 2018.
The tape revelation came the day after Avenatti made headlines over his own legal woes for which he agreed to relinquish financial control of his longtime law firm hours after a former partner filed papers accusing him of hiding millions of dollars from the court that oversaw its bankruptcy. Kelly's lawyer, Steve Greenberg, highlighted Avenatti's strategic timing in a statement disputing the new claim.
In response to press inquiries, attached is a stmt regarding our work on the R. Kelly matter since April, including the discovery of new critical video evidence establishing his guilt. We will continue to work tirelessly to ensure that this predator is brought to justice. pic.twitter.com/D0dGFzgXlX

— Michael Avenatti (@MichaelAvenatti) February 14, 2019
Avenetti said that the VHS recording, which has also been seen by CNN, is nearly 45 minutes long and shows the embattled R&B star "engaging in multiple sexual assaults of a girl underage." CNN reported that it's impossible to know the girl's age in the video, but that both she and the man in it refer to her genitalia as 14 years old.
CNN also reported that Avenatti represents a whistleblower against Kelly, now 52, who knows the identity of the girl on the tape. The whistleblower worked for and has known Kelly for decades and met the girl on a number of occasions, Avenatti told CNN.
The tape could soon lead to an indictment of the "Ignition" singer in Illinois, according to the New Yorker, which cited a senior law-enforcement official as its source. The indictment is pending and Kelly could be arrested soon, the magazine reported Thursday.
Avenetti added that the tape had not been publicly disclosed nor previously provided to law enforcement and is not the same evidence used in connection to Kelly's other cases. He was likely referring to the 2002 child pornography case for which Kelly stood trial and was acquitted in 2008.
But the alleged assault depicted on the tape in question falls within the Illinois statute of limitations, Avenatti said, and the evidence has been presented to Cook County State's Attorney Kim Foxx in Chicago.
"She has personally committed to investigating the matter fully," Avenatti added.
"Mr. Kelly is a predator and a criminal who has prayed [sic] on young, vulnerable girls for far too long. The time has come for him to finally be held accountable for his actions," Avenatti said.
A representative for Foxx's office said, "We cannot confirm or deny an investigation," when reached by The Times on Thursday.
Greenberg, Kelly's attorney, said that he first heard about the tape Thursday.
"I understand that CNN says that they have seen this video. If the video were what it is claimed to be, by sharing it with CNN Mr. Avenatti would be committing a felony, as would the reporter who viewed it," Greenberg said in a statement to The Times. "I doubt if either would put themselves in that position. That combined with the other facts that I know lead me to question the reports."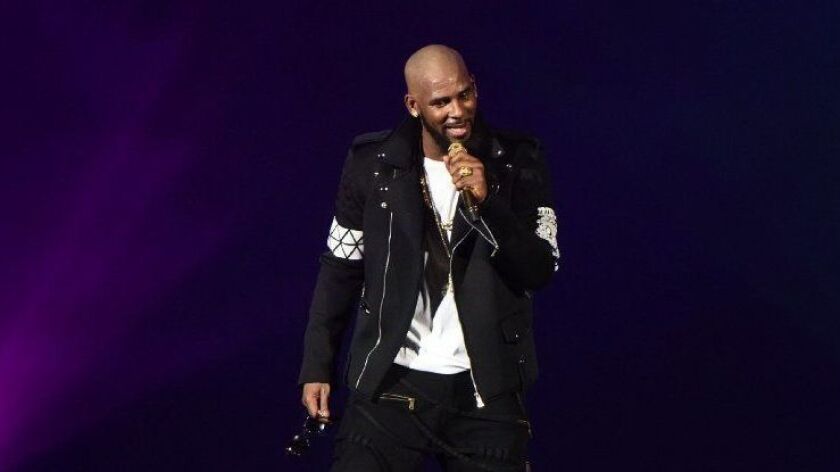 Greenberg said that neither he nor Kelly have been contacted by anyone connected with law enforcement.
"Mr. Kelly denies that he has engaged in any illegal conduct, of any kind whatsoever. He would like to be able to continue to write and sing and produce and perform. Unfortunately, as a result of a documentary that regurgitated long ago rejected claims, he has been adjudged guilty in the public eye," Greenberg said.
Avenatti's clients' claims are the latest in a string of accusations against the Grammy-winning singer. Kelly has repeatedly denied all allegations against him as he's come under fire personally and professionally because of an onslaught of sexual-misconduct allegations levied against him in the wake of the #MeToo movement.
The new Lifetime docu-series "Surviving R. Kelly," which explores decades of alleged sexual abuse by the singer, further fanned the flames and fueled the #MuteRKelly campaign to boycott his music.
Last month, the recording artist and his longtime label RCA parted ways after a decades-long relationship.
In his statement, Greenberg condemned the hashtag campaign and said the women who appeared in the Lifetime documentary are "out for money."
"All of the claims by these women were brought forth years ago, rejected by the police, and/or rejected by the courts, but now for their own gain they have rehashed them," he said.
Follow me: @NardineSaad
---