Review: Radiohead looks to the organic on the engrossing 'A Moon Shaped Pool'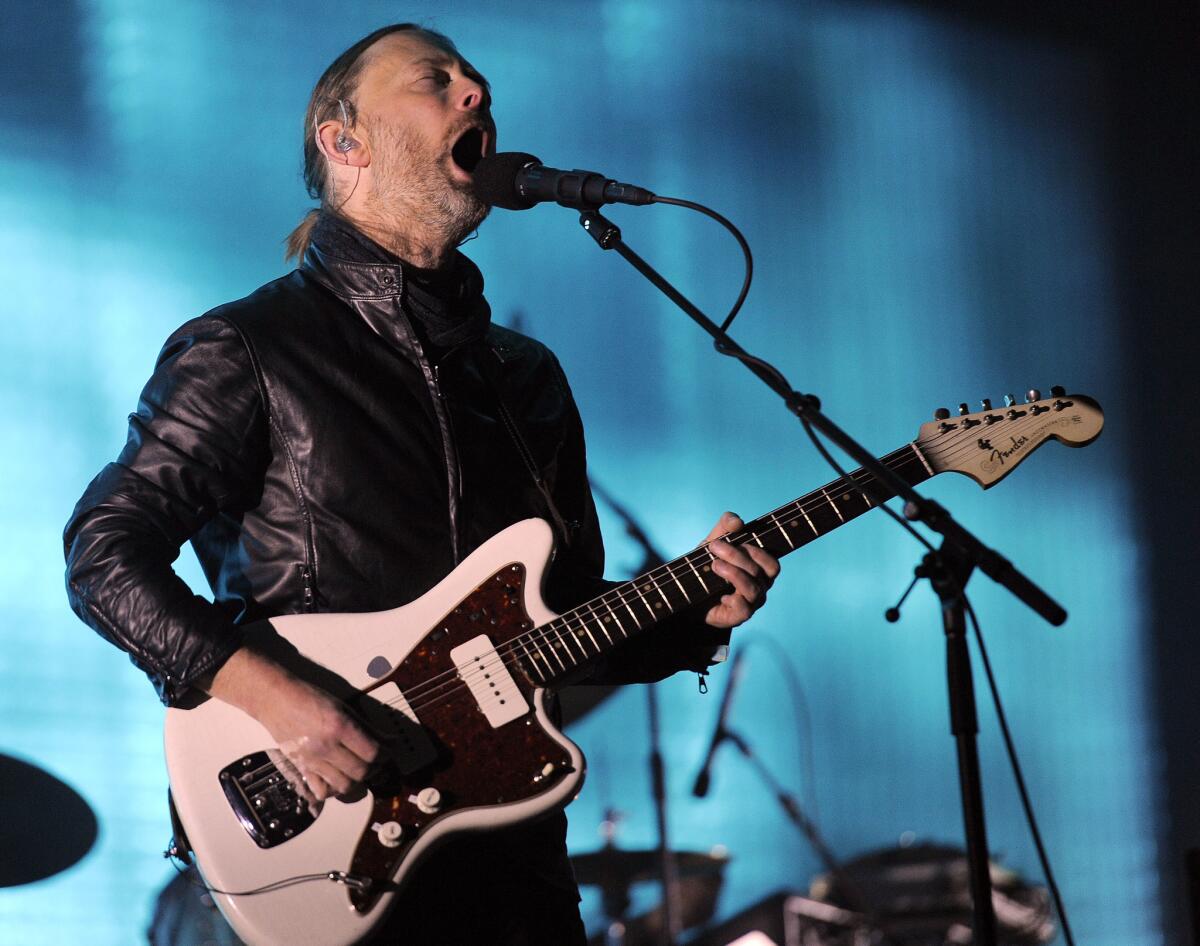 "Open all channels," Thom Yorke softly demands at one point during Radiohead's latest record, "A Moon Shaped Pool." "Ready to receive."
It's not the first time Yorke seeks connection on his band's new album, a rich and engrossing listen that somehow finds more undiscovered territory for a band that has built a career on doing just that.
"A Moon Shaped Pool" came out Sunday after the band released two singles and corresponding videos last week that culminated with Friday's album announcement. That practically qualifies as fanfare as compared with the surprise-release norms of today's record industry, which Radiohead invented back in 2007 with the pay-what-you-want digital debut of its seventh album, "In Rainbows."
Up to that point, Radiohead had a run of inventive and critically revered albums that began with the stutter-stop grunge-era single "Creep" and expanded to the serrated yet tender guitar-rock of 1995's "The Bends," then the art-rock heights of "OK Computer" and its electronics-embracing follow-up "Kid A." Released in 1997 and 2000, respectively, "OK Computer" and "Kid A" are fixtures on lists chronicling the most innovative rock albums of their time.
'Ful Stop's' ... surging blend of electronics and guitar prove the band's still capable of capturing a twitchy rock drive that's unlike anybody else.
— Chris Barton
Subsequent records continued a pattern of exploration, but with 2011's rhythm-heavy and difficult-to-love "The King of Limbs" there was a sense that the band had backed itself into a corner, yielding an album of glitchy loops and knotted beats that are best appreciated more as a transitional experiment than a pop or rock album (even by Radiohead's definition of what that means).
Five years and various solo projects later, enter "A Moon Shaped Pool," an album that reaches for something far more organic and immediate. The band even opened up its self-contained distribution model, making it available on iTunes and Amazon on Sunday afternoon and, interestingly, the streaming services Apple Music and Tidal. (Yorke famously referred to Spotify as "the last desperate fart of a dying corpse" after pulling his solo albums down from the service in 2013.)
The record is bookended by older tracks in the orchestral panic of first single "Burn the Witch," which has been kicking around since the mid '00s, and the keyboard-driven live fixture "True Love Waits." But the pivotal newcomers are swelling strings and, most strikingly, a 13-person choir from the London Contemporary Orchestra in a shift that points to lead guitarist Jonny Greenwood's recent film score work for Paul Thomas Anderson.
The electronics remain throughout, haunting the fringes of "Desert Island Disk," a track that recalls the delicate guitar work of Nick Drake, and "Ful Stop," whose propulsive krautrock soul and surging blend of electronics and guitar prove the band's still capable of capturing a twitchy rock drive that's unlike anybody else.
At just under six minutes, "The Numbers" may be the album's most striking moment with its flickering argument of bluesy pianos and a strummed acoustic guitar that sounds borrowed from a Neil Young album. Girded by gospel flourishes and a burst of strings, the song plays like a steadily building protest anthem, standing against digital and social structures of division. "The future is inside us, it's not somewhere else," Yorke sings. "The system is a lie."
With a loping bass line and a clicking rhythm, "Identikit" soars as the choir gathers behind Yorke to latch onto his repeated refrain as barbed guitar lines close around him. A cinematic mix of strings and keys form the center of "Glass Eyes," an intimately drawn narrative of modern anxiety squarely in Radiohead's wheelhouse.
"Present Tense" begins with a loping Spanish-style acoustic guitar figure that builds to accommodate a chorus of angelic sighs. "Distance," Yorke sings, his voice still as capable of similar heights, "is like a weapon of self-defense."
This time around, Radiohead sounds ready to come closer.
On Twitter: @chrisbarton
Get our L.A. Goes Out newsletter, with the week's best events, to help you explore and experience our city.
You may occasionally receive promotional content from the Los Angeles Times.