Randy Newman will survey 50-year career solo, with band and full orchestra at Hollywood Bowl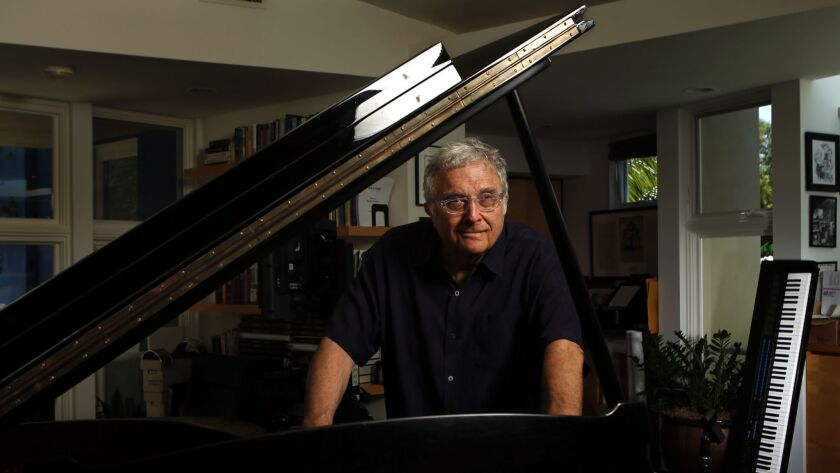 During his 50-plus-year career as a songwriter, singer, orchestrator, arranger and film music composer, Randy Newman has most often performed as a solo act. Typically, an evening with Newman consists of the man at his piano, surveying some of the most trenchant, funny, heart-wrenching, poignant and politically savage songs in the history of popular music.
On Sunday, however, he gets a rare chance to play songs drawn from each of the 11 studio albums he's recorded over the last half-century, as well as a sampling of his film music, in the company of a full orchestra — the Hollywood Bowl Orchestra specifically, to be conducted at the Bowl by his cousin David Newman.
Even rarer, he'll also have the backing of a connoisseur four-piece band — keyboardist Mitchell Froom, guitarist George Doering, bassist David Piltch and drummer Matt Chamberlin — for many of the harder-rocking songs from his repertoire. Expect all hands to be on deck for a few numbers.
"I've done them [orchestral concerts] in various parts of the country," Newman, 74, told The Times earlier this week, "but not like this — not with the orchestra and with a band. In fact, I don't ever remember doing it."
As one of pop music's most prized artists — he's won seven Grammy Awards, three Emmys and two Oscars among his many industry accolades — Newman spoke about this first-of-its-kind concert performance for him.
I know you'll be playing at least one song from each of your albums — how did you choose them? Will the program be simply a selection of your favorites, or songs that showcase your most ambitious orchestrations?
It's anything. There are other things I'd like to do but which would have been too difficult with the amount of time we have to rehearse. The first cut on the last record ["The Great Debate," from 2017's "Dark Matter"] — I love that thing, and I would love to do it sometime. "Cowboy" [from his 1968 debut album "Randy Newman (Something New Under the Sun)"] has a nice orchestral part on it, so that's pretty good.
For things with the band, we'll be doing "It's Money That I Love," "Mama Told Me Not to Come," "You Can Leave Your Hat On," "I'm Dead (But I Don't Know It)." I'd like to have done "Davy the Fat Boy," but I can't sing it. I never could. I'm also doing "You've Got a Friend in Me" [from "Toy Story"] and "I Love to See You Smile" [from "Parenthood"]." David's playing [the theme from] "The Natural" to open the show.
This is your first North American appearance with your cousin David conducting.
We did a show in Vienna for something — they were giving me some kind of an award [the Max Steiner Film Music Achievement Award at the 2014 Hollywood in Vienna Festival], and he conducted for that one. It was fun. This is too. I don't see him that much, but I love talking about music with him. He's a real musician and a real enthusiast.
This must be a sweet moment for you in the way it extends the Newman family musical legacy. Did your uncles [prolific film composers Alfred, Lionel and Emil Newman] ever get to collaborate with one another?
They did — they did some pictures together at Fox. Musicals — Marilyn Monroe musicals like "How to Marry a Millionaire." They did a couple of those, Lionel and Alfred did. Emil may have conducted some of those. And Alfred [David's father] played the Bowl a number of times.
Will you be using your original orchestrations and arrangements?
There are a few things missing, like an accordion that won't be there, but that's not a great loss, necessarily. Otherwise they're pretty much the way they are [on the recordings]. It's a bigger orchestra than I sometimes use, but that's all right. I'll also be doing some solo stuff.
Putting a program like this together, what does it reveal to you about what's changed over the years for you, and what hasn't?
I've gotten better as an arranger over the years. My songwriting, I also think it's better, maybe the lyrics are better. But when I was looking back at the albums, it's the same guy [today] who was writing these songs 50 years ago, unbelievably enough. "Simon Smith [And His Amazing Dancing Bear]" and "Davy the Fat Boy" — I could have written them last year. That's something I notice when I look back that I hadn't exactly realized. Fifty years go by and it's kind of stunning. It's unbelievable to me that so much time has passed.
What's the big difference between performing solo and performing with the band or orchestra?
I've got a great band, but I've got to make sure I play in time with them. When I'm playing on my own, I'll drop an eighth note here or there and just do a seven beat because it doesn't matter to me. When I did the Rock and Roll Hall of Fame thing [he was inducted in 2013], as I was rehearsing "I Love L.A." with [Tom] Petty and Jackson [Browne] and whomever, the time would fall out. I'd look around, and they were all looking at me. The second time it happened, I asked "Is It me?" I started to wonder, "Am I going to get thrown out of the Rock and Roll Hall of Fame before I even get in because I can't play in time?"
You've often said how much you respect and revel in the sound an orchestra can make. Are you ever in danger of getting lost in that sound in the midst of a performance?
No, I usually have enough to think about to where I can't just sit back in listen and then forget to come in. But anything's possible. When you conduct, it really is all around you. I love conducting, I love musicians in general, I really like to do it. I don't get to do much, I only do it when I'm doing a picture. I always thought I could have been really good at it. I'm alright; I'm pretty good at it. But David is really good at it.
♦ ♦ ♦ ♦ ♦ ♦ ♦ ♦ ♦ ♦
Randy Newman, with the Hollywood Bowl Orchestra
When: Sunday, Aug. 12, 7:30 p.m.
Where: Hollywood Bowl, 2301 N. Highland Ave., Los Angeles
Cost: $14 to $195
Info: www.hollywoodbowl.com or 323-850-2050
Follow @RandyLewis2 on Twitter.com
For Classic Rock coverage, join us on Facebook
---
Your essential guide to the arts in L.A.
Get Carolina A. Miranda's weekly newsletter for what's happening, plus openings, critics' picks and more.
You may occasionally receive promotional content from the Los Angeles Times.